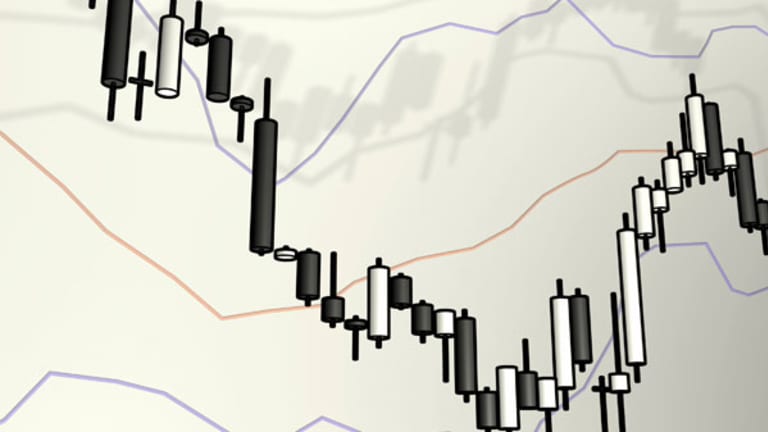 A Beaten-Down Biotech Stock Poised for an Epic Short Squeeze
This biotech stock has taken a beating recently, but its technical picture is changing quickly from bearish to bullish.
This biotech stock has taken a beating recently, but its technical picture is changing quickly from bearish to bullish.
Correction: Removed content that incorrectly stated that progression-free survival is a more challenging clinical trial endpoint to achieve than overall survival. The opposite is true.
DELAFIELD, Wis. (Stockpickr) -- The biotech sector is not the place to be short right now, especially when dealing with some of the beaten-down small-cap names.
>>5 Hated Earnings Stocks You Should Love
Just last week, I flagged shares of small-cap biotechnology player Geron (GERN) - Get Reportas a short-squeeze candidate at around $2.10 a share. Shares of GERN didn't wait long to get that short squeeze started. The stock exploded higher that same day and the following two trading sessions before tagging its recent high of $3.47 a share on June 12. That represents a gain of over 60% in just a few days for anyone who caught the move in shares of GERN.
Another biotech that absolutely annihilated the short-sellers last week was Karyopharm Therapeutics (KPTI) - Get Report, which exploded higher by over 90% after Wall Street cheered its release of its initial phase I data for Selinexor. I flagged this stock stock in June 3's "3 Big-Volume Stocks in Breakout Territory" at around $26.50 a share. KaPTI tagged an intraday high of $47.98 a share last week on monster upside volume.
>>5 Toxic Stocks You Should Sell This Summer
I love spotting hot biotech stocks that have the potential to make big moves and squeeze the shorts. The next biopharmaceutical player that's setting up from a technical perspective to put a big hurting on the short-sellers is Endocyte (ECYT) - Get Report, which develops targeted therapies for the treatment of cancer and inflammatory diseases in the U.S.
Shares of Endocyte plunged back on May 2 by a whopping 62% after the company said it was halting its phase III study for vintafolide. The company decided to stop the study after it failed to show efficiency when treating patients with platinum-resistant ovarian cancer. That was a surprise to Wall Street, especially since a recent trial Endocyte had conducted for non-small-cell lung cancer had shown favorable data.
That phase III failure and subsequent collapse in the stock price for Endocyte has now created a unique opportunity, since the company is running trials for vintafolide as a treatment for lung cancer. That trial is currently in phase IIb testing, and key data results could come out at the end of 2014. RBC Capital Markets analyst Adnan Butt recently said that the lung cancer indication is the most important one because the market is bigger.
>>5 Stocks Poised for Breakouts
Wall Street likely overreacted to the poor vintafolide results for ovarian cancer, since the stock has collapsed from over $17.50 to its recent 52-week low of $6.01 a share. That collapse pushed shares of ECYT into extremely oversold territory, since the stock traded at a relative strength index reading of well below 30 for over a month. That overreaction was a major win for the short-sellers, but those shorts might want to think about locking in profits and getting long this stock now, since it's technically changing its tone from bearish to bullish rapidly.
If you take a look at the chart for ECYT, you'll notice that this stock recently formed a double bottom chart pattern at $6.01 to $6.05 a share. Following that bottom, shares of ECYT have started to uptrend and break out above some near-term overhead resistance levels at $6.62 to $6.82 a share. That breakout is now setting up shares of ECYT to trigger a much bigger breakout that could give this stock a chance to make an explosive move back into its previous gap-down-day zone from early May that started above $17.50 a share.
Traders should now look for a long-biased trades in ECYT as long as it's trending above those double-bottom support levels at $6.01 to $6.05 a share and then once it breaks out above some key near-term overhead resistance at $7.34 a share with high volume. Look for a sustained move or close above that level with volume that hits near or above its three-month average action of 1.93 million shares. If that breakout materializes soon, then ECYT will set up to re-fill some of its previous gap-down-day zone from May that started just above $17.50 a share. Some possible upside targets if ECYT gets into that gap with strong upside volume flows are $10 to $12 a share.
If ECYT breaks out into that gap with volume, then this stock could see an epic short-squeeze that sends shares screaming sharply higher. The current short interest as a percentage of the float for ECYT is extremely high at 16.8%. That means that out of the 36.96 million shares in the tradable float, 6.24 million shares are sold short by the bears. This is a large short interest on a stock with a relatively low tradable float. It won't take much to send this stock ripping higher, so watch for that breakout with volume to potential ignite the next big biotech short-squeeze.
-- Written by Roberto Pedone in Delafield, Wis.
RELATED LINKS:
>>5 Retail Stocks to Trade for Gains in June
>>5 Rocket Stocks to Buy for a Correction Week
>>3 Big-Volume Stocks to Trade for Breakouts
Follow Stockpickr on Twitter and become a fan on Facebook.
At the time of publication, author had no positions in stocks mentioned. Roberto Pedone, based out of Delafield, Wis., is an independent trader who focuses on technical analysis for small- and large-cap stocks, options, futures, commodities and currencies. Roberto studied international business at the Milwaukee School of Engineering, and he spent a year overseas studying business in Lubeck, Germany. His work has appeared on financial outlets including CNBC.com and Forbes.com. You can follow Pedone on Twitter at www.twitter.com/zerosum24 or @zerosum24.