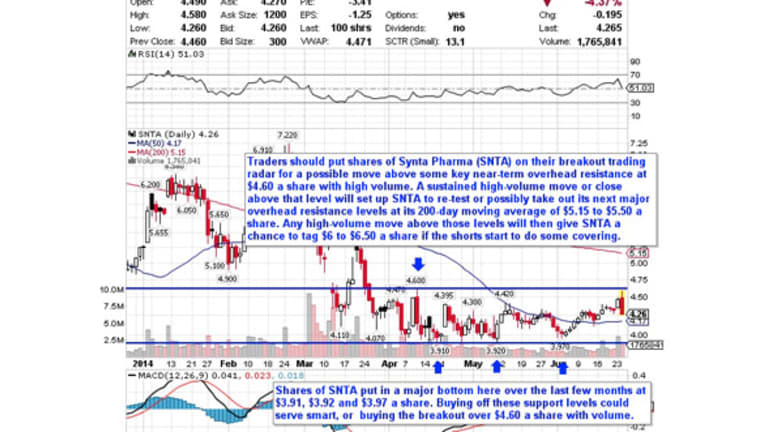 A Beaten-Down Biotech Stock Gearing Up for a Big Squeeze Higher
The shorts are betting against this biotech stock, but its technical chart is telling a different story.
DELAFIELD, Wis. (Stockpickr) -- Fireworks are going off in the biotech sector today, after Vertex Pharmaceuticals (VRTX) - Get Vertex Pharmaceuticals Incorporated Report reported very positive results from an important late-stage drug trial regarding its cystic fibrosis treatment Kalydeco.
>> 5 Stocks Set to Soar on Bullish Earnings
The company announced that the combination of two of its drugs, lumacaftor and Kalydeco, showed positive results for treating symptoms of cystic fibrosis, such as improvement in lung function. Shares of VRTX are ripping sharply higher off this news, with the stock up over 35% as I type this.
This action is setting off some of the small-cap biotech stocks as traders scan the sector for the next big movers. Just take a look at the action in some small-cap bio names such as IsoRay (ISR) - Get IsoRay, Inc. Report, which is soaring higher by 17%; Ibio (IBIO) - Get iBio, Inc. Report, which is ripping higher by 9%; and KaloBios Pharmaceuticals (KBIO) , which is trending sharply higher by 8%. As a trader, this sector behavior has me scanning the biotech complex for the best-looking charts so I can attempt to get in early and catch the buying wave if it spills over to more of the small-cap names.
The technical setup for IsoRay happens to be one that I flagged before this move in June 5's "5 Stocks Under $10 Set to Soar" at around $2.50 per share. That setup has produced a very solid gain, since the stock tagged an intraday high of $3.26 a share today.
>>Buy These 5 Rocket Stocks to Beat the Market
One biopharmaceutical player with a hot-looking chart that's jumping off screens today is Synta Pharmaceuticals (SNTA) , which focuses on the discovery, development and commercialization of small-molecule drugs for treating severe medical conditions, including cancer and chronic inflammatory diseases. Shares of Synta Pharmaceuticals have been under pressure by the sellers so far in 2014, with shares off notably by 16%.
One of the big reasons I am warming up to shares of Synta Pharmaceuticals here is the massive short interest on the stock. The current short interest as a percentage of the float for Synta Pharmaceutical is extremely high at 24%. That means that out of the 55.7 million shares in the tradable float, more than 13 million shares are sold short by the bears. This is a large short interest in a stock with a relatively low tradable float. If the biotech sector continues to catch fire, then a stock like SNTA is going to be exactly what fast traders reach for. Starting a short squeeze in STNA won't be hard to do with that relatively low float and quickly improving technical picture for the stock.
>>5 Stocks Under $10 Poised to Pop in June
Another reason that I like shares of Synta Pharmaceuticals here from a trading perspective is the fact that billionaire hedge fund manager Bruce Kovner has buying snapping up a ton of shares of SNTA recently. Kovner is chairman of Caxton Alternative Management, which he set up in January 2012 to manage his investment, trading and business activities. His most recent estimated net worth is said to be in the range of $4.8 billion. Kovner is famous for getting his start in trading by borrowing $3,000 against his credit card and turning that into $23,000 trading soybean futures contracts.
Kovner has bought some huge blocks of Synta Pharmaceuticals recently, like in early April, when his fund added $5 million worth of SNTA at $4.01 a share, and in November 2013, when his firm snapped up $18.75 million at $3.75 a share. Kovner also bought around $20 million in December 2012 at a much higher price of $8.60 a share, so his timing hasn't always been right, but he's clearly building a large position for more than just a short-term trade. In fact, it wouldn't surprise me one bit to see Kovner step up again soon to buy shares of SNTA, since he's been steadily buying it since June of 2012.
From a technical perspective, shares of Synta Pharmaceuticals are currently trending just above its 50-day moving average of $4.17 a share and below its 200-day moving average of $5.15 a share.
This stock recently formed a major bottoming chart pattern, since shares found buying interest over the last three months each time it pulled back just below $4 a share. That buying interest has now put in a triple bottom for shares of SNTA and the stock has already started to rebound higher off those support levels and move back above its 50-day moving average. Shares of SNTA have also been consolidating over the last three months, with the stock moving between $4.60 on the upside and $3.91 on the downside.
>>3 Big-Volume Stocks to Trade for Breakouts
This tight consolidating range for shares of SNTA is setting up an opportunity for a possible breakout trade that could then trigger a large short-squeeze for this stock. Breakout traders and anyone who is short this stock will be watching for SNTA to clear the upper end of its recent sideways trading chart pattern with volume, since that could produce a new uptrend that sends shares of SNTA soaring sharply higher in the short-term.
Traders should look for long-biased trades in SNTA if it manages to break out above some key near-term overhead resistance at $4.60 a share with high volume. Look for a sustained move or close above that level with volume that registers near or above its three-month average action of 1.56 million shares. If that breakout materializes soon, then SNTA will set up to re-test or possibly take out its next major overhead resistance levels at its 200-day moving average of $5.15 to $5.50 a share. Any high-volume move above those levels will then give SNTA a chance to tag $6 to $6.50 a share if the shorts start to do some covering.
-- Written by Roberto Pedone in Delafield, Wis.
RELATED LINKS:
>>4 Big Stocks on Traders' Radars
>>5 Stocks Setting Up to Break Out
>>5 Blue-Chip Stocks to Trade for Gains: Must-See Charts
Follow Stockpickr on Twitter and become a fan on Facebook.
At the time of publication, author had no positions in stocks mentioned. Roberto Pedone, based out of Delafield, Wis., is an independent trader who focuses on technical analysis for small- and large-cap stocks, options, futures, commodities and currencies. Roberto studied international business at the Milwaukee School of Engineering, and he spent a year overseas studying business in Lubeck, Germany. His work has appeared on financial outlets including CNBC.com and Forbes.com. You can follow Pedone on Twitter at www.twitter.com/zerosum24 or @zerosum24.