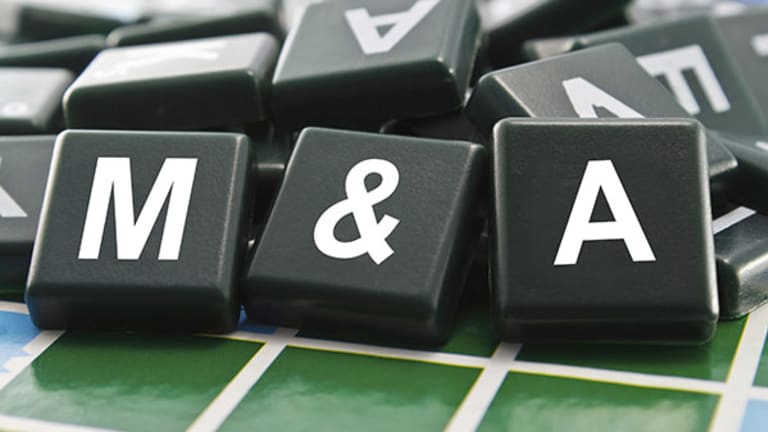 875 Billion Reasons This May Be the Biggest Year for M&A Since Financial Crisis
54% of U.S. CEOs plan to complete an acquisition in 2015, according to a PricewaterhouseCoopers report, and technology, entertainment and oil and gas businesses are among the most likely targets.
NEW YORK (TheStreet) -- With $875 billion in corporate takeovers so far this year, 2015 may be the best year for mergers and acquisitions in the U.S. since the financial crisis, according to financial consultant PricewaterhouseCoopers (PWC) - Get Report.
The total, as of May 31, represents an 8.7% gain from the same period last year as companies take advantage of higher stock prices to expand into related businesses or move into entirely new ones, PricewaterhouseCoopers says in a report released today. The gains reflect heightened valuations, since the number of transactions actually fell 5%, and include acquisitions like Charter Communications' purchase of Time Warner Cable for $79 billion.
Fifty-four percent of U.S. CEOs plan to complete an acquisition in 2015, according to U.S. subsidiary PwC's 18th annual CEO Survey, and they're "looking at deals to strategically strengthen and protect their positions in this increasingly competitive marketplace," said Martyn Curragh, PwC's U.S. Deals leader. "The strong U.S. economy and rising confidence signals a strong finish to 2015, making it another record year for M&A value since 2007 and the doldrums of the financial crisis."
Transactions valued at $10 billion or more, or megadeals, accounted for 58 percent of total deal value in the first five months of the year, PwC said. Six deals worth $150 billion were in the pharmaceutical industry alone, according to the report. Two more may occur in health insurance, with the Wall Street Journal reporting this week that Anthem (ANTM) - Get Report might offer $47 billion for Cigna (CI) - Get Report, and that UnitedHealth (UHN)  approached Aetna (AET) with a $40 billion bid.
Further consolidation will be driven by companies looking for opportunities to expand, operate more efficiently and take advantage of technological changes. In fact, 47% of U.S. CEOs considered access to new technology among the top three reasons for starting a partnership, PwC said.
"Many organizations are looking for opportunities to stimulate innovation and gain access to new technologies as much as they are looking for a conduit to new customers and geographies," added Curragh.
That was among the reasons for the May agreement by Verizon (VZ) - Get Report, which owns the country's largest broadband network to pay $4.03 billion for AOL (AOL) , which is is developing one of the world's top automated advertising platforms. If regulators approve the deal, Verizon would be taking the most significant step yet to leverage its broadband network apart from selling pay-TV and telephone services. In effect, it will become more like its chief rival, cable giant Comcast (CMCSA) - Get Report, which owns NBC/Universal.
Among the businesses ripe for deals in the reminder of the year are technology firms, where mobile devices like smartphones and tablets are disrupting consumer businesses, and entertainment and media companies, which are striving to meet customer demand for high-quality content while grappling with changes in distribution and content platforms. Other active sectors will be pharmaceuticals and oil and gas, PwC said.