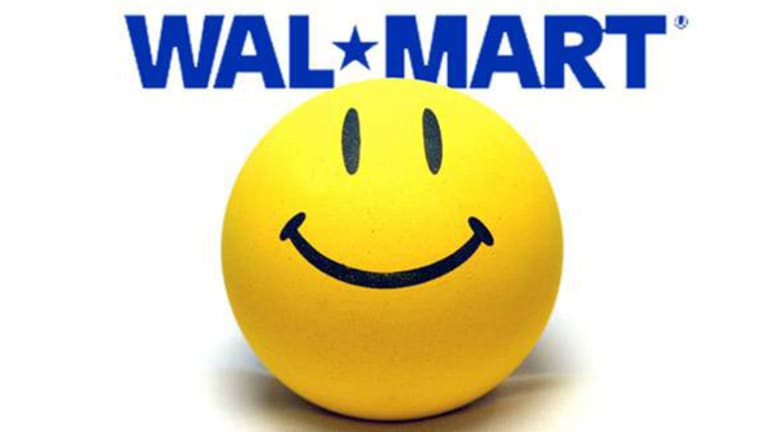 8 Things Wal-Mart Admits It Needs to Fix At Its U.S. Stores
The retailer's relatively new U.S. CEO identified several major challenges, from enhancing the store layout and design to reducing prices even further.
The retailer's relatively new U.S. CEO identified several major challenges, from enhancing the store layout and design to reducing prices even further.
NEW YORK (TheStreet) -- Wal-Mart's (WMT) - Get Report bread-and-butter U.S. business remains in full turnaround mode, but execs are hoping that things get better by the holiday season amid several operational changes.
At its investor day on Wednesday, the world's largest retailer laid out multiple challenges its U.S. executive and associate teams face in delivering stronger same-store sales and profits this year. Wal-Mart U.S. CEO Greg Foran, about eight months into the top job, has been personally undertaking tasks such as stocking shelves and talking to customers to assess areas of opportunity and weakness. In those eight months, Foran has visited a whopping 116 stores in the U.S., all unannounced.
Now that his review is nearing completion, Foran has identified eight problems the company needs to fix. 
1. Improve the shopping experience.
"Some processes require reworking," noted Foran. As an example, Foran identified the need to stock shelves overnight to be in a better position to satisfy customer demand throughout the day.
2. Get the inventory right.
According to Foran, Wal-Mart has too much inventory in its backrooms  The company has started to rectify that through better planning. Another action the company has taken to improve its sales and margins is to quickly reduce prices on food products that are nearing their expiration dates.
3. Enhance the store layout and design.
"Recently opened stores are not quite as good as prior ones," stated Foran. The executive mentioned Wal-Mart could improve things such as store lighting and sight lines. He concluded, "I like large supercenters."
4. Integrate the store network with the company's digital operations.
Wal-Mart's 4,500 U.S. stores are within 10 miles of 90% of Americans. But Foran believes Wal-Mart could improve its store pickup options and omnichannel execution.
5. Utilize the store space better by offering more services.
Wal-Mart could open more gas stations, healthcare clinics, and financial service outfits in its stores, suggested Foran.
6. Reduce prices even further.
Wal-Mart somewhat confirmed a report in The Wall Street Journal on Wednesday that it's putting pressure on suppliers to reduce prices so its retail prices can be more competitive. "In competitive markets, our price gap is too small," said Foran.
Foran's latest comments echoed those he made last year on Wal-Mart's pricing relative to grocers such as  Kroger (KR) - Get Report and Safeway (SWY) and dollar stores  Dollar Tree (DLTR) - Get Report and Dollar General (DG) - Get Report.
7. Sell more items that customers want.
Foran credited Wal-Mart's apparel and seasonal goods teams for doing a good job in meeting consumer needs and demands over the past year. But he stressed improvements need to happen in the food business, where Wal-Mart has disappointed consumers with its selection and stock levels.
8. Get headquarters working better with stores.
A principle of Wal-Mart founder Sam Walton was to direct headquarters personnel to put more power into the hands of the store associates who are in the trenches with customers.
"Frankly, that relationship in recent years has slipped," noted Foran. Foran mentioned it has started to restructure processes at Wal-Mart's headquarters in Arkansas to give store employees more autonomy.
This article is commentary by an independent contributor. At the time of publication, the author held no positions in the stocks mentioned.