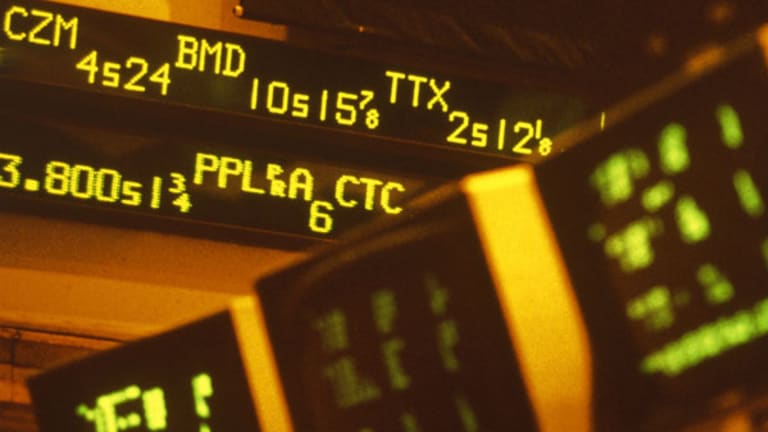 8 Risky Euro Bank Stocks to Avoid
These European bank stocks could be set to fall due to the European debt crisis.
By Roberto Pedone
WINDERMERE, Florida (
) -- The European debt crisis is back. True, it never really left, but lately market players have turned their attention to recent equity market strength -- and wisely so. Stock markets around the world have ramped up huge for the market of September.
But the sovereign debt crisis is rearing its ugly head again, and things could start to change on a dime if the problems across the pond become more meaningful.
Just this morning, Standard & Poor's said that the price of bailing out nationalized lender
Anglo Irish Bank
could exceed $47 billion, warning that it might need to cut Ireland's credit rating again due to this potential high cost. The cost of credit-default swaps tied to Irish bonds soared to a record high following S&P's comments.
Ratings agency Fitch joined the party, saying that Ireland could face a credit downgrade unless it convinces the markets that it has a grip on the final cost of dealing with Anglo Irish Bank.
>>>Also see: Top Weak-Euro Stock Plays
Spain also could be at risk of a credit rating downgrade. Back in June, ratings agency Moody's said it might cut Spain's Aaa rating when it completes a review within three months. Spain is also due to announce its borrowing plan for 2010 on Sept. 30. Just like Ireland, Spain's borrowing costs surged after its 10-year debt jumped to 191 basis points, compared with187 basis points yesterday.
Considering all of this news, market players might be best served to avoid European bank stocks altogether. The risk of one of these nations defaulting on its debt seems to be growing by the day. If this were to happen, it could spark a credit crisis around the globe, and shares of the top banks in Europe could be hit with bear raids.
>>>Also see: 10 Cheapest Bank Stocks for 2011
Also, keep in mind that Europe's central banks have announced plans to halt any sales of their gold reserves. This move away from selling bullion should be seen as a warning that European government insiders might just believe that the sovereign debt crisis is on the cusp of getting much worse.
During the 1990s and 2000s, central banks swapped out of their non-yielding gold holdings for sovereign debt, which provided an annual stream of steady income. However, now these same central banks want nothing to do with the risky sovereign debt and are instead opting for the safety in gold. This once again proves that gold is quickly becoming the world's new reserve currency.
With that in mind, here 's a look at
a number of European bank stocks
that could be set to fall due to the European debt crisis.
>>>Also see: 9 Companies Sitting on Piles of Cash
The first European bank stock I would avoid at all costs is global investment bank
Deutsche Bank
(DB) - Get Free Report
, which offers a range of investment, financial and related products and services to private individuals.
Think of Deutsche Bank as the
Goldman Sachs
(GS) - Get Free Report
of Europe. When a crisis hits, as it did in the U.S. with mortgaged-backed securities, even the best investment banks in the world don't escape unscathed. On Sept. 21, Deutsche Bank plunged after it issued a profit warning and launched a rights issue in an effort to raise enough cash to fund its takeover of Postbank.
>>>Also see: Top-Rated Capital Markets Stocks
On June 10, Deutsche Bank said it has net sovereign debt exposure of 3.2 billion euros to Italy, 500 million euros to Greece and 200 million euros to Ireland, and no exposure in holdings to Spain and Portugal. From a technical standpoint, shares of Deutsche Bank could be hit with heavy selling if the stock falls below some big support at around $54 a share.
>>>Also see: Deutsche Bank's Holdings
Another European bank stock I would avoid is the
Bank of Ireland
(IRE)
, which with its subsidiaries provides a range of banking and other financial services. The reasons to avoid any banking institution tied to Ireland are pretty obvious. That said, I would add Irish banking giant
Allied Irish Bank
(AIB)
to this list as well. Despite the fact that neither of these banks is heavily exposure to other PIIG nation debt, they hold too much risk and toxic paper tied to their own struggling domestic economy.
Two more European bank stocks that must be avoided at all costs are Britain-based
Barclays
(BCS) - Get Free Report
and
HSBC Holdings
(HBC)
.
During the EU stress tests, Barclays reported that it was holding 787 million euros of Italian sovereign debt as of March 31, which was the cutoff date for the stress tests. More-recent disclosures from the bank showed that its Italian sovereign debt holdings had skyrocketed to 8.6 billion euros. The bank's Spanish sovereign debt holdings stand at 6.4 billion euros. HSBC reportedly holds 800 million euros in Spanish debt and 800 million euros in Greece sovereign debt.
Market players should also avoid the
Royal Bank of Scotland
(RBS) - Get Free Report
. Following the stress tests, the Royal Bank of Scotland reported it holds 1.6 billion euros in Spanish sovereign debt, 5 billion euros in Italian debt and 300 million euros in Irish sovereign debt.
Finally, I would recommended avoiding the Spanish bank stocks such as
Banco Bilbao Vizcaya Argentaria
(BBVA) - Get Free Report
and
Banco Santander
( STD). Banco Bilbao holds 200 million euros in debt tied to Greece, 43 billion euros in debt tied to its own domestic economy and 0.6 billion euros of exposure to Portugal.
>>>Also see: 4 Latin American Stocks to Buy
Banco Santander holds 300 million euros in sovereign debt exposure to Greece, 48 billion euros in debt tied to its own domestic economy and 4.8 billion euros of debt exposure to Portugal.
To see more European banks that should be avoided at all costs, including
National Bank of Greece
(NBG)
and
Lloyds TBS Group
(LYG) - Get Free Report
, check out the
portfolio on Stockpickr.
-- Written by Roberto Pedone in Winderemere, Fla.
RELATED LINKS:
>>Stocks Third Point Is Buying in 2010
>>Be Cautious on Gold and Silver Bullion
>>4 Stocks Setting Up to Break Out
Follow Stockpickr on
and become a fan on
Facebook.
At the time of publication, author had no positions in stocks mentioned.Roberto Pedone, based out of Windermere, Fla., is an independent trader who focuses on stocks, options, futures, commodities and currencies. He is also an outside contributor to Beconequity.com and maintains the website Maddmoney.net, which he sold to Blue Wave Advisors in 2008. Roberto studied International Business at The Milwaukee School of Engineering, and he spent a year overseas studying business in Lubeck, Germany.
Stockpickr is a wholly owned subsidiary of TheStreet.com.