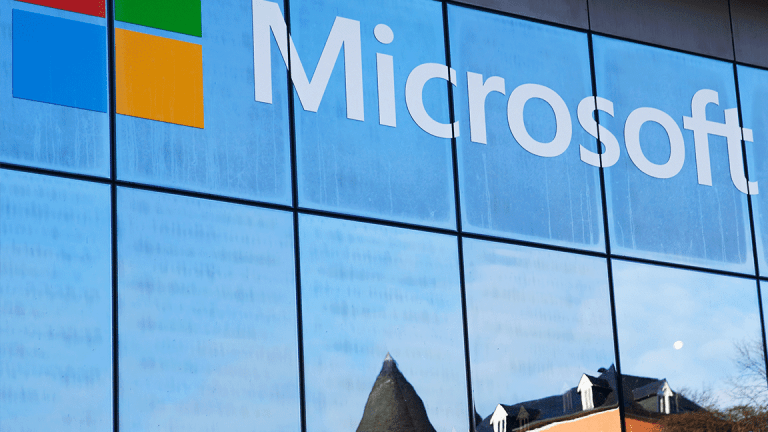 This year's keynote address for Microsoft's (MSFT) - Get Microsoft Corporation (MSFT) Report Build developer conference lasted over three hours, and -- as usual -- was jam-packed with hardware, software and services announcements.
The announcements made by CEO Satya Nadella and other Microsoft execs covered new offerings involving popular tech buzzwords such as AI, IoT, containers and blockchain, as well as solutions meant to enhance age-old Microsoft platforms such as Windows, Office and Visual Studio. Here are some highlights:
Betting big on IoT
The ability of Microsoft's Azure cloud platform to integrate with a company's local Microsoft software assets has long been a valuable selling point. Judging by its Build announcements, Microsoft is intent on making Azure, already used by many companies to manage IoT devices and analyze the data they produce, work just as seamlessly with embedded devices.
The company unveiled several new offerings for its Azure IoT Edge service, which (among other things) allows IoT devices to run AI/machine learning and analytics services without sending data back to the cloud. It also announced a partnership with Qualcomm (QCOM) - Get QUALCOMM Incorporated Report for creating Qualcomm-powered cameras that support Azure IoT Edge, and one with drone leader DJI for enabling Windows apps that interact with DJI's drones.
There was also a solution for putting Microsoft's Kinect sensors (remember them?) inside of IoT devices that can feed data to Azure's cloud, and fresh details about Azure Sphere, a recently-launched platform for building chips that can power devices running Azure IoT Edge. IoT device shipments are taking off, and -- though it's worth noting Amazon.com  (AMZN) - Get Amazon.com, Inc. Report and Alphabet/Google (GOOGL) - Get Alphabet Inc. Class A Reportaren't ignoring the space either -- Azure is arguably ahead of the pack in capitalizing on the trend.
Windows and Office 365 Stats
Microsoft disclosed that close to 700 million devices now run Windows 10, up from about 500 million a year ago. It also disclosed that Office 365 now has 135 million monthly active users (MAUs), up from 120 million in October.
The Office 365 disclosure follows a March quarter earnings report in which Microsoft stated Office 365's commercial seats had risen by 28% annually, and that Office 365's consumer subscriber count stood at 30.6 million (up by 4.5 million annually). Both Microsoft's Office commercial and consumer revenue rose at double-digit clips, as 365 helps land new Office customers and expands Microsoft's revenue opportunity with existing ones.
Making Office apps more useful
Microsoft was eager to show how the huge Microsoft Graph -- an array of local and cloud data sources that can be leveraged by Microsoft's own apps and third-party apps -- can make Office apps such as Word and PowerPoint more functional. For example, by letting users more quickly add content to documents and schedule events, or collaborate with co-workers without having to open another app. Microsoft also promises Graph gets better at surfacing material and making suggestions the more a user interacts with it.
And as Outlook both faces direct competition from Google's Gmail and indirect competition from platforms such as Slack, Microsoft is trying to make its e-mail client more functional by adding support for Adaptive Cards that can act as mini-apps within e-mails. Outlook will also now let users make payments from their inboxes via Microsoft Pay.

Some of the many big enterprise clients for Microsoft's Azure cloud platform.
Giving developers everything but the kitchen sink
Microsoft has already done a lot in recent years to woo the kinds of developers who haven't historically been fond of it. And those efforts have paid off some, judging by the large number of Linux workloads now running on Azure. The company doubled down on those efforts on Monday.
A partnership with the popular GitHub development platform was announced: GitHub's tools are now integrated with Microsoft's Visual Studio App Center service for developing mobile and PC apps. The company also expanded Azure's support for app containers -- lightweight and easily-portable alternatives to server virtual machines that have seen huge adoption among cloud developers. And it announced its widely-used Visual Studio programming environment will provide developers with AI-based suggestions for improving their code.
Addressing Windows's shortcomings
Hoping to get more developers to embrace the Windows Store, which hasn't exactly taken the world by storm, Microsoft says Windows Store publishers will now get to keep 95% of the revenue produced by app sales and transactions, up from a prior 70%. And in an attempt to make Windows more useful in a world where the smartphone has become the primary computing device for a large portion of humanity, Microsoft is launching Your Phone, an app that lets Windows users do things like reply to texts from their PCs and quickly move documents and photos to and from their phones.
And 9 months after announcing that Cortana would integrate with Amazon's Alexa assistant, which has a much larger non-PC footprint as well as a much larger developer ecosystem, Microsoft showed off a demo in which the two assistants worked together to do things such as send an e-mail and order an Uber ride.
Cloud databases for every need
Microsoft has long been a major player in the traditional database market, via SQL Server. And it's no slouch in the cloud database market either, as its Build announcements show.
The innovative Cosmos DB database, which can run globally across Microsoft's data center while maintaining high performance and reliability levels, got several new features, including some related to global data replication that aren't easy to pull off. Microsoft also made Azure database-migration services generally available, and made it easier to migrate SQL Server databases to Azure.
Oracle (ORCL) - Get Oracle Corporation Report can't be thrilled to see these moves. Just as it can't be thrilled with the momentum Amazon is seeing for its cloud database services.
Expanding the reach of "serverless" computing
Though its name suggests otherwise, "serverless" computing still requires the use of servers. What it doesn't require is the need to deploy and manage server virtual machines and the resources that are tied to them -- a cloud provider takes care of all that, and bills a company only when code is executed on its servers.
Though it's still early days, serverless cloud adoption has begun taking off, and Microsoft is far from oblivious to this fact. The company showed off several new features for its Azure Functions serverless platform -- they included new monitoring and diagnostics tools, and the ability to execute code in response to data from Azure IoT Edge devices. Amazon's AWS Lambda platform is arguably the early leader in this space.
AI is everywhere
It was hardly a shock that Microsoft's keynote contained a ton of AI-related announcements, given the massive investments virtually every tech giant is making in both AI/machine learning talent and hardware. The reveals included new AI services for cloud developers, including a vision service and a common programming interface (API) for voice, speech and translation services. As well as support for running trained AI models on Azure IoT Edge hardware. There was also a neat conference-room demo in which AI was used to detect a meeting's participants and transcribe and translate their conversation in real-time.
In addition, Microsoft showed off Project Brainwave, a hardware platform that uses Intel (INTC) - Get Intel Corporation (INTC) Report FPGAs (programmable chips) to perform inference (e.g., run trained AI models) both in the cloud and locally. Like FPGA vendor Xilinx (XLNX) - Get Xilinx, Inc. (XLNX) Report , Microsoft argues FPGAs offer superior latency relative to other processing solutions for inference.
Expect plenty more AI announcements on Tuesday as Google, whose consumer and cloud AI services are still arguably ahead of the pack in some respects, makes announcements on Tuesday during the keynote for its Google I/O developer conference.
Jim Cramer and the AAP team hold positions in Microsoft, Amazon and Alphabet for their Action Alerts PLUS Charitable Trust Portfolio. Want to be alerted before Cramer buys or sells MSFT, AMZN or GOOGL? Learn more now.