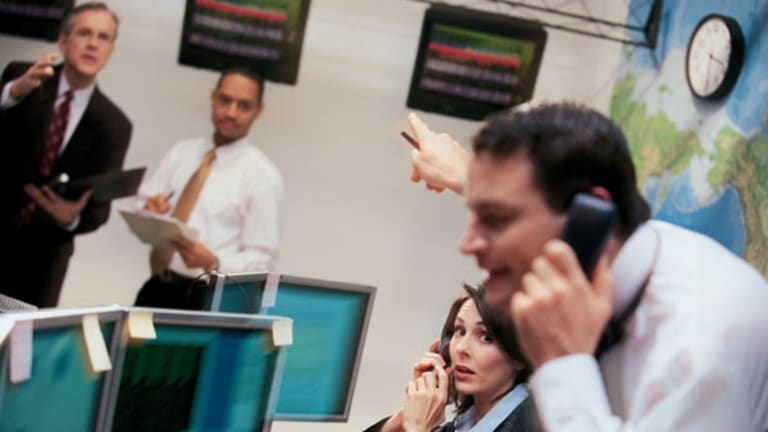 8 Dividend Stocks Increasing Payouts
Dividends are back in force this week, and the timing couldn't be any better.
BALTIMORE (Stockpickr) -- Dividends are back in force this week, and the timing couldn't be any better.
After all, when share prices are getting pummeled, dividends are the only stock returns investors may see for a while. And now, just as the floor's falling out of the market, a slew of dividend increases has hit Wall Street. All told, eight large- and mid-cap companies announced dividend hikes this past week -- and another dozen or so small-caps added their names to the list.
That's a big change, particularly when you consider that earnings season, the time when most firms announce dividend changes, is still a few weeks away.
Related:
Top 10 Warren Buffett Dividend Stocks
Historically, dividend stocks are worth watching -- and not just for income investors. Over the last 36 years, dividend stocks outperformed the rest of the
by 2.5% annually, and they outperformed nonpayers by nearly 8% every year, all while paying out cash to their shareholders, according to data compiled by Ned Davis Research. The numbers are even more compelling when looking at companies that consistently increase their payouts.
With that, here's a look at our
list of recent dividend-increasers
.
Microsoft
Tech giant
Microsoft
(MSFT) - Get Free Report
tops the list as the largest firm to announce a dividend hike in the last week. The $210 billion firm has been under some pressure from shareholders to ratchet up returns given the range shares have seemed locked in for the last couple of years. Microsoft's 25% dividend increase brings the firm's total yield to 3.19% right now, a pretty hefty payout for a tech stock.
Microsoft can afford it. The firm generates approximately $20 billion in annual free cash flow and carries another $38 billion in net cash and equivalents on its balance sheet. All of that fundamental prowess comes from a very profitable mix of businesses that includes everything from the Windows OS to productivity software, internet search services and the Xbox 360 gaming platform.
Still, the OS and software business is still Microsoft's core competency; the combined units generate almost 85% of revenue. If nothing else, that's evidence that Microsoft needs to figure out its next move.
The firm has seen several of its new ventures flop -- particularly when it's attempted to emulate
Apple
(AAPL) - Get Free Report
by offering products such as the now-discontinued Zune to compete with the iPod, or the Kin phone, which was discontinued less than two months after it failed to capture share from the iPhone and was later rereleased as a feature phone.
Put simply, Microsoft needs to tap some sort of unified growth strategy if it wants to break its share price out of their doldrums.
Microsoft, one of the
top-yielding computer software and services stocks
, shows up on a recent list of
.
Philip Morris International
Even though 2011 has been a tough year for most stocks, shareholders of
Philip Morris International
(PM) - Get Free Report
aren't feeling the pain; shares of the $114 billion tobacco stock have gained more than 16% year-to-date. The real question now is whether the firm can hold those gains in this market.
With approximately 16% of the non-U.S. tobacco market, Philip Morris International is the second-largest tobacco company in the world. But therein lies the problem.
Because Philip Morris earns its revenue in foreign currencies, then converts it to dollars for reporting purposes, the firm is very susceptible to exchange-rate losses as an appreciating dollar cuts away at the firm's earnings. As investors seek out quality investments (particularly Treasuries) right now, the dollar is ratcheting higher, and that's a real concern for PM's shareholders.
Like most tobacco stocks, Philip Morris International is a dividend machine (and one of the
highest-yielding tobacco stocks
). Following a 20% dividend increase, the firm currently pays out a quarterly 77-cent dividend. That's a 4.74% yield at current prices. I think that PM makes a strong core income holding for most investors -- once the dollar rally has cooled down a bit, that is.
Philip Morris, one of TheStreet Ratings'
, shows up on a recent list of
3 Big Dividend Plays for December
.
Texas Instruments
Texas Instruments
(TXN) - Get Free Report
is another big-name stock that hiked its dividend last week. School kids may best know the firm as a calculator maker, but TXN's real claim to fame is its status as the world's largest manufacturer of analog chips. That semiconductor business contributes approximately 96% of Texas Instruments' annual revenue.
Texas Instruments has been seeking out growth in recent years by applying its semiconductor expertise to the quick-moving mobile device market. The firm's chips drive the brains behind a number of smartphone and tablet devices on the market today, but the field is extremely competitive. The mobile device market is a high-volume business that other chipmakers want a share of -- Texas Instruments will have to fight them off with new innovations to keep its positioning.
From a financial perspective, Texas Instruments looks strong. The firm has minimal debt (the result of a recent acquisition) and holds more than $6.7 billion in cash and available-for-sale securities. That financial position should more that support TXN's 30.7% dividend increase this past week. The move ratchets the firm's dividend to a quarterly 17 cents per share.
Texas Instruments shows up on recent lists of
Semiconductor Stocks Liked by Hedge Funds
and
6 Stocks to Benefit From Windows 8
Yum! Brands
Fast food chain
Yum! Brands
(YUM) - Get Free Report
is the name behind restaurants such as KFC, Pizza Hut and Taco Bell -- three franchises that have had stellar success at international expansion. Yum! was one of the first Western fast food companies to enter the Chinese market, and it's also been one of the most successful. Buoyed by colossal growth in the Chinese middle-class demographic, the firm has more than 4,000 locations in China that contribute almost 40% to Yum!'s total operating profits.
That's a level of success that other U.S. competitors have been trying hard to replicate as the fast food business reaches saturation domestically. Yum! isn't resting on its laurels, however. The firm has been pushing into a number of other markets for growth, including in other emerging markets. The fact that this chain has access to growth right now makes is particularly attractive.
Financially, Yum! is in good shape. While the firm carries approximately $1 billion in balance sheet liquidity, it is free-cash-flow generation where Yum! (like most other franchisers) really shines. The firm's cash flow yield of approximately 5% more than covers the recent 14% dividend hike. With the increase, Yum!'s payout is currently 28 cents per quarter, a 2.24% yield.
Yum!, one of TheStreet Ratings'
top-rated restaurant and hotel stocks
, is one of the
top holdings of Steven Cohen's SAC Capital
.
Kroger
For 128 year-old grocery store firm
Kroger
(KR) - Get Free Report
, 2011 has proven relatively strong so far; shares of the firm have slid just under 3% year-to-date. That's not bad performance considering the S&P 500's 10.17% decline over that same period. But investors need to realize that the contraction comes in the face of otherwise strong fundamental performance for the firm.
Kroger actually managed to deliver revenue growth and profitability before, during and now after the recession. That's quite a feat to pull off, particularly when you consider the thin margins that characterize the grocery business.
The secret to Kroger's success has been a willingness to change its marketing tools in order to combat big box stores' entrance into the grocery business. Kroger's decision to add gas pumps at many of its stores generates significant additional traffic -- but it doesn't make any money. Kroger sells its gasoline at cost (or a small loss) in order to attract customers into its store.
The idea of using gasoline as a loss leader isn't a new one -- big box stores have used it for years -- but it is novel in that it removes one of the most attractive tools from its competitors' arsenals. The resulting sales growth at Kroger has helped to support last week's 9.5% dividend increase to 12 cents per share. At a 2.1% yield, Kroger isn't exactly a core income holding, but it is the best-in-breed grocery stock right now. Investors looking for a mix of income and recession resistance should give this name a second look.
Kroger is one of TheStreet Ratings'
top-rated food and staples stocks
.
Fifth Third Bancorp
Fifth Third Bancorp
(FITB) - Get Free Report
is a diversified Cincinnati-based regional bank with more than $111 billion in assets. This past week, the firm announced a 33.3% dividend increase, bringing its quarterly dividend to 8 cents per share, a 3.33% yield.
Fifth Third's hefty exposure to states such as Michigan and Florida meant that it suffered worse than most during the height of the recession, but it looks like the firm has turned the corner. The company took hefty write-offs, raised capital through dilutive equity offerings and took on $3.4 billion in TARP to shore up its business. Since that time, loan loss provisions have declined, new issues have been priced in, and TARP has been repaid -- those factors aren't quite an "all clear" sign for investors, but they're a good sign nonetheless.
Fifth Third has been working on building its deposit base and its fee-driven revenue in recent years, a move that should limit the downside that could result from more economic difficulties on the horizon. FITB's sizable dividend payout and deep margins are attractive, but ultimately, I think that there are better risks in the regional banking space right now.
M&T Bank
(MTB) and
BB&T
(BBT) - Get Free Report
are a couple of examples.
Fifth Third is one of the
top holdings of David Tepper's Appaloosa Management
and also shows up in the
portfolio of David Einhorn's Greenlight Capital
.
Host Hotels & Resorts
Luxury hotelier
Host Hotels & Resorts
(HST) - Get Free Report
is a public hotel REIT that owns 110 properties worldwide. Host's portfolio of hotels is selective -- the firm's hotels are generally located in high-demand areas that aren't as elastic to recessionary headwinds as peers. As a result, the firm has managed to fare better than many analysts expected in the last few years.
Even so, the margin squeeze of the last few years hasn't yet been remedied -- even if luxury spending remains strong, that's a major problem for investors right now.
Owning hotels is a capital-intense business, and Host's operations are no different. The firm has a considerable debt load right now, a setup that could cause a liquidity issue if the firm can't make its way to sustained profitability this year.
On a shorter timeframe, Host's turn to quarterly profits and its REIT status mean that it had to hike dividends. The firm announced a 33.3% increase in its dividend last week, bringing its yield to 1.53%.
Income investors should steer clear until profitability becomes more compelling.
Host is one of the
.
Realty Income
A more attractive REIT alternative is
Realty Income
(O) - Get Free Report
, another firm that hiked its payouts in the most recent quarter. This $4 billion retail REIT owns 2,496 properties, making up more than 21.2 million square feet of leasable space. Most investors think of REITs such as Realty Income as a way to play the commercial real estate market, but they're not.
Instead, they're simply income-generation tools. That's because long-term, triple-net lease agreements essentially divorce REITs like Realty Income from the ebb and flow of real estate prices. Unlike a hotel, whose occupancy can fluctuate in real time with the economy, a retail REIT has customers signing long-term leases that have built-in profit margins for the landlord. Because a small chunk of Realty Incomes tenants turn over each year, short-term real estate prices aren't a huge factor for this firm.
Realty Income's 0.22% dividend increase may not sound like much, but it's a small increase on a dividend that's already quite large. At 15 cents per share, this REIT's quarterly dividend works out to a 5.29% yield at current prices. That makes this name a much better alternative for income investors looking for REIT exposure.
To see these dividend plays in action, check out the
Dividend Stocks for the Week portfolio
on Stockpickr. 


And if you haven't already done so,
today to create your own dividend portfolio. 

 
-- Written by Jonas Elmerraji in Baltimore.
RELATED LINKS:
>>5 Downgrade Stocks That Should Be Buys
>>5 Trades to Profit From the Selloff
>>5 Stocks Showing Relative Strength in a Weak Market
Follow Stockpickr on
and become a fan on
Facebook.
At the time of publication, author had no positions in stocks mentioned.
Jonas Elmerraji is the editor and portfolio manager of the Rhino Stock Report, a free investment advisory that returned 15% in 2008. He is a contributor to numerous financial outlets, including Forbes and Investopedia, and has been featured in Investor's Business Daily, in Consumer's Digest and on MSNBC.com.