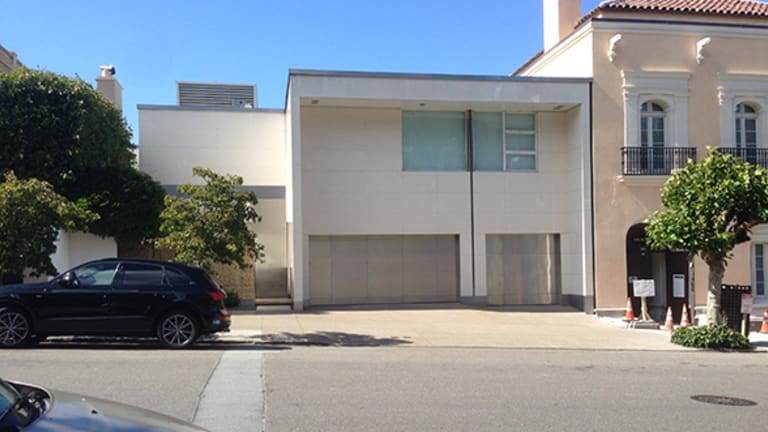 8 Amazing Homes of Silicon Valley's Tech Elite
The San Francisco Bay Area is home to many of the tech elite. Some live in Silicon Valley mansions, and others live in smaller, albeit expensive, homes in the city.
NEW YORK (TheStreet) -- It's no secret that the technology sector has been on fire over the past few years, ushering in the initial public offerings of companies such as Facebook (FB) - Get Report, Zynga (ZNGA) - Get Report and many others.
Often, following an event like an IPO or a merger, co-founders will cash out and buy themselves a few things, like an expensive car, or in some cases real estate. Even though real estate prices in the Bay Area have continued to rise, due in large part to the wealthy tech elite, that's no concern for the likes of Mark Zuckerberg, Larry Ellison and some of tech's wealthiest people.
Here are eight amazing San Francisco Bay Area homes of some of the richest people in technology.

Mark Pincus
Mark Pincus paid about $16 million for his 11,500-square-foot Pacific Heights home, according to city records. The Dutch Colonial-style home sits on "Billionaire's Row" in San Francisco.
Pincus returned earlier this year to become CEO of gaming company Zynga ZNGA, a company he co-founded, taking over for Don Mattrick.
San Francisco-based Zynga is known for its social games including Farmville, Words with Friends and Mafia Wars.
Larry Ellison
One of the wealthiest people in tech, Larry Ellison has a net worth north of $50 billion, and he isn't afraid to spend it.
Ellison bought his Broadway Street home for $3.9 million in 1998, according to city records. The home has five bedrooms and is 10,000 square feet. It is mainly used for entertaining, according to the San Francisco Chronicle.
The co-founder of Oracle (ORCL) - Get Report, which develops cloud software, hardware systems and other services, Ellison also purchased the Hawaiian Island of Lanai in 2012 for a reported $500 million.
Thanks to the fortune he's amassed from Facebook, Mark Zuckerberg purchased a second home in Dolores Heights for about $10 million, according to city records.
In addition to this house, Zuckerberg owns several other properties, including the residences surrounding his Palo Alto home. He purchased his primary home in Palo Alto for $7 million.
Marc Benioff got his start at Oracle before helping found Salesforce.com (CRM) - Get Report, which is the world's largest cloud computing company by market cap, at $47 billion.
Benioff, who is worth more than $3 billion according to Forbes, bought his 3,500-square-foot Jackson Street home in 2000 for $7.5 million, according to city records.
Marissa Mayer
Known for her sense of style, fashion sense and good looks, Yahoo! (YHOO) CEO Marissa Mayer likes to spend a few dollars on real estate as well.
Marissa Mayer's penthouse apartment in the Four Seasons in San Francisco is reportedly worth $5 million. She also has a home in Palo Alto.
Marissa Mayer
The second of her properties, Marissa Mayer's Palo Alto home is worth about $5.3 million, according to city records.

Meg Whitman
HP (HPQ) - Get Report CEO Meg Whitman knows a thing or two about real estate, having purchased a home in the wealthy city of Atherton worth about $3.5 million, according to city records. The home is about 3,700 square feet.
In addition to being CEO of HP (which will soon split into two companies, with Whitman leading HP Enterprise), she is the former CEO of eBay EBAY and had an unsuccessful run in trying to become the governor of California.
Mark Hurd
Mark Hurd's Atherton mansion is worth about $7.8 million, according to city records. According to BusinessInsider.com, it has 5 bedrooms and 6.5 bathrooms in this 6,400-square-foot abode.
Hurd is the co-CEO of Oracle, which develops cloud software, hardware systems and other services.