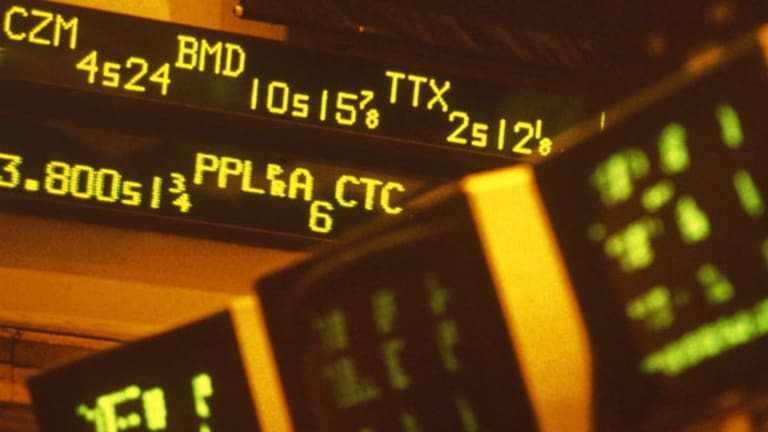 7 Undervalued IPO Stocks That Could Rebound in 2012
A tumultuous year knocked many of these stocks, which came public in 2011, off their perch.
NEW YORK (Stockpickr) -- Simply taking a snapshot of 2011 doesn't tell you much. The S&P 500 began the year around 1250 and finished the year at 1250, yet it was actually wild year, with an early surge, a deep summer swoon and a fall rally.
For companies that chose to come public on such a roller-coaster year, timing is everything. Many 2011 IPOs firmly established themselves and are now trading well above their offering price. Yet many other companies were brought public at a time of high volatility, and they've never found their footing.
>>7 Hot Stocks on Traders' Radars
All of the stocks in the table below are trading at least 10% below their offering price, and a handful now look like solid bargains.
Here's a closer look at
several 2011 IPOs that look undervalued
.
Gevo, Solazyme and KiOR
These three companies --
Gevo
(GEVO) - Get Gevo, Inc. Report
,
Solazyme
(SZYM)
and
KiOR
(KIOR)
-- are looking to accomplish the same goal: convert biomass, plants and other abundant natural materials into energy sources that can be used in placed of crude oil. These are always tricky IPOs because the companies are often several years away from scaling up production and will likely need to keep raising money until they become financially self-sustaining.
On the one hand, it's unwise to buy any company that will soon raise more funds from a secondary public offering, because your stake may be greatly diluted. On the other hand, these stocks, each of which is trading more than 25% below the 2011 IPO price, have built up a set of assets in terms of early and mid-stage production facilities, which may hold great appeal to other firms looking to buy their way into this space.
Perhaps the safest way to approach this group is to keep them on your watch list, and look to buy after another round of capital-raising has been completed. That may not be the last of the financing rounds, but at least you're getting involved in the stock a long time before that happens. On a cursory review, all three of these companies' technologies look quite appealing, performing well thus far in their development trials.
Pandora Media
Pandora Media
(P)
accounts for 4% of all U.S. radio listening, yet its share of the radio ad market is just 2%. That's why some analysts think that Pandora can boost revenues at a solid annual pace, even if listenership grows much more modestly. But few are focusing on the company's growth potential right now. The stock opened at $20 on its first day of trading last June, but when the stock market was routed last July and August, shares stumbled into the lower teens, and despite a few subsequent head fakes, now trade below $13.
It's easy to forget that this busted IPO is still in the midst of a powerful growth spurt: Sales likely rose more than 100% in fiscal (January) 2012 to around $270 million and could rise another 50% in fiscal 2013 according to analysts. Analysts at Citigroup suggest that shares could roughly double to their $25 target price, as the company is pursuing a range of growth initiatives in the auto and mobile segments.
Still, investors will need to see how all of this sales growth translates into rising profits. Even Citigroup concedes that Pandora is unlikely to be profitable in the next few years. Nevertheless, this broken IPO has fairly low expectations embedded in its stock price, implying more reward than risk.
Pandora shows up on a list of
.
Demand Media
Demand Media
(DMD)
surged 30% on Friday, Feb. 18, thanks to solid quarterly results. Then again, it still trades for less than half of the IPO price.
Demand Media was the ultimate search engine stock, deploying a veritable army of freelancers to drum up content that would score high in Google's page view rankings. Trouble is, Google re-jiggered its search formula, and Demand Media's traffic took a hit. Sales had grown at least 10% sequentially in every quarter, from the first quarter of 2010 to the first quarter of 2011, but then got stuck in the $80 million range.
Yet just-released fourth quarter results imply that Demand Media has finally adjusted to a post-Google world. Sales moved up to $84 million, and thanks to cost cuts, the company reported its first operating profit in five quarters.
Moreover, management is shifting focus from generating a huge amount of mediocre content to a smaller amount of more compelling content. As a result, traffic has begun to re-build, and management projects decent sales growth for 2012.
It's a bit too soon to call this a full-fledged turnaround, but with shares trading far from the IPO price, it's surely worth further research.
Vanguard Health Systems
Vanguard Health Systems
(VHS)
, an operator of 26 acute health care hospitals and three health care plans, would appear to be the victim of the current healthcare reform. Shares are off sharply since last summer, and analysts have been steadily lowering their earnings forecasts in light of industry cost pressures.
But some think that the changing health care landscape will be a clear positive for Vanguard Health. First, the mandate that requires all citizens to have health insurance is expected to boost traffic as formerly un-insured patients more readily seek medical attention. Second, the number of unpaid hospital bills should radically shrink as patients go from uninsured to insured.
Merrill Lynch, with a $15 price target, notes that Vanguard "has been able to operate at decent margins in markets with high uninsured and Medicaid populations" and thinks results are about to get even better. It sees EPS rising from 78 cents in fiscal (June) 2012 to $1.01 in fiscal 2013 to $1.68 in fiscal 2014. For a stock that has fallen more than 40% in the last six months to a recent $10.30, that kind of profit growth could attract a fresh base of investors.
Zipcar
Car-sharing service
Zipcar
( ZIP) has delivered solid -- if unspectacular -- quarterly results since going public last spring. Yet the key reason behind a slumping share price is a steady selling pressure from the company's original backers, some of whom have been unloading large blocks of stock in recent months. Until that process is complete, shares may remain under duress.
Over the long-haul, however, this appears to be a solid growth platform. Sales are growing at about a 20% annual pace, thanks to deeper penetration of existing markets and steady expansion into new U.S. and European markets.
To see these stocks in action, visit the
2011 IPOs That Look Undervalued
portfolio.
RELATED LINKS:
>>5 Rocket STocks Fueling Up This Week
>>7 Dividend Stocks Hiking Payouts
>>5 Big Stocks to Trade for Gains
Follow Stockpickr on
and become a fan on
Facebook.
Stockpickr is a wholly owned subsidiary of TheStreet.com.
At the time of publication, author had no positions in stocks mentioned.