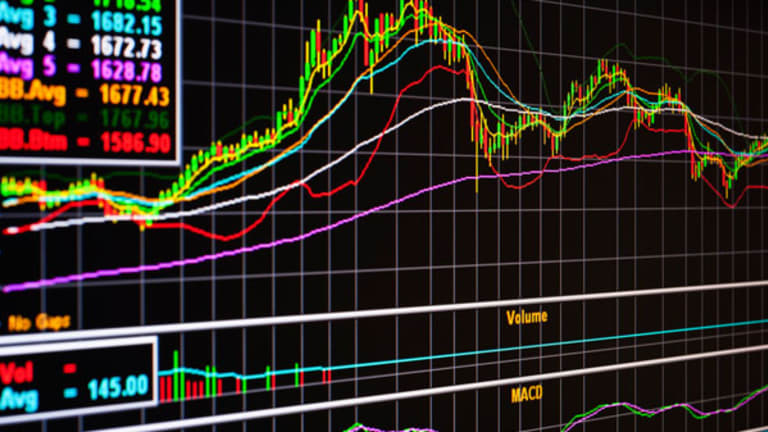 7 Top Stocks That Should Continue to Outperform
These stocks, which outperformed during the summer crash, should continue to outperform in the near future.
These stocks, which outperformed during the summer crash, should continue to outperform in the near future.
MILLBURN, N.J. (Stockpickr) -- Since peaking this summer on July 22, the equity market has tumbled. Despite a slight recovery, it remains well below the summer highs. There are a variety of reasons to account for the "Summer Crash," most notably the continued weakness in the European credit markets and concerns for a double-dip recession in the U.S.
From July 22 to Sept. 2, the
S&P 500
declined by 12.72% -- but not all stocks declined to that degree, and many, in fact, actually rose. Further, some of these stocks are poised for further outperformance for the balance of the year.
Related:
2 Pair Trades for a Stagnant Economy
Stock picking is all about finding the right stocks. To this end, I've performed a screen of U.S. stocks that outperformed the S&P 500 from July 22 to Sept. 2. I've excluded stocks with market capitalizations below $100 million,
, takeover targets and ETFs.
Here are
that I expect to continue to outperform the market in the near future.
Universal Display
Universal Display
(PANL) - Get Report
, a manufacturer of organic light-emitting diodes, was the best performer over the period under review. OLEDs, films that emit light in response to electrical currents, are important with today's growing demand for non-back-lit technologies such as mobile devices, computers and display screens. Universal Display has strategic relationship with many of the major technology manufacturers, including
AU Optronics
(AUO) and
Samsung
. The demand for OLEDs is ever-increasing as the mobile device business expands.
Helping to propel Universal Display's price was an upgrade from a Goldman Sachs analyst, who raised the company's target price from $45 to $65. Earnings are expected to be negative for 2011 but turn green in 2012, with current consensus estimates of 86 cents per share.
Universal Display was highlighted recently in "
5 Breakout Stocks: The Search for Survivors
."
Staar Surgical
Staar Surgical
(STAA) - Get Report
develops, manufactures and sells implantable lenses and other products for ophthalmic surgery. After reporting a better-than-expected quarter, including 19% revenue growth, on Aug. 2, the stock began to rise dramatically. While only five analysts cover this stock, the consensus expects earnings to double in 2012 from 2011. Sales are growing for the company in mid-teen percentages.
Trading volumes have soared since late July, indicating that the stock might be under accumulation. With an aging population, the need for eye surgery and implants is likely to grow. Given the size of this company and the fickle nature of the medical device business, I would consider Staar Surgical to be a highly speculative stock.
Stamps.com
Stamps.com
(STMP) - Get Report
provides Internet-based postage solutions that are approved by the U.S. Postal Service. Consumers and companies can custom-design stamps using digital photographs and graphic design, a very popular option for wedding invitations, birth announcements and the like. Stamps.com also saves costumers time by not having to go to the post office.
I would consider Stamps.com products to be a novelty but not a fad. While the USPS continues to struggle as more mail is sent and bills are paid over the internet, Stamps.com has seen its revenue and earnings grow.
The stock sells at 15 times 2012 earnings, which are expected to grow about 5% over 2011. For the last four consecutive quarters, Stamps.com has bettered analysts' estimates by an average of 11 cents, or 56%. I expect 2012 estimates to be raised higher.
Stamps.com shows up on a list of
10 Small-Caps With Positive Earnings Trends
.
Midas
Midas
( MDS) is a chain of automobile repair shops, both company-owned and franchised, across the U.S. and Canada. The company also has real estate holdings and develops and sells specialty software for its shops and third-party service providers.
With more people out of work, consumers are putting more money into their used cars rather than buying new cars, evident from the company's report of a doubling of earnings from the prior year for its June quarter. For 2011, earnings are expected to grow 57% to 47 cents and then another 28% in 2012 to 60 cents in 2012.
Consider Midas as a play on a slowing economy, hence its excellent performance since July 22 and positive expectations for the near future.
Sturm Ruger
Sturm Ruger
(RGR) - Get Report
makes and sells firearms. The stock has been on a tear lately, most notably since reporting its results for the June quarter. Earnings are growing in the mid-teen percentages and are expected to do so in the future.
Compare this with the company's more popular yet smaller competitor,
Smith & Wesson Holdings
(SWHC)
, which has struggled to grow sales and earnings the past few years.
had built up large positions in Smith & Wesson through the summer of 2010 only to sell of out the stock later in the third quarter of that year. Perhaps that has focused investor attention away from Smith & Wesson and onto Sturm Ruger.
Sturm Ruger sells at 16 times 2012 earnings expectations, which is quite reasonable given earnings growth expectations.
Sturm Ruger is one of TheStreet Ratings'
top-rated leisure goods stocks
.
Two other stocks, which I have discussed recently, belong on this list. First is
Green Mountain Coffee Roasters
(GMCR)
, which rose 11.70% during the period in question and which I featured in "
. The second stocks I
Con Edison
(ED) - Get Report
, which rose 4.65% and also paid a dividend of 60 cents (just over 1%) during the period. I highlighted Con Edison as one of "
6 Low-Volatility Stocks for a Volatile Market
."
-- Written by Scott Rothbort in Millburn, N.J.
RELATED LINKS:
>>5 Technical Setups to Trade This Week
>>4 High-Yield Stocks With Lots of Cash, No Debt
>>5 Heavily Shorted Stocks That Could Pop
Follow Stockpickr on
and become a fan on
Facebook.
At the time of publication, Rothbort was long GMCR and ED, although positions can change at any time.
Scott Rothbort has over 25 years of experience in the financial services industry. He is the Founder and President of
, a registered investment advisor specializing in customized separate account management for high net worth individuals. In addition, he is the founder of
, an educational social networking site; and, publisher of
The LakeView Restaurant & Food Chain Report
. Rothbort is also a Term Professor of Finance at Seton Hall University's Stillman School of Business, where he teaches courses in finance and economics. He is the Chief Market Strategist for The Stillman School of Business and the co-supervisor of the Center for Securities Trading and Analysis.
Mr. Rothbort is a regular contributor to
TheStreet.com's RealMoney Silver
website and has frequently appeared as a professional guest on
Bloomberg Radio
,
Bloomberg Television
,
Fox Business Network
,
CNBC Television
,
TheStreet.com TV
and local television. As an expert in the field of derivatives and exchange-traded funds (ETFs), he frequently speaks at industry conferences. He is an ETF advisory board member for the Information Management Network, a global organizer of institutional finance and investment conferences. In addition, he is widely quoted in interviews in the printed press and on the internet.
Mr. Rothbort founded LakeView Asset Management in 2002. Prior to that, since 1991, he worked at Merrill Lynch, where he held a wide variety of senior-level management positions, including Business Director for the Global Equity Derivative Department, Global Director for Equity Swaps Trading and Risk Management, and Director for secured funding and collateral management for the Global Capital Markets Group and Corporate Treasury. Prior to working at Merrill Lynch, within the financial services industry, he worked for County Nat West Securities and Morgan Stanley, where he had international assignments in Tokyo, Hong Kong and London. He began his career working at Price Waterhouse from 1982 to 1984.
Mr. Rothbort received an M.B.A., majoring in Finance and International Business from the Stern School of Business, New York University, in 1992, and a B.Sc. in Economics, majoring in Accounting, from the Wharton School of Business, University of Pennsylvania, in 1982. He is also a graduate of the prestigious Stuyvesant High School in New York City. Mr. Rothbort is married to Layni Horowitz Rothbort, a real estate attorney, and together they have five children.