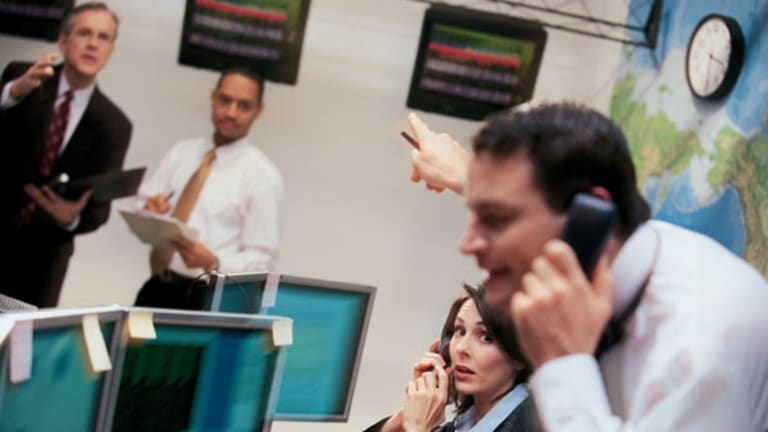 7 Stocks for a Housing Rebound
here are many indications -- anecdotal and factual -- that the housing market is in the midst of a renaissance after a crushing multiyear depression.
here are many indications -- anecdotal and factual -- that the housing market is in the midst of a renaissance after a crushing multiyear depression.
MILLBURN, N.J. (Stockpickr) -- There are many indications -- anecdotal and factual -- that the housing market is in the midst of a renaissance after a crushing multiyear depression.
Here are some of those indicators:
>>5 M&A Stocks to Buy at a Bargain
Housing starts have been on a steady rise since February 2011 and have registered 700,000 or more since November 2011 (with a minor blip to 697,000 in December 2011).
Building permits have to the most part followed the trend in housing starts.
The NAHB/Wells Fargo Housing Market Index has surged since September 2011to levels not seen since June 2007. The index gauges builder perception of single-family-home sales and sales expectations for the next six months.
New-single-family-home sales bottomed in February 2011 and have risen to a level not seen since April 2010. However, the 2009-2010 single-family-home sales were bolstered by Federal tax credits, which no longer exist.
The S&P/Case-Shiller Composite 20 City YOY Index of Home Prices, while still negative, has improved since April 2011
Mortgage rates remain at historic low levels and should remain so for several years.
So how can we take advantage of these trends? Here are
seven stocks for the housing rebound
.  
USG
USG
(USG)
, known to stock market veterans as US Gypsum, manufacturers building materials for residential and commercial construction, including drywall, panels, roofing and flooring.
The company suffered greatly as a result of the housing crash, but the turnaround has begun. Revenue bottomed in 2010 at $2.9 billion and is expected to rise to $3.4 billion this year and $3.7 billion next year.
The company posted earnings losses consistently since the housing market fell apart, losing as much as $3.32 in 2010. In 2012 the company is expected to lose 68 cents and then turn to profitability, estimated at 25 cents in 2013. That estimate could be low if the construction market continues its rebound.
As of the most recently reported period, USG was one of
.
Ingersoll-Rand
Ingersoll-Rand
(IR) - Get Report
specializes in air conditioning, climate control systems, industrial technologies and off-road vehicles. Its well-known brands include American Standard, Ingersoll Rand, Club Car, Schlage, Trane and Steelcraft.
Since seeing its earnings plunge nearly 50% year over year in 2009 to $1.65, Ingersoll-Rand is beginning to experience a rebound. Earnings growth is expected in 2012 of 7.5% and in 2013 in of nearly 20%.
The stock sells at 13 times current-year earnings and 9 times forward earnings. During the last period of housing growth, Ingersoll-Rand sold for mid-teens times earnings.
Whirlpool
Whirlpool
(WHR) - Get Report
is a worldwide manufacturer of home appliances such as washers, dryers, refrigerators, stoves and ovens. The company's brands are literally household names, including Whirlpool, Maytag, KitchenAid, Jenn-Air and Amana.
Whether due to new-home construction or home upgrades after years of neglect, Whirlpool is poised to see a pickup in its business as the housing market reenergizes itself. Sales are expected to be flat in 2012 and rise 4% in 2013. Earnings are expected to rise from $6.47 in 2012 to $8.00 in 2013. The company has recently upped its stake in German kitchen manufacturer Alno.
The stock has had a wild year so far rising well over 60% by the middle of March only to decline by about 31% by the middle of June and is more recently rebounding such that it is still higher by about 30% on the year. If you catch Whirlpool just right, you could get a nice housing-related trade.
Lennar and Toll Brothers
These are two of the largest homebuilders in the U.S. They not only survived the housing crisis but may be better coming out of it.
Lennar
(LEN) - Get Report
, a nationwide builder of moderately priced homes, earned 21 cents in its most recent quarter, better than analysts' expectations of 20 cents. According to CEO Stuart Miller, "Evidence from the field suggests that the 'for sale' housing market has, in fact, bottomed and that we have commenced a slow and steady recovery process."
Toll Brothers
(TOL) - Get Report
is one of the best-managed homebuilders in the country. It is also a high-end manufacturer of new single-family and multifamily dwellings, such as condos. The company is ahead of its peers, turning a profit last year. Those profits are expected to nearly double in 2012 and then double again in 2013 to 94 cents per share. Revenue growth of 19% is expected in 2012 and 27% in 2013.
Plum Creek Timber
Plum Creek Timber
(PCL)
grows, harvests and sells timber and manufactures forest products such as lumber and plywood. The company is structured as a real estate investment trust, or REIT. As such, it acts as a pass-through vehicle for tax purposes and pays an above-market distribution of about 4.2% of its market price. This payout has remained stable since 2007 despite the fall-off in demand for timber products when the housing market went into decline.
As the construction market for housing picks up, so should the demand for lumber. This will result in increased cash flow, earnings and payouts for Plum Creek Timber shareholders.
Valspar
Valspar
(VAL) - Get Report
is a specialty chemical company that produces paints and coatings. Valspar paints are featured at
Lowe's
(LOW) - Get Report
home improvement stores as well as other independent dealers throughout the country.
Here is a fact that most people don't know about newly constructed homes: They tend to get painted twice. Typically the homebuilder will paint the new walls a basic white or off-white. Then once the homeowner moves in and begins to decorate, another coat of paint is then applied in custom colors. Thus, new-home building can be very beneficial to the paint manufacturers.
One of Valspar's main competitors is
Sherwin-Williams
(SHW) - Get Report
, which would make a suitable addition to this housing rebound portfolio, but I decided to select the smaller Valspar (market cap $4.7 billion) over Sherwin-Williams (market cap $13.1 billion) solely on a valuation basis.
Earnings for Valspar are expected to increase 23% in 2012 and 12% in 2013. The stock sells at a price/earnings multiple of 16, vs. 20 for Sherwin-Williams.
-- Written by Scott Rothbort in Millburn, N.J.
RELATED LINKS:
>>5 Biotech Stocks Under $10 Set to Soar
>>5 Stocks Ready to Boost Dividends
>>5 Big Stocks Ready to Slingshot Higher
Follow Stockpickr on
and become a fan on
Facebook.
At the time of publication, Rothbort had no positions in stocks mentioned, although positions can change at any time.
Scott Rothbort has over 25 years of experience in the financial services industry. He is the Founder and President of
, a registered investment advisor specializing in customized separate account management for high net worth individuals. In addition, he is the founder of
, an educational social networking site; and, publisher of
The LakeView Restaurant & Food Chain Report
. Rothbort is also a Term Professor of Finance at Seton Hall University's Stillman School of Business, where he teaches courses in finance and economics. He is the Chief Market Strategist for The Stillman School of Business and the co-supervisor of the Center for Securities Trading and Analysis.
Mr. Rothbort is a regular contributor to
TheStreet.com's RealMoney Silver
website and has frequently appeared as a professional guest on
Bloomberg Radio
,
Bloomberg Television
,
Fox Business Network
,
CNBC Television
,
TheStreet.com TV
and local television. As an expert in the field of derivatives and exchange-traded funds (ETFs), he frequently speaks at industry conferences. He is an ETF advisory board member for the Information Management Network, a global organizer of institutional finance and investment conferences. In addition, he is widely quoted in interviews in the printed press and on the internet.
Mr. Rothbort founded LakeView Asset Management in 2002. Prior to that, since 1991, he worked at Merrill Lynch, where he held a wide variety of senior-level management positions, including Business Director for the Global Equity Derivative Department, Global Director for Equity Swaps Trading and Risk Management, and Director for secured funding and collateral management for the Global Capital Markets Group and Corporate Treasury. Prior to working at Merrill Lynch, within the financial services industry, he worked for County Nat West Securities and Morgan Stanley, where he had international assignments in Tokyo, Hong Kong and London. He began his career working at Price Waterhouse from 1982 to 1984.
Mr. Rothbort received an M.B.A., majoring in Finance and International Business from the Stern School of Business, New York University, in 1992, and a B.Sc. in Economics, majoring in Accounting, from the Wharton School of Business, University of Pennsylvania, in 1982. He is also a graduate of the prestigious Stuyvesant High School in New York City. Mr. Rothbort is married to Layni Horowitz Rothbort, a real estate attorney, and together they have five children.