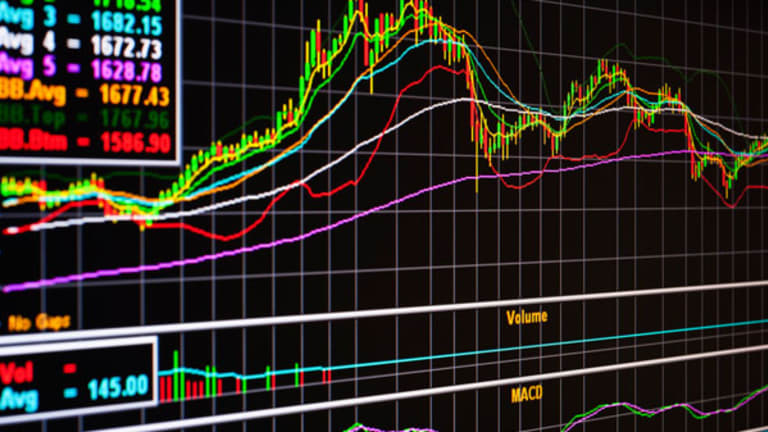 7 Smaller Stocks Beating the Big Guys
Here are seven second-largest stocks whose recent performance shows that you don't have to be the biggest to win.
Here are seven second-largest stocks whose recent performance shows that you don't have to be the biggest to win.
MILLBURN, N.J. (Stockpickr) -- When I was growing up, car rental company Avis (CAR) - Get Report: "We're No. 2, but we try harder" -- part of a massive campaign to capture business away from Hertz (HTZ) - Get Report, the idea being that just because you are the second-largest company does not make you second best.
Jim Cramer talks about being "best in class," whereby being the
best
is not the same as being the
biggest
. Rather, the best-in-class company is the one that does the best job in execution. And eventually, smaller companies could overtake larger ones in their sector because they are better.
>>3 IPO Bargain Stocks Ready to Rebound
Of course, we have to be careful. Sometimes companies are second largest because they are indeed not the best. I call this the "second banana syndrome." Many second-banana companies have made it to my
.
Advanced Micro Devices
(AMD) - Get Report
is an example of such a company.
I've selected several stock pairings of the largest and second-largest companies within various sectors, and below I'll compare their performances from the market bottom on March 9, 2009 through the end of October 2011. My hypothesis in this comparison was that since the market bottom, when our economic future was most gloomy, good management teams would step up and try to take advantage of the gloom by readying themselves for what was certain to be an economic turnaround.
Furthermore, I posited that the second-largest companies had room to strategically expand or take the necessary actions in order to benefit from an economic turnaround, whereas the largest companies sometime found themselves in a position to cut back during the Great Recession.
Remarkably, in each and everyone one of the industry pairs, the second-largest company (as defined by market capitalization) had outperformed the largest company in that pair on a total return basis.
Without further ado, here are
seven No. 2 companies that outperform their No. 1 competitors
.
No. 1 Wal-Mart vs. No. 2 Target
Even after the huge performance gain by
Target
(TGT) - Get Report
,
Wal-Mart's
(WMT) - Get Report
market capitalization is still nearly six times larger. Target's management knew that Wal-Mart's presence was oversaturated and began to cannibalize itself. Target began to add more units in strategically desirable locations and took a page from Wal-Mart's book by remodeling its stores to offer more foods in refrigerated and frozen displays as well as expanding its dry goods shelf space.
Also, recognizing that the need to attract both cost-conscious and more upwardly mobile customers, Target entered into several strategic marketing agreements to offer "designer" products on an exclusive basis while expanding its offerings of generic products.
Wal-Mart is one of
, while Target shows up in the
portfolio of Steven Cohen's SAC Capital
.
No. 1 Exxon Mobil vs. No. 2 Chevron
It is not so much what
Chevron
(CVX) - Get Report
did as it is what Chevron did not do.
Exxon Mobil
(XOM) - Get Report
purchased XTO Energy for $41 billion in stock in December 2009. Exxon made a strategic decision to place a big bet on the domestic natural gas market. What Exxon also did was miscalculate the new Obama administration's aversion to drilling for natural gas and hence its utilization as a cheap energy source which resulted in a decline in natural gas prices.
Natural gas peaked in January 2010 and has since dropped by nearly a third of that peak price. Chevron was smart and did not make a disastrous strategic foray into natural gas.
Exxon and Chevron both show up on a recent list of
10 Dow Stocks With the Lowest P/E Ratios
.
No. 1 DuPont vs. No. 2 Dow Chemical
There are two possible reasons for
Dow Chemical's
(DOW) - Get Report
outperformance that come to my mind. First is that Dow Chemical with an 11 P/E so may be a cheaper stock than
DuPont
(DD) - Get Report
with a 13 P/E. Hence, as the markets have rebounded post-recession, value investors may have been attracted to Dow's stock. According to
research from Alembic Global Advisors
, "Dow shares experience strong outperformance for 2-3 years post a recession -- periods of economic recovery and improving utilization rates. Conversely periods of cyclical peaks tend to be periods of underperformance."
Second, Dow appears to have made more significant advance in the agribusiness as that company focused on seeds and traits while DuPont has concentrated its efforts more on the insect control chemical business. Growth of seeds and traits has outstripped the more mature insect chemical business in the past few years.
Regardless, I find it hard to be disappointed by either company's performance.
DuPont and Dow Chemical are two of the
highest-yielding chemicals stocks
.
No. 1 JPMorgan Chase vs. No. 2 Wells Fargo
I have to say that when I first ran this comparison, I was stumped (or shall I say "Stumpfed"). I expected
JPMorgan
(JPM) - Get Report
to outperform. After all, JPMorgan CEO Jamie Dimon is regarded as one of the savviest corporate managers in the world, let along in financial services.
Perhaps Dimon's ubiquitous media presence has distorted many people's view of
Well Fargo
(WFC) - Get Report
. Remember, it is rather universally held that Dimon and JPMorgan stole Bear Stearns with the help of the U.S. Treasury and
Federal Reserve
. Wells Fargo CEO John Stumpf is no fool and was able to expand his company's presence from mainly a West Coast institution to one of national prominence by being handed the reins to Wachovia, courtesy of the FDIC and other governmental institutions.
Furthermore, whereas Dimon tried to build a financial superstore with a big capital market and proprietary trading business, Stumpf kept to his knitting as a banker. Wells Fargo avoided much of the credit crisis by keeping to the old fashioned rules of banking: take deposits and make smart loans.
JPMorgan shows up on a recent list of
3 Dividend Stocks Poised to Rally
, while Wells Fargo was one of
10 Banks Making Business Loans in a Bad Economy
No. 1 McDonald's vs. No. 2 Yum! Brands
This was another surprising analysis. I fully expected
McDonald's
(MCD) - Get Report
to have outperformed
Yum! Brands
(YUM) - Get Report
. McDonald's has made great strides in expanding its menus, introducing the McCafe concept and expanding globally, especially in China and Russia. Yum! operates KFC, Taco Bell and Pizza Hut and has to some degree struggled in the U.S. while rapidly expanding in China and Europe. McDonald's pays a 3% dividend whereas Yum pays only a 2% dividend.
I follow both of these stocks and the entire industry quite closely for
my newsletter
. Yum! has apparently focused more on global growth while McDonald's has focused on rebranding itself. As a result, Yum! has generated slightly higher levels of earnings growth and in the process also has garnered a higher P/E multiple.
I do not think that Yum! is better than McDonald, or vice versa. I just think that Yum! has tried a bit harder to capture the stomachs of people in the U.S. and abroad the last few years. To be honest, the performance of both of these quick-service restaurants has been outstanding in the past two-and-a-half years, so there should be no disappointed shareholders.
Yum! is one of
, while McDonald's shows up in
Renaissance Technologies' portfolio
.
No. 1 Microsoft vs. No. 2 IBM
Growing up,
IBM
(IBM) - Get Report
was the most-revered computer company in the world. IBM first introduced the personal computer but made the strategic mistake of focusing on hardware and forsaking the operating system to
Microsoft
(MSFT) - Get Report
. That created a long-term problem for IBM as Microsoft overtook it in terms of market capitalization.
However, over the past few years, IBM under CEO Sam Palmisano has shed its personal computer ownership by selling its product line to Lenovo. This has allowed IBM to focus on the more-lucrative enterprise information technology business, as has Dell. In the meantime, Microsoft has become complacent and continues to see its competitiveness erode to more innovative companies such as
Apple
(AAPL) - Get Report
. Now the market capitalizations of IBM and Microsoft are nearly equal.
Microsoft shows up on a recent list of
7 Top Stocks Favored by Maverick Mutual Funds
, while IBM was one of
Warren Buffett's 6 New Investments
in the most recently reported quarter.
No. 1 Hewlett-Packard vs. No. 2 Dell
This is an example of poor management on the part of
Hewlett-Packard
(HPQ) - Get Report
and some savvy moves on the part of
Dell
(DELL) - Get Report
. Hewlett-Packard is one of my
, primarily because of disastrous, poorly timed or overpriced acquisitions and strategic mistakes by management with its TouchPad.
Dell, on the other hand, refused to top HP's bid for 3Par, one of HP's overpriced acquisitions. More important, Dell made two excellent strategic moves. First was the return of founder Michael Dell as the company's CEO. Second was the 2009 acquisition of Perot Systems, which expanded Dell from only a hardware company into the information technology services business.
Dell is one of
Whitney Tilson's top holdings at T2 Partners
, while Hewlett-Packard shows up in
.
To see these stocks in action, visit the
No. 2 Companies That Outperform Their Larger Peers
portfolio.
-- Written by Scott Rothbort in Millburn, N.J.
RELATED LINKS:
>>5 Stocks With Big Insider Buying
>>6 Stocks at New Highs Triggering Breakouts
>>5 Tech Stocks That Could Surge
Follow Stockpickr on
and become a fan on
Facebook.
At the time of publication, Rothbort was long long MCD stocks and long AAPL stock and calls, although positions can change at any time.
Scott Rothbort has over 25 years of experience in the financial services industry. He is the Founder and President of
, a registered investment advisor specializing in customized separate account management for high net worth individuals. In addition, he is the founder of
, an educational social networking site; and, publisher of
The LakeView Restaurant & Food Chain Report
. Rothbort is also a Term Professor of Finance at Seton Hall University's Stillman School of Business, where he teaches courses in finance and economics. He is the Chief Market Strategist for The Stillman School of Business and the co-supervisor of the Center for Securities Trading and Analysis.
Mr. Rothbort is a regular contributor to
TheStreet.com's RealMoney Silver
website and has frequently appeared as a professional guest on
Bloomberg Radio
,
Bloomberg Television
,
Fox Business Network
,
CNBC Television
,
TheStreet.com TV
and local television. As an expert in the field of derivatives and exchange-traded funds (ETFs), he frequently speaks at industry conferences. He is an ETF advisory board member for the Information Management Network, a global organizer of institutional finance and investment conferences. In addition, he is widely quoted in interviews in the printed press and on the internet.
Mr. Rothbort founded LakeView Asset Management in 2002. Prior to that, since 1991, he worked at Merrill Lynch, where he held a wide variety of senior-level management positions, including Business Director for the Global Equity Derivative Department, Global Director for Equity Swaps Trading and Risk Management, and Director for secured funding and collateral management for the Global Capital Markets Group and Corporate Treasury. Prior to working at Merrill Lynch, within the financial services industry, he worked for County Nat West Securities and Morgan Stanley, where he had international assignments in Tokyo, Hong Kong and London. He began his career working at Price Waterhouse from 1982 to 1984.
Mr. Rothbort received an M.B.A., majoring in Finance and International Business from the Stern School of Business, New York University, in 1992, and a B.Sc. in Economics, majoring in Accounting, from the Wharton School of Business, University of Pennsylvania, in 1982. He is also a graduate of the prestigious Stuyvesant High School in New York City. Mr. Rothbort is married to Layni Horowitz Rothbort, a real estate attorney, and together they have five children.