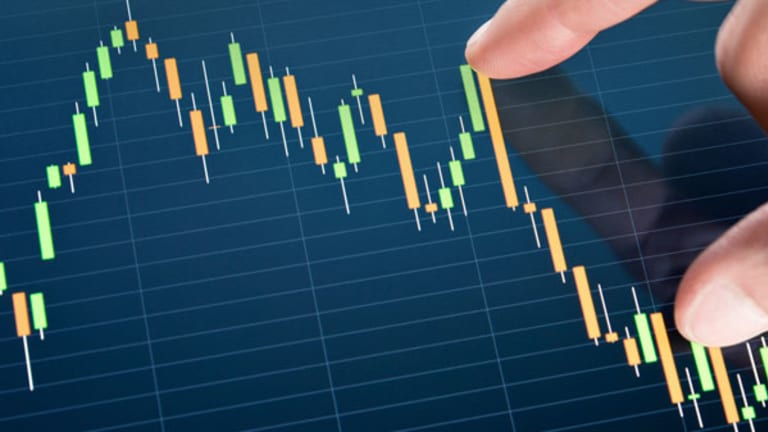 7 Relative Strength Trades to Beat the Market in 2012
Relative Strength is one of the best tools we have to identify stocks that are likely to beat the market in 2012.
BALTIMORE (Stockpickr) -- It's been tough going for investors in 2011. Everywhere you turn, there's a story about a legendary fund manager getting hammered or a rationale for why stocks are getting smacked lower. Year-to-date, the S&P 500 index has dropped by more than 5.5%, but along the way it's squeezed profits from both longs and shorts -- and as we approach year-end, things aren't looking terribly auspicious for investors either.
But that's not exactly the whole story.
On an individual basis, some stocks have performed exceptionally well in 2011. While high correlations are still a problem for investors, a stock that has a high correlation with "the market" can still dramatically outperform it. The question is how you find those stocks beforehand; the answer is relative strength.
>>Are Stocks Headed for a Year-End Rally?
With year-end just a month away,
is one of the best tools we have to identify stocks that are likely to beat the market in 2012. So how does it work?
Put simply, relative strength is a ratio of a stock's price to a broad market index. The ratio itself isn't important -- instead, it's the trend of the ratio over time that's investible. According to academic research, relative strength is a statistically viable strategy over a one-to-10 month time horizon; that's the time frame we're focusing on today.
To find the seven names that made this list, I used a quantitative screen to rank the top S&P 500 names with relative strength over several time frames, then I weeded out the more attractive names using
.
The result is a
set of relative strength trades
that should outperform as we enter 2012.
Cabot Oil & Gas
First up is
Cabot Oil & Gas
(COG) - Get Report
, an $8.37 billion independent oil and gas producer that has operations spread throughout the United States. Cabot has had stellar performance in 2011, more than doubling since the start of the year thanks to success in the firm's Marcellus Shale operations. That performance should do a lot to get investors' attention on this stock.
This stock has extremely heavy exposure to natural gas (it makes up more than 95% of production), which have gotten shellacked in the last year. Even so, many analysts think that natgas could rebound quickly as a substitute for crude oil if oil prices continue to struggle higher. That would bode well for Cabot.
Cabot saw impressive relative strength earlier in the year, but the trend in the firm's RS line broke at the start of September. Now Cabot is just starting a new uptrend in relative strength, which should propel shares higher as we approach 2012.
Right now, Cabot is looking slightly toppy from a technical standpoint, but the firm is right above support at $77.50. That nearby "price floor" for shares significantly reduces the risk of buying a stock that's up as much on the year as Cabot is.
Cabot shows up on a recent list of
6 S&P 500 Stocks Poised to Outperform the Index
.
Akamai
2011 hasn't been quite as good to shares of
Akamai
(AKAM) - Get Report
, the content delivery network that helps companies serve users with everything from streaming video to downloads. Shares of Akamai have dropped more than 42% so far this year, but relative strength has been in an uptrend since the market's October bottom.
Akamai benefits from the big trends in cloud computing, one of the hottest buzzwords in the tech sector right now. As "the cloud" shifts from being a buzzword to a household name, Akamai should see demand for its services tick higher.
The company also benefits from trends toward higher bandwith -- companies are using data-heavy tools such as streaming video more than ever, and Akamai's solutions can help make the experience seamless for users.
Like Cabot, Akamai formed a technical top in early November, and the stock is testing a support level at $26.
Akamai shows up on a recent list of
.
Allegheny Technologies
Allegheny Technologies
(ATI) - Get Report
is a metals producer that makes everything from titanium to superalloys. That exposure to more advanced specialty metals means that the firm is less tied to traditional industries such as construction, and more driven by demand from high growth technology firms.
Better yet, the specialty metals business is capital-intense and has high barriers to entry; those are two factors that should protect the firm's margins more than commoditized metals makers can expect in 2012.
This is another name whose relative strength has been ticking higher since the broad market's October lows. From a technical standpoint, it's also one of the more attractive names because it's testing a key resistance level at $50 right now. A breakout above $50 provides investors with a very attractive entry point with little in the way of resistance up ahead.
>>5 Stocks Setting Up to Break Out
When using relative strength as an investment selection tool, it's important to keep an eye on what's going on in the broad market -- that avoids the problem of outperforming a falling index by doing "less bad." Using a $50 breakout as your buy signal in Allegheny should help to protect against rising relative strength in a falling market.
Fastenal
Industrial construction and maintenance supply firm
Fastenal
(FAST) - Get Report
gets its name from its focus on fasteners. In total, the company sells 410,000 different types of fasteners at its approximately 2,500 worldwide stores (in addition to 586,000 other products). That massive product catalog has helped to propel Fastenal to one of the top slots in an incredibly fragmented market.
"One of the top slots" sounds a bit more massive than it really is -- Fastenal still only holds around 2% of the market for industrial supplies, a tiny overall share that means there's still considerable room for the company to expand its top line without expanding its business strategy. Relative strength has been attractive for Fastenal since the start of the summer, a fact that's evident when looking at the firm's chart: unlike the broad market, FAST didn't set new lows in early October.
From a technical standpoint, FAST is looking similar to Akamai and Cabot, testing a support level after rallying hard for the last month and change. If shares of FAST pull back to bounce off of support at $37, that level would be an ideal entry point for investors.
Fastenal shows up on a recent list of
.
Helmerich & Payne
Helmerich & Payne
(HP) - Get Report
is one of the largest drillers in the country, with more than $2.5 billion in annual sales. H&P helps large oil and gas companies get to their products, using its expertise and proprietary mobile drilling rigs to find deposits on customers' properties. The drilling business is expertise-driven; because drilling success can greatly impact the overall profitability of an oil or gas project, expertise in advanced techniques (such as horizontal drilling) is crucial. H&P has that covered.
From both a relative strength and technical perspective, H&P looks almost identical to Allegheny Technologies. Relative strength has been ticking higher since the S&P's October bottom, and shares are consolidating under a key resistance level at $57.50. A breakout above that price level provides investors with a solid low-risk entry point.
>>3 Cheap China Stocks Without the Risk
MasterCard
Payment processing giant
MasterCard
(MA) - Get Report
is a stock that we've
looked at for relative strength
in the past. Shares have dramatically outperformed the S&P 500 in the past year, climbing more than 57% since January as most stocks stumbled.
MasterCard's No. 2 spot in the payment processing business gives it claim to around 31% of payment cards in the world, a scale that gives MasterCard network benefits that smaller competitors can't easily surmount. Barriers to entry are extremely high for payment firms, and an undersaturated network combined with the increasing popularity of electronic payments bodes well for the firm.
Right now, MasterCard has support at $350, a price level that's acted as resistance in the past. As MA catches a bid at that price, investors should find themselves with a low-risk entry into this name. While relative strength is nearing the end of its effective 10-month window, that timeframe is a guideline, not a hard-and-fast rule. As long as MA's relative strength line remains in an uptrend, it makes sense to own shares.
MasterCard, one of
, shows up on a list of
6 S&P 500 Stocks Poised to Outperform the Index
.
Humana
Health insurance firm
Humana
(HUM) - Get Report
has had a strong correlation with the S&P 500 this year, synching up most turning points with the major index. But Humana is a good example of how a stock can correlate heavily with an index and still outperform. Shares are up around 20% since the start of April, when high stock correlations started; the S&P is down nearly 12% over that same period.
$82 support will be an important test for this stock -- I wouldn't recommend buying shares unless they bounce higher off of that price level. As with MasterCard, this is a name that's been showing outsized relative strength for the entire year. Again, as long as that relative strength line remains in a defined uptrend, it makes sense to own shares. When RS breaks down below its trend line, wait for a
in Humana's price action before unloading.
Humana, one of TheStreet Ratings'
top-rated managed health care stocks
, is one of
Renaissance Technologies' top holdings
.
To see these relative strength plays in action, check out
the Relative Strength Trades portfolio
on Stockpickr.
-- Written by Jonas Elmerraji in Baltimore.
RELATED LINKS:
>>5 Big Stocks to Trade for Gains
>>5 Sin Stocks That Could Pop on a Short Squeeze
>>5 Technical Setups From the Twittersphere
Follow Stockpickr on
and become a fan on
Facebook.
At the time of publication, author had no positions in stocks mentioned.
Jonas Elmerraji is the editor and portfolio manager of the Rhino Stock Report, a free investment advisory that returned 15% in 2008. He is a contributor to numerous financial outlets, including Forbes and Investopedia, and has been featured in Investor's Business Daily, in Consumer's Digest and on MSNBC.com.