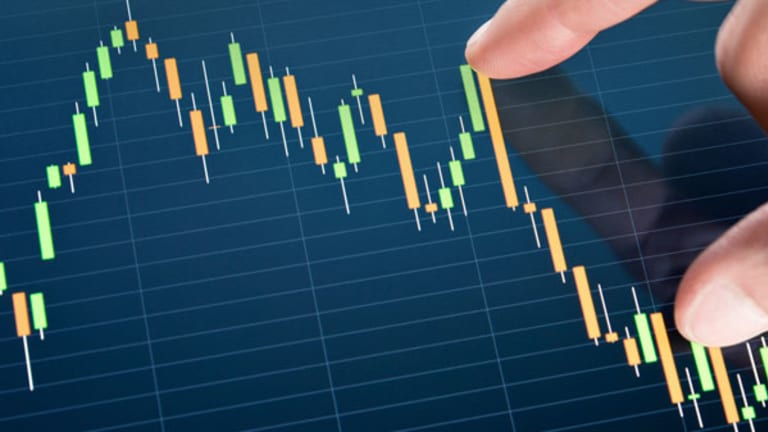 Publish date:
7 Most Reliable Growth Stocks in the Market
Here are seven companies that are poised for strong growth ahead, according to the analysts that track them.
Here are seven companies that are poised for strong growth ahead, according to the analysts that track them.
NEW YORK (Stockpickr) -- Here's a curious stat: Of the 1,500 companies that make up the S&P 400, S&P 500 and S&P 600 (which are the key indices for mid-caps, large-caps and small-caps, respectively), exactly 1%, or 15 of them, can boast of forecasted sustained strong sales growth. Each of these companies is expected to boost sales at least 20% in 2012, 2013 and again in 2014.
Defying the gravity of a slow economy, these companies are managing to boost market share in their existing markets or are venturing into new markets for growth. If the global economy is on firmer footing, then these companies may be able to maintain that growth streak into 2015 and beyond.
Here are
seven companies that are poised for strong growth ahead
, according to the analysts that track them.
>>5 Big Stocks Ready to Slingshot Higher
Amazon.com
No story about high-growth stocks is complete without e-tailing giant
Amazon.com
(AMZN) - Get Report
. When's the last time that Amazon failed to grow at a 20% pace? We're not sure. Our records don't go back that far but we know it was at least 15 years ago. The remarkable notion is that with $48 billion in sales last year, there is so much growth still ahead: Analysts think Amazon's sales will top $100 billion by 2014.
In recent quarters, investors have grown annoyed that Amazon's sales are growing faster than profits. Earnings per share are likely to fall roughly 10% this year even as sales rise 30%. Yet analysts think that Amazon's current investments will reap big profits later. For example, EPS is expected to more than double next year to around $2.50 a share, and Reuters notes that the EPS forecast for 2015 exceeds $5.
Amazon also shows up on a recent list of
5 Stocks to Buy if They Crash on Earnings
.
Rackspace Holdings
As companies grow larger, their internal computer networks grow exponentially more complex. Trouble is, finding good IT (information technology) staffers can be challenge, and as a result, many of these IT departments remain understaffed.
Rackspace Holdings
(RAX)
can relieve the pressure. The firm provides outsourced management of corporate networks, dealing with all of the hardware and software challenges that pop up. Rackspace has become an especially important vendor, now that so much data lies "out in the cloud" and no longer resides in companies' computer storage closets.
It took until 2008 for Rackspace to surpass the $500 million annual sales threshold but just three more years to hit the $1 billion mark. Analysts project that 2014 sales will top $2 billion.
Investors have a chance to buy this high-growth stock at a more reasonable price, as a pullback $60 to $43 over the past three months has dragged down what had been fairly high price-to-sales and price-to-earnings multiples.
>>6 Blue-Chips Ready to Boost Dividends
Why the pullback? The slow economy gets some of the blame as sales are expected to grow 25% to 30% this year, down from prior projections of 35% growth. Rackspace is also shifting to a new platform for cloud customers called "OpenStack," which has led to a temporary sales hiccup while the technology migration takes place. Once that is complete, analysts at Goldman Sachs believe that Rackspace will continue to benefit from an ongoing shift from internally-housed corporate data to outsourced "cloud" based data.
Lennar, Meritage Homes and M.D.C. Holdings
Homebuilders
Lennar
(LEN) - Get Report
,
Meritage Homes
(MTH) - Get Report
and
MDC Holdings
(MDC) - Get Report
are likely to benefit from the same trend: Sales of newly built homes have begun to rebound, setting the stage for a sustained run of growth. Each of these homes builders is guiding for sales growth in excess of 20% this year, while the analysts that follow the home builders see the trend really taking off as we move towards the middle of the decade.
The investment appeal of each of these home builders depends on your investment style. Meritage is poised to show the strongest EPS growth next year: nearly 200%. Lennar is best-positioned to capitalize on any blocks of land that come up for sale, as it has nearly $1 billion in cash. MDC Holdings sports the most attractive dividend yield: 3.1%.
>>7 Stocks for the Housing Rebound
Cabot Oil & Gas
Cabot Oil & Gas
(COG) - Get Report
has tapped into a gusher -- the Marcellus Shale, to be exact, where the company controls 190,000 highly-productive acres. (Cabot also has a decent position in a number of shale regions across the country.) As the company has dug more wells, output of gas, oil and other derivatives has been rising at a fast pace.
Were it not for the cool-down in natural gas prices over the past 18 months, Cabot's sales and profits would have been exploding by now. Instead, sales are likely to rise around 20% this year (to $1.18 billion). Yet analysts think that natural gas prices will rebound moderately in 2013, setting the stage for sales growth of around 40%.
Analysts at Brean Murray suggest you value this stock based on the value of its real estate. They think the net asset value stands at around $60, well above the current $40 stock price.
>>7 Undervalued Oil & Gas Stocks Ripe for Gains
Salix Pharmaceuticals
Gastro-intestinal distress is no laughing matter, as anyone with its symptoms will tell you. From Crohn's disease to irritable bowel syndrome to plain old cramping, GI distress can force one to drop plans on a moment's notice, and lead them to stay close to home.
Fortunately,
Salix Pharmaceuticals
(SLXP)
has been making tremendous progress in this area. Salix's Xifaxan has been prescribed by an increasing number of doctor's for symptoms of diarrhea, enabling many people to resume more normal lives. The drug has powered Salix's income statement, from under $200 million in 2008 to $540 million in 2011.
>>5 Biotech Stocks Poised for Breakouts
And that revenue base could swell a lot higher if Salix's Solesta drug is as successful as analysts anticipate. The injectable drug has had great success in clinical trials, helping bulk up loose stool. The drug is a lot more powerful than traditional anti-diarrhea drugs you can buy at a pharmacy, though a lot less invasive than the major bowel surgery that some people require.
Analysts at Merrill Lynch anticipate a launch in 2013 for Solesta, and see sales for this drug rising to $250 million by 2016. That should enable Salix Pharma to maintain its robust pace of 20+% annual growth.
To see these stocks in action, visit the
7 Stocks With Strong and Steady Sales Growth
portfolio.
RELATED LINKS:
>>5 Stocks Under $10 Ready to Soar Higher
>>5 Social Networking Stocks to Sell Now
>>5 Hated Stocks Ready to Soar on Earnings
Follow Stockpickr on
and become a fan on
Facebook.
Stockpickr is a wholly owned subsidiary of TheStreet.com.
At the time of publication, author had no positions in stocks mentioned.