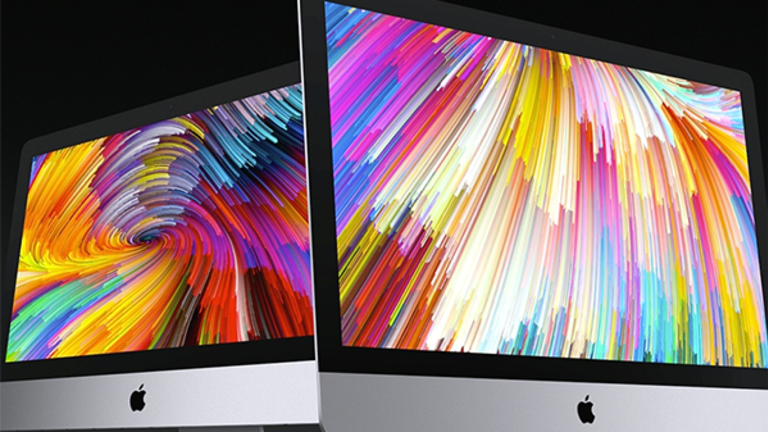 7 Key Things We Learned About Apple From Its WWDC 2017 Announcements
Apple's developer conference keynote shined a light on its PC, tablet and AR strategies, and drove home some of the company's historical strengths.
This column originally appeared on June 5 on Real Money, our premium site for active traders. Click here to get more great columns like this.
Though the keynote address at Apple's (AAPL) - Get Apple Inc. Reportannual Worldwide Developers Conference (WWDC) always has its fill of product news, this year's edition was especially announcement-packed, since the usual software refreshes were accompanied by a large dose of hardware unveilings. In addition to iOS, macOS, watchOS, app and API updates, we got new iMacs and iPads, MacBook upgrades and the HomePod speaker (covered here).
Here are some key takeaways on what was announced:
1. The high-end PC market still matters a lot to Apple.
For a while, it looked like Apple was treating the Mac as a legacy business, reducing the attention it was given as it directed more resources towards its mobile hardware and pitched the iPad Pro as a notebook alternative. But with PC sales and usage stabilizing even as tablet sales continue to fall, and the high-end PC market looking especially healthy, the company made it clear at WWDC that the Mac remains a priority.
The new 27-inch iMac Pro is getting a lot of attention thanks to its eye-popping specs. The workstation, which starts at a steep $4,999, supports 8-to-18 core Intel (INTC) - Get Intel Corporation ReportXeon CPUs, will feature a high-end AMD (AMD) - Get Advanced Micro Devices, Inc. ReportGPU based on the company's next-gen Vega architecture and supports up to 128GB of RAM and 4TB of flash storage. Just as notable as the specs, though, is the fact that Apple is unveiling the iMac Pro 6 months before it ships, lest customers frustrated over the fact that its predecessor (the second-gen Mac Pro) hadn't been updated since 2013.
The new standard iMacs -- available in 21.5-inch and 27-inch models, and priced from $1,099 to $2,299 -- are also worthy of attention: They feature improved displays, along with CPU, GPU, memory, storage and connectivity improvements. And a 4K 21.5-inch iMac can now be had for $1,299, $200 less than before.
Along the same lines, Apple is now selling a 13-inch MacBook Pro that lacks an OLED Touch Bar for $1,299, after previously setting a $1,499 start price. Both 13-inch and 15-inch Pro models were refreshed to feature CPUs based on Intel's Kaby Lake architecture, which launched last fall, as was the 12-inch MacBook. The fact Apple delivered a hardware update for MacBook Pros only launched 7 months ago says something about how much the business still matters to the company. Mac sales rose 14% annually in the March quarter, and accounted for 11% of total revenue.
On the other hand, it looks like Apple is slowly killing off its relatively cheap MacBook Air, which hadn't been refreshed since March 2015. The Air, now only available in a 13-inch model, did get a minor CPU update. However, the new CPU isn't a Kaby Lake part, but based on Intel's Broadwell architecture, which launched in 2014.
2. Apple's strategy for stabilizing iPad sales revolves around the iPad Pro.
The iPad Pro has been a relative strong point for Apple as iPad sales have joined the broader tablet market's in slumping. The iPad hardware and software just shown off, together with a continued lack of updates for the 7.9-inch iPad Mini (last updated in 2015), show how much Apple's tablet business is now focused on appealing to enthusiasts, creative professionals and potential notebook switchers.
As rumored, a 10.5-inch iPad Pro featuring thinner bezels than its 9.7-inch predecessor (and the same form factor) was announced, as was a refreshed 12.9-inch iPad Pro. The devices feature much-improved displays and processors (a technology called ProMotion improves the display refresh rate to 120Hz, and automatically adjusts it based on content), and double storage capacities across price tiers. The 10.5-inch model has a $649 start price, $50 more than what Apple used to charge for the 9.7-inch model.
On the software side, Apple announced iPads running iOS 11 would feature an app dock that can be pulled up from any app by swiping up, and let users launch apps in standalone or split-view mode. Users can also drag and drop content between apps shown in split-view mode, and scan launched apps in a manner similar to macOS' Mission Control mode.
It's all very PC-like, as is the new iOS file-browsing app Apple just announced. Convincing consumers to ditch their notebooks for iPad Pros will still often be a challenge, but Apple's sales pitch is now a little stronger.
Editors' pick: Originally published June 6.
3. Apple is getting serious about augmented reality.
ARKit, a set of developer programming interfaces (APIs) arriving with iOS 11, is Apple's entry into the rapidly-expanding field of software platforms that make it possible to place (with the help of AI) digital content on top of a real-world camera view. Examples shown at WWDC include throwing a ball down a street in Pokemon Go, and taking apart and assembling a digital Lego Batmobile set on a table. Developers will no doubt think of plenty of others.
ARKit competes to a degree with Facebook's (FB) - Get Meta Platforms Inc. Class A Report recently-launched Camera Effects AR platform. And perhaps also the World Lenses feature recently built into Snapchat. But those platforms are respectively tied to Facebook and Snap's apps. If they succeed, that wouldn't necessarily prevent ARKit from being widely used by other developers.
The ARKit launch, which comes amid reports Apple is working on AR glasses that could launch next year and plans to include a 3D-sensing front camera on the iPhone 8, might motivate Alphabet/Google (GOOGL) - Get Alphabet Inc. Class A Report to rethink its Android AR strategy. The company has a powerful AR/indoor mapping platform called Tango that developers can write apps for, along with a new home-grown service called Google Lens that adds useful information and content to a camera view. But Tango requires phones with specialized hardware to work, and is thus available on only one Android phone (Lenovo's bulky Phab 2 Pro) to date. To keep pace with Apple, Google needs much broader hardware support.
4. Though it's not easy, Apple is trying hard to keep pace with Google in AI.
As expected, Apple frequently talked up its machine learning investments during its WWDC keynote. The company discussed its use of AI to do everything from having Siri surface content and make typing suggestions based on a user's past activity, to automatically grouping photos taken at the same event, to improving battery life by understanding user activity, to automatically translating voice commands.
The company also unveiled Core ML, a set of APIs that will let developers use machine learning models Apple has created for tasks such as speech, vision and text analysis. It arrives less than a month after Google announced TensorFlow Lite, an open-source AI software library that can be run on mobile devices. TensorFlow Lite complements several machine learning APIs provided via the Google Cloud Platform.
As the abilities of services such as Google Assistant, Lens, Translate and Photos show, Google still arguably has an AI lead against Apple and other consumer tech giants. And Apple's strategy of only running machine learning algorithms against its users' data on their devices (done for privacy reasons) could prove a handicap when it comes to optimizing its algorithms. But like Google, Facebook, Amazon and Microsoft, it has clearly made AI a priority.
5. Keeping software and user interfaces simple is still an Apple obsession.
Many of iOS 11's new features are focused on making the OS more intuitive, and/or integrating different parts of it. These include the new app dock, easier iPad app switching, better integration between the notification center and lock screen and the consolidation of Control Center icons (previously found on three pages) onto one page.
Likewise, Apple is rolling out a Files app that provides an integrated view of a user's local and cloud-hosted files, overhauling its Photos app to automatically group images and cleaning up its App Store interface. And a new "Do Not Disturb While Driving" feature is effective at doing what its name implies.
Android has made big strides in recent years in terms of becoming simpler and more intuitive, and the next version (code named Android O) should yield additional improvements. But as Monday's announcements show, iOS is still unmatched in this respect.
6. Apple's hardware and chip engineering remain core competitive advantages.
Examples of this abounded during the WWDC keynote. They include the A10X Fusion processor powering the new iPad Pros -- they pair 3 high-performance CPU cores with 3 low-power cores and a 12-core GPU -- and the audio technologies built into the HomePod that allow it to simulate surround sound. They also include the new iPad Pros' ProMotion display tech, and the tremendous amount of processing power built into the iMac Pro's sleek form factor.
Apple is still very good at using hardware and chip engineering to differentiate its products, both in terms of their practical features and raw specs. Not much more needs to be said here.
7. AMD is clearly in Apple's good graces.
Some of the MacBook Pro models announced last October supported AMD's mid-range Polaris GPUs. At WWDC, Apple followed that up by announcing all of its 4K and 5K iMacs will feature AMD GPUs. In addition, an AMD GPU will now come standard on the 15-inch MacBook Pro; it previously cost extra.
AMD shares rose 3.1% on Monday amid the news. They're roughly flat in 2017, after having skyrocketed in 2016. Considering the extent to which Nvidia (NVDA) - Get NVIDIA Corporation Reporthas dominated the high-end GPU market, Apple's support for AMD makes for a nice vote of confidence.
TheStreet's Eric Jhonsa previously covered Apple's WWDC keynote via a live blog.