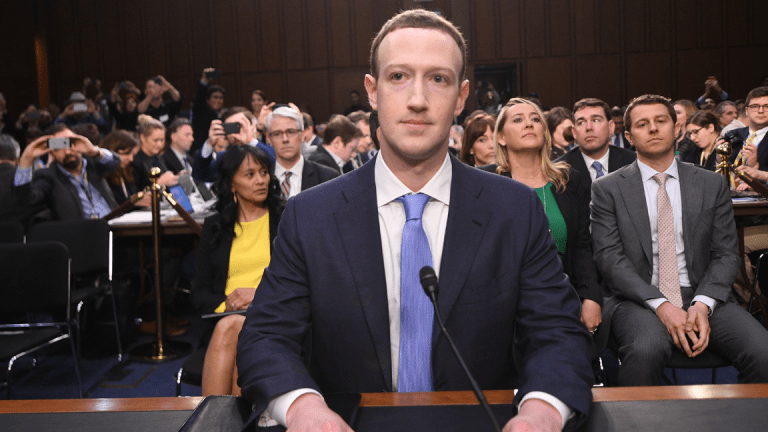 7 Key Takeaways From Mark Zuckerberg's 6 Hours of Senate Testimony
The Facebook CEO did an excellent job of handling pointed questions and dispelling common misconceptions about his company. But some Senators appear intent on imposing tougher privacy regulations.
Imagine doing a 6-hour job interview featuring a few dozen or so interviewers who each take issue with one or more parts of your resume, and are often comfortable asking questions similar to ones that other interviewers previously asked.
Then you might have a feel for the kind of gauntlet Mark Zuckerberg ran through during a public Senate hearing as he was grilled over Facebook's (FB) - Get Meta Platforms Inc. Report content, security, privacy and advertising policies. In addition to the Cambridge Analytica data leak, Zuck fielded questions on issues such as data collection, privacy controls, hate speech and political bias, as well as its views on regulation.
Markets gave a thumbs-up to the performance: Facebook shares began moving higher shortly after Zuck began talking and closed up 4.5% to $165.04 on Tuesday, outpacing the Nasdaq's 2.1% gain. They fell fractionally in after-hours trading and were down 1% in pre-market trading on Wednesday.
Here are some key takeaways from the hearing, which comes ahead of an appearance before the House of Representatives tomorrow:
Compared with his public-speaking performances just a few years ago, Zuckerberg appeared quite composed and polished...and not just because he ditched his trademark hoodie for a suit and tie. Though there were a few uncomfortable pauses along the way, Zuck did a solid job of reiterating Facebook's talking points about its privacy, data-sharing and content-monitoring policies, and of appearing contrite about prior missteps. He was also more often than not was quick to counter when a Senator took aim at the company's past or present behavior.
Likely to aid public perceptions of Zuckerberg's performance: Many of the Senators questioning him were clearly unfamiliar with basic details about how Facebook functions. At various times, Zuck had to point out that Facebook offers privacy controls that let users decide what data is used for ad targeting, that data about individual users isn't shared with advertisers, that users can delete their Facebook accounts and the data associated with it and that the programming interfaces (APIs) that allowed an app used by just 300,000 Facebook users to get data about 87 million of them were revised in 2014. He even got a question about whether Facebook stores the data it uses for ad targeting, and had to shoot down a conspiracy theory about Facebook recording audio from phones for data-harvesting purposes.
But while investors can take heart in Zuck's PR job, the openness of some Senators to tighter privacy regulations is a cause for a little concern. In particular, multiple Senators signaled they'd support policies similar to the GDPR regulations the EU will begin enforcing in May. Among other things, those rules require consumers to opt in to any data-collection that's done for the purposes of ad targeting. Zuck indicated a willingness to support such regulations, albeit while adding the details need to be worked out.
But as others have argued, GDPR-type regulations might indirectly benefit larger platform owners such as Facebook and Alphabet/Google , since it could be easier for them to get user consent for data-tracking than smaller platforms/publishers and independent online ad firms. COO Sheryl Sandberg has previously insisted that GDPR regulations won't have a big impact on Facebook's European ad sales, and the company has already promised to make GDPR-type privacy controls available to users globally.
One other concern: Some Senators believe the Cambridge leak, and more generally the data-sharing policies Facebook had in place before 2014, put it in violation of a 2011 FTC decree that required the company to obtain user content for any data-sharing beyond what's approved through a user's privacy setting. With the FTC already probing the Cambridge leak, it wouldn't be shocking if Facebook is hit with a hefty fine over the matter before the dust settles. Zuck, for his part, insists Facebook's pre-2014 policies didn't violate the consent decree.
On several occasions, Zuck stressed the large role that AI/machine learning algorithms will play in helping Facebook automatically flag content going forward, and that much work still needs to be done before the algorithms can more broadly take over from human content-monitors. He noted, for example, that AI is already pretty good at flagging pro-terrorist propaganda, but has a much harder time figuring out what is and isn't hate speech.
One interesting detail shared by Zuck during the hearing: Over 100 billion pieces of content (photos, videos, messages, status updates, etc.) are shared daily across Facebook proper, Messenger and Instagram. For context, Facebook has 1.4 billion daily active users (DAUs) for its core service and Messenger at the end of Q4, and the company has previously said users spend over 50 minutes per day on average across the three aforementioned platforms.
TheStreet's Eric Jhonsa, Francesca Fontana and Nelson Wang previously covered Zuckerberg's testimony through a live blog.
Jim Cramer and the AAP team hold positions in Facebook and Alphabet for their
Action Alerts PLUS Charitable Trust Portfolio
. Want to be alerted before Cramer buys or sells FB or GOOGL?
.