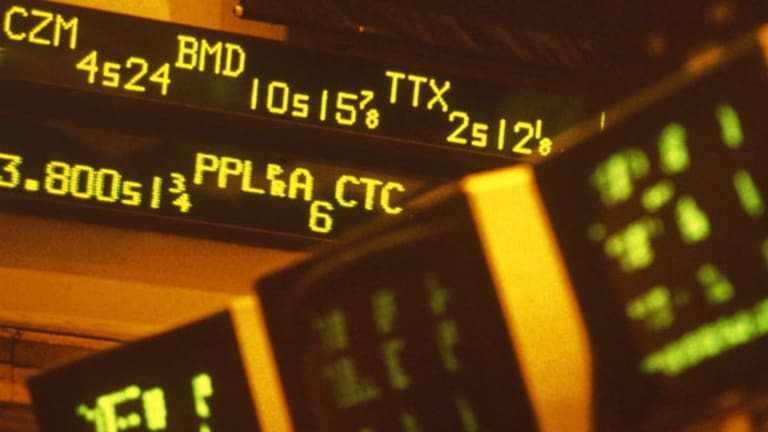 7 Hot Stocks on Traders' Radars
The market is driven by supply and demand, so it can be valuable to see what names are trending among the crowd.
BALTIMORE (Stockpickr) -- Forget the traditional ways of generating investment ideas. Instead, let the crowd do it for you.
From hedge funds to individual investors, scores of market participants are turning to social media to figure out which stocks are worth watching. It's a concept that's known as "crowdsourcing", and it uses the masses to identify emerging trends in the market.
While crowdsourcing has long been a popular tool for the advertising industry, it makes a lot of sense as an investment tool. After all, the market is completely driven by the supply and demand, so it can be valuable to see what names are trending among the crowd.
>>5 Stocks Poised for Breakouts
While some fund managers are already trying to leverage social media resources like Twitter to find algorithmic trading opportunities, for most investors, crowdsourcing works best as a starting point for traders who want a starting point in their analysis.
Today, we'll leverage the power of the crowd to take a look at
seven of the highest-trending stock searches
on Google.
With earnings season still in full swing this week, you can bet that earnings names are dominating today's list. Here's a look at how these most searched names are
.
AutoZone
Nearest Resistance: N/A
Nearest Support: $360
Catalyst: Positive Earnings
Auto parts retailer
AutoZone
(AZO) - Get AutoZone, Inc. Report
is pushing higher today after posting better-than-expected results for the second quarter. The firm announced profits of $4.15 per share, vs. analyst estimates of $4.04.
The numbers mark a 24% increase over last year's second quarter. As the average car age stretches out in the U.S., AutoZone could be able to keep that pace up for a while. The news is having an even bigger impact on the stock's share price right now.
AutoZone gapped up this morning on the earnings announcement, pushing to a new high at $377.78. Making new
is significant from an investor psychology standpoint because it means that everyone who has bought shares in the last year is sitting on gains. As a result, the "back to even" mentality is less of a concern than it would be for a name with a higher proportion of shareholders sitting on losses.
For late-to-the-game buyers, I'd recommend sitting on the sidelines until AZO finds a closer support level.
AutoZone, one of
Renaissance Technologies' top holdings
, shows up on lists of
Consumer Discretionary Stocks Bought and Sold by Hedge Funds
and
20 Winning Stocks Set to Post New Highs in 2012
.
Ecolab
Nearest Resistance: $62.86
Nearest Support: $60
Catalyst: Earnings
The opposite is essentially happening today in shares of
Ecolab
(ECL) - Get Ecolab Inc. Report
. The cleaning supply giant posted its own earnings numbers this morning, disappointing Wall Street with narrowing margins and an income decline.
While the selling is by no means catastrophic (shares are only down around 1.5% as I write), it does take the wind out of the sails of an impressive rally that's been in force since mid-December.
One major benefit for Ecolab is the fact that this firm is sitting in a relatively tight range between its nearest support and resistance levels. That means that shares don't have far to go before they get a chance to test the nearest gluts of supply and demand.
In real terms, that means that buyers could have an opportunity to pick up shares cheaply if ECL catches a bid at $60 support.
Ecolab, one of
, shows up on a list of the
10 Best Revenue Growth Stocks for 2012
.
Cablevision Systems
Nearest Resistance: $15.50
Nearest Support: $13.75
Catalyst: Earnings Miss
Another heavily searched stock today is cable operator
Cablevision Systems
(CVC)
, a utility that provides TV, internet, and phone service to customers in the New York metro area as well as the Western U.S. Cablevision is getting sold today thanks to an earnings miss, the result of the firm's move to sell off non-cable assets. While it's getting less attention today, investors should at lease be pleased about the fact that competition in the cable business didn't hamper the firm's subscriber growth in the fourth quarter.
Today's trading is wide-ranging, swinging from gains at the open to rather large losses this afternoon. That speaks a bit to investor uncertainty about this stock.
Meanwhile, all of the technical rules still apply in shares of Cablevision. Traders would do well to wait for an exit of the $13.75 to $15.50 channel before taking a position in shares.
Cablevision Systems, one of
, was one of the
Worst-Performing S&P 500 Stocks of 2011
.
Lowe's
Nearest Resistance: $28
Nearest Support: $27
Catalyst: Positive Earnings, Analyst Upgrades
Lowe's
(LOW) - Get Lowe's Companies, Inc. Report
presented its fourth-quarter earnings numbers to Wall Street yesterday, spurring today's continued interest in the $34 billion home improvement chain. During the earnings call, management announced the fastest growth pace Lowe's had seen in six years -- earnings came in at 21 cents per share. At the same time, analysts at Goldman and UBS announced higher price estimates for the firm in the year ahead.
Lowe's chart looks particularly attractive right now, if only for the fact that earnings didn't drive any sort of crazy action in shares this week. Instead, with shares sitting just below $28 resistance in today's session, there's potential for Lowe's to make a breakout attempt in the next few trading sessions.
It makes sense to be a buyer if Lowe's can hold a push above $28. When that happens, I'd recommend keeping a protective stop at the 50-day
.
Lowe's shows up on a recent list of
6 Stocks With Double-Digit Gains and Big Dividends
and was one of
5 Dividend Stocks With Rising Yields for 2012
.
Office Depot
Nearest Resistance: $3.50
Nearest Support: $3.25
Catalyst: Positive Earnings
Last up is small-cap office supply stock
Office Depot
(ODP) - Get ODP Corporation Report
, a stock that's rallying hard on the heels of a swing to profitability in this morning's earnings call. Shares had spent the last week and change consolidating just above the $3 mark, but today's earnings breakout supplied a buy signal that shares had managed to clear the range's upside barrier at $3.25.
Now Office Depot's nearest resistance level of note is $3.50 -- but that doesn't mean that the rally is already over.Resistance at $3.50 is a relatively weak level with only one data point from back in July pointing to its significance. That means traders should look for a crack of $3.50 as a secondary buying opportunity this week.
Office Depot was also featured in "
5 Stocks Under $5 Making Big Moves
."
Apollo Group
Nearest Resistance: $46
Nearest Support: $44
Catalyst: Bad Guidance
University of Phoenix's parent company,
Apollo Group
(APOL)
, is getting shellacked in today's session, thanks in large part to management guidance that predicts materially lower profits for fiscal 2012. The $5.7 billion firm boasts one of the most defensible models in for-profit education, bolstered by accreditation that rivals lack.
That makes APOL less susceptible to the black clouds of increased student loan regulation -- but it's not sparing the company from fundamental problems today.
This morning's gap down in shares is significant for APOL -- it drives shares through a few significant support levels, and puts the nearest "floor" for shares at $44. While
looks oversold in APOL right now, it's important to remember that oversold momentum is more likely to lead to even more oversold conditions in the near-term than a reversal.
Apollo Group is one of the
top holdings at Lee Ainslie's Maverick Capital
.
Domino's Pizza
Nearest Resistance: N/A
Nearest Support: $35
Catalyst: Positive Earnings
Domino's Pizza
(DPZ) - Get Domino's Pizza, Inc. Report
is flying high today after posting its own fourth-quarter numbers to Wall Street. The firm sold more than a few pizzas last quarter, delivering earnings of 52 cents per share. While profitability just barely beat estimates, it proved to be enough to spur a buying frenzy in DPZ; shares are up more than 14% as I write.
So what's this stock doing from a technical standpoint?
Shares gapped up hard this morning on Domino's earnings news, plowing through previous resistance at $35. That price level is now a support level for shares. Essentially, the trading implications in Domino's are the same as the ones in AutoZone. With shares in rally mode well above support, traders who buy now are exposing themselves to large downside risk.
For that reason, I'd recommend waiting for DPZ to carve out support before becoming a buyer.
To see these stocks in action, check out the at
Most-Searched Stocks portfolio
on Stockpickr.
-- Written by Jonas Elmerraji in Baltimore.
RELATED LINKS:
>>5 Stocks Set to Soar off Bullish Earnings
>>3 Stocks Under $10 Moving Higher
>>10 Top Warren Buffett Dividend Stocks
Follow Stockpickr on
and become a fan on
Facebook.
At the time of publication, author had no positions in stocks mentioned.
Jonas Elmerraji is the editor and portfolio manager of the Rhino Stock Report, a free investment advisory that returned 15% in 2008. He is a contributor to numerous financial outlets, including Forbes and Investopedia, and has been featured in Investor's Business Daily, in Consumer's Digest and on MSNBC.com.