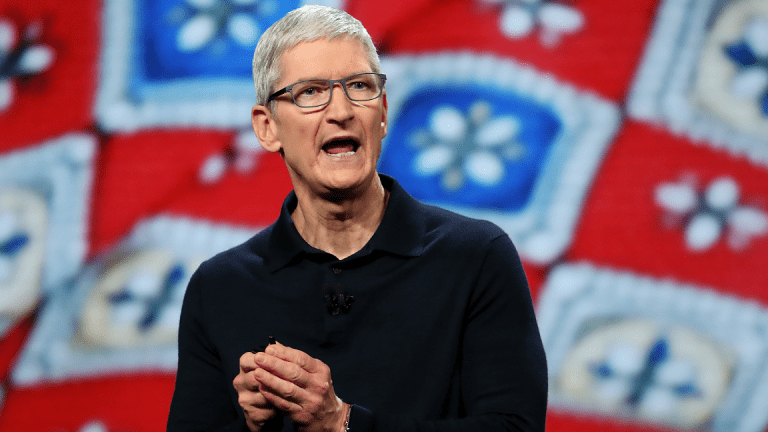 7 Top Highlights From Apple's Software-First WWDC Keynote
Apple put software front and center at this year's developers conference, unveiling iOS 12, a new AR development kit and a 'digital wellness' push to limit your screen time.
In a room packed with giddy developers, Apple Inc.  (AAPL) CEO Tim Cook and colleagues headlined a wide-ranging showcase at the company's annual developer conference touching on everything from augmented reality to digital health.

No new hardware was announced, but Apple placed its army of developers front and center at the keynote, complete with product tweaks aimed squarely at coders (a MacOS feature called Dark Mode earned some of the biggest cheers), and video montages lauding the hard work of its 20 million Apple developers worldwide.
In all, it was a software-first event that included plenty of goodies for the developer crowd and hints about Apple's consumer priorities in the coming year.
1. iOS 12: Doubling Down on Performance
As expected, Apple's newest mobile software is dubbed iOS 12, and its updates are focused largely on performance. Apps may load twice as quickly on the new version, according to Apple's head of software engineering Craig Federighi, and it will be available on all devices running iOS 11, dating back to 2013. Expected to release in September, iOS 12 will also include a slew of new features, including: group Facetime (which can support as many as 32 participants), new Animoji and Memoji characters in its messaging app, and Siri improvements centered around a new Shortcuts app, which allows users to trigger tasks through custom voice commands. With 2018 marking the 10th birthday of the app store, the Apple brass also took time to show off a few marquee data points: App store payouts to developers are nearing $100 billion, and the store averages about 500 million visitors per week.
2. Augmented Reality Gets Realer
Augmented reality has a true believer in Federighi, who called it a "transformative technology" that will someday be implemented across all of Apple's devices. As part of that vision, Apple worked with Pixar to build a new file format, USDZ, which adds under-the-hood benefits like better 3D rendering for AR developers. It's also supported natively in Adobe's Creative Cloud, which could usher in more collaboration on AR development. After the keynote, Apple gave attendees a glimpse of its new AR development kit, called ARKit 2, through a demo of a multiplayer slingshot game called Swift Shot built using the kit.
3. Time to Back Away from Your iPhone
Amid concerns about the health implications of nonstop smartphone use, Apple is rolling out new features that nudge you to use their products less, not more. One is called Do Not Disturb, and allows users to suspend notifications at night or for a designated period of time. Users can also set time budgets for certain apps (no more than 10 minutes per day on Facebook's (FB) Instagram, for instance), and generate weekly activity reports that detail how much you're using certain apps. To avoid getting "spun up" by distracting push notifications, in Federighi's words, iOS 12 will also include grouped notifications that users can triage away in a single swipe. Under the banner of digital wellness, the version will also include enhanced parental controls over minors' iPhone usage dubbed 'digital allowances' and more.
4. Mojave Is the New macOS, and Mac App Store Gets a Facelift
In a departure from several mountain-themed versions of its macOS, Apple's new desktop OS is called Mojave and includes some modest but useful tweaks aimed at both developers and the general consumer. The coder-friendly Dark Mode featured earned hearty applause from the developer crowd, along with a tool called Desktop Stacks, which automatically organizes desktop clutter by topic, tag or date. In addition, the Mac App Store, the Stocks app and Apple News and Voice Memos are each getting an overhaul.
5. Taking Control of Your Data
Federighi also upheld Apple's public posture in security and privacy issues, pronouncing that "one of the reasons people choose Apple products is because of we care about security and privacy." As part of that, he said, more controls over cookies and digital 'fingerprinting' - a data tracking technique that IDs devices by characteristics like plugins and fonts - are coming soon to Safari. According to Federighi, "it will be dramatically more difficult for data companies to identify you by your device." Those data companies include Facebook - which Federighi stopped just short of calling out by name - which will stymied in tracking users through comment boxes under Safari's upgraded privacy protections.
6. Apple Watch and Apple TV
Apple Watch is also getting fresh software, WatchOS 5, geared mainly towards fitness devotees. The new software allows you to challenge friends in workouts, automatic workout tracking, and a new walkie-talkie feature. Apple TV is also getting an upgrade to tvOS, including more 4K HDR movies and TV shows and sound from Dolby Atmos.
7. Mac OS and iOS: Nope, Definitely not Merging
Are Mac OS and iOS merging into one piece of software? Emphatically no, the company says. But they're also working to bring the two platforms closer together, including easier porting of iOS apps to macOS and new tools for developers to streamline development across both platforms. That cross-platform functionality will be available to developers in 2019, and the move underscores Apple's new reality: It's still an iPhone-first world.
Jim Cramer and the AAP team hold positions in Apple and Facebook for their Action Alerts PLUS Charitable Trust Portfolio. Want to be alerted before Cramer buys or sells AAPL or FB? Learn more now.