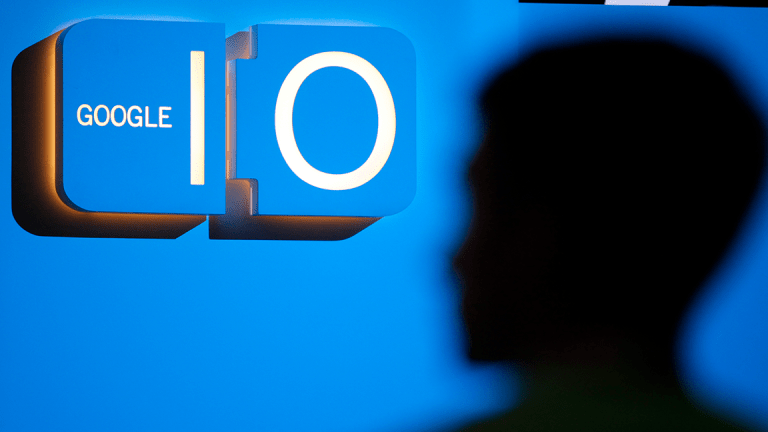 7 Google Priorities Driven Home by Its Developer Conference
Google's I/O conference keynote was filled with announcements related to Android, Google Assistant, Google Photos and much else. Quite a few of them touched on Google's AI work.
If someone played a drinking game in which a sip was taken every time someone presenting at Tuesday's Google I/O keynote said the word "AI," he or she probably wouldn't have made it past the 30-minute mark.
That would be a shame, since the keynote for the 2018 edition of Alphabet/Google's (GOOGL) - Get Report annual developer conference was arguably one of the better ones in recent years. Its product announcements featured a good mix of practical, nuts and-bolts improvements to existing products and more head-turning innovations, some of which probably need additional fine-tuning before they're ready for primetime.
And yes, Google's big and in many ways unmatched AI efforts did play a role in a number of its I/O announcements. Here's a look at the announcements, along with the R&D and business priorities they serve to drive home.
Using AI to Personalize Experiences
Google Maps is getting a "For you" tab that recommends local businesses based on what it knows about the business and a user's tastes. The next version of Android (Android P) analyzes user activity to recommend "App Actions" such as texting a friend or starting a workout, as well as to adjust a phone's brightness and to improve battery life by cutting down on background activity for apps that are unlikely to be launched in the short-term.
In addition, a revamped Google News app -- as Facebook (FB) - Get Report reduces how much publisher content is shown in its news feed, Google is doubling down on its efforts to act as the web's de facto news hub -- will personalize what local and national stories it shows based on how a user engages with it. Increasingly, personalization is a big part of Google's attempts to use AI to enhance consumer services.
Using AI to Make Augmented Reality Useful
Last year, Google unveiled Lens, a service integrated with Google Assistant and Photos that analyzed items picked up by a phone's rear-camera view and provided relevant information about them. Now, Google is making Lens available through a button within a phone's camera app (most big Android OEMs are on board, save for Samsung). It will also now surface info through a live-camera view, instead of requiring users to take a photo, and do a better job of understanding the context in which text appears.
Separately, for those comfortable staring at their phones as they walk around, Google is fusing Maps with positioning data and a real-world camera view to provide turn-by-turn directions while a user is walking, as well as to surface info about businesses and landmarks picked up by the camera view. Not as entertaining as using AR to catch Pokemon or create goofy face filters, but a little more practical.

Google Maps's upcoming camera-based navigation feature.
Using AI to Understand Content
Google Photos, already ahead of the pack in its use of AI to detect objects and scenes within photos, will now use it to suggest actions based on its analysis of a photo -- for example, to share an item with friends or to brighten a dark photo. It will also be able fully or partly colorize black-and-white photos.
The new Google News app, meanwhile, will use AI to help provide in-depth coverage of major stories, including through an automated timeline view of key developments. And a year after adding support for short "smart replies" to e-mails, Gmail is getting a "smart compose" feature that suggests phrases and sentences as a user writes an e-mail.
As is the case with its personalization efforts, Google's access to enormous amounts of data to train its AI/machine learning algorithms looms large here.
Responding to Apple's Recent iOS Moves
Android P, now available in beta ahead of an official launch later this year, gets rid of Android's multitasking button and only shows its back button when an app needs it. However, in echoes of the iPhone X's interface, users can swipe up from the bottom of a screen to browse opened and suggested apps or (if a user swipes further up) pull up Android's app drawer.
Also: A year after Apple (AAPL) - Get Report unveiled its Core ML machine learning programming interfaces (APIs) for iOS 11, Google is rolling out a rival set of APIs known as MLKit -- they can be used within both Android and iOS apps. And as signaled earlier, Android P will offer better UI support for phones sporting iPhone X-like notches at the top.
Separately, amid growing concerns about screen addiction and notification overload, Android P adds a dashboard that lets users monitor how much they're using their phones, as well as an "app timer" that lets consumers set limits on daily usage of an app. Time will tell just how widely these tools are used.
Keeping Mobile Users Hooked on Google Search
Though things like Pixel phones and self-driving cars often get more media airtime, Google Search is still by far Google's largest profit-engine, and that's unlikely to change anytime soon. By doing things like creating a dedicated Search app with its own news feed and letting users search for and pull up apps and contacts, Google has already been doing an admirable job of keeping search an important part of the lives of mobile users.
The company bolstered these efforts on Tuesday by announcing Search will integrate with mobile apps through a pair of new services. One is the aforementioned App Actions: It lets users do things like watch a trailer or book a ticket for a movie through an installed app. Another, known as Slices, surfaces information from within an app -- a demo from the Lyft app showed it providing info about the nearest driver to a user and the cost of a ride to a user's home or office.
Making Google Assistant About More than Just Voice Responses
The already-versatile Google Assistant will now show relevant content and controls on a device's screen, provided a particular app or service supports them. One demo showed a user controlling a home thermostat through an on-screen display; another surfaced a Starbucks (SBUX) - Get Report menu that a user could place orders through. Such visuals, which could potentially make it easier for Google to monetize Assistant activity via ads and/or transactions, will be supported by both Android phones and new smart speakers containing built-in displays.
And in a demo that created a lot of buzz, Google showed Assistant calling up businesses to book appointments and tickets. Remarkably, Assistant was able to perform such tasks even after the human on the other end of the line asked questions or stated a particular option isn't available.
Not surprisingly, CEO Sundar Pichai stated this last feature is still a work-in-progress. But there's no indication that any rival is even close to supporting it. Between Google's AI investments and the service's ability to integrate with Search and other Google offerings, Google Assistant has some big competitive strengths in the voice assistant wars.
Oh, and Assistant is getting six new voices, including John Legend's. An AI-based audio synthesis technology called Wavenet made it possible to add the voices following a relatively limited amount of studio time for voice actors.
Making it Clear That Self-Driving Cars Aren't Just a Pipe Dream
For the first time, Alphabet's Waymo self-driving unit got some airtime during the I/O keynote. Waymo execs didn't make any big new announcements, save perhaps for a disclosure that Waymo's cars have now driven 6 million miles on their own (up from a prior 5 million) and simulated another 5 billion driving miles on servers. But their very presence, together with the overview they provided of Waymo's progress to date, spoke volumes about how autonomous driving is edging close to becoming a commercial reality.
Waymo chief John Krafcik reiterated that his firm, which is currently providing rides to consumers along select routes in the Phoenix area, plans to launch a driverless transportation service later this year (no word yet on exactly which cities will be supported). Though Waymo has struggled to ink deals that would lead its technology to be used in cars sold by third-party automakers -- from the looks of things, automakers are nervous about becoming dependent on a third party for self-driving tech -- Waymo has as good a case as anyone for being considered a leader in the race to launching an autonomous driving solution that's at least viable in certain designated locales.
Jim Cramer and the AAP team hold positions in Alphabet, Facebook and Apple for their Action Alerts PLUS Charitable Trust Portfolio. Want to be alerted before Cramer buys or sells AAPL or GOOGL? Learn more now.