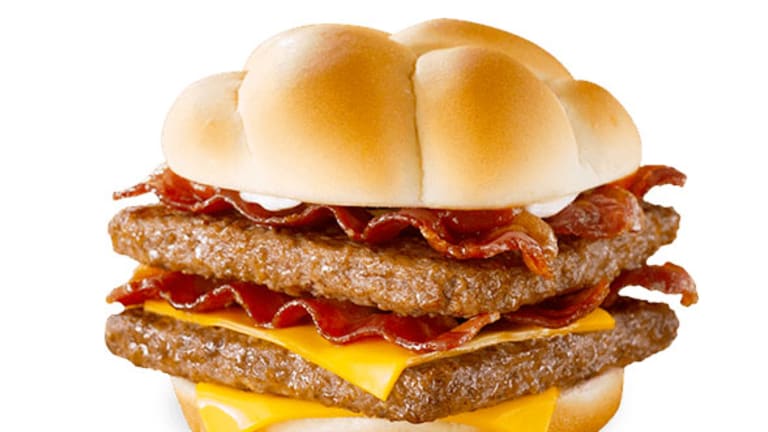 NEW YORK (TheStreet) -- Kudos to the restaurant industry for cleaning up its act through the years in the use of trans fat.
Its work is not yet done, however, and in fact, eliminating trans fat is no longer just an option. On Tuesday, the Food & Drug Administration (FDA) ruled that food companies must remove trans fats from their products by 2018. 
According to FDA estimates, the change could prevent 20,000 heart attacks and 7,000 deaths from heart disease each year. The agency originally announced its plans to act on trans fat in 2013, and has since addressed more than 6,000 public comments on the matter.
Many fast food companies have already borne the financial burden of ridding their high-caloric menus of of trans fat, which can add texture to food and prolong its shelf life.
A spokesperson for pizza giant Domino's (DPZ) - Get Domino's Pizza, Inc. Report said none of the chain's pizza products contained trans fat, although changes would be made to items such as icing for their cinnamon sticks. In 2007, Starbucks (SBUX) - Get Starbucks Corporation Report announced it removed all trans fat from its drinks and food. Within the packaged goods space, Cheerios maker General Mills (GIS) - Get General Mills, Inc. (GIS) Report said more than 95% of its U.S. retail products are already labeled zero grams of fat. Points out a company spokeswoman, "work on the rest of the portfolio is already underway." 
Others in the fast food business, though, admit the next several years will be spent tweaking recipes to survive in a trans-fat less world. "We are in the process of reformulating recipes for the very few ingredients which still contain trans fats, and believe that we will be in a position to comply with the determination prior to the deadline specified by the FDA," said a spokeswoman at Burger King (QSR) - Get Restaurant Brands International Inc Report. She added that virtually all of the ingredients used in Burger King's menu items have been free of artificial trans fats since November of 2008, including ingredients used in baked goods, partially-fried and pre-portioned menu items in the United States.
TheStreet reviewed the nutritional fact sheets of several top fast food chains in search of items containing large amounts of trans fat. Not making the list, but boasting five hamburgers with 2 grams of trans fat each, was "better burger" upstart Shake Shack (SHAK) - Get Shake Shack, Inc. Class A Report. Also just shy of making the list was McDonald's (MCD) - Get McDonald's Corporation (MCD) Report, whose new Angus 1/3 Pound Sirloin Burgers each contain 2 grams of trans fat.
Here are the worst offenders in ascending order.
7. Wendy's Baconator
Grams of trans-fat: 2.5
Total fat: 57 grams
Calories: 940
Ingredients: Two 1/4 lb. beef patties, smoked bacon, bun, mayo, ketchup, cheese
According to ranking site Ranker.com, the Wendy's Baconator was voted number one by millennials as their favorite burger. It's unclear if their opinion would change if they knew about its high trans fat content.

6. Applebee's Quesadilla Burger
Grams of trans-fat: 3.5
Total fat: 108 grams
Calories: 1,440
Ingredients: Burger, ranch sauce, pico de gallo, shredded lettuce, Monterey jack and cheddar quesadilla, bacon
The level of trans fat in this burger might be the least of one's concerns since it has a whopping 108 grams of total fat.
5. Popeye's Large Cajun Fries
Grams of trans-fat: 3.5
Total fat: 41 grams
Calories: 770
Ingredients: Potatoes, canola oil, , palm oil , enriched flour, seasonings
The New Orleans cuisine-inspired chain had two other trans fat offenders on its menu. The first were its fried chicken livers with 4.5 grams of trans fat. A side order of onion rings also clocked in at 3.5 grams of trans fat. That's not so finger lickin' good.
4. Burger King Triple Whopper
Grams of trans fat: 4
Total fat: 75 grams
Calories: 1,159
Ingredients: ¼ lb of beef patties, tomatoes, lettuce, mayonnaise, ketchup, pickles, white onions, sesame seed bun
Burger King's Triple Whopper weighed in with four grams of fat with, or without, mayonnaise. Not much for the King to be smiling about here.
3. Chili's Classic Ribeye
Grams of trans fat: 4.5
Total fat: 77 grams
Calories: 1,160
Ingredients: Ribeye steak topped with garlic butter
On the positive side, the classic ribeye entrée is served with a side of broccoli.
2. IHOP Mega Monster Cheeseburger
Grams of trans fat: 4.5
Total fat: 83 grams
Calories: 1,240
Ingredients: Two burger patties, American cheese, mozzarella cheese, bun, lettuce, tomato, red onion
Coming in a close second at IHOP was its classic skillet, consisting of chicken, country fried steak and country gravy. That dish contained 3 grams of trans fat.
1. Bojangle's Mac & Cheese
Grams of trans fat: 7
Total fat: 14 grams
Calories: 198
Ingredients: Noodles; cheese sauce
The newly-public company has some work to do here -- when trans fat is 50% of the total fat count of a small side item, it's not good.
This article is commentary by an independent contributor. At the time of publication, the author held no positions in the stocks mentioned.