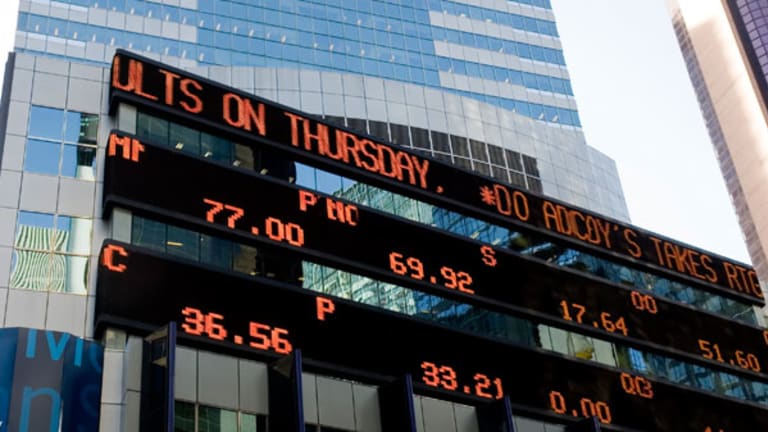 7 Dividend Trap Stocks That Don't Pay Off
The value received from these dividends is more than offset by the depreciation in value of the stocks.
MILLBURN, N.J. (Stockpickr) -- Beware of dividend traps.
Dividend traps are stocks that entice investors to take an investment position based on cheap valuation and above-average dividend payouts. Unfortunately, what the investor learns is that the value received from the dividend is more than offset by the depreciation in value of the stock price. In other words, total returns to investors are negative.
>>5 Hated Stocks Poised to Pop on Bullish Earnings
There are several characteristics that dividend trap companies share. One or more of the following will be evident for dividend trap companies:
Dividend yields are at least 100 basis points above that of the S&P 500.
The companies tend to operate in a business or segment that is in secular decline -- that is, these are businesses that find that their products are becoming obsolete or irrelevant in the economy.
The companies have poor management.
Second Banana Syndrome: These are just inferior companies within their industry.
Increasing dividend payouts to help shore up the stock price.
Their PEG ratios - price to earnings adjusted for growth are negative or extremely large
With that in mind, I scoured the S&P 1500 Composite Index for dividend traps that have hurt investors. I looked for stocks using a three-year period ending on June 1, 2012, which allowed me to compare their returns to that of the S&P 500 over an excellent period for the market. On a total return basis, the S&P returned about 44.3% over that period.
Here, then, are
seven dividend trap stocks to avoid
.
>>ACTIVE STOCK TRADERS: Check out Stockpickr's special offer for Real Money, headlined by Jim Cramer, now!
SAIC
SAIC
(SAI)
is a defense contractor that came to market in an IPO in 2006 at a price of $15. Here we are nearly six years later, and the stock is selling for $11 to $12 per share. The company's IPO, in the fullness of time, can only be deemed as a failure.
Over the past three years, SAIC has delivered significant negative total returns while larger competitors such as
Lockheed Martin
(LMT) - Get Lockheed Martin Corporation Report
and
General Dynamics
(GD) - Get General Dynamics Corporation Report
have produced positive returns, thought admittedly have also underperformed the S&P 500. Thus, we have to say that SAIC suffers from a combination of poor execution and a difficult environment for defense contractors.
Still, the 4.1% dividend should not be enough to move capital away from Lockheed Martin or General Dynamics which pays dividend yields of 4.7% and 3.2%, respectively.
>>4 Stocks the Pros Hate -- But You Should Love
Frontier Communications
Frontier Communications
(FTR) - Get Frontier Communications Corp. Report
offers both local and long distance voice services, data services and internet connectivity to residential and business customers across the U.S.
Revenues peaked in 2011 at $5.24 billion and are expected to decline in 2012 and 2013. The company is dwarfed by behemoths such as
Verizon
(VZ) - Get Verizon Communications Inc. Report
and
AT&T
as well as other also-ran competitors such as
Sprint
(S) - Get SentinelOne, Inc. Class A Report
and even some of the cable operators that offer tripled telecom services.
Pitney Bowes
I can recall when I was a kid while on my summer job, the boss's secretary or the bookkeeper would send me to the post office to refill our
Pitney Bowes
(PBI) - Get Pitney Bowes Inc. Report
postage machine. There would be other kids or adults lined up to do the same. Over time, Pitney Bowes introduced mail sorters, office products and printers to try to offset the loss in business from its postage meter and scale business.
With email, faxes and other technological advances saving businesses money, Pitney Bowes is just fighting a battle against a strong upstream current.
>>7 Dividend Stocks That Want to Pay You More Cash
R.R. Donnelley & Sons
R.R. Donnelley & Sons
(RRD) - Get R.R. Donnelley & Sons Company Report
is a for the most part a printing and packaging company. Furthermore, the company offers multi-channel marketing services such as magazines, catalogs and directories.
Much what I described for Pitney Bowes can also be ascribed to R.R. Donnelley's problems. Catalog sales are being replaced by internet direct-to-consumer sites. Magazine circulation is off tremendously. Directories are now published on the internet rather than handed out in hard copy.
The company is trying to morph itself into a more modern firm with purchases such as Edgar Online, but on the other hand, the dividend has not been raised since 2003. Since that time, the stock price has dropped about 57%, making R.R. Donnelley what Jim Cramer would refer to as an "accidental high-yielder."
Supervalu
Supervalu
(SVU)
operates in the highly competitive supermarket business under store names such as Acme, Albertsons, Farm Fresh, Hornbachers, Save-A-Lot and Shaw's. The company has to compete with the likes of
Wal-Mart
(WMT) - Get Walmart Inc. Report
and
Kroger
.
I recently detailed some positive characteristics for Kroger in "
5 Cheap, Low-Risk Stocks to Buy
. Kroger may be the best house on a decrepit street, returning on a total return basis -2.4% over the period under study, but it would be a stretch to say anything positive about Supervalu. Management has not rewarded shareholders for their loyalty.
>>20 Smaller Stocks With Growing Dividends
RadioShack
RadioShack
(RSH)
is best-known for selling batteries, electronic equipment, cell phones and wires. The company has a long and wonderful history, with investment historians tracing its roots back to the Tandy Company, which was a very successful stock in the 1960s and '70s.
Unfortunately, in the last decade RadioShack has proven that it could no longer be competitive in the face of the dominance of
Wal-Mart
(WMT) - Get Walmart Inc. Report
,
Target
(TGT) - Get Target Corporation Report
and
Best Buy
(BBY) - Get Best Buy Co., Inc. Report
. With these companies selling everything or more than "The Shack," RadioShack becomes a destination of last resort.
Avon Products
Avon Products
(AVP) - Get Avon Products, Inc. Report
can only be best described as a dysfunctional company. In fact, it is a nominee for my
annual list of the worst-run companies
.
Recently, the company turned down a very lucrative $10.7 billion takeover offer from privately held Coty. Avon's revenues have flattened out over the past several years, and earnings are in decline. Compare that with
Estee Lauder
(EL), which has grown both revenues and earnings on a consistent basis, with only a slight pause during the Great Recession.
To see these stocks in action, visit the
7 Dividend Trap Stocks to Avoid
portfolio.
-- Written by Scott Rothbort in Millburn, N.J.
RELATED LINKS:
>>5 Bargain Stocks With Tons of Cash
>>4 Stocks Poised to Break Out
>>5 Stocks Immune to Europe's Problems
Follow Stockpickr on
and become a fan on
Facebook.
At the time of publication, author had no positions in stocks mentioned.
Scott Rothbort has over 25 years of experience in the financial services industry. He is the Founder and President of
, a registered investment advisor specializing in customized separate account management for high net worth individuals. In addition, he is the founder of
, an educational social networking site; and, publisher of
The LakeView Restaurant & Food Chain Report
. Rothbort is also a Term Professor of Finance at Seton Hall University's Stillman School of Business, where he teaches courses in finance and economics. He is the Chief Market Strategist for The Stillman School of Business and the co-supervisor of the Center for Securities Trading and Analysis.
Mr. Rothbort is a regular contributor to
TheStreet.com's RealMoney Silver
website and has frequently appeared as a professional guest on
Bloomberg Radio
,
Bloomberg Television
,
Fox Business Network
,
CNBC Television
,
TheStreet.com TV
and local television. As an expert in the field of derivatives and exchange-traded funds (ETFs), he frequently speaks at industry conferences. He is an ETF advisory board member for the Information Management Network, a global organizer of institutional finance and investment conferences. In addition, he is widely quoted in interviews in the printed press and on the internet.
Mr. Rothbort founded LakeView Asset Management in 2002. Prior to that, since 1991, he worked at Merrill Lynch, where he held a wide variety of senior-level management positions, including Business Director for the Global Equity Derivative Department, Global Director for Equity Swaps Trading and Risk Management, and Director for secured funding and collateral management for the Global Capital Markets Group and Corporate Treasury. Prior to working at Merrill Lynch, within the financial services industry, he worked for County Nat West Securities and Morgan Stanley, where he had international assignments in Tokyo, Hong Kong and London. He began his career working at Price Waterhouse from 1982 to 1984.
Mr. Rothbort received an M.B.A., majoring in Finance and International Business from the Stern School of Business, New York University, in 1992, and a B.Sc. in Economics, majoring in Accounting, from the Wharton School of Business, University of Pennsylvania, in 1982. He is also a graduate of the prestigious Stuyvesant High School in New York City. Mr. Rothbort is married to Layni Horowitz Rothbort, a real estate attorney, and together they have five children.