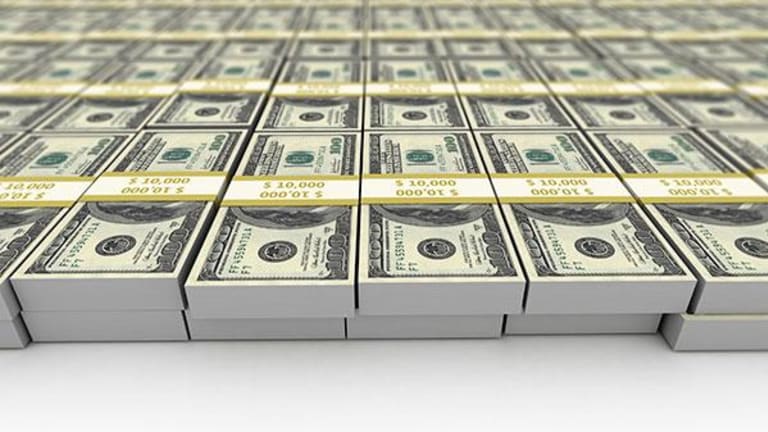 7 Dividend Stocks Yielding More Than 3% Selling at a Discount Right Now
Each of these high-yield dividend stocks has increased its dividend by at least 15% a year over the past five years.
Each of these high-yield dividend stocks has increased its dividend by at least 15% a year over the past five years.
Experts on retirement living talk about the 4% rule, which means, either earn 4% a year to avoid eating into savings or don't spend more than 4% when interest and savings combined are calculated.
Either way, that is a tall order, considering the level of interest rates.
Think about how one's lifestyle would be improved with a 6% yield on the dividend portfolio.
However, reaching for yield is risky, so consider this, instead: A dividend-paying stock with a yield of 3% that is growing 15% annually will double an investor's monthly income in 4.8 years.
High-quality dividend stocks that offer investors this combination of yield and growth tend to enjoy a decent amount of appreciation to their stock prices. And their dividend safety scores show a surprisingly low level of risk.
Each of the seven stocks below yields at least 3% and has increased its dividend by at least 15% a year over the past five years. These types of companies are appropriate for our Top 20 Dividend Stocks portfolio.
Let's take a closer look at them.
1. Boeing (BA) - Get Report
If anyone has ever flown on a commercial airline in the United States, there is a better than 80% chance that it was on a Boeing aircraft. Commercial aircraft is the cornerstone of Boeing, representing 68% of the company's revenue.
But global services and support (10%), military aircraft (14%) and network and space systems (8%) carry their share of the revenue load. The U.S. Defense Department accounts for about 60% of the non-commercial aircraft business.
Dividend growth investors have many reasons to be happy about Boeing. The annual payout of $4.36 offers investors a 3.3% yield.
The growth of Boeing's dividends has been accelerating from a compound 13.8% rate over the past 10 years to 16.7% over the past five, to 27.4% in the most recent three-year period.
Even so, the payout ratio is still a modest 35% of free cash flow. If the past five years is an indication of future dividend growth, the dividend could double in less than five years.
Boeing's leadership position in the global aircraft manufacturing industry has never been better. The company manufactures from a $50 billion-plus order backlog that has grown 47% over the past five years.
Military spending has leveled off from peak 2008 levels and so have Boeing's order backlogs for the Defense Department. Other areas such as global positioning services and related projects are keeping Boeing engineers busy.
Boeing's operating margins of 7.9% are about average for a heavy manufacturing business, but the company earns a strong return on invested capital and maintains a healthy balance sheet. All these factors support the company's future dividend safety and growth potential.
2. Carnival  (CCL) - Get Report
The global cruise industry is expected to book a record $39.6 billion in revenue this year, and Carnival, with almost half the business, is the indisputable market leader. Carnival is nearly twice the size of its nearest competitor Royal Caribbean Cruises. 
Aside from the exotic destinations and abundance of food and entertainment, the business side is one that rewards only the most efficient operators. Industry figures show that the average passenger revenue is just $1,728, of which just $226 fell to the profit line.
Volume and efficiency is where Carnival has made its mark.
Carnival operates 100 cruise ships employing nine leading brands serving multiple markets at prices that are affordable to the masses. The company has almost reached perfection in operating efficiency with its cruise vessels.
With operating margins of 12.9% and a return on invested capital of 6%, maximizing financial efficiency is essential and Carnival is the industry's best.
During the financial crisis, Carnival's revenue fell by 10%, and the company cut its dividend. Vacations are usually the first expense to be cut during a bear market, but the business has recovered well since 2009.
The $1.40 a share annual payout offers investors a 3.1% yield. Over the past five years, dividends have grown 22.4% a year, and management boosted the dividend by more than 15% this year.
The payout ratio at 46% of earnings per share is the lowest since 2011. For dividend growth investors, the answer to future dividend growth rates lies in revenue.
For the past three years, business has been about flat. However, encouraging signs have been seen this year with a 3% bump in revenue.
The common stock appreciation potential shouldn't be overlooked, especially for dividend investors looking for value. Consider this: Carnival has under-performed the S&P 500 so far this year, falling almost 15% and is selling at less than 14 times the consensus of earnings estimates.
Wall Street's experts look for earnings growth over the next five years to compound at 16%, and if that comes to pass, dividends are likely to follow.
3. Eaton  (ETN) - Get Report
Eaton is a leading global diversified company. It participates in what is euphemistically known as the power management business.
Around 1911 when the company was founded, it was called the electric-supply business.
Eaton's revenue fit into five categories: aerospace (9%); electric products (33%); electrical systems and service (28%), hydraulics (12%); and vehicle (18%).
Each segment is highly diversified.
The aerospace group makes and sells products for hydraulic and pneumatic systems; electric products includes circuit breakers, load centers, panel boards, power distribution units, switch gear and UPS systems; the hydraulics group makes systems and components used in mobile and industrial applications in a wide variety of industries; and the vehicle group manufactures various types of auto transmissions.
In sum, Eaton is an old line manufacturing company.
Eaton generates $20 billion in revenue with just $3.5 billion in plant and equipment. For a manufacturing company, this is a very efficient ratio.
The company is also a consistent cash flow generator and has recorded positive free cash flow each year for more than a decade.
Eaton is a company whose growth is tied closely to a global economy that has been rather static for the past several years.
Management has done its part in keeping costs under control, resulting in stable operating profits and margins at the 11.2% level. This is about average for a company in Eaton's business.
The annual dividend payout of $2.28 offers an above-average 3.6% yield. Over the past decade, dividends have grown 13.5% a year but stepped up to 15.3% annual growth over the past five years.
The combination of Eaton's steady growing cash flow and moderate payout ratio near 50% suggest that double-digit growth in dividends is possible.
4. International Business Machine (IBM) - Get Report
IBM is one of the most widely recognized names in technology anywhere in the world. IBM claims the distinction as the only company in the industry that has reinvented itself through multiple technology eras and economic cycles.
IBM started paying dividends as far back as 1913 and increased its dividend in each of the past 20 years. The $5.20-a-share dividend offers investors a 3.5% yield.
Over the past 10 years, growth in dividends has averaged 20.4% a year and 15% a year over the past five years. No wonder IBM is one of Warren E. Buffett's favorite dividend stocks.
Although IBM's dividend growth has been strong, its payout ratio is still just 40%.
There are no guarantees in the world, but with a 96 dividend safety score and a very low payout ratio, there is a solid chance IBM will continue its above-average dividend growth pace. A quick peek at the company's business offers supporting evidence.
Technology is one of the most rapidly changing industries in the world, and this is only likely to accelerate. IBM has proven itself capable of adjusting to whatever change is necessary to meet new challenges in technology.
Global operations fit into five main categories that comprise IBM's $82 billion revenue: global business services (21%); global financing (2%); global technology services (39%), software (28%); systems hardware (9%); and other (1%).
IBM's global reach is so wide that its products and services reach virtually everyone in the developed world. Its geographic breakdown is 49% in the Americas group, 21% in Asia/Pacific and 32% in Europe/Middle East/Africa.
For investors seeking reliable dividend growth and yield, IBM is a worthy candidate, despite its recent struggles.
5. Occidental Petroleum  (OXY) - Get Report
This Houston-based oil, gas and chemical company is primarily involved in the energy chain involving exploration, development and production of oil, natural gas and liquids (67%).
The related petrochemicals business makes and sells basic chemicals and vinyl (32%). The balance is in midstream and marketing of oil, natural gas, carbon dioxide and other energy forms (3%).
The price of crude oil has a significant influence on the company's activities. In recent years, the price of West Texas Intermediate oil has fallen from more than $100 per barrel to about $40.
This has resulted in a 35% reduction in company-wide revenue to $12.5 billion and caused Occidental Petroleum to record a loss of $10.23 a share last year. Since the January lows, WTI prices have recovered somewhat, so the picture at Occidental Petroleum could begin to look better throughout the rest of the year.
The $3.04 annual payout offers investors a well above-average 4.1% yield.
However, the company's dividend is riskier than the average stock. Until energy markets turn around, conservative dividend investors might be best off searching elsewhere for yield.
Occidental Petroleum is a holding in Jim Cramer's Action Alerts PLUS Charitable Trust Portfolio. See how Cramer rates the stock here. Want to be alerted before Cramer buys or sells OXY? Learn more now.
6. Qualcomm (QCOM) - Get Report
When it comes to the modern smartphone and all its cellular predecessors, Qualcomm wins the lottery.
But winning hasn't been a matter of luck. The company has long been the biggest innovator in designing the processors and modems that are the key to connecting the world wirelessly.
Qualcomm's annual payout of $2.12 a share offers an above-average 3.5% yield. Over both the past five and 10 years, dividend growth has been about 20% a year, accelerating to 24.2% a year in the most recent three.
With the exception of last year, the payout ratio has been just 26% to 32% of earnings per show and free cash flow. Much of its profits come from royalties, and this consumes very little capital.
So, there is evidence to support that above-average growth will continue. Past performance is no guarantee of the future, but at 20% dividend growth, monthly income doubles in about three years.
During the explosive double-digit growth days of the early mobile industry, a low payout ratio was appropriate.
These days of more moderate growth and with almost $4.8 billion in free cash flow adding to the $17 billion-plus already in Qualcomm's bank account, such hefty reserves are hardly needed. This spells dividend growth.
Qualcomm is a driving force behind mobile 3G and 4G standards. It holds more than 17,000 patents worldwide.
The company's products are key to major smartphone makers such as Apple and Samsung Electronics.
Apple is a holding in Jim Cramer's Action Alerts PLUS Charitable Trust Portfolio. See how Cramer rates the stock here. Want to be alerted before Cramer buys or sells AAPL?Learn more now.
In addition, the company designs, fabricates and markets a wide variety of semiconductors for the mobile industry. This is 70% of Qualcomm's business.
Smartphones reached more than 1.4 billion units at the end of last year. These devices have evolved into high-powered infotainment systems that are even challenging traditional television for a share of total eyeballs.
7. Target (TGT) - Get Report
Target's logo, featuring the familiar red bull's-eye, graphically illustrates the company's near-perfect aim at middle-market America. More than 1,792 stores in the U.S. offer a full selection of apparel for the family, as well as electronics, furniture, household goods and personal-care items.
Recently, CVS Healthy pharmacy outposts have been popping up at select Target stores.
Target has increased its dividend for nearly 50 consecutive years. The quarterly dividend will increase shortly to 60 cents a share, providing investors with a 3.2% annual yield.
The company is one of the few whose dividend growth rate has accelerated over time: 14.3% over the past 20 years, 19.6% over 10 and 20.8% annual dividend growth over the past five. And with free cash flow of $7 a share and a payout ratio of just 40% of earnings, Target has the capacity to continue these high rates of dividend growth. 
Being hyper-sensitive to changing consumer tastes is part of what allows Target to increase dividends, profits and sales, so rapidly. Although several major brick-and-mortar retailers have found themselves losing out to online rivals such as Amazon, eBay and others, not Target.
By fully committing to online order and rapid delivery, Target's bargain-priced merchandise has once again allowed it to adjust to changing consumer tastes.
Target is the world's second-largest retailer, and the laws of large numbers are beginning to catch up. Annual revenue growth has slowed to about 2%  year.
Strong operational and financial management have produced five-year annualized growth of 5.8% in earnings per share and nearly 10% in free cash flow. This is a very good measure of Target's ability to build both its business and increase its dividends at the same time. 
This article is commentary by an independent contributor. At the time of publication, the author was long Boeing.