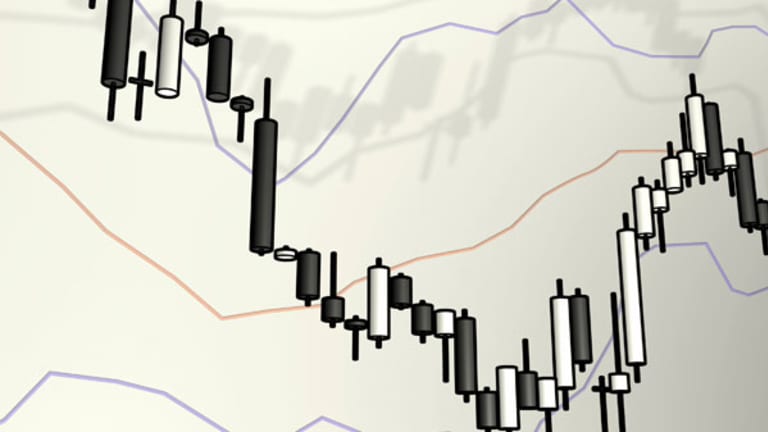 7 Dividend Stocks That Want to Pay You More Money
These companies recently increased their dividend payouts to shareholders.
BALTIMORE (Stockpickr) -- Throw a dart at a board of S&P 500 stocks, and you're more likely to hit a dividend payer today than at any other time in the last decade. Right now, more than 400 S&P constituents pay dividends -- the biggest percentage of payers in the index since all the way back in 2000.
That's a big factor in the record dividend payouts investors are taking home this year.
Companies are bringing on the dividends right now, tapping their record cash reserves and record profits to pay investors in 2012. In the last year alone, dividend payouts in the S&P 500 have climbed by an impressive 30.8% as management tried to incentivize investors to hold onto their positions. A lot of that growth has come from new payers, who are returning cash to shareholders for the first time.
>>5 Stocks Insiders Love Right Now
That growing trend toward dividends bodes well for investors' portfolios in more ways than one. While the inflow of dividend cash is never a bad thing, the fact of the matter is that dividend payers historically offer investors a whole lot more bang for their buck on an capital gains basis too:
That's because over the last 36 years,
have outperformed the rest of the S&P 500 by 2.5% annually, and they outperformed nonpayers by nearly 8% every year, all while doling out cash to their shareholders, according to data compiled by Ned Davis Research. The numbers are even more compelling when looking at companies that consistently increase their payouts.
That's why, each week, we pay close attention to the firms that are shoveling more corporate cash to shareholders. With that, here's a look at
seven stocks that hiked payouts in the last week
.
Exxon Mobil
Oil and gas supermajor
Exxon Mobil
(XOM)
announced a 21.3% dividend hike on Wednesday, bringing its quarterly payout to 57 cents per share -- a 2.65% dividend yield at current prices. That higher dividend is being fueled by higher crude oil prices this quarter, as prices for black gold sit in the triple-digits for an extended period of time.
As the world's largest refiner, Exxon stands in a particularly strong position to benefit from strength in oil prices.
It's not enough that Exxon is a major refiner. A more crucial element is the fact that Exxon is an integrated refiner. That means that the firm has a hand in the whole process from pulling crude out of the ground to pumping gas into your car; after all, it doesn't do a whole lot for refiners to have big scale when input costs are reaching new highs. Because Exxon's costs are set, the firm's profits rise disproportionately when prices rise. While sales volumes were less than expected in yesterday's earnings release, this year's investments in exploration should pay off in 2012.
That's not to say that Exxon's focus is purely on oil. The company massively increased its exposure to natural gas when it bought XTO Energy. If higher oil prices push consumers to use nat gas for more of their energy needs, Exxon will get an even bigger boost to profitability.
In the meantime, a bulletproof balance sheet and decent dividend payout make XOM a reasonable choice for income investors.
I also featured Exxon recently in "
5 Stocks Endowment Funds Are Buying in 2012
."
Chevron
Chevron
(CVX)
is another oil and gas supermajor that announced a dividend increase on Wednesday, hiking its payout by 11.1%. While the amount of Chevron's increase was less than Exxon's, Chevron is the more impressive yielder here: CVX currently pays out an annual 3.1% thanks to the recent change.
By and large, the oil and gas supermajors are created equal -- they're all massive integrated producers that have a mix of exposure to oil and natural gas. So it's no great surprise that Chevron effectively trades in step with Exxon and other peers.
But there are a couple of core differences (besides yield) that make CVX worth watching. Hefty exposure to more speculative deepwater exploration and major domestic shale holdings are two of them.
A deep net cash position and significant cash generation abilities in this market should keep the dividends flowing for investors. Chevron's yield makes it one of the better choices for income investors in search of energy stock holdings.
I also featured Chevron in "
5 Energy Stocks Funds Love Right Now
."
International Business Machines
International Business Machines
(IBM)
is having a standout year in 2012.
Just four months into the new year, shares of the information technology giant have rallied more than 12%.
And on Tuesday, the firm tacked cash onto those returns by announcing a 13.3% dividend increase, ratcheting IBM's payout to 85 cents per share. At current price levels, that's a 1.7% yield for Big Blue.
IBM is one of the largest diversified IT firms in the world, with a footprint that spans 170 countries. That huge reach means that IBM's reputation precedes it; when enterprise customers need computing solutions -- from mainframes to microprocessors -- IBM is typically one of the first names thrown into the ring. That factor, and a constantly shifting portfolio of product offerings, has helped IBM harness the major tailwind in IT spending that firms have been grappling for in the past few years. The economics of cloud computing should help power demand for IBM's offerings in the years ahead.
From a financial standpoint, IBM is in reasonable shape, with more than $17 billion in cash and a manageable debt load. That said, the firm's dividend payout hardly qualifies IBM as a core income holding. Yield-hunters can find more meaningful payouts in the IT space.
For another take on IBM, it shows up on a recent list of
3 Tech Stocks to Buy on a Pullback
, and it was also featured in "
6 Tech Stocks That Rate Better Than Apple
."
DuPont
It's also been a stellar year for chemical manufacturer
DuPont
(DD)
. The $50 billion firm has shot up in value by more than 17% since the first trading day in January, besting the performance of the S&P 500 by a wide margin. DuPont develops and manufactures a wide range of chemical and materials products that serve customers in everything from agriculture to energy to law enforcement.
Research is the most critical factor for DuPont's long-term success, and management knows it. That means that the firm is willing and able to pour significant resources into developing new products that may not hit the market for years, a formula that's worked well in DuPont's extremely long history. That focus on the development side of the product cycle means that the firm takes a more long-range strategy than most, a good thing for investors who are looking for a long-term addition to their portfolios.
While DuPont's debt load has been on the rise in the last few years thanks to increased acquisition activity, it still carries a burden that's easily tenable with DD's cash generation capabilities. On Wednesday, DuPont announced a 4.88% increase to its quarterly dividend, bringing the payout to 43 cents per share. That's a 3.2% dividend yield right now, an attractive payout that qualifies this firm for core income holding status.
I also featured DuPont in "
10 Dow Dogs That Are Barking for Gains
."
Southern Copper
By and large, base metals producers are stomping analyst expectations this quarter, a phenomenon that should be a good price catalyst for the entire industry this summer. One of the stocks that could benefit is
Southern Copper
(SCCO)
, a Latin American copper producer that holds 132 billion pounds of copper reserves in Mexico and Peru. The firm also has significant exposure to molybdenum and zinc.
Southern Copper's biggest tailwind right now is the price of copper. While copper prices have fallen from their peak last year, they're still at a level where producers are able to generate high levels of profitability -- and after hitting a short-term bottom earlier this month, copper could very well begin trending materially higher again.
>>Materials Stocks Bought and Sold by Hedge Funds
That would be a big boon for SCCO, which is already one of the lowest-cost copper producers in the world. The firm saw net margins come in at 34% last quarter, driving a huge chunk of its sales to the bottom line.
That means much bigger dividends for investors: SCCO pays out around 80% of its profits in the form of dividends, resulting in a much higher yield than most peers. While earnings fluctuations and currency translation tend to make that yield volatile, the company is still throwing off a significant amount of cash to shareholders. That increased on Tuesday, when management announced a 178.9% increase to its dividend payout -- which makes SCCO the biggest dividend hike on our list today.
The move means that SCCO currently yields 6.4%.
Coach
On a
basis, it's been hard to beat
Coach
(COH)
over the last few years. The luxury goods stock is up more than 20% in 2012, after gaining 10% during lackluster 2011. That's a record of performance that investors are clamoring for right now.
Coach sells handbags and leather accessories through close to 500 retail stores in North America, a growing number of locations in China and Japan, and a network of department store chains. Coach's own retail locations bring in the lion's share of sales for the firm, a trend that's spurred growth in the brand's footprint. COH got endeared to investors during the recession, when the firm lowered price points without diluting its brand, ramping up sales dramatically in the process.
While Coach isn't "cheap" anymore, the company's financials are still impressive; material growth, massive cash flow generation abilities, and deep margins should keep investors' attention in 2012.
On Tuesday, Coach announced a 33.3% increase in its quarterly dividend, bringing its quarterly payout to 30 cents per share. While Coach's 1.23% yield definitively doesn't make Coach a core income candidate, investors with shorter-term timeframes might want to grab shares until relative strength starts to fade.
Coach, which I also featured recently in "
5 Stocks to Trade for Breakout Gains
," shwos up on a list of
12 Highest-Rated Consumer Stocks Picked by S&P
.
Kellogg
Convenience food maker
Kellogg
(K)
also hiked its dividend in the last week, pushing up its payout by 2.3%. Kellogg is another example of a small hike added onto a hefty yield: the stock currently sports an annual payout of 3.4%.
Kellogg owns some of the most popular cereal brands on grocery shelves, including Special K, Frosted Flakes, and Rice Krispies -- that portfolio of cereal boxes gives Kellogg the biggest share of the U.S. cereal market, taking home a full third of sales. But Kellogg's reach extends way beyond cereal and well into the snack food business.
That diversification is a no-brainer for a firm like Kellogg; because the company already has the distribution network and merchandising know-how from its cereal business, adding other foods to its business doesn't stretch the bounds the firm's core business at all.
While competition is tough in the convenience food business, Kellogg's status as a league leader should continue to crank out cash for shareholders. The firm's high yield makes it a good option for investors looking to add a consumer non-cyclical to their income portfolios.
To see these dividend plays in action, check out the
Dividend Stocks for the Week portfolio
on Stockpickr.
And if you haven't already done so,
today to create your own dividend portfolio.
RELATED LINKS:
>>5 Rocket Stocks to Buy in May
>>5 Stocks Under $10 Poised for Upside
>>5 More Big Stocks to Trade for Gains
Follow Stockpickr on
and become a fan on
Facebook.
At the time of publication, author had no positions in stocks mentioned.
Jonas Elmerraji is the editor and portfolio manager of the Rhino Stock Report, a free investment advisory that returned 15% in 2008. He is a contributor to numerous financial outlets, including Forbes and Investopedia, and has been featured in Investor's Business Daily, in Consumer's Digest and on MSNBC.com.