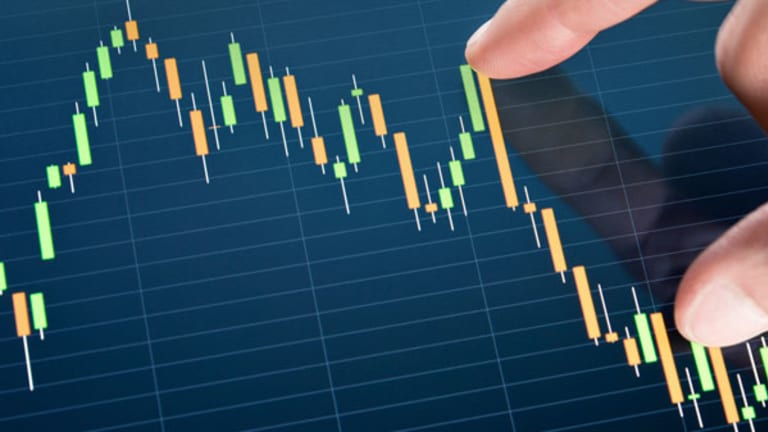 7 Dividend Stocks That Want to Pay You More Cash
These companies recently increased their payouts to shareholders.
BALTIMORE (Stockpickr) -- If you're a dividend investor, Ben Bernanke sent an important message to you on Wednesday: It's time to buy dividend stocks with both hands.
The decision to skip QE3 -- and to keep interest rates near all-time lows -- is significant (albeit not unexpected). It means that investors who want to actually make money need think about returns on capital again, and not just returns
of
capital. With inflation being held well above 2%, treasuries are paying negative real yields right now, and dividends are providing investors with one of the only sources of relief.
>>10 Low-Risk Dividend Stocks for a Volatile Market
And why shouldn't they? Cash holdings among
S&P 500
companies are at all time highs, and so are corporate profits. Management teams that don't want to see that money disappear have to deploy that cash - and more and more, they're opting to do it with bigger dividend payouts for shareholders.
The result is that today, the S&P 500 pays out a bigger cash dividend than it has at any time in history - and yields are higher than they've been in the last two decades.
>>ACTIVE STOCK TRADERS: Check out Stockpickr's special offer for Real Money, headlined by Jim Cramer, now!
Dividends are also a big deal for investors in search of the biggest total returns: Over the last 36 years,
have outperformed the rest of the S&P 500 by 2.5% annually, and they outperformed nonpayers by nearly 8% every year, all while paying out cash to their shareholders, according to data compiled by Ned Davis Research. The numbers are even more compelling when looking at companies that consistently increase their payouts.
That's why we pay close attention to the firms that are shoveling more corporate cash to shareholders. With that, here's a look at
seven stocks that hiked payouts recently
.
Best Buy
New Dividend: 17 cents quarterly (per share)
Dividend Percent Increase: 6%
Current Yield: 3.21%
When did
Best Buy
(BBY) - Get Best Buy Co., Inc. Report
become a high-yield dividend stock? The firm's 40% drop so far in 2012 definitely helps that income-metric, but so does the fact that the firm's dividend payout has been defying gravity. Management announced a 6% dividend hike this week, bringing its quarterly payout to 17 cents per share.
Best Buy has had some big shakeups in the last few months. Its CEO resigned in disgrace. And BBY's founder (and 20% owner) resigned from his chairman and director duties at the start of this month. Frankly, Best Buy is probably a good example of why it doesn't make sense to go out chasing yield -- this stock has some serious challenges to its business in the next few years, even if (or maybe because) its biggest competitors have bowed out since the recession.
There are other high-yield names that make more sense to own in this market.
Best Buy shows up on a list of
2 Turnaround Stocks to Consider
.
Realty Income
New Dividend: 14.6125 cents monthly (per share)
Dividend Percent Increase: 0.2%
Current Yield: 4.35%
One of those high-yield names is
Realty Income
(O) - Get Realty Income Corporation Report
, the "monthly dividend company." The firm's recent dividend hike may not be the biggest on a percentage-increase front, but it is the biggest absolute payout. The increase puts Realty Income's yield at a hefty 4.35%.
>>5 Big Stocks Ready to Slingshot Higher
It may seem strange to say that a real estate investment trust like Realty Income makes more sense to own than Best Buy right now. But in reality, commercial REITs like O are purpose-built income generation tools. They sign long-term triple-net leases with tenants that smooth out any unexpected tax, maintenance, or insurance costs from their earnings, and they are legally required to pay out the vast majority of their incomes directly to shareholders in the form of dividends.
Those factors insulate Realty Income from the ebb and flow of the real estate market, and give it a massive payout right now.
Yamana Gold
New Dividend: 6.5 cents quarterly (per share)
Dividend Percent Increase: 18%
Current Yield: 1.42%
Yamana Gold
(AUY) - Get Yamana Gold Inc. Report
is another name that increased its dividend payouts in the last week. The gold miner boasts more than 23.6 million ounces of gold reserves, a number that's grown significantly over the past several years as Yamana added new projects to its balance sheet. And it pulls that metal out of the ground cheaply -- Yamana's costs are some of the lowest of the large-cap miners.
To be fair, Yamana isn't exactly a high-yielder -- it currently pays out just 1.42%. And the hangover from the Operation Twist announcement is shoving Treasuries higher at the expense of gold. But when the smoke clears, the Fed's largesse is going to "alternative currencies" such as gold look a lot more attractive. (I also featured the stock in "
QE3 Isn't Coming -- Buy These 4 Stocks instead
."
Investors should like the fact that the company is using more of its cash to return to shareholders (even if the dividend checks are denominated in dollars).
Host Hotels and Resorts
New Dividend: 7 cents quarterly (per share)
Dividend Percent Increase: 16.7%
Current Yield: 1.79%
Hotelier
Host Hotels and Resorts
(HST) - Get Host Hotels & Resorts, Inc. Report
owns 121 upscale and luxury hotels across the globe, with close to 65,000 rooms between them. Like Realty Income, Host is a REIT, but unlike the monthly dividend company, Host isn't a commercial landlord.
>>20 Smaller Stocks With Growing Dividends
That means that the firm's payouts aren't as predictable and immune to market hiccups. And Host's dividend payout shows it too -- the company yields 1.79%, versus the hefty 4.35% yield that Realty Income shells out.
Still, the firm has slowly been growing its dividends as it improves its tenuous profitability. This week's 16.7% hike marks the sixth consecutive quarterly increase for HST. It may not attract income-hungry investors, but it's a welcome addition for existing shareholders.
PetSmart
New Dividend: 16.5 cents quarterly (per share)
Dividend Percent Increase: 18%
Current Yield: 0.97%
It's been an awesome year to be a
PetSmart
(PETM)
shareholder: Shares of the $7.2 billion pet product retailer have rallied more than 30% so far in 2012. And management is upping the return ante with a bigger dividend payout this week, ratcheting its dividend by 18% to 16.5 cents.
PetSmart currently has a footprint of 1,250 big-box stores spread across the country, selling products like pet food, supplies, and toys as well as smaller pets and services like grooming or training. With consumables (like dog chow) making up such a big part of the firm's business, recurring sales should continue to generate enviable performance from this big box retailer.
I also featured PetSmart recently in "
5 Rocket Stocks to Buy After the Greek Vote
."
DTE Energy
New Dividend: 62 cents quarterly (per share)
Dividend Percent Increase: 5.5%
Current Yield: 4.18%
Next up on the list is
DTE Energy
(DTE) - Get DTE Energy Company Report
, a $10 billion energy company that owns two regulated utilities. Like most utilities, DTE also operates a number of unregulated business, including energy trading and natural gas transportation. The firm announced a 5.5% dividend increase last Thursday, bringing its already hefty yield to 4.18%.
>>5 Energy Stocks T. Boone Pickens Loves Right Now
Income investors should like the fact that DTE's nonregulated businesses are relatively small. That means that the company's earnings are more consistent and predictable (and thus so are dividend payouts) than peers with hefty exposure to merchant energy generation or trading.
DTE is a solid core income holding for investors looking for utility exposure.
Walgreen
New Dividend: 27.5 cents quarterly (per share)
Dividend Percent Increase: 22.2%
Current Yield: 3.77%
The 22.2% dividend hike over at
Walgreen
(WAG)
shouldn't have come as a complete surprise -- the stock was one of "
5 Household-Name Stocks Ready to Boost Dividends
" that I talked about on Monday, a day before the company announced the move.
Walgreen's payout increase marks the 37th straight year of dividend hikes for the firm, a streak that management is doesn't want to break. That's not to say that WAG has been a great performer this year -- a series of missteps have taken some of the shine off of the pharmacy chain.
That said, investors could do worse searching out high-yield retail names in this market.To see these dividend plays in action, check out the
Dividend Stocks for the Week portfolio
on Stockpickr. And if you haven't already done so,
today to create your own dividend portfolio.
-- Written by Jonas Elmerraji in Baltimore.
RELATED LINKS:
>>4 Stocks the Pros Hate -- But You Should Love
>>5 Stocks Insiders Are Jumping Into
>>5 Stocks Under $10 Set to Soar
Follow Stockpickr on
and become a fan on
Facebook.
At the time of publication, author had no positions in stocks mentioned.
Jonas Elmerraji is the editor and portfolio manager of the Rhino Stock Report, a free investment advisory that returned 15% in 2008. He is a contributor to numerous financial outlets, including Forbes and Investopedia, and has been featured in Investor's Business Daily, in Consumer's Digest and on MSNBC.com.