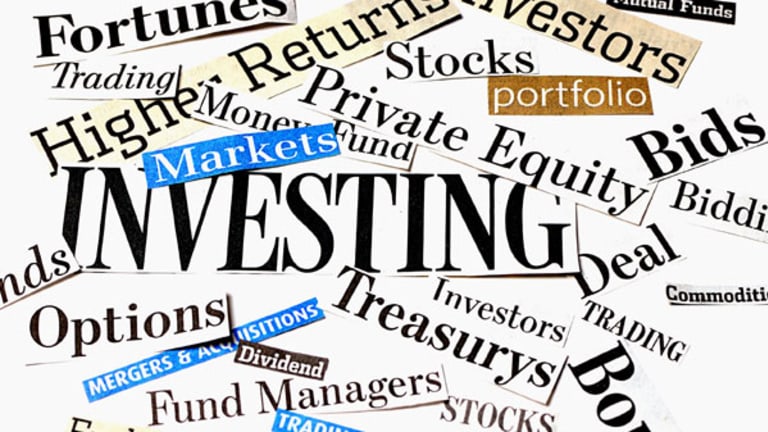 7 Dividend Stocks Promising Growth and Protection
These companies not only have excellent balance sheets but also have low costs of capital and pay healthy dividends.
These companies not only have excellent balance sheets but also have low costs of capital and pay healthy dividends.
MILLBURN, N.J. (Stockpickr) -- American companies are in a unique position relative to their counterparts in Europe and those in some emerging markets. Cash generation, repayment of debt, low interest rates and record earnings are combining to lower American corporate cost of capital, improve their balance sheets and return more value to shareholders.
With that in mind, I decided to seek out companies with low WACC (weighted average cost of capital), high Altman Z-Scores (a measure of balance sheet health), high ROCE (return on common equity) and above-market-average dividend yields.
After I performed the analytic screen, I examined the top-rated companies for their fundamental outlook and eliminated any stocks I did not believe were worthy of an investment.
>>5 Rocket Stocks Set to Rally in March
What I arrived at was a portfolio of
stocks with low WACC and strong financial health
. These stocks will provide both moderate growth opportunities along with financial protection and strong cash flow.
In addition, these firms can leverage their already strong balance sheets at low costs in order to expand existing business capability and make acquisitions while still returning cash to investors.
Philip Morris International
Philip Morris International
(PM) - Get Report
is a leading manufacturer of cigarettes outside of the U.S. The company owns the top-selling Marlboro and L&M cigarette brands, among others.
In 2010, the company sold nearly 300 billion Marlboro cigarettes, which was greater than the next two international competitors combined. Earnings per share for Philip Morris International grew by 24% in 2011 and are expected to grow by a steady 9% in 2012. The stock sells as a reasonable 15 times current year's earnings.
Philip Morris, one of
Renaissance Technologies' top holdings
, shows up on recent lists of
10 Top Dividend Stocks to Own Until Retirement
and
6 Big-Dividend Stocks to Light Up Your Portfolio
.
McDonald's
Here is an important fact about
McDonald's
(MCD) - Get Report
, the largest quick casual restaurant in the world: The stock has not declined in a calendar year since 2002. Since 1980, McDonald's has only declined in four calendar years: 1990, 2000, 2001 and 2002. The compounded annual price return for McDonald's stock is 15.3% since 1980. This does not factor in the annual dividend, which the company has consistently paid.
2012 will be an average year whereby I expect the company's earnings to increase by 8% to 10%, the shares to rise about 10% and the dividend to add about another 3% to total return.
Let me be very clear, after it rose in price by 31% in 2011, we should not expect as big of a year from McDonald's stock in 2012. However, given the nature of McDonald's business, its history, large stock repurchase program and strong dividend, the downside to the stock price is limited.
McDonald's, one of
Renaissance Technologie's top holdings
, shows up on a recent list of
5 Stocks to Safely Make Money in Emerging Markets
and was one of
3 Top Dividend Stocks for 2012
.
Colgate-Palmolive
Colgate-Palmolive
(CL) - Get Report
is one of the largest consumer products companies in the world, featuring brands such as Colgate, Speed Stick, Irish Spring, Softsoap, Ajax, Murphy's Oil Soap and Hill's Pet Foods. The company grew earnings by 4% in 2011 and is expected to grow earnings by 7% in 2012.
In 2011, the company was somewhat deterred by the weakness in Europe and emerging markets. However, in 2012 and beyond, earnings growth should return to a more normalized level. Soap and toothpaste is not exactly a high-growth business, but as emerging economies grow, their citizens tend to improve their personal hygiene.
This is a list of tortoises, not hares, and Colgate Palmolive is a quintessential tortoise.
Colgate, one of
, shows up on a list of
10 New Dividend Aristocrats for 2012
.
Lockheed Martin
Lockheed Martin
(LMT) - Get Report
is a U.S.-based defense contractor. In 2011, earnings per share and sales rose between 1% and 2%.
2012 is likely to be much the same for Lockheed Martin, due to the fiscal challenges of world governments. Despite all of that, the company has managed to maintain a strong balance sheet and grow its dividends by about 22% a year for the past five years.
After two years of slow growth and fiscal restraint, aging defense equipment and new technologies will spur on more growth in 2013 and beyond.
Kimberly-Clark
Kimberly-Clark
(KMB) - Get Report
is another personal care consumer product company that fits my criteria. Kimberly-Clark focuses on tissues, toilet paper diapers, incontinence and other paper goods products. In most of its product categories, the company ranks first or second in market share.
Adjusted earnings rose 3% in 2011 and are expected to rise 4 to 7% in 2012. As a result, the company's board has approved a 5.7% increase in its quarterly dividend.
You can wipe with Kimberly Clark's products, but the stock won't wipe you out.
Kimberly-Clark shows up on a list of
10 Stocks That Will Let You Retire
and was featured recently in "
7 Dividend Stocks That Want to Pay You More Cash
."
Hershey
Hershey
(HSY) - Get Report
is one of the leading confectionery companies in the world. It is best-known for its chocolates, with brands including Hershey's, Reese's, Kit Kat, Mr. Goodbar and Almond Joy, The company also produces Twizzlers, Ice Breakers and Breath Savers.
Earnings grew by 11% in 2011despite political instability in the Ivory Coast that resulted in a global shortage of cocoa and a spike in cocoa prices. Since spiking in April of last year, cocoa price have declined by 35% to 40% and are stabilizing around current levels, and I suspect that older and higher-priced commodity input costs will no longer be impacting margins in 2012 and could result in better-than-expected results.
I would also not rule out a mid-year dividend increase of 8% to 10%. Hershey is also due for another stock buyback authorization.
Hershey is one of
Renaissance Technologies' top stocks
as of the most recently reported period, and it also shows up in
Navellier & Associates' portfolio
.
Computer Programs & Systems
Computer Programs & Systems
(CPSI) - Get Report
is an information technology company that specializes in computerized solutions for the health care industry. Unlike the other stocks in this portfolio, Computer Programs & Systems is a small-capitalization stock and a constituent of the Russell 2000 (RUT). As such, its growth rate is also higher than the aforementioned stocks, with earnings per share rising by 39% in 2011 and expectations for earnings to grow by 15% to 16% in each of the next two years.
With health care costs on the rise, providers will be looking for ways to reduce expenses. What is also intriguing is that the company pays out a dividend of just over 3%, which is more than double the Russell 2000 dividend yield of 1.45%.
-- Written by Scott Rothbort in Millburn, N.J.
RELATED LINKS:
>>5 Stocks Insiders Love Right Now
>>7 Dividend Stocks That Want to Pay You More Cash
>>5 Stocks Setting Up to Break Out
Follow Stockpickr on
and become a fan on
Facebook.
At the time of publication, Rothbort was long MCD, although positions can change at any time.
Scott Rothbort has over 25 years of experience in the financial services industry. He is the Founder and President of
, a registered investment advisor specializing in customized separate account management for high net worth individuals. In addition, he is the founder of
, an educational social networking site; and, publisher of
The LakeView Restaurant & Food Chain Report
. Rothbort is also a Term Professor of Finance at Seton Hall University's Stillman School of Business, where he teaches courses in finance and economics. He is the Chief Market Strategist for The Stillman School of Business and the co-supervisor of the Center for Securities Trading and Analysis.
Mr. Rothbort is a regular contributor to
TheStreet.com's RealMoney Silver
website and has frequently appeared as a professional guest on
Bloomberg Radio
,
Bloomberg Television
,
Fox Business Network
,
CNBC Television
,
TheStreet.com TV
and local television. As an expert in the field of derivatives and exchange-traded funds (ETFs), he frequently speaks at industry conferences. He is an ETF advisory board member for the Information Management Network, a global organizer of institutional finance and investment conferences. In addition, he is widely quoted in interviews in the printed press and on the internet.
Mr. Rothbort founded LakeView Asset Management in 2002. Prior to that, since 1991, he worked at Merrill Lynch, where he held a wide variety of senior-level management positions, including Business Director for the Global Equity Derivative Department, Global Director for Equity Swaps Trading and Risk Management, and Director for secured funding and collateral management for the Global Capital Markets Group and Corporate Treasury. Prior to working at Merrill Lynch, within the financial services industry, he worked for County Nat West Securities and Morgan Stanley, where he had international assignments in Tokyo, Hong Kong and London. He began his career working at Price Waterhouse from 1982 to 1984.
Mr. Rothbort received an M.B.A., majoring in Finance and International Business from the Stern School of Business, New York University, in 1992, and a B.Sc. in Economics, majoring in Accounting, from the Wharton School of Business, University of Pennsylvania, in 1982. He is also a graduate of the prestigious Stuyvesant High School in New York City. Mr. Rothbort is married to Layni Horowitz Rothbort, a real estate attorney, and together they have five children.