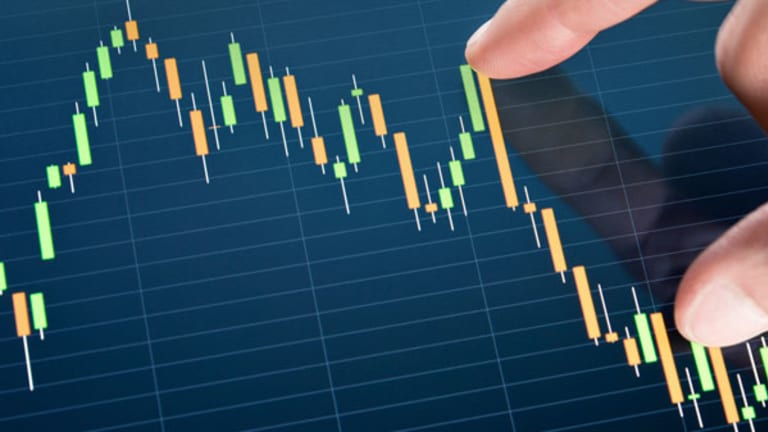 7 Dividend Stocks Paying You More Cash
These companies recently increased their dividend payouts to shareholders.
BALTIMORE (Stockpickr) -- Earnings numbers may be mixed, but earnings season is definitely ushering in dividend hikes. The last week alone brought 32 higher payouts for income investors, adding onto record dividend numbers for 2012.
Right now, the
pays out more cash dividends to investors than any time before in history -- and it's in a position to pay out even more. Not only are corporate bank accounts more flush with cash than ever before, S&P firms also pay out a very low percentage of earnings in the form of dividends. At last count, the S&P's payout ratio clocked in at 32%, well shy of the index's historical average of 52%. And yields are higher than they've been any time in the last two decades, all while treasuries practically pay out zero.
So long story short, big companies have plenty of dry powder to hike their dividend payouts. And historically, that means good things for investors. Really good things.
>>5 Stocks Under $10 Set to Soar
Over the last 36 years,
have outperformed the rest of the S&P 500 by 2.5% annually, and they outperformed nonpayers by nearly 8% every year, all while paying out cash to their shareholders, according to data compiled by Ned Davis Research. The numbers are even more compelling when looking at companies that consistently increase their payouts.
That's why we pay close attention to the firms that are shoveling more corporate cash to shareholders. With that, here's a look at
seven stocks that hiked payouts recently
.
Simon Property Group
New Dividend: $1.05 per share
Dividend Percent Increase: 5%
Current Yield: 2.64%
>>7 Stocks for a Housing Rebound
Real estate investment trust
Simon Property Group
(SPG) - Get Free Report
was the biggest firm to increase its dividend payout last week, hiking its dividend 5% to $1.05 per share. Simon owns more than 245 million leasable square feet of mall, outlet, and shopping center space spread across the globe, making it the largest retail REIT in the country. That unique positioning makes SPG a purpose-built dividend machine.
Most publicly traded commercial REITs lease properties on a "triple net" basis. That means that it's the renters, not the REIT, that's responsible for big variable costs like taxes, insurance, and maintenance on properties. Combine that predictable revenue stream with a tax status that requires the firm to pay the vast majority of its income out as dividends, and SPG is built to pay income.
Baxter International
New Dividend: 45 cents per share
Dividend Percent Increase: 34.3%
Current Yield: 3.12%
It's been a stellar year for shareholders of
Baxter International
(BAX) - Get Free Report
-- the medical supply maker has seen its shares rally more than 16% so far in 2012, easily outperforming the broad market. And that's before dividends.
>>10 Best-Performing S&P 500 Stocks in the Second Quarter
Baxter is a leader in the injectable therapies market, manufacturing everything from IV bags and solutions to dialysis equipment. The company also has a fast-growing BioScience unit that's been tackling therapies for a number of specialized disorders that don't get targeted by generic drug makers.
With the firm's 34.3% dividend hike on Wednesday, this stock now yields 3.12%. Income investors looking for a diversified core holding in the healthcare industry could do worse than this stock.
Williams
New Dividend: 31.25 cents per share
Dividend Percent Increase: 4.17%
Current Yield: 4.02%
Leave it to a big yielder like
Williams
(WMB) - Get Free Report
to trickle out a slow and steady dividend hike. While last Thursday's 4.17% payout increase wasn't the biggest, it tacks a little more onto what's already a hefty payout for the $20 billion energy firm.
>>6 Stocks to Benefit From Lower Gas Prices
Williams is a pipeline company that owns and operates more than 15,000 miles of natural gas pipelines, processing close to 10% of the country's natgas needs. Not long ago, Williams owned an exploration and production business, but the firm spun that off at the start of 2012, forming
WPX Energy
(WPX) - Get Free Report
.
That move makes Williams a pure play on pipelines right now, if an unremarkable one. This is a solid name to turn to for a consistently high-paying name.
Marathon Petroleum
New Dividend: 35 cents per share
Dividend Percent Increase: 40%
Current Yield: 2.18%
Investors looking for a dividend-hiking E&P stock can look no further than the next company on our list:
Marathon Petroleum
(MPC) - Get Free Report
. Marathon is a $15 billion oil refinery and transportation company that went public last year. The firm owns six refineries spread throughout the Midwest, Gulf Coast and Southeast, as well as the terminal and transportation systems that help them get petroleum products to and from their facilities.
>>7 Undervalued Oil and Gas Stocks Ripe for Gains
As one of the few sizable independent refiners in the country, Marathon is able to squeeze some bigger margins out of niche markets that the big names can't. And that's helping to fuel the firm's 2.18% dividend yield. Last week's 40% cent dividend increase brings Marathon's total payout to 35 cents per share.
Marathon Petroleum, one of
, shows up on a list of
8 Stocks Benefiting From North America's Energy Boom
.
Motorola Solutions
New Dividend: 26 cents per share
Dividend Percent Increase: 18.2%
Current Yield: 2.19%
>>10 Top-Rated Tech Stocks That Pay Big Dividends
Communications firm
Motorola Solutions
(MSI) - Get Free Report
is another name that hiked its dividend this week. On Wednesday, management upped MSI's quarterly payout to 26 cents per share, a 2.19% yield at current levels. Motorola Solutions is the result of the split between Motorola's mobile phone business (now a
Google
(GOOG) - Get Free Report
unit) and its communications infrastructure business.
While communications equipment -- such as radios, software, and integration services -- may not be as exciting as the fast-paced handset market, it does actually make money. That's more than most phone makers can say right now. With substantial contract revenues and a new skew towards attracting IT spending, this firm should continue to throw off more cash.
Altera
New Dividend: 10 cents per share
Dividend Percent Increase: 25%
Current Yield: 1.15%
Altera's
(ALTR) - Get Free Report
25% dividend hike shouldn't have come as a huge surprise -- I featured the stock earlier this month as one of
five stocks that looked ready to boost dividends
. A week later, Altera did, boosting its payout by 25% to 10 cents per share.
>>5 High-Yield Stocks Ready to Boost Dividends Again
Altera is a leader in the programmable logic device market, a subset of chips that can have its circuitry -- and functions -- reprogrammed by the manufacturer's clients and are purchased by original equipment manufacturers of everything from communications devices to automobile components. The firm makes up half of the PLD duopoly that currently dominates the market.
While its yield certainly doesn't justify "core income holding status," it does send an important signal to investors: ALTR's price needs to catch up with its fundamentals.
Oneok
New Dividend: 33 cents per share
Dividend Percent Increase: 8.2%
Current Yield: 2.8%
Last up is another nat gas name:
Oneok
(OKE) - Get Free Report
. OKE is a $9 billion integrated natural gas firm that's involved in everything from producing to transporting and distributing natural gas and natural gas liquids throughout the U.S. The firm is the general partner for
Oneok Partners
(OKS)
.
The firm has a solid track record of boosting its dividend payouts, a trend that should help contribute to nice big cost yields for investors who decide to buy at opportunistic times. And now, with nat gas still looking weak, buyers may have a chance to get this stock comparatively cheap.
To see these dividend plays in action, check out the
Dividend Stocks for the Week portfolio
on Stockpickr.
And if you haven't already done so,
today to create your own dividend portfolio.
-- Written by Jonas Elmerraji in Baltimore.
RELATED LINKS:
>>5 Huge Stocks Ready to Slingshot Higher
>>5 Stocks With Huge Insider Buying
>>Buy American: 5 Stocks to Escape the Eurozone Crisis
Follow Stockpickr on
and become a fan on
Facebook.
At the time of publication, author had no positions in stocks mentioned.
Jonas Elmerraji is the editor and portfolio manager of the Rhino Stock Report, a free investment advisory that returned 15% in 2008. He is a contributor to numerous financial outlets, including Forbes and Investopedia, and has been featured in Investor's Business Daily, in Consumer's Digest and on MSNBC.com.