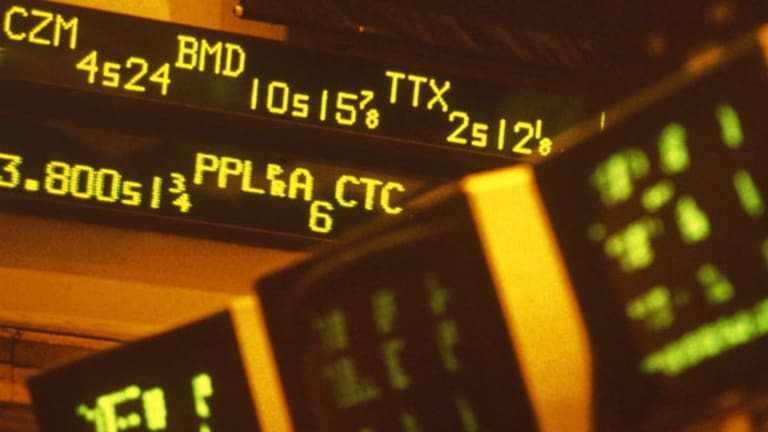 7 Dividend Stocks Handing Out More Cash in 2012
These companies recently increased their dividend payouts to shareholders.
BALTIMORE (Stockpickr) -- If you haven't paid attention to dividends this year, you're making a big mistake. In 2011, dividends were the only semblance of gains many investors saw -- and less than a month into 2012, dividends are already making a material impact on investment returns.
Last year, the
Dow Jones Industrial Average
was the best-performing of the major market indices, pushing up by 5.5% over the course of 2011. But adding dividends into the mix ratcheted those gains up to 8.4% -- that's a 53% increase in return through dividend payouts. And 2012 is already positioned to do one better.
>>7 Hot Stocks on Traders' Radars
That's because dividend payouts are more than 16% higher this year, thanks to record corporate cash and management teams looking to incentivize investors to stay put in this rough and tumble market. What should be clear by now is the fact that capital gains and dividend payouts aren't mutually exclusive goals. In fact, the data bear out that the two go hand in hand:
Over the last 36 years,
have outperformed the rest of the
S&P 500
by 2.5% annually, and they outperformed nonpayers by nearly 8% every year, all while paying out cash to their shareholders, according to data compiled by Ned Davis Research. The numbers are even more compelling when looking at companies that consistently increase their payouts.
That's why we pay close attention to the firms that are shoveling more corporate cash to shareholders each week. With that, here's a look at
six of the stocks that hiked payouts in the last week
.
Schlumberger
First up this week is
Schlumberger
(SLB) - Get Report
, the Houston-based oil well servicer. The past month has been strong for SLB, with shares rallying double-digits on overall strength from the energy sector. The firm's market-leading position means that it's well situated to benefit from increased oil production efforts worldwide.
Last Thursday, management announced a 10% dividend increase, bringing the firm's quarterly payout to 28 cents per share. That's a 1.45% yield at current price levels.
Schlumberger's bread and butter is helping energy firms get commodities out of the ground. The firm provides everything from seismic surveys to pressure pumping services, offering its nuanced expertise to exploration and production firms that are more focused on other aspects of the energy business than wells. While competition is fierce in the oil well servicer industry, Schlumberger's relationships with major E&Ps and its investments in developing new service offerings help to cement is position.
From a financial standpoint, Schlumberger is in solid shape, with around half of the firm's debt load covered by cash on hand. That combination of manageable balance sheet leverage and ample liquidity should keep SLB from having to overextend itself in the coming quarters.
All of that said, I wouldn't recommend buying this stock as an income investment -- SLB's yield is just too low compared to other energy names. If you're interested in the firm's other attributes, think of its dividend as gravy.
Schlumberger shows up on recent lists of
7 Best Long-Term Stock Picks by Morgan Stanley
and
15 Stocks to Ride the Energy Boom of the Next Decade
.
Praxair
At first glance, you might not think that bottling air is a particularly lucrative business. But one look at
Praxair's
(PX)
income statement tells us that it is...
Praxair is the largest industrial gas supplier on the continent, providing bottled gasses to customers in industries that range from healthcare to industrial manufacturing. While it's true that industrial gasses tend to be relatively low-cost, the capital needed to bottle and transport them isn't -- a factor that enables Praxair to collect double-digit net margins for their trouble.
Another reason for those high margins is switching costs -- Praxair's customers are extremely sticky and sign long-term contracts. With renewal rates well above 95%, the firm doesn't need to spend much to acquire customers. And because bottles customers lease are paid for relatively quickly, the firm's margins on new customers expand dramatically early on in their contracts.
On Wednesday, Praxair announced a 10% dividend increase, bringing the firm's yield to 1.9%.
Praxair, one of
, shows up on a recent list of
9 Stocks Giving Mutual Funds a Breakout Year
.
Dominion Resources
Dominion Resources
(D) - Get Report
is another name that hiked its dividend payouts last week. The $29 billion energy company increased its shareholder payouts by 7.11% last Friday, ratcheting its payout to 53 cents. That gives Dominion an impressive 4.15% yield at current price levels.
With approximately 27.6 gigawatts of generation capacity and electricity and natural gas lines that span the country, Dominion is one of the biggest generation utility names in the nation. The fact that the firm has a hand in a disparate group of energy commodities in its business is a good thing for investors -- it means that operations aren't overly impacted by unfavorable market prices in electricity, or in natural gas.
Better still, because Dominion's business is integrated (from generation or gathering to distribution) in many of the areas that it operates in, the firm is able to mitigate the impact of market prices.
That's helped to carve out deep double-digit net margins for shareholders each quarter. While the utility business is capital-intense, Dominion's balance sheet is in reasonably good shape, and cash generation capabilities should easily maintain the firm's dividend payout.
For investors seeking energy exposure, Dominion is a strong candidate for a core income holding.
I also featured Dominion recently in "
."
Norfolk Southern
Railroad stocks have been chugging along as high-performers for income investors in the last few years -- and $24.7 billion railroad
Norfolk Southern
(NSC) - Get Report
has been no exception. On Tuesday, the firm announced a 9.3% increase in its quarterly dividend, bringing its payout to 47 cents per share. Investors should be paying attention to this name right now.
Like many of its large peers, Norfolk Southern's business is driven in large part by commodity demand. Almost 30% of revenues come from coal transportation, with other commodities (like timber and metals) making up another large chunk of sales. For that reason, NSC's business is hugely driven by the overall levels of economic activity in the marketplace.
More significantly, because of where the transportation sector sits on the business cycle, railroads are among the first businesses to see an upswing in shares during a bull market.
That fact could play out well for investors as stocks heat up in 2012 -- especially because large dividend payouts make railroads good defensive bets as well. This week's payout hike brings NSC's yield up to 2.51%.
Norfolk Southern shows up on a recent list of
19 'Dividend Opportunity' Stocks for 2012
.
WellPoint
Health insurance giant
WellPoint
(WLP)
increased its dividend payout on Wednesday, raising its payout by 15% to a quarterly 29 cents per share. With more than 34 million subscribers on its membership roster, WellPoint weighs in as one of the largest health insurers in the U.S. by far, a position that comes with major benefits in this industry.
Economies of scale are crucial in the health insurance business. Not only do large operations help to bring down per-user administrative costs, they also give WellPoint considerable leverage when negotiating treatment and service costs with healthcare providers. And because switching costs are extremely high in health insurance (users of employer-offered insurance, typically don't have a choice in providers), that huge scale is unlikely to get reduced in the foreseeable future.
Regulatory challenged in the healthcare space are a real problem for insurers, WellPoint among them. Even if this stock is one of the best in breed, that breed may not be all that desirable for your portfolio right now.
A 1.8% dividend yield also hardly makes this stock a core income holding -- I wouldn't recommend buying this stock as anything more than a supporting player if you're looking to collect dividend income in 2012.
WellPoint does show up on a list of
.
Consolidated Edison
There's a reason why dividend investors have traditionally turned to utility stocks: these firms sport huge dividend yields, consistent earnings, and legal monopoly status. When it comes to generating predictable income, that's the trifecta that income investors should be shooting for.
Consolidated Edison
(ED) - Get Report
is a perfect example of why it pays to own utility stocks -- especially after last week's 0.83% dividend increase.While a hike below 1% is hardly anything to write home about, Con Ed is just tacking
more cash onto what's become a 4.1% yield at current prices. That's something investors should appreciate right now. They should also appreciate Con Ed's positioning: with the job of providing electricity, steam, and natural gas to the New York metropolitan area, the firm lays exclusive claim to an extremely high-demand region.
That strong and predictable revenue stream means that Con Ed shouldn't have trouble generating free cash flows and sustaining its dividend payouts, despite the capital needs of keeping the region's power infrastructure in play.
This stock qualifies as a core income holding.
Con Ed, one of TheStreet Ratings'
top-rated integrated utilities stocks
, shows up on a list of
20 Winning Stocks Set to Post New Highs in 2012
.
CA
IT outfitter
CA
(CA) - Get Report
is one of the largest providers of information technology management software, applications that are critical for large organizations to secure and maintain their computer infrastructure. Although the firm was the subject of a high-profile accounting scandal in the mid-2000s, CA has emerged from the debacle stronger and more financially sound than before -- for income investors seeking tech sector exposure, this name is hard to beat.
CA is, by far, the biggest dividend increaser on this week's list after announcing a 400% increase in its payout to shareholders. The hike brings the firm's per-share dividend to 25 cents per quarter. That gives CA a yield of 3.97%.
To see these dividend plays in action, check out the
Dividend Stocks for the Week portfolio
on Stockpickr.
And if you haven't already done so,
today to create your own dividend portfolio.
-- Written by Jonas Elmerraji in Baltimore.
RELATED LINKS:
>>5 Stocks Insiders Are Loading Up On
>>5 Big Stocks to Trade for Gains
>>5 Mobile Phone Stocks That Could Pop in 2012
Follow Stockpickr on
and become a fan on
Facebook.
At the time of publication, author had no positions in stocks mentioned.
Jonas Elmerraji is the editor and portfolio manager of the Rhino Stock Report, a free investment advisory that returned 15% in 2008. He is a contributor to numerous financial outlets, including Forbes and Investopedia, and has been featured in Investor's Business Daily, in Consumer's Digest and on MSNBC.com.