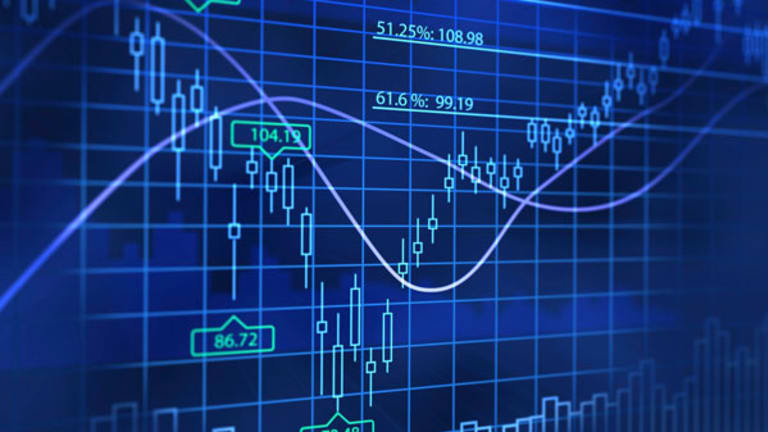 7 Companies That Keep on Growing
Nervous that the economy will stall? Then focus on these perpetual growth machines.
NEW YORK (Stockpickr) -- Investors sat through a lot of ups and downs over the last decade or so. The economy slumped when the dot.com bubble was pricked, rebounded nicely by the middle of the decade, and slumped anew as the decade wound down.
The U.S. economy appears to be back in rebound mode, but so many headwinds remain in place that we still may see yet another economic slump in coming quarters.
>>5 Stocks Ready for Big Dividend Boosts
To sleep well at night, you may as well focus on companies that
will
be growing this year, next year and the year after that. It's pretty easy to spot these companies. They boosted sales every year in the last decade, even as the broader economy was on a rollercoaster. These "rain or shine" businesses have pricing power, defensible market share, and myriad international expansion opportunities.
Here are
seven companies that have boosted sales every year in the last decade
. Each one appears reasonably priced, trading for less than 13 times projected 2013 profits.
Abbott Labs
Abbott Labs
(ABT) - Get Abbott Laboratories Report
, a provider of medical devices, hospital supplies and pharmaceuticals, has been expanding through the ups and downs of the economy. Sales have steadily grown and per-share profits are expected to hit a company record $5 this year.
Analysts think EPS can hit $6 by 2014. It's also a very safe stock with a beta of just 0.4. (Beta explains how a stock moves in a broader market, so if the market fell, this stock would be predicted to fall at a smaller rate).
Abbott, one of
, shows up on a list of
19 Dividend Opportunity Stocks for 2012
.
Cisco
Cisco
(CSCO) - Get Cisco Systems, Inc. Report
changed hands for $70 back in 2001, but can be had for $20 these days. It may not be the high-growth name it was a decade ago, but it sure is profitable.
The networking giant has generated $60 billion on free cash flow over the last decade, which has left the company with $60 billion in gross cash parked on its balance sheet. That kind of cash flow has enabled Cisco to keep buying back its stock: The share count has fallen from 7.1 billion back in fiscal 2003 to a recent 5.5 billion.
Current buyback plans could push that figure down to five billion in the next 18-24 months. Shares trade for just 10 times projected fiscal 2013 profits, and even those projections could prove to be conservative if the U.S. economy starts to grow at an accelerating pace.
Cisco shows up on lists of
3 Stocks That Could Reach a $1 Trillion Market Cap
and
3 Tech Turnaround Stocks for 2012
.
FedEx
Much of package delivery firm
Fed Ex's
(FDX) - Get FedEx Corporation Report
growth came in the first half of the last decade, as sales had already reached $38 billion by fiscal 2008, three years ago. And you'd have to go back to fiscal 2006 to find peak profits, when EPS hit $6.48. That may explain why shares slipped from $110 in 2007 to a recent $90.
Growth should remain a bit muted while the global economy remains in a modest funk, but FedEx has ample leverage to an eventual global economic rebound. EPS could hit $10 by the middle of this decade, assuming the U.S. and European economies are growing at a moderate pace, and emerging markets are growing at a more robust pace.
FedEx was featured in "
7 Stocks Set to Rise Above $100 in 2012
."
Gilead Sciences
Gilead
(GILD) - Get Gilead Sciences, Inc. (GILD) Report
was a leading biotech in the fight against HIV, posting tremendous annual growth in sales and profits. Sales grew at least 26% every year last decade. Yet this former highflyer has surely matured as sales are growing in the high single-digits these days.
But sales and profit growth rates could move back into the low teens by the middle of the decade thanks to a robust pipeline of cardio-pulmonary drugs. Gilead's HIV franchise also has plenty of life left in it as key drugs get tweaked to boost efficacy.
Gilead, one of
, shows up on a list of
10 Stocks Owned by the Best Fund Managers
.
Hasbro
Toy and games maker
Hasbro
(HAS) - Get Hasbro, Inc. (HAS) Report
hasn't come up with a lot of new characters and board games recently, but it's done a remarkable job of finding additional spinoff ideas and ancillary revenue streams for its core properties. As a result, per-share profits are likely to hit a record $3 this year and could hit $4 by 2014.
Investors had been quite bullish on the company's prospects, pushing shares up towards the $50 mark in late 2010, but the stock can now be had for around $35.
As is the case with Cisco Systems, Hasbro has applied its prodigious cash flow to stock buybacks. The share count has shrunk for seven straight years to a recent 137 million, and that figure could fall below 130 million by 2013.
At a recent meeting with investors, management laid out a series of initiatives being pursued in 2012 that sets the stage for rebounding growth in 2013 and beyond.
Hasbro, one of the
highest-yielding consumer durables stocks
, shows up on a list of
10 High-Quality Stocks for 2012
.
Kohl's
Department store operator
Kohl's
(KSS) - Get Kohl's Corporation (KSS) Report
is considered to be "best of breed," as its merchandising initiatives continually led to market share gains and higher profit margins. Earnings per share hit a record $4.30 in fiscal 2012, and they are expected to reach $4.50 in the current fiscal year and approach $6 by the middle of the decade if the national unemployment continues to fall and consumer spending continues to rise.
Meanwhile, this stock has fallen from $75 in 2007 to a recent $48. Connect the EPS forecast and the current stock price and you see a mismatch. Just trading back up to 10 times possible mid-decade profits brings this stock right back to $60.
Kohl's, one of
Highbridge Capital Management's holdings
, shows up on a list of
Consumer Discretionary Stocks Bought and Sold by Hedge Funds
in the most recently reported quarter.
Mylan Labs
Mylan Labs
(MYL) - Get Mylan N.V. (MYL) Report
, a provider of generic drugs, has been one of the key beneficiaries of the ongoing stream of big pharma drugs that lose patent protection. As more drugs have moved off-patent, Mylan's opportunities have expanded. And as the company doesn't need to spend a lot on R&D every year, it has become a veritable cash cow: Mylan has generated a collective $900 million in free cash flow over the last two years.
The road ahead looks bright as well, thanks to another wave of major drugs soon to go off-patent. This will never be a high-growth stock, but 10% annual profit growth looks quite achievable.
And that outlook doesn't require a robust economy. Shares are actually below where they were back in late 2003, even though Mylan's sales base is much larger. Back then, this stock made a run at the $30 mark, and from a recent $23, could do so again in the next year or two.
As of the most recently reported quarter, Mylan is one of
.
To see these stocks in action, check out the
portfolio.
RELATED LINKS:
>>5 Rocket Stocks Worth Buying This Week
>>10 Dow Dogs That Are Barking for Gains
>>5 Uptrending Stocks That Could Pop
Follow Stockpickr on
and become a fan on
Facebook.
Stockpickr is a wholly owned subsidiary of TheStreet.com.
At the time of publication, author had no positions in stocks mentioned.