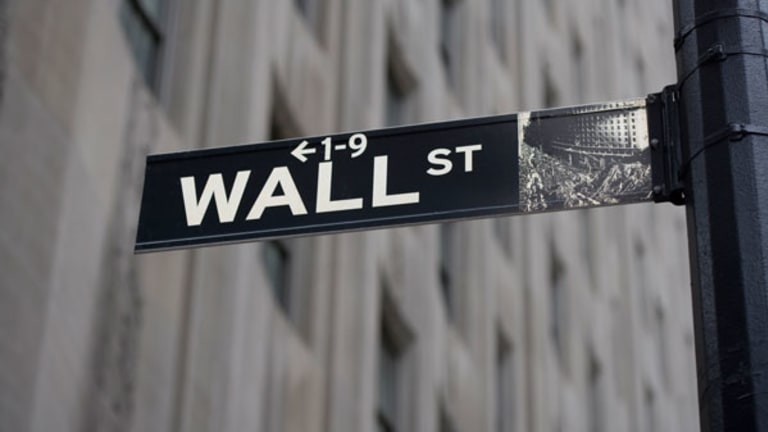 6 Winning Stocks for Awards Season
These media and entertainment stocks present better buying opportunities than their competitors.
These media and entertainment stocks present better buying opportunities than their competitors.
MILLBURN, N.J. (Stockpickr) -- We are in the heart of awards season. The Golden Globes Awards ceremony was held on Jan. 15, and the first-ever NFL Honors took place the night before the Super Bowl. This past weekend as the Grammys, and at the end of the month comes the highly anticipated Academy Awards.
I thought all of these awards shows made for a perfect opportunity to look closer at investment opportunities within the media industry. Here are
my six favorite media and entertainment stocks
.
>>5 Rocket Stocks Worth Buying
CBS: Broadcast
While Disney has an excellent broadcast lineup with ABC, ESPN, The Disney Channel and other cable channels,
CBS
(CBS) - Get Report
is the current king of broadcast television. CBS, headed by the very successful and talented Les Moonves, carries the highly rated blockbuster
CSI
and
NCIS
franchises of law enforcement dramas as well as a lineup of comedies and other drama shows that also draw large ratings. In today's digital age, all of these shows also have secondary value beyond primary broadcast such as syndication and on-demand pay television.
But that is not all there is to CBS. The company has a strong daytime and late-night lineup as well as one of the most-watched sports networks. A hotly contested and well-financed presidential election in 2012 will be a boom for broadcast advertising.
Earnings skyrocketed in 2011 and are expected to jump another 21% in 2012. The company generates excellent cash flow, which has been used to repay debt and pay a modest dividend, which could grow in the future.
CBS shows up on a list of
5 Mid-Cap Stocks That May Outperform in 2012 and Beyond
and is one of
Merrill Lynch's 10 Favorite Stocks for 2012
.
Walt Disney: Movies, Theme Parks
Recently,
Walt Disney
(DIS) - Get Report
released its first-quarter 2012 results for the quarter ended Dec. 31, 2011. The company reported earnings of 80 cents, which was 8 cents better than Wall Street consensus estimates. Revenue fell short of estimates, but that might have been for planned reasons as the studio division did not schedule any major film releases for the fourth quarter other than
The Muppets
.
The company's box office successes took place in the first half of the calendar year with the release of
Pirates of the Caribbean: On Stranger Tides
and
Cars 2
.
The Help
was a summertime success and is likely to win one or more Academy Awards (it was nominated for four, two of which are in the same category), which might breathe secondary life into the hit movie. Technically,
War Horse
was released at the very end of the company's fiscal first quarter, but most of its revenue will flow into the second quarter. The company is betting heavily on the March 9, 2012, release of the sci-fi epic
John Carter
.
Curiously, on its conference call, management spoke about opportunities for its cruise line. In the wake of the recent Costa Cruises (a
Carnival
(CCL) - Get Report
subsidiary) accident, the Disney brand might attract more customers to its own fleet of ships.
There are four other factors that make Disney the best in this category: its deep vault of movies, the technology and creativity behind Pixar Animation, the global dominance of its theme parks and its strong broadcast business.
And there is one other intangible that we must consider: Disney's relationship with
Apple
(AAPL) - Get Report
. Steve Jobs' trust is the largest shareholder in Disney at 7.7%. There is a kinship between the two companies. As Apple begins to expand into home entertainment, this kinship will be certain to create synergies for both companies.
Disney, one of TheStreet Ratings'
, shows up on a recent list of
Stocks in Bottoming Sectors Primed for a 2012 Bounce
.
Google: Advertising
Let's face it. There are three major revenue sources in the media business: ticket sales, subscriptions and advertising. Of those three,
Google
(GOOG) - Get Report
is the king of advertising. The company achieves this primarily through search-and-click advertising, though it is certain to grow its display advertising business in the future.
In its most recent quarter, Google generated $10.58 billion in revenue, 69% of which was generated on its own sites while the rest was generated on partner site. For its full-year 2011, total gross revenue jumped 29% to $37.91 billion. The company, thanks to the Android operating system and overall increase in mobile device usage, is seeing its revenue stream accelerate as well. Cloud computing and social networking will also be new frontiers for the company. As with CBS, the 2012 national elections will benefit Google, and I am expecting that all campaigns will devote more monies in 2012 to Internet and mobile advertising than were spent in 2008.
While fourth-quarter 2011 earnings disappointed Wall Street, don't let that obfuscate the potential for future earnings growth. Non-GAAP earnings are expected to rise 17% in 2012 while the stock sells for just 14 times this year's earnings. At the end of December 2011, Google held $35 billion in cash and equivalents, which is about $105 per share. About a third of that cash will be used for the purchase of
Motorola Mobility
(MMI) - Get Report
while the rest will be used for future acquisitions, but do not rule out stock repurchases in the futures.
I have an $800 price target for Google, but I will admonish my readers that patience is required with shares of Google.
Google, one of the
10 Worst-Performing S&P 500 Stocks in January
, shows up on lists of the
10 Best Revenue Growth Stocks for 2012
and
.
Electronic Arts: Gaming
Video gaming is very popular with kids and adults. It is also one of the most cutthroat technology businesses. I see this business growing as delivery to mobile devices and on-demand content delivery continues to penetrate consumer markets and their pocketbooks. I
n award parlance, there are four nominees in this category:
Electronic Arts
(EA) - Get Report
,
Activision Blizzard
(ATVI) - Get Report
,
Take-Two Interactive
(TTWO) - Get Report
and newcomer
Zynga
(ZNGA) - Get Report
. And the winner is ... Electronic Arts.
Here is my rationale. Zynga is too expensive on a valuation basis, and while I am all for growth, I am afraid that one is paying too much for growth with Zynga.
Take-Two owns the popular
Grand Theft Auto
, or GTA, franchise, but that franchise is getting a bit old, and Take-Two has not been able to capitalize and broaden its catalogue beyond GTA. The company is expected to experience a decline in revenues and earnings in its 2012 fiscal year. In fact, it is expected to post a loss.
While Activision Blizzard delivered better-than-expected results for every quarter in 2011, earnings are only expected to grow modestly in 2012 and 2013. The company's
Call of Duty
franchise may also be long in the tooth.
Electronic Arts specializes in developing sports and family-friendly titles, as well as fantasy/action titles that are not as bloody and gruesome as
Call of Duty
. To a great extent, Electronic Arts is the Walt Disney of video gaming.
Despite a delay to the NBA season and a pre-season lockout in the NFL, Electronic Arts is expected to grow earnings by 21% in its fiscal year ended March 2012 and 36% for its 2013 fiscal year. Thus, Electronic Art is my pick in this sector.
EA, also one of the
10 Worst-Performing S&P 500 Stocks in January
, was featured in "
5 Stocks Hedge Funds Favor for 2012
."
Comcast: Cable Delivery
While we have
Netflix
(NFLX) - Get Report
and mobile telephony, cable to the home and business is not going away. Cable still delivers voice, Internet and entertainment connectivity. The big four players in this segment are
Time Warner Cable
(TWC)
,
Cablevision
(CVC)
,
Verizon
(VZ) - Get Report
and
Comcast
(CMCSA) - Get Report
.
Cablevision was one of my "
11 Worst-Run Companies of 2011
," and I do not see any reprieve for the company anytime soon.
Time Warner Cable has two problems: First is that the company has too much debt for my liking. Second is that Time Warner Cable has a poor relationship with its content providers leaving many subscribers without access to their favorite channels.
Verizon is a solid company with an excellent dividend that benefits from its relationship with Apple. However, its foray into fiber optics with its FIOS business is limited.
That leaves us with Comcast. Comcast delivers voice, Internet and cable to its customers as well as operates many of its own cable and broadcast networks including many that acquired through its joint venture with NBC Universal. The company will generate 20% or more earnings growth in 2011 and 2012 and is buying back at least $1 billion of stock every year.
I expect the stock to rise at least 10% in the coming year, which is more than I can say for the competitors that I mentioned before.
Comcast, one of
Goldman Sachs' Consumer Stock Best Buys for 2012
, shows up on a recent list of
10 Stocks of Top-Performing Funds in 2012
.
Gannett: Print
We all know that the print business is dying. Some companies are dying more switly than others. A few print companies, such as have managed to diversify their business models -- in the case of
News Corp.
(NWSA) - Get Report
into movies and networks and in the case of
Washington Post
(WPO)
into educational services. These moves could help these companies avoid extinction.
The one company that interests me the most is
Gannett
(GCI) - Get Report
. Gannett operates
USA Today
and several local daily newspapers. The company also owns and operates a portfolio of local broadcast television stations, including some in key markets such as Atlanta, Denver, Jacksonville, Minneapolis-St. Paul, Phoenix, St. Louis, Tampa-St. Petersburg and Washington, D.C.
What intrigues me as well for Gannett is its Internet investments and ventures, particularly CareerBuilder.com, of which the company shares ownership with
McClatchy
(MNI) - Get Report
and
Tribune
but has a controlling stake of 52.9%. CareerBuilder.com has enjoyed revenue growth.
All told, the company's digital revenues derived from CareerBuilder.com and other sites rose 10.3% year-over-year for the September 2011 quarter. Those digital investments could be worth more than the company's entire market capitalization of $3.5 billion if they were to be sold or issued in the public market.
To see these stocks in action, check out the
Top 6 Media & Entertainment Stocks
portfolio on Stockpickr.
-- Written by Scott Rothbort in Millburn, N.J.
RELATED LINKS:
>>4 Undervalued Stocks in Clint Eastwood's Favorite Sector
>>5 Stocks to Benefit From an Improving Economy
>>5 Stocks Under $10 Set to Soar
Follow Stockpickr on
and become a fan on
Facebook.
At the time of publication, Rothbort was long AAPL stock and calls and VZ and GOOG stock, although positions can change at any time.
Scott Rothbort has over 25 years of experience in the financial services industry. He is the Founder and President of
, a registered investment advisor specializing in customized separate account management for high net worth individuals. In addition, he is the founder of
, an educational social networking site; and, publisher of
The LakeView Restaurant & Food Chain Report
. Rothbort is also a Term Professor of Finance at Seton Hall University's Stillman School of Business, where he teaches courses in finance and economics. He is the Chief Market Strategist for The Stillman School of Business and the co-supervisor of the Center for Securities Trading and Analysis.
Mr. Rothbort is a regular contributor to
TheStreet.com's RealMoney Silver
website and has frequently appeared as a professional guest on
Bloomberg Radio
,
Bloomberg Television
,
Fox Business Network
,
CNBC Television
,
TheStreet.com TV
and local television. As an expert in the field of derivatives and exchange-traded funds (ETFs), he frequently speaks at industry conferences. He is an ETF advisory board member for the Information Management Network, a global organizer of institutional finance and investment conferences. In addition, he is widely quoted in interviews in the printed press and on the internet.
Mr. Rothbort founded LakeView Asset Management in 2002. Prior to that, since 1991, he worked at Merrill Lynch, where he held a wide variety of senior-level management positions, including Business Director for the Global Equity Derivative Department, Global Director for Equity Swaps Trading and Risk Management, and Director for secured funding and collateral management for the Global Capital Markets Group and Corporate Treasury. Prior to working at Merrill Lynch, within the financial services industry, he worked for County Nat West Securities and Morgan Stanley, where he had international assignments in Tokyo, Hong Kong and London. He began his career working at Price Waterhouse from 1982 to 1984.
Mr. Rothbort received an M.B.A., majoring in Finance and International Business from the Stern School of Business, New York University, in 1992, and a B.Sc. in Economics, majoring in Accounting, from the Wharton School of Business, University of Pennsylvania, in 1982. He is also a graduate of the prestigious Stuyvesant High School in New York City. Mr. Rothbort is married to Layni Horowitz Rothbort, a real estate attorney, and together they have five children.