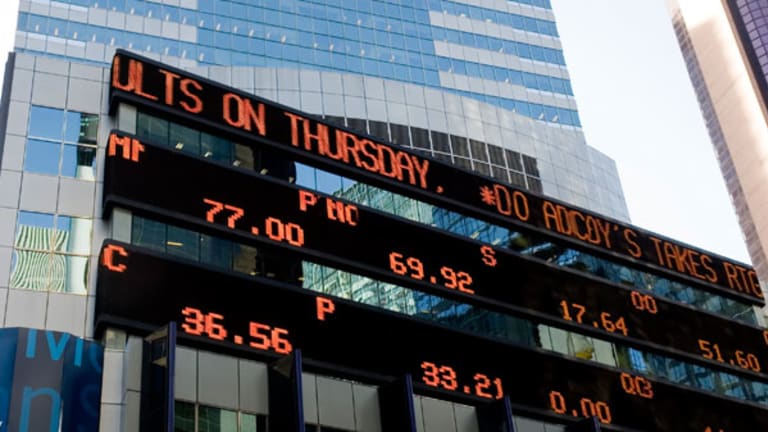 6 Stocks to Win the Race
With these six stocks, you're set to win right out the gate.
With these six stocks, you're set to win right out the gate.
MILLBURN, N.J. (Stockpickr) -- The horses, horsemen, jockeys and high society have returned to Saratoga Springs, N.Y., once again to enjoy thoroughbred racing at its finest at the 148-year-old Saratoga racetrack.
Piggybacking (horsebacking?) on past articles such as "
5 Investing Tips I Learned From the Track
," I thought I'd take a different approach to portfolio-building and model it off the key players you might find in a horse stable.
With that, here are
six picks to build a winning racing stable of stocks
.
Trainer
Every horse needs a trainer, its hands-on manager. Training, preparation, feed, workouts, jockey selection, race selection -- all are tasks performed by the trainer. From top to bottom, the trainer makes all major decisions. Furthermore, the trainer makes strategic decisions that will affect the professional life of a racehorse.
In investing, we need to seek out that manager -- usually a CEO -- who has the leadership and foresight to set a company on a road to success. In today's investing world, there is one such individual:
Apple's
(AAPL) - Get Report
Steve Jobs.
Related:
5 Sin Stocks for a Rough Market
Since returning to Apple, Jobs has transformed the computer company that he founded into a technology and entertainment giant. Apple is an industry leader and envy of the competition. The company recently reported another stellar quarter.
When trainer Todd Pletcher brings a new colt or filly to the track, you know that horse has a great chance to win. People will bet with Pletcher based solely on his reputation. Similarly, when Steve Jobs brings a new product to market, investors will certainly follow. Look out for the next generation of iPhones and iPads to hit the market before the end of the year -- and other Apple entertainment products rumored to be in development.
Go with a winning trainer and bet with Jobs and Apple.
Apple was recently highlighted in "
5 Confident Stocks for a Shaky Market
" and "
5 Blue-Chips to Ride Out a Double-Dip
."
Jockey
On the back of his horse, the jockeys steers that 1,000-pound thoroughbred machines around a dirt or turf track in less than two minutes in the middle of a pack of many other 1,000-pound thoroughbreds. It's not easy. I would say that it's risk management at the ultimate level. Straying the slightest bit one way or another could separate winning from coming out of the money or even life from death. It takes someone with steely nerves, grit, determination and strategic focus to be a jockey.
In the world of corporate America, there is one such jockey:
JPMorgan Chase's
(JPM) - Get Report
Jamie Dimon. Dimon has navigated JPMorgan Chase through the worst financial crisis that the country has endured since the great depression. The company has come out of the crisis in much better shape than its peers such as
Bank of America
(BAC) - Get Report
and
Citigroup
(C) - Get Report
. Shrewd dealings with the
Federal Reserve
and the federal government landed the company Bear Stearns at one of the all-time best deal prices ever. Compare that with Bank of America's gobbling up of Countrywide.
Dimon is not afraid to speak his mind. This spring, he
confronted Fed Chairman Ben Bernanke
in an open forum. Is there anybody else you want atop your company when the bugler signals riders up?
Just take a look at how well JPMorgan has performed since the beginning of 2007 vs. the exchange-traded fund that represents its peer group,
SPDRs Financials
(XLF) - Get Report
, in the chart below:
Source: Telemet Orion
JPMorgan was featured recently in "
5 Stocks With Big Insider Buying
."
Distance Horse
Thoroughbred horse races will vary in distance from 5.5 furlongs to 1.5 miles. There are 8 furlongs to a mile. Races of 1 mile or greater are referred to as distance races. Distance races require horse with more stamina. Furthermore, there is far more strategy involved in running a distance race. Most distance races require the pack of horses to run around at least two turns. The ebb and flow of a distance race can change dramatically over the course of the race. Jumping out to a lead may not always determine the final winner.
When it comes to investing, you want a stock that is good for the long run, a distance runner -- a company that can stay the course. This is easier said than done. We have seen many companies fall from grace in a rapid manner, as did
American International Group
(AIG) - Get Report
. Furthermore, we have seen companies slowly deteriorate over longer periods of time, as did
General Motors
(GM) - Get Report
or Woolworth. Does anybody even remember Woolworth? It was the
Wal-Mart
(WMT) - Get Report
of the early- to mid-20th century. All that is left of Woolworth now is
Foot Locker
(FL) - Get Report
.
So who is that distance runner that you want in your portfolio? I can only think of one: Warren Buffett's
Berkshire Hathaway
(BRK.A) - Get Report
(BRK.B) - Get Report
.
, who is without peer and is widely acknowledged to be greatest value investor of all time, has used Berkshire Hathaway as an investment vehicle to accumulate quality companies for decades. After buying companies, he then allows the company's managers to continue at the helm of their operations. Instead of walking away with big packages, these managers are thrilled to stay on board with Buffett.
If you want to see how well Buffett's Berkshire Hathaway has performed, just look at the chart below comparing the stock's performance to that of the S&P 500 since 1991:
Source: Telemet Orion
Who said buy-and-hold is dead? Buffett and Berkshire Hathaway are long-distance thoroughbreds.
>>View Warren Buffett's Portfolio
Sprinter
Sprinters run the shorter races of under 1 mile, which only involve going around one turn. These horses have early speed, typically break out of the gate fast and have enough energy to pour it on as they come down the stretch. Unlike distance runners, which can adjust over the course of a longer race, sprinters have little room for error. Furthermore, sprinters will run out of stamina and hence cannot run the full route of a longer race.
In the investing world, we run into sprinters often. These are companies that get off to quick starts with huge early spurts of growth, but over the long run that growth cannot necessarily be maintained. Fitting the mold is
Green Mountain Coffee Roasters
(GMCR)
. This company's growth rate is super-charged -- caffeinated, even. It has been years since I have seen a company surge like this one in such a relatively short period of time. The last one that comes to mind was the old America Online, before its
Time Warner
(TWX)
merger (and subsequent spinoff).
Green Mountain Coffee Roasters is a jack rabbit of a stock. Earnings for the company are expected to more than double in 2011 and could potentially rise another 50 to 100% in 2012. Its Keurig K-Cup system is revolutionizing the way in which coffee is prepared at home, in the office and even at some restaurants. Stick with Green Mountain Coffee while it can still sprint, but be forewarned that one day it will suffer from exhaustion and be overtaken by the distance runners, just like America Online.
>>Practice your stock trading strategies and win cash in our stock game.
Filly
Female horses are referred to as fillies until they're 4 years old (at which point they are called mares). In the corporate world, we have had many women who have in their own right become champion CEOs of companies. There was Meg Whitman of
eBay
(EBAY) - Get Report
and Carly Fiorina of
Hewlett Packard
(HPQ) - Get Report
. Currently, we have Ursula Burns of
Xerox
(XRX) - Get Report
and the disappointing Carol Bartz of
Yahoo!
(YHOO)
.
The female CEO that you need to invest in is Indra Nooyi of
Pepsico
(PEP) - Get Report
. Nooyi has helped to guide Pepsico through difficult economic times when the consumer was experiencing the ill effects of a deep recession. Carbonated beverage sales in the U.S. declined, and market share and sales of Pepsi's Quaker Oats and Gatorade brands slumped. Nooyi has turned the company around by fixing up the Gatorade brand and focusing on expanding its beverage and snack sales abroad. Latin America and Asia are growth engines for Pepsico.
Nooyi is a straight shooter and is not afraid to tell the truth to investors and analysts, whereas other CEOs might dance around a subject or sugar coat issues. Acquisitions of its bottlers and Russian Wimm-Bill-Dann were astute transactions. Recognizing that commodity costs are an issue, Nooyi took the initiative to raise prices to maintain margins while realizing that that could hurt short term profit growth. Nooyi is the best at what she does in the beverage and snack industry and is one of the best female CEOs we have today.
I recently heighted Pepsi in "
6 Low-Volatility Stocks for a Volatile Market
."
Mudder
A mudder refers to a horse that races race well over muddy or sloppy tracks. It takes a special type of horse to excel in those conditions.
Our investment portfolios also need mudders -- stocks that will perform well when the stock market is performing poorly and investment conditions are not good. My buddy Paul likes to say that in depressions, three products always sell: alcohol, tobacco and movies. Well, my investment mudder,
Altria
(MO) - Get Report
has two of those three: alcohol and tobacco.
Some call Altria a
, but I don't care about that. What I care about is that when the economy is bad, Altria continues to pump out solid earnings. On top of that, during sloppy economic times, investors can rely on its above-market dividend, currently at about 6%.
Altria, one of the
highest-yielding tobacco stocks
, is also one of TheStreet Ratings'
.
-- Written by Scott Rothbort in Millburn, N.J.
RELATED LINKS:
>>5 Confident Stocks for a Shaky Market
>>5 Earnings Stocks That Could Explode
>>5 Technical Setups to Trade for Breakouts
Follow Stockpickr on
and become a fan on
Facebook.
At the time of publication, author was long Apple stock and calls and Citigroup, Pepsi and Altria stock, although positions can change at any time.
Scott Rothbort has over 25 years of experience in the financial services industry. He is the Founder and President of
, a registered investment advisor specializing in customized separate account management for high net worth individuals. In addition, he is the founder of
, an educational social networking site; and, publisher of
The LakeView Restaurant & Food Chain Report
. Rothbort is also a Term Professor of Finance at Seton Hall University's Stillman School of Business, where he teaches courses in finance and economics. He is the Chief Market Strategist for The Stillman School of Business and the co-supervisor of the Center for Securities Trading and Analysis.
Mr. Rothbort is a regular contributor to
TheStreet.com's RealMoney Silver
website and has frequently appeared as a professional guest on
Bloomberg Radio
,
Bloomberg Television
,
Fox Business Network
,
CNBC Television
,
TheStreet.com TV
and local television. As an expert in the field of derivatives and exchange-traded funds (ETFs), he frequently speaks at industry conferences. He is an ETF advisory board member for the Information Management Network, a global organizer of institutional finance and investment conferences. In addition, he is widely quoted in interviews in the printed press and on the internet.
Mr. Rothbort founded LakeView Asset Management in 2002. Prior to that, since 1991, he worked at Merrill Lynch, where he held a wide variety of senior-level management positions, including Business Director for the Global Equity Derivative Department, Global Director for Equity Swaps Trading and Risk Management, and Director for secured funding and collateral management for the Global Capital Markets Group and Corporate Treasury. Prior to working at Merrill Lynch, within the financial services industry, he worked for County Nat West Securities and Morgan Stanley, where he had international assignments in Tokyo, Hong Kong and London. He began his career working at Price Waterhouse from 1982 to 1984.
Mr. Rothbort received an M.B.A., majoring in Finance and International Business from the Stern School of Business, New York University, in 1992, and a B.Sc. in Economics, majoring in Accounting, from the Wharton School of Business, University of Pennsylvania, in 1982. He is also a graduate of the prestigious Stuyvesant High School in New York City. Mr. Rothbort is married to Layni Horowitz Rothbort, a real estate attorney, and together they have five children.