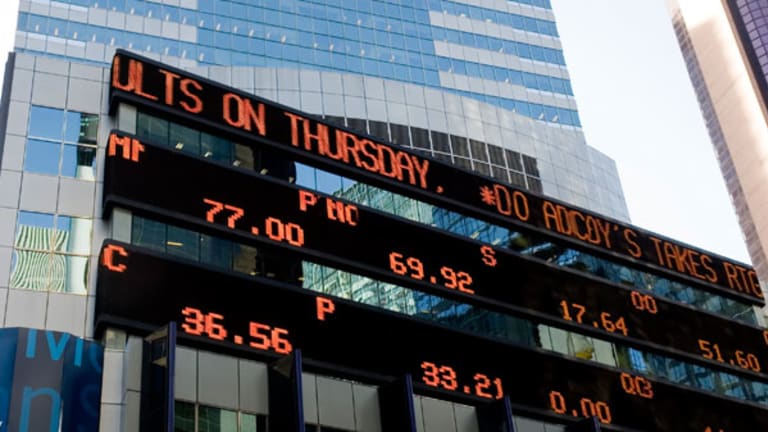 6 Stocks to Benefit From Reverse Migration
As the population shifts east and southeast, here are six stocks poised to benefit -- and four to avoid.
As the population shifts east and southeast, here are six stocks poised to benefit -- and four to avoid.
MILLBURN, N.J. (Stockpickr) --First there was the Big Bang. Then we had the Big Dig. Now get ready for the Big Move.
Expect an exodus from California and the Rust Belt states of Wisconsin, Michigan, Ohio, the Lake Erie region and western Pennsylvania to ensue over the next decade. This phenomenon has already begun, and it will be a secular trend as failing local governments and the decline of manufacturing in these regions will force the 40-and-under population to seek opportunities elsewhere.
That is not all. Pre- and early Baby Boomers sold houses in the North and moved en masse to inland California, Nevada (Las Vegas), Arizona and Florida -- or what I call CaliLavaFlo. The building boom in those states then attracted many younger couples and families with the hope of the next economic boom from the burgeoning housing market and migration to those states. All of those hopes were dashed in 2008. By 2010, those people stated turning tail and heading back where they came from. This reverse migration will continue.
Simply put, we created a societal imbalance that could not be maintained. We should have seen Say's Law staring right at us. With the help of the government, we were able to fix certain industries (such as financial and automotive) that helped jump-start the regions where they are centered. These were cyclically impaired, not secularly impaired, regions and businesses. Secular problems remain in the CaliLavaFlo regions.
Related:
Dividend Stocks for a Low-Interest Environment
There was nothing that the government could do to correct the excesses in CaliLavaFlo. If the people who bought houses in those regions were saved from their own mortgages, where would they find jobs? Could everyone become a landscaper? Instead, we are left with the need to accept that a reverse migration from CaliLavaFlo will occur until such time as we revert to a mean or equilibrium in economic and population distribution.
So as those trapped by poor economic conditions in CaliLavaFlo move to areas where there are opportunities and jobs -- say, Texas or New York -- we will begin to correct our course. The perspectives will reverse, and things will no longer be the charade of the 2000s rather the foundation for economic growth for the future. Until then, you will continue to hear the clarion call of how bad it is in CaliLavaFlo. Just don't extrapolate it to the rest of the country.
A shift east and southeast will take place. Our population will not decline in the aggregate. It will still grow from births and immigration. We will see the Big Move shift populations so that current large metropolitan areas -- New York, Boston, metro D.C., Philadelphia, Atlanta, Miami, Houston, Dallas -- get even bigger. I think Chicago is a wild card, but Obama won't let his hometown down. Utah, and particularly Salt Lake City, is a fast-growing region that could emerge on the scene as a major metropolitan area in the next two decades.
We saw this begin to happen in the 2010 census. This future population shift or reverse migration will occur as people slowly realize that the CaliLavaFlo was an eruption of speculative population shifts without any substantive economic foundation. It was a modern-day gold rush of sorts. The fool's gold of these population shifts was nothing more than a mirage.
How can you play this emerging trend? I would start by pairing off the companies that will attract population growth vs. those that will not. We have already begun to see the demise of the West Coast retailers such as Mervyns and Gottschalks. This trend will continue as retailers concentrated in the East, South and Southeast will prevail. It has been long-held on Wall Street that the concept of coast-to-coast expansion was good for retail. Soon as population centers shift it could become a liability.
Here are some of the
and
that will develop from my Reverse Migration Hypothesis. You can play the winners from the long side, the losers from the short side or both as a
.
Supermarkets
Winner: Winn-Dixie
( WINN)
Loser: SuperValu
(SVU)
Winn-Dixie is a vastly improved company. Since emerging from bankruptcy in 2006, the company has stabilized its revenues and earnings despite the huge challenges from the general merchandisers and warehouse clubs such as
Wal-Mart
(WMT) - Get Report
and
Costco
(COST) - Get Report
, which have grabbed large market share of the supermarket industry. The company has vastly improved its balance sheet holding a sufficient amount of cash to repay its long-term debt. The capital structure is quite strong with a debt to equity ratio of about 14%. Debt to tangible equity is about 18%.
Winn-Dixie focuses its operations in Florida, Alabama, Louisiana, Georgia and Mississippi. The Floridian operations are less concentrated in the hardest hit southeastern region of Florida. Manufacturing, particularly in the automotive industry has been moving to some of the other states where Winn-Dixie is located.
Now let's compare Winn Dixie with SuperValu, which owns a wide variety of retailers operating under names such as Acme, Albertson's, Jewel-Osco, Shaw's and Shop 'n Save. SuperValu made a big blunder several years ago, purchasing Albertson's in 2006 for $17.4 billion. SuperValu attempted a regional gambit by adding Albertson's key markets of Nevada, Southern California and the Northwest. It made strategic sense if the housing and population boom continued to play out in those states. However, we know that did not occur. Now SuperValu carries long-term debt net of cash of about $6.2 billion. The company's market cap is a measly $1.89 billion.
Electric Utilities
If you are searching for the most region-specific industry, don't look further than the electric utilities. I have held stocks in the electric utility sector for over three decades. Over that time I have reinvested dividends in these companies and from time to time add another stock through a dividend reinvestment plan. For the most part, the capital structures of electric utilities are pretty much similar across the industry. Also, dividends tend to be in the 4% to 6% range. Of course, I want to focus on the higher-yielding stocks, but, as I explained recently, it's important to
.
Playing on this regional theme I want to cherry-pick electrics utilities in the regions that should benefit from reverse migration and avoid those in states where I expect future population outflows.
As a result, here is my list of winners in this category:
Pepco Holdings
(POM)
: The former Potomac Electric is based in Washington, D.C., and serves the Mid-Atlantic region. Dividend yield: 5.6%
Con Edison
(ED) - Get Report
: Con Ed is the main supplier of electricity, gas and steam services in the New York City metropolitan area. Dividend Yield 4.6%
Duke Energy
(DUK) - Get Report
and
Progress Energy
(PGN)
: These two utility companies are on the verge of merging together. The combined area of service coverage will in the Carolinas and parts of Florida, Ohio, Kentucky and Indiana. Duke yields 5.3%, and Progress yields 5.2%.
The losers are located in regions where populations are likely to decline and local economic doldrums will prevent significant rate increases to service providers. The losers to avoid are:
Pacific Gas & Electric
(PCG) - Get Report
: Based in San Francisco, Pacific Gas & Electric service area stretches from Eureka in the north to Bakersfield in the south and from the Pacific Ocean in the west to the Sierra Nevada in the east. I don't want any investment that is California-centric, and this company fits that bill. Dividend yield: 4.3%.
Pinnacle West
(PNW) - Get Report
: This electric utility primarily services customers in Arizona. I do not see its customer base going up anytime soon. Dividend yield: 4.8%.
>>Practice your stock trading strategies and win cash in our stock game.
Homebuilders
Winner: Pulte Group
(PHM) - Get Report
Loser: Hovnanian
(HOV) - Get Report
Homebuilding will re-emerge as a growth industry once again. Yes, there are huge amounts of unsold inventory of new homes. However, most of these homes are in CaliLavaFlo, and people are leaving not moving to those areas. In the areas, where reverse migration will be flowing to, housing inventories are tighter and new unsold homes are scarce and land is less abundant.
Look at the homebuilders' maps for clues as to who could benefit from the Big Move. With the exception of California, I like where Pulte Group, which now includes Centex, is located. I am not so sure that Hovnanian can survive the current housing environment, let alone the Big Move. Its regional map has too much to offer in CaliLavaFlo, even though it has no communities in Las Vegas.
To see these stocks in action, check out the
6 Stocks That Will Benefit From Reverse Migration
and
4 Stocks That Will Get Hurt From Reverse Migration
portfolios.
RELATED LINKS:
>>5 Technical Setups to Recoup June Losses
>>5 Big Stocks to Trade for Gains
>>2 Pair Trades for an Uncertain Market
Follow Stockpickr on
and become a fan on
Facebook.
At the time of publication, Rothbort was long POM, ED, DUK and PGN, although positions can change at any time.
Scott Rothbort has over 25 years of experience in the financial services industry. He is the Founder and President of
, a registered investment advisor specializing in customized separate account management for high net worth individuals. In addition, he is the founder of
, an educational social networking site; and, publisher of
The LakeView Restaurant & Food Chain Report
. Rothbort is also a Term Professor of Finance at Seton Hall University's Stillman School of Business, where he teaches courses in finance and economics. He is the Chief Market Strategist for The Stillman School of Business and the co-supervisor of the Center for Securities Trading and Analysis.
Mr. Rothbort is a regular contributor to
TheStreet.com's RealMoney Silver
website and has frequently appeared as a professional guest on
Bloomberg Radio
,
Bloomberg Television
,
Fox Business Network
,
CNBC Television
,
TheStreet.com TV
and local television. As an expert in the field of derivatives and exchange-traded funds (ETFs), he frequently speaks at industry conferences. He is an ETF advisory board member for the Information Management Network, a global organizer of institutional finance and investment conferences. In addition, he is widely quoted in interviews in the printed press and on the internet.
Mr. Rothbort founded LakeView Asset Management in 2002. Prior to that, since 1991, he worked at Merrill Lynch, where he held a wide variety of senior-level management positions, including Business Director for the Global Equity Derivative Department, Global Director for Equity Swaps Trading and Risk Management, and Director for secured funding and collateral management for the Global Capital Markets Group and Corporate Treasury. Prior to working at Merrill Lynch, within the financial services industry, he worked for County Nat West Securities and Morgan Stanley, where he had international assignments in Tokyo, Hong Kong and London. He began his career working at Price Waterhouse from 1982 to 1984.
Mr. Rothbort received an M.B.A., majoring in Finance and International Business from the Stern School of Business, New York University, in 1992, and a B.Sc. in Economics, majoring in Accounting, from the Wharton School of Business, University of Pennsylvania, in 1982. He is also a graduate of the prestigious Stuyvesant High School in New York City. Mr. Rothbort is married to Layni Horowitz Rothbort, a real estate attorney, and together they have five children.