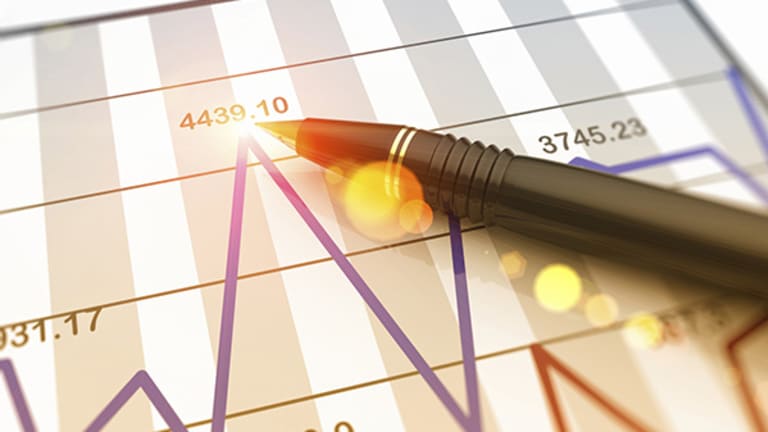 6 Stocks That Will Get a Boost From a Trump Tax Cut
These are great stocks that represent a costless call option on a corporate tax cut.
These are great stocks that represent a costless call option on a corporate tax cut.
Exploiting a possible Trump-led corporate tax cut is not as easy as it looks.
That's not just because it's highly uncertain how much the top corporate tax rate -- currently 35% -- will be cut, or even if the cut will be approved by a budget-conscious congressional majority. It's also the case that any eventual cut will be felt most strongly by certain companies than by the overall market.
So we need to proceed with care.
Trump and your taxes:Watch Cramer lead a roundtable discussion on how investors and retirement savers should position their portfolio.
Consider first the sheer uncertainty of a corporate tax cut. According to the collective bets of traders at the online prediction market Predictit, the odds of the corporate tax rate being cut by the end of this year dropped from 89% to as low as 71% in the days immediately following President Trump's inauguration, after recovering somewhat in recent days to 80%.
Though that suggests there's still a four-out-of-five chance that the rate will be cut, the volatility of these expectations is not encouraging to investors wanting to bet on such a cut.
Even if the rate is cut, however, it's hardly a sure-fire bet that the overall stock market will benefit. That's because equities, including companies with huge overseas cash piles like Apple (AAPL) - Get Report , Cisco (CSCO) - Get Report and Pfizer (PFE) - Get Report to name a few, as a whole will still be overvalued even if such a cut translates immediately into fatter corporate bottom lines.
According to estimates from quantitative research firm Ned Davis Research, for example, the S&P 500's annual earnings per share would be boosted by $12.84 if the effective corporate tax rate were to be slashed to 15% (a 13.3% increase over the S&P 500's actual EPS over the last 12 months of $96.76). While that would reduce the market's P/E ratio from its current 25.1 to 22.2 (when calculated based on trailing 12-month as-reported earnings), the resultant PE would still be far higher than the 145-year average of 15.6 (according to data from Yale University finance professor, and Nobel Laureate, Robert Shiller).
Editor's pick: This article was originally published on March 2
Further uncertainty exists because Paul Ryan, the speaker of the House, is proposing that the corporate tax rate be cut to 20% instead of the 15% proposed by President Trump. If the Ryan proposal is what's eventually adopted, the S&P 500's PE ratio would be reduced by a lesser amount-from 25.1 to 23.5, according to Ned Davis Research estimates.
In other words, a corporate tax cut would merely take the edge off of the stock market's current extreme overvaluation, leaving it still significantly overvalued. That's hardly a solid basis on which to make a confident stock market bet, especially given the uncertainties surrounding whether the tax cut will actually be implemented.
A shrewder way of betting on a possible corporate tax cut, in my opinion, is to pick those companies that both would benefit the most from a possible cut and which also are already compelling according to any of a number of traditional valuation criteria. By investing in such companies you have a good chance of turning a profit even if the tax cut never materializes. And if it does your profit should receive a substantial one-time boost.
In essence, such stocks represent a costless call option on a corporate tax cut.
To find companies that possess this potential, I started by identifying the 10% of companies (a total of 50) within the S&P 500 that have had the highest average effective corporate tax rate over the last five years (according to FactSet). I eliminated REITs and ADRs, since for them it is especially difficult to forecast the impact of a tax cut. I also eliminated those that currently have lost money in recent years, since it's unclear what their effective tax rate would be when they return to profitability. This last requirement eliminated many oil and oil service companies, for example.
With the resultant companies that made the cut, I narrowed the list even further by including only those that are currently recommended for purchase by at least two of the market-beating advisers tracked by my performance monitoring service. Just six companies survived this winnowing process. They are, in alphabetical order:
A full rundown of TheStreet's guide to trading in March can be found here:
Mark Hulbert, founder of the Hulbert Financial Digest, has been tracking investment advisers' performances for four decades. For more information, email him at mark@hulbertratings.com or go to www.hulbertratings.com.