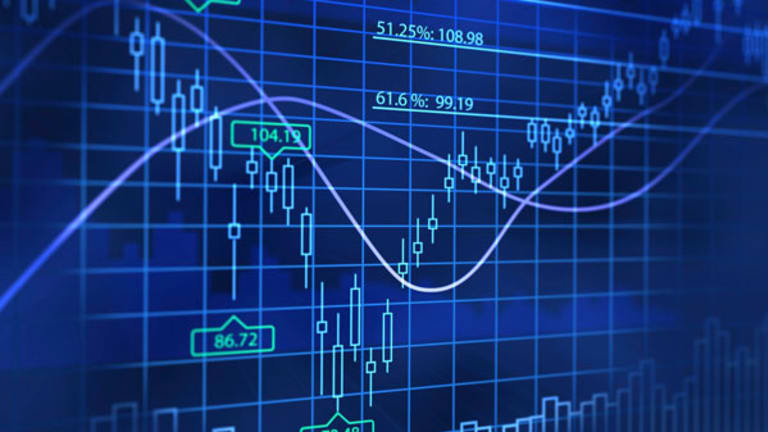 6 Stocks Reaping the Benefits of Big Buybacks
These companies are buying back a considerable amount of their own stock.
NEW YORK (Stockpickr) -- Chief financial officers at many large firms have an embarrassing problem. They've seen their companies generate lots of cash over the last few years, and the pile of money parked on balance sheets is growing abnormally large. In response to this newfound bulge of cash, these CFOs can boost spending in terms of R&D or staffing, they can initiate a new or hike an existing dividend, or they can go and make acquisitions.
Yet many CFOs know that one of the wisest uses of cash can be a stock buyback. The logic is quite simple: Whatever percentage of a share count that can be bought back, earnings per share will go up but that same percentage (all other things being equal).
>>5 Rocket Stocks to Buy This Week
With that in mind, here are
six companies that are buying back a considerable amount of their own stock
.
Seagate Technology
Hard disk drives maker
Seagate Technology
(STX) - Get Report
has been re-acquiring its own shares for quite some time. Shares outstanding had already fallen from 558 million in 2007 to a recent 433 million. Now plans are afoot to buy back up to $1.9 billion more in stock.
At current prices, that would take the share count down below 350 million. Looked at another way, if Seagate were to reduce its share count by roughly 20%, as that math implies, earnings per share would rise by that amount as well.
Analysts currently expect Seagate to earn close to $5 a share in fiscal (June) 2012. That figure would approach $6 in fiscal 2013, even if Seagate delivered zero sales growth and constant profit margins, simply because the share count would shrink by that much. Curiously, Seagate has announced an increase in the stock buyback even as shares have doubled since plunging last summer.
To be sure, the buyback math would be more compelling if the share price pulls back to the mid-teens. Nevertheless, analysts still see upside into the mid $20s.
Seagate, one of the
top-yielding computer hardware stocks
and one of
, shwos up on a list of
10 Dividend Stocks to Keep You Safe Into 2012
.
Monster Worldwide
Employment search firm
Monster Worldwide
(MWW)
could really reap gains from a current stock buyback, as its shares are quite depressed. In fact, when tepid fourth-quarter results were released on Jan. 26, shares fell a whopping 18% and they now trade near an all-time low. (And that's saying something for a company that has been public for nearly 20 years.)
The silver lining: A $250 million stock buyback announcement means Monster will re-acquire more than 30 million shares at current prices. That's roughly 25% of the entire share count.
Make no mistake, these are tough times for this former highflyer. Employment trends remain weak, limiting the number of jobs listings that clients plan to make. And competition from newer sites such as
LinkedIn.com
(LNKD)
are leading to market share losses.
But Monster is still a cash flow powerhouse. The company generated $150 million in operating cash flow in 2011. The entire company is valued at just $800 million, on an enterprise value basis, meaning the stock is trading for just five times operating cash flow.
In an ideal world, the company can move quickly on that buyback plan while shares are so cheap. A few quarters from now, if the national employment picture may look healthier, this stock may not still be skidding along at lows.
Monster, one of the
10 Worst-Performing S&P 500 Stocks of 2011
, shows up on a list of
.
WellPoint
Health-care insurer
WellPoint
(WLP)
recently delivered weaker-than-expected profits. Higher-than-expected costs, primarily in the form of patient care reimbursements were the key culprit. Yet many investors may have overlooked the fact that the company's share count shrank from 393 million a year ago to just 349 million. Per-share profits of 96 cents , while disappointing relative to the $1.12 a share consensus forecast, would have been closer to $0.80 a share were it not for a big ongoing stock buyback.
And Wellpoint isn't letting up: The company's board has authorized the purchase of an additional $4.3 billion in stock. At current prices, that would absorb roughly 65 million more shares, or nearly 20% of the current share count. It's best to assume that process takes two years to complete.
Goldman Sachs analysts think the recent quarterly shortfall is simply due to some short-term issues regarding Medicare reimbursement, and doesn't expect the issue to recur in 2012. And they see shares rebounding back into the upper $70's where they stood last spring.
Curiously, the company would actually benefit from shares trading poorly in coming months, so those buyback dollars can go even further.
WellPoint, which was also featured recently in
7 Dividend Stocks Handing Our More Cash in 2012
, shows up on a list of
.
AT&T
and
Time Warner Cable
AT&T
(T) - Get Report
and
Time Warner Cable
(TWC)
are being grouped together because of a few shared traits. Each company has a large installed base of existing customers but will be hard-pressed to find new customers that translate into solid sales growth. Each company has spent billions to build out their respective telecom and cable networks and both are now harvesting big profits from those investments.
And each company is buying back huge amounts of stock.
For AT&T, we're talking about a $9 billion stock buyback plan and for Time Warner Cable, a still-considerable $4 billion. That doesn't make these stocks a bargain, per se, but it does imply that EPS can be nicely boosted in coming quarters, even if net income growth is more muted.
Time Warner Cable, one of the
, shows up on a recent list of
5 Consumer Stocks Outpacing S&P 500 Growth
. AT&T shows up on recent lists of
5 Top S&P Dividend Stock Picks
and
10 Dividend Stocks to Own Until Retirement
.
Viacom
Viacom
(VIA.B)
owns valuable TV networks such as Comedy Central, MTV and Nickelodeon along with its flagship movie studio, Paramount Pictures. Those properties are awfully profitable, allowing Viacom to reduce its share count for seven straight years.
The company has no plans to stop now. Last summer, the company upped the ante, pushing an ongoing $3 billion stock buyback plan into a $10 billion plan. That means the share count, which stood at 750 million back in 2005, could drop to 550 million by the end of this year.
Viacom will release fourth-quarter results this coming Thursday, Feb. 2. At that time, we'll get a fresh read on how fast the share count is dropping, which should lead analysts to update their earnings per share forecasts. That should help nudge up the EPS numbers, regardless of how the broader business is doing.
As of the most recently reported quarter, Viacom is one of the
top holdings at Chase Coleman's Tiger Global Management
.
RELATED LINKS:
>>5 Stocks Under $10 Set to Trigger Big Moves
>>7 Dividend Stocks Handing Out More Cash in 2012
>>5 High-PEG Stocks to Stay Away From
Follow Stockpickr on
and become a fan on
Facebook.
Stockpickr is a wholly owned subsidiary of TheStreet.com.
At the time of publication, author had no positions in stocks mentioned.