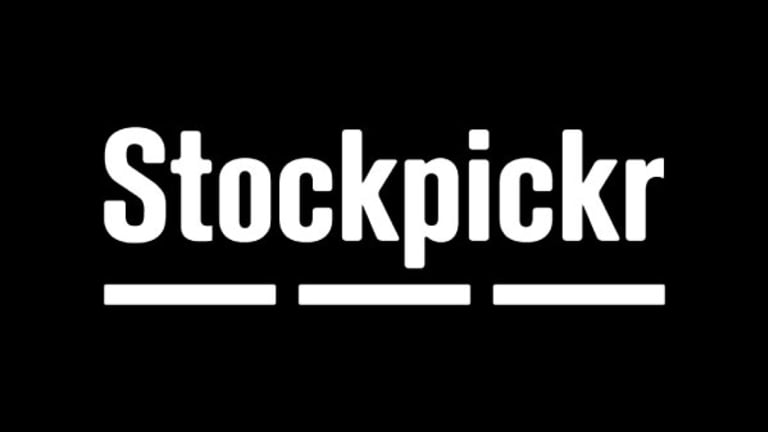 6 Stocks for Your Back-to-School Portfolio
Back-to-school season is in full swing, and these stocks are poised to take advantage of it.
MILLBURN, N.J. (Stockpickr) -- Back-to-school season is in full swing, as students from around the country get back into the swing of the 3 Rs. Over the past couple of weeks, I've moved my son into Boston to begin law school, and my daughter, along with her professor father, started up classes at Seton Hall. Our other three children started high and middle school classes.
I thought it was an apt opportunity to take a look at
back-to-school stock opportunities
.
>>>Also see: 9 Retail Stocks Fighting the Back-to-School Blues
First on my list is
Amazon.com
(AMZN) - Get Free Report
. Recently, Yahoo! Finance listed college text books as one of the most overpriced products on the market. Many of my students at Seton Hall University as well as my own college-aged children find Amazon to be a cheaper alternative source for college texts. With books for a typical 15-credit workload costing as much as $1,000, by my calculations, savings of 10% to 20% per semester can give Amazon a significant advantage over the university bookstore.
But Amazon can even outdo itself, with its
wireless Kindle reading device
, which many textbooks can now be downloaded onto.
And that's not all. If you need items to outfit your dorm room or off-campus apartment, Amazon likely has the products for you. To top it all off, Amazon as free-shipping options and doesn't collect sales tax.
Amazon's growth rate of 25% to 30% is quite healthy, although many people remain skeptical of the company's ability to sustain such rates. At 40 times forward earnings, Amazon still has some room to run, maybe as high as $180 in the next year. I was once a vocal critic of Amazon, but the company has done a great job of strengthening its balance sheet over the last four or five years.
When I went to school, buying school supplies was a relatively simple task. You needed a few marble or spiral notebooks, pencils, a pencil case, ruler and book covers. Now the school supply lists are as long as a cookbook. Many schools put their supply list online or make them available in retail stores. Of the triumvirate of office supply specialty retailers --
Staples
(SPLS)
,
Office Max
(OMX)
and
Office Depot
(ODP) - Get Free Report
-- Staples is the best in breed.
>>>Who Owns Staples?: Goldman Sachs
Staples has the largest presence in bricks and motor stores and online ecommerce. The company is fast growing outside the U.S., which could help to boost earnings growth from the low teens this year to nearly 25% next year. Office Depot has not earned money since 2007 and is likely to continue that streak at least through the early part of 2011. Office Max has some potential, but I prefer to stick with Staples until that company can prove to me that it can deliver consistent earnings and growth.
Wal-Mart
(WMT) - Get Free Report
is another big destination for back to school shoppers, but Staples will generate a much larger percentage of its annual revenues from back-to-school sales relative to Wal-Mart. For Staples, back-to-school is Christmas in September.
>>>More on Wal-Mart: 5 Innovation Stocks With Upside
Back-to-school is about more than just academics -- there's also athletics, with school and recreation league sports filling kids' extracurricular schedules. The preeminent special sporting goods retailer is
Dick's Sporting Goods
(DKS) - Get Free Report
, which is head and shoulders above the competition, selling not only sporting goods but also apparel and footwear. Kids will need more than just soccer balls -- they'll also need soccer cleats, shin guards and shorts. And back-to-school is the time of year when parents are most likely to buy new footwear, which means sneakers for the kids.
Dick's Sporting Goods is also one of the largest vendors of
Nike
(NKE) - Get Free Report
and
Under Armour
(UA) - Get Free Report
products, other companies worth keeping an eye on for back-to-school. Dick's has delivered positive earnings surprises in each of the last four quarters by an average of 35% and raised its guidance for EPS and same store sales for full-year 2010. The company will deliver solid double-digit growth even as the domestic golfing business struggles.
>>>Who Owns Dick's?: Julian Robertson
Shoes and sneakers are not the only apparel kids will need when they return to school. Since the last fall, most kids will be ready to bump up to the next size of clothing, and the fashion-conscious teens and tweens, who have a huge influence over their parents when it comes to apparel purchases, will be yearning for the latest and greatest styles.
>>>Also see: 3 Back-to-School Retail Buys
In this category, there is a whole laundry list of potential specialty retailers, but be forewarned that teen and tween shoppers can be very fickle. One year everyone will flock to
Abercrombie & Fitch's
(ANF) - Get Free Report
Hollister brand, and the next they won't be caught dead in a Hollister shirt. This year, the hot brands are
Urban Outfitters
(URBN) - Get Free Report
and
Aeropostale
undefined
, which are headed in opposite direction from Abercrombie & Fitch and make better plays for the back-to-school theme.
>>>More on Urban Outfitters: 5 Retail Stocks That Can Withstand Rising Costs
Finally, there are technology requirements for students, which means personal computers. The top three selections in this category are
Dell
(DELL) - Get Free Report
and
Hewlett-Packard
(HPQ) - Get Free Report
, which run on
Microsoft's
(MSFT) - Get Free Report
Windows platform, and
Apple
(AAPL) - Get Free Report
.
There is growing discontent amongst computers owners for Windows-based programs and operating systems and, more important, a growing demand for Apple's Mac operating systems and the host of related "i" products, such as the iPad, iPod and iPhone. We are increasingly seeing market share gains for Mac operating systems, to the detriment of Windows-based systems. Mac now controls about 4.32% of operating system market share, compared with 3.99% at the end of 2009, according to NetMarketShare.com.
>>>More on Apple: 10 Cash-Rich Companies With No Debt
Furthermore, Dell and Hewlett-Packard are looking to expand beyond personal computers In their recent fight over the acquisition of
3Par
(PAR) - Get Free Report
, Hewlett-Packard was victorious, and the company also purchased Palm. Time will tell, but I think that these could prove to be costly mistakes by Hewlett-Packard. So while Hewlett-Packard and Dell will see sales increases over the immediate and long term, Apple is going to be grabbing more and more market share from its Windows-based competitors.
To see these back-to-school picks in action, check out my
Back-to-School Stocks portfolio
on Stockpickr.
-- Written by Scott Rothbort in Millburn, N.J.
RELATED LINKS:
>>5 Rocket Stocks for the Week
>>Midterm-Election Stocks for Your Portfolio
>>Stocks Increasing Their Dividends
Follow Stockpickr on
and become a fan on
Facebook.
At the time of publication, Rothbort was long long AAPL stock and calls and long DKS, ARO and URBN stock, although positions can change at any time.
Scott Rothbort has over 25 years of experience in the financial services industry. He is the Founder and President of
, a registered investment advisor specializing in customized separate account management for high net worth individuals. In addition, he is the founder of
, an educational social networking site; and, publisher of
The LakeView Restaurant & Food Chain Report
. Rothbort is also a Term Professor of Finance at Seton Hall University's Stillman School of Business, where he teaches courses in finance and economics. He is the Chief Market Strategist for The Stillman School of Business and the co-supervisor of the Center for Securities Trading and Analysis.
Mr. Rothbort is a regular contributor to
TheStreet.com's RealMoney Silver
website and has frequently appeared as a professional guest on
Bloomberg Radio
,
Bloomberg Television
,
Fox Business Network
,
CNBC Television
,
TheStreet.com TV
and local television. As an expert in the field of derivatives and exchange-traded funds (ETFs), he frequently speaks at industry conferences. He is an ETF advisory board member for the Information Management Network, a global organizer of institutional finance and investment conferences. In addition, he is widely quoted in interviews in the printed press and on the internet.
Mr. Rothbort founded LakeView Asset Management in 2002. Prior to that, since 1991, he worked at Merrill Lynch, where he held a wide variety of senior-level management positions, including Business Director for the Global Equity Derivative Department, Global Director for Equity Swaps Trading and Risk Management, and Director for secured funding and collateral management for the Global Capital Markets Group and Corporate Treasury. Prior to working at Merrill Lynch, within the financial services industry, he worked for County Nat West Securities and Morgan Stanley, where he had international assignments in Tokyo, Hong Kong and London. He began his career working at Price Waterhouse from 1982 to 1984.
Mr. Rothbort received an M.B.A., majoring in Finance and International Business from the Stern School of Business, New York University, in 1992, and a B.Sc. in Economics, majoring in Accounting, from the Wharton School of Business, University of Pennsylvania, in 1982. He is also a graduate of the prestigious Stuyvesant High School in New York City. Mr. Rothbort is married to Layni Horowitz Rothbort, a real estate attorney, and together they have five children.