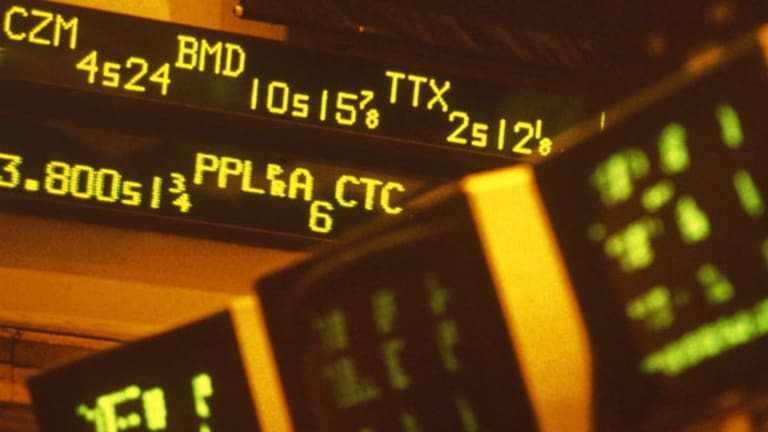 6 Low-Volatility Stocks for a Volatile Market
Low-volatility stocks offer less risk and growth potential to investors while usually paying above-market dividends.
MILLBURN, N.J. (Stockpickr) -- Last week the markets endured a historical bout of volatility as global indices plunged around the world. Fears persisted as we entered the weekend only to be exacerbated by the Friday evening announcement that Standard & Poor's downgraded the long-term debt of the U.S. from AAA to AA+. Volatility surged as market participants bought insurance protection and began to panic.
Volatility can be measured in several ways:
Implied Volatility: This is the volatility level which is used to price individual stock and index options.
Historical Volatility: This measures the realized or actual volatility of an individual stock or index over a defined period of time.
Volatility Index: This is a weighted average of implied volatilities for several index options for a particular index. The most popular volatility index is the S&P 500 Volatility Index, or the VIX.
Historical volatilities for seemingly all stocks rose dramatically over the course of the last week and month. The VIX index rose to 32 from 25.25 in just one week and averaged 27.1 over that period of time. The realized volatility for the VIX was 53.23 during that week. Historically, over the long term, the VIX has an average of about 20 with a standard deviation of about 8. Over the past year, the VIX has averaged 19.54 with a standard deviation of 3.17 and realized volatility of 11.92.
Related:
5 Blue-Chips to Ride Out a Double-Dip
Low-volatility stocks will offer less risk and growth potential to investors while usually paying above-market dividends. With that in mind, here are
six low-volatility stocks to consider in the current high-volatility environment
. These stocks are drawn from several industry groups, including consumer products, beverages and snacks, pharmaceuticals and medical devices, retail, electric utilities and financial services. The result is a diversified low-volatility portfolio with above-market dividend yields.
Procter & Gamble
Procter & Gamble
(PG) - Get Procter & Gamble Company Report
is a global consumer goods company that makes many household products sold under brand names such as Gillette, Crest, Head & Shoulders, Pantene, Cover Girl, Duracell, Tide and Oral-B. For nearly 200 years, Procter & Gamble has produced products that people can find in their bathrooms.
Sales for the company consistently grow in the mid-single-digit percentages. Should the economy head into a new recession or if interest rates rise, the company's sales are not likely to feel any adverse effect. Procter & Gamble's one-year realized volatility of 11.34 is lower than that of competitors
Kimberly-Clark
(KMB) - Get Kimberly-Clark Corporation Report
, at 12.77, and
Colgate-Palmolive
(CL) - Get Colgate-Palmolive Company Report
, at 14.62.
I could have easily included Kimberly-Clark in this portfolio as the company pays a dividend yield of 4.37%, but Proctor and Gamble sports the stronger balance sheet of the two.
Procter & Gamble is one of
Warren Buffett's top 10 dividend stocks
.
Pepsico
Pepsico
(PEP) - Get PepsiCo, Inc. Report
is a global beverage and snack company headed up by Indra Nooyi, one of the top female CEOs in corporate America today. As a result of her leadership, I also included Pepsico in my recent portfolio
.
Pepsico sells branded products such as Pepsi, Mountain Dew, Gatorade, Tropicana, Quaker Oats and Frito-Lay. Within the last year, it repurchased its bottling operations and the Wimm-Bill-Dann beverage company in Russia.
I chose Pepsi over
Coca-Cola
(KO) - Get Coca-Cola Company Report
for this portfolio for three reasons:
1. Coca-Cola has slightly higher historical volatility.
2. Pepsico's 3.2% dividend is greater than the Coca-Cola's 2.82%.3. Pepsico has a global snack business, featuring Frito-Lay, whereas Coca Cola is strictly a beverage company.
Pepsi and Coca-Cola were also recently featured in "
2 Pair Trades of Giant Competitors
."
Johnson & Johnson
Johnson & Johnson
(JNJ) - Get Johnson & Johnson Report
is another company that produces products you can find in your bathroom, but its products also go beyond that into the medicine cabinet with pharmaceuticals and hospitals with medical devices.
Like P&G, J&J consistently grows income in the mid-single-digit percentages. Not only does Johnson & Johnson have a more diverse portfolio of products and businesses than pure pharmaceutical peers, but it also has a far more stable stock price with lower historic one-year volatility of 12.61 than that of such as
Merck
(MRK) - Get Merck & Co., Inc. Report
, at 17.27,
Pfizer
(PFE) - Get Pfizer Inc. Report
, at 19.19, and
Eli Lilly
(LLY) - Get Eli Lilly and Company Report
, at 15.25.
J&J, another of
, was highlighted earlier today in "
5 Rocket Stocks to Buy on Selloff
."
Wal-Mart
In the world of retail,
Wal-Mart
(WMT) - Get Walmart Inc. Report
is king. Despite it's nearly $180 billion market cap, the company continues to grow sales in the 4% to 5% range and earnings in the 9% to 10% range consistently on an annual basis.
With Wal-Mart, you won't get the explosive growth of a high-end retailer such as
Polo Ralph Lauren
(RL) - Get Ralph Lauren Corporation Class A Report
,
Coach
(COH)
or
Tiffany
(TIF) - Get Tiffany & Co. Report
, but you also won't suffer from the high levels of volatility that those luxury retailers have exhibited over the past year (32.31 at Ralph Lauren, 29.49 at Coach and 29.29 at Tiffany.
In fact, compared with its closet peer,
Target
(TGT), Wal-Mart also comes out ahead. Target's one-year historic volatility of 20.76 is higher than Wal-Mart's 2.64, and its 2.5% dividend is lower than Wal-Mart's 2.9%.
Wal-Mart, one of the
highest-yielding retail stocks
, was featured recently in "
5 Blue-Chips to Ride Out a Double-Dip
."
Southern Company
Southern Company
(CO) - Get Global Cord Blood Corporation Report
provides electric services to customers in the southeastern region, in the states of Georgia, Florida, Mississippi and Alabama. Southern is the quintessential widow and orphan stock, providing investors with consistent above-market dividend payouts.
Annual earnings of 6% to 7% and sales growth of 3% to 5%, because they are tied in to population growth and regulatory oversight, are low but stable. Cash flow generation is strong enough to pay the current dividend, which tends to get an annual boost of about 7 cents, or just under 4%.
The stability of the company's business model and geographic location coupled with its 4.7% dividend yield make Southern Company a perfect low-volatility stock investment. It's one-year realized volatility is lower compared with that of various public utility peers, such as
Exelon
(EXC) - Get Exelon Corporation Report
at 15.73,
PG&E
(PCG) - Get PG&E Corporation Report
at 17.06,
Pepco
(POM)
at 14.82 and
American Electric Power
(AEP) - Get American Electric Power Company, Inc. Report
at 14.01. I excluded
Duke Energy
(DUK) - Get Duke Energy Corporation Report
and
Progress Energy
(PGN)
from the analysis because their stock prices have been stabilized for several months as a result of their pending merger.
A close second to Southern Company is
Con Edison
(ED) - Get Consolidated Edison, Inc. Report
, with a one-year realized volatility of 11.3 and a dividend yield of 4.51%, which could be included in this portfolio as well.
Chubb
Chubb
(CB) - Get Chubb Limited Report
is a global property and casualty insurance company, servicing both commercial and personal customers with products such as automobile, homeowners, workers compensation, property and professional liability coverage.
Financial services companies, especially insurance, can be high-risk businesses, but Chubb is a low-risk player in that high-risk world. You can credit that to a conservative approach to risk and balance sheet management. According to Risk Metrics, Chubb rates low risk across three corporate governance categories and at a medium risk level for a fourth category.
The market recognizes this in Chubb and has awarded it with much lower one-year realized volatility of 14.14 than peers such as
Allstate
(ALL) - Get Allstate Corporation Report
at 22.68,
MetLife
at 28.31,
Lincoln National
(LNC) - Get Lincoln National Corporation Report
at 33.36,
Progressive
(PGR) - Get Progressive Corporation Report
at 19.2,
Prudential
(PRU) - Get Prudential Financial, Inc. Report
at 26.83 and
American International Group
(AIG) - Get American International Group, Inc. Report
at 36.90.
Chubb is one of the
, stocks that have raised their dividends consistently for at least 25 years.
-- Written by Scott Rothbort in Millburn, N.J.
RELATED LINKS:
>>5 Rocket Stocks to Buy as Stocks Sell Off
>>2 Pair Trades for a Volatile Market
>>7 Dividend Stocks Rewarding Shareholders
Follow Stockpickr on
and become a fan on
Facebook.
At the time of publication, Rothbort was long PEP, SO, ED, COH, EXC, POM, DUG, PGN and LNC, although positions can change at any time.
Scott Rothbort has over 25 years of experience in the financial services industry. He is the Founder and President of
, a registered investment advisor specializing in customized separate account management for high net worth individuals. In addition, he is the founder of
, an educational social networking site; and, publisher of
The LakeView Restaurant & Food Chain Report
. Rothbort is also a Term Professor of Finance at Seton Hall University's Stillman School of Business, where he teaches courses in finance and economics. He is the Chief Market Strategist for The Stillman School of Business and the co-supervisor of the Center for Securities Trading and Analysis.
Mr. Rothbort is a regular contributor to
TheStreet.com's RealMoney Silver
website and has frequently appeared as a professional guest on
Bloomberg Radio
,
Bloomberg Television
,
Fox Business Network
,
CNBC Television
,
TheStreet.com TV
and local television. As an expert in the field of derivatives and exchange-traded funds (ETFs), he frequently speaks at industry conferences. He is an ETF advisory board member for the Information Management Network, a global organizer of institutional finance and investment conferences. In addition, he is widely quoted in interviews in the printed press and on the internet.
Mr. Rothbort founded LakeView Asset Management in 2002. Prior to that, since 1991, he worked at Merrill Lynch, where he held a wide variety of senior-level management positions, including Business Director for the Global Equity Derivative Department, Global Director for Equity Swaps Trading and Risk Management, and Director for secured funding and collateral management for the Global Capital Markets Group and Corporate Treasury. Prior to working at Merrill Lynch, within the financial services industry, he worked for County Nat West Securities and Morgan Stanley, where he had international assignments in Tokyo, Hong Kong and London. He began his career working at Price Waterhouse from 1982 to 1984.
Mr. Rothbort received an M.B.A., majoring in Finance and International Business from the Stern School of Business, New York University, in 1992, and a B.Sc. in Economics, majoring in Accounting, from the Wharton School of Business, University of Pennsylvania, in 1982. He is also a graduate of the prestigious Stuyvesant High School in New York City. Mr. Rothbort is married to Layni Horowitz Rothbort, a real estate attorney, and together they have five children.