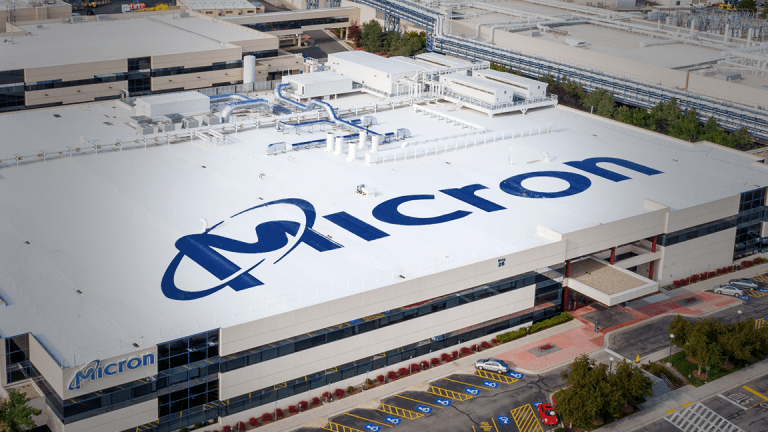 Micron Surges in Spite of Light Guidance: 6 Key Takeaways
The memory giant issued a soft outlook amid declining prices and lower customer demand. However, expectations were low, and sales are expected to pick up later this year.
After having sold off to very low trailing earnings multiples last year, Micron (MU) is rallying after issuing earnings guidance that was easily below analyst estimates.
On Wednesday afternoon, Micron reported February quarter (fiscal second quarter) revenue of $5.84 billion (down 21% annually) and non-GAAP EPS of $1.71, beating consensus analyst estimates of $5.8 billion and $1.60. However, on its earnings call, the memory giant guided for May quarter revenue of $4.6 billion to $5 billion (down 38% annually at the midpoint) and EPS of $0.75 to $0.95, below consensus estimates of $5.28 billion and $1.18.
Nonetheless, Micron's shares rose in after-hours trading on Wednesday, and were up almost 9% to $43.62 on Thursday morning. Depressed near-term expectations are helping, and so might Micron's forecast for a second-half sales pickup.
Here are some notable takeaways from Micron's earnings report and call.
1. Memory Prices Are Tumbling
With customer inventory corrections, soft smartphone and enterprise server sales, a cloud hardware spending pause, Intel  (INTC) PC CPU shortages and seasonality all weighing on demand, Micron's average selling price (ASP) for DRAM, which drives the lion's share of its gross profit, fell by a low-20s percentage sequentially. That compares with a high-single digit decline during the November quarter.
Micron's NAND flash memory ASP, which was pressured by smartphone weakness and seasonality as well as relatively high industry bit production growth, fell by a mid-20s percentage sequentially. This compares with a low-to-mid teens decline in the November quarter.
On the call, CFO Dave Zinser noted that recent memory industry capital spending cuts haven't yet impacted production growth due to lead times, which of course doesn't help with the industry's near-term supply/demand balance.
2. Micron Expects Better Demand During the Back Half of the Year
"[We] still expect DRAM bit shipments to begin increasing in our fiscal Q3, with demand growth strengthening in the second half of calendar 2019 as most customer inventories are likely to normalize by mid-year," said CEO Sanjay Mehrotra on the call. He added Micron expects "robust" DRAM bit demand growth in fiscal 2020 (it ends in Aug. 2020), aided by better mobile and server DRAM demand.
Mehrotra sounded a little more cautious about NAND, stating markets remained oversupplied "from the acceleration in bit growth driven by the industry transition to 64-layer 3D NAND" chips. However, he says Micron is still optimistic that "demand elasticity and seasonal trends will support improving [NAND] demand growth in the second half of the calendar year."
As a result, though Micron is forecasting calendar 2019 DRAM and NAND industry bit demand growth will trail supply growth, it's not guiding for massive differences in growth rates. DRAM bit demand is expected to grow by a low-to-mid teens percentage, and bit supply by a mid-to-high teens percentage. NAND bit demand is expected to grow by a mid-30s percentage, and bit supply by a high-30s percentage.
3. The Capex Budget Is Getting Cut Again
In December, Micron cut its fiscal 2019 (ends in Aug. 2019) capital spending budget to a range of $9 billion to $9.5 billion from one of $10.5 billion, plus or minus 5%. It's now guiding for fiscal 2019 capex of roughly $9 billion.
Micron also disclosed it's idling about 5% of its DRAM chip wafer starts, and that it's "evaluating" its capex plans for fiscal 2020. Nonetheless, chip equipment makers Applied Materials (AMAT)  and Lam Research (LRCX) , whose investors are generally well-aware that memory capex is dropping, rose slightly in after-hours trading.
Lam Research is a holding in Jim Cramer's Action Alerts PLUS member club. Want to be alerted before Jim Cramer buys or sells LRCX? Learn more now.
4. Inventories Rose Sharply
Though its revenue was down 21% annually, Micron's inventories rose 38% to $4.39 billion. Days of inventory rose by 27 sequentially to 134.
During the call's Q&A session, Zinser admitted inventories might rise a little more this quarter. However, he insisted capex cuts will help lower inventories later this year.
5. 'Healthy' DRAM and NAND Production Cost Declines Are Promised
"We expect further progress on cost reduction this fiscal year including healthy year-over-year cost declines in both DRAM and NAND," said Mehrotra. DRAM cost declines are expected to be driven by a shift in production towards Micron's 1Y manufacturing process, and NAND cost declines by a production ramp for high-density, 96-layer, 3D NAND chips (Micron and Intel have argued that the 3D NAND designs that they jointly developed enable a superior cost structure relative to rival 3D NAND offerings).
For the time being, however, cost reductions aren't able to offset the impact of lower prices and factory utilization rates on Micron's gross margin (GM). The company's non-GAAP GM fell to 50.2% last quarter from 59% in the November quarter and 58.4% in the year-ago quarter, and is forecast to be in a range of 37% to 40% in the May quarter.
6. Stock Buybacks Continue
Micron spent $702 million on stock buybacks last quarter, after having spent $1.8 billion in the preceding quarter. The company's diluted share count for the quarter was 1.14 billion, down from 1.24 billion a year earlier.
"We continue to do share repurchases as an attractive use of capital and remain committed to deploying at least 50% of our free cash flow on an annual basis towards repurchases under our current $10 billion authorization," said Zinser on the call. In addition to free cash flow, Micron has $3 billion in net cash (cash minus debt) on its balance sheet to help pay for buybacks with.
Will I Have Enough Money to Retire?
Want to learn about retirement planning from some of the nation's top experts? Join TheStreet's Robert "Mr. Retirement" Powell live in New York on April 6 for our Retirement Strategies Symposium. For a limited time, tickets are available for $99 for this full-day event. Check out the agenda, learn about the speakers and sign up here.