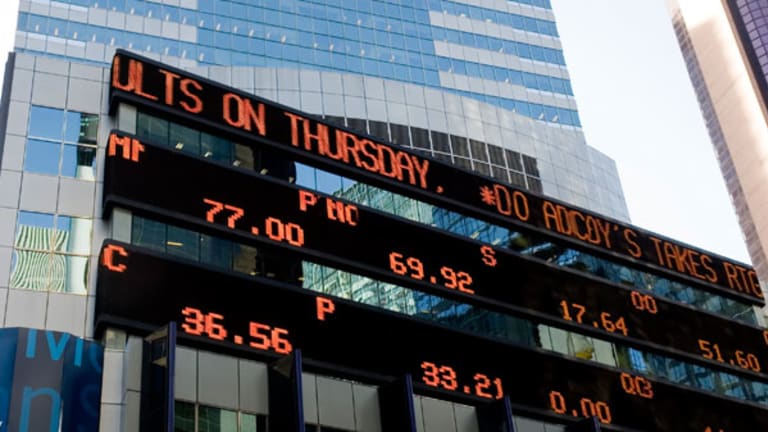 6 Financial Stocks Offering Excellent Value
These stocks offer excellent opportunities in the banking and financial services sector -- with less risk.
These stocks offer excellent opportunities in the banking and financial services sector -- with less risk.
MILLBURN, N.J. (Stockpickr) -- Is there anyone out there who likes financial stocks? Sure, there are the perma-financial-bulls paid to write up research on the financial sector who love to blab about it in the media. But the numbers tell a different story.
The KBW Bank Index has declined 24% in the last year, and the
SPDR Financial Select ETF
(XLF) - Get Report
has declined 19%. Many financial service companies are ensconced in the wide-ranging problems plaguing the global banking and brokerage sector. These problems include:
Exposure to the sovereign and bank debt of many European nations commonly referred to as the PIIGS (Portugal, Ireland, Italy, Greece and Spain)
Mortgages that remain delinquent and represent less than the market value of the properties
Undocumented or poorly documented mortgages
Capital inadequacy and unlikeliness to meet the more-stringent ratio requirements under the Basel III Accord
>>5 Stocks With Relative Strength Poised to Break Out
But as we saw in the 2008-2009 financial crisis, many institutions not only survived the crisis but were better prepared before, during and after the crisis. And now, some financial companies are suffering simply because of their "financial" label. Amid all the rubble, I've found several financial services companies that haven't been tainted by all that is bad about the financial sector. These stocks offer excellent opportunities in the banking and financial services sector with less risk.
Here are
six financial stocks that offer excellent value
.
Valley National Bancorp
Valley National
(VLY) - Get Report
is a bank holding company that operates nearly 200 branches out of New Jersey and New York City. The company took over NorCrown Bank and its 15 branches several years ago after NorCrown's Charlie Kushner got into legal troubles.
Valley National consistently delivers high single-digit earnings growth, which it by staying local and not falling into many of the lending and leverage traps that other smaller banks get entangled in as they attempt to grow.
What also makes Valley National interesting is that every May, the company issues a 5% stock dividend to all shareholders. On top of that, an annual dividend of 6.3% is paid in cash to all shareholders.
Nevertheless, the price of Valley National stock has declined about 18% in the past year (not including the dividend) and 26% year-to-date. The stock may be in the valley, but I see it scaling back to the top of the mountain in the future.
Valley National, one of the
, shows up on a recent list of
5 Bank Stocks With Over 6% Dividend Yields
.
Credit Suisse
Credit Suisse
(CS) - Get Report
is the second-largest bank in Switzerland after
UBS
(UBS) - Get Report
. UBS has its problems; the company recently announced an unauthorized trading loss in excess of $2 billion, resulting in the resignation of CEO Oswald Grubel. UBS also is still trying to figure out what to do with its large retail brokerage operation in the U.S.; rumors persist that UBS is looking to offload that unit.
Credit Suisse, while not burdened with UBS' issues, has seen a steeper decline this year -- 38% compared with UBS' 34%. When it comes to exposure to Greek debt, the Swiss banks as a whole have very little compared with other European banks, especially those in France and Germany. Credit Suisse has even underperformed
Deutshce Bank
(BD) this year, by nearly 6%. These price performances even factor in the weak euro vs. the stronger Swiss Franc.
>>4 Banks Goldman Thinks Will Outperform in 3Q
I am seeing relative opportunities with Credit Suisse without the risk that other banks carry.
Credit Suisse, one of TheStreet Ratings'
top-rated investment bank stocks
, shows up on a recent list of
.
Lincoln National
Lincoln National
(LNC) - Get Report
specializes in the sale of life insurance, non-group medical and dental insurance, annuities and retirement planning products. The stock is absolutely hated, declining more than 45% so far this year, primarily because of its exposure to global financial markets. However, most of that exposure is indirect as it impacts the company's clients rather than the company.
With the exception of last year's third quarter, when the company missed analysts' consensus estimates of 87 cents by 24 cents, the company has consistently beaten Wall Street analysts' earnings expectations. Earnings are expected to increase 26% this year but rise by only about 2% next year.
>>10 Banks Turning the Earnings Corner
The stock is selling at a huge discount to book value. While one may question the book value of money center banks given their exposure to Greece, Europe, consumers and mortgages, when it comes to insurance companies, we should place more value on the price-to-book ratio, which stands at about 0.40 for Lincoln National.
Lincoln National shows up on a recent list of
5 Life Insurance Stocks With Up to 64% Upside
.
BlackRock
Talk about a company that goes from prophet to pariah.
BlackRock
(BLK) - Get Report
was a Wall Street darling that seems to have lost its luster -- but it has not lost its earnings power. Earnings for this company grew 95% in 2007, 3% in 2009 and 73% in 2010, and they are expected to grow by 13% in 2011 and 12% in 2012. Only in 2008 did Blackrock's earnings decline, and that was only by 22%.
Laurence Fink, the company's CEO, is one of the best managers today in corporate America. Despite all of that, the stock price has declined by 25% year-to-date and is 31% off of its
. This has made BlackRock, to borrow a phrase from Jim Cramer, an accidental high-yielder; it now pays a 3.7% dividend.
>>6 Dividend Stocks Paying Out More Cash
BlackRock and Fink know how to accumulate assets. So while they can't totally inoculate the company from declining asset prices, the company has a great track record of adding assets and weathering financial storms.
BlackRock, one of
as of the most recently reported period, was featured recently in "
2 Boring Pair Trades to Spice Up Your Returns
."
Visa and MasterCard
Visa
(V) - Get Report
is an interesting company. It is not -- I repeat
not
-- a credit card issuer. Visa is a credit card processor. Credit card issuers,
JPMorgan Chase
(JPM) - Get Report
and
Capital One Financial
(COF) - Get Report
, such as lend money to consumers and take credit risk in the process. Visa, and its peer
MasterCard
(MA) - Get Report
are merely toll takers; they get paid every time you swipe your debit or credit card.
Exposure to Greece or the euro banks is nonexistent for the credit card processors. The worry a few months ago was that the
Federal Reserve
would limit transactions fees that these companies earn. That concern appears to have abated. In the meantime, domestic use of debit cards is on the rise, and internationally, more credit cards are in peoples' hands and are being used more frequently. Total global merchandise values of credit and debit cards continue to make all-time highs.
The duopoly of MasterCard and Visa will remain unchallenged, with the total market continuing to grow. Neither of these is a down-and-out stocks; they are only about 10% off their highs and are higher on the year. Yet both stocks are cheap, selling at about 16 times forward earnings, which is less than the expected future earnings growth. It is a pick 'em between the two. At least pick one.
Visa shows up on recent lists of
7 Goldman Tech Stocks Still Standing
and
8 Top-Rated Diversified Stocks
. MasterCard, one of the
10 Best-Performing S&P 500 Stocks of 2011
, was featured recently in "
5 Technical Setups for Breakout Gains
."
To see these stocks in action, visit the
6 Financial Stocks That Offer Excellent Value
portfolio.
-- Written by Scott Rothbort in Millburn, N.J.
RELATED LINKS:
>>5 Rocket Stocks to Buy in October
>>6 Dividend Stocks Paying Out More Cash
>>2 Boring Pair Trades to Spice Up Your Returns
Follow Stockpickr on
and become a fan on
Facebook.
At the time of publication, Rothbort was long LNC, although positions can change at any time.
Scott Rothbort has over 25 years of experience in the financial services industry. He is the Founder and President of
, a registered investment advisor specializing in customized separate account management for high net worth individuals. In addition, he is the founder of
, an educational social networking site; and, publisher of
The LakeView Restaurant & Food Chain Report
. Rothbort is also a Term Professor of Finance at Seton Hall University's Stillman School of Business, where he teaches courses in finance and economics. He is the Chief Market Strategist for The Stillman School of Business and the co-supervisor of the Center for Securities Trading and Analysis.
Mr. Rothbort is a regular contributor to
TheStreet.com's RealMoney Silver
website and has frequently appeared as a professional guest on
Bloomberg Radio
,
Bloomberg Television
,
Fox Business Network
,
CNBC Television
,
TheStreet.com TV
and local television. As an expert in the field of derivatives and exchange-traded funds (ETFs), he frequently speaks at industry conferences. He is an ETF advisory board member for the Information Management Network, a global organizer of institutional finance and investment conferences. In addition, he is widely quoted in interviews in the printed press and on the internet.
Mr. Rothbort founded LakeView Asset Management in 2002. Prior to that, since 1991, he worked at Merrill Lynch, where he held a wide variety of senior-level management positions, including Business Director for the Global Equity Derivative Department, Global Director for Equity Swaps Trading and Risk Management, and Director for secured funding and collateral management for the Global Capital Markets Group and Corporate Treasury. Prior to working at Merrill Lynch, within the financial services industry, he worked for County Nat West Securities and Morgan Stanley, where he had international assignments in Tokyo, Hong Kong and London. He began his career working at Price Waterhouse from 1982 to 1984.
Mr. Rothbort received an M.B.A., majoring in Finance and International Business from the Stern School of Business, New York University, in 1992, and a B.Sc. in Economics, majoring in Accounting, from the Wharton School of Business, University of Pennsylvania, in 1982. He is also a graduate of the prestigious Stuyvesant High School in New York City. Mr. Rothbort is married to Layni Horowitz Rothbort, a real estate attorney, and together they have five children.