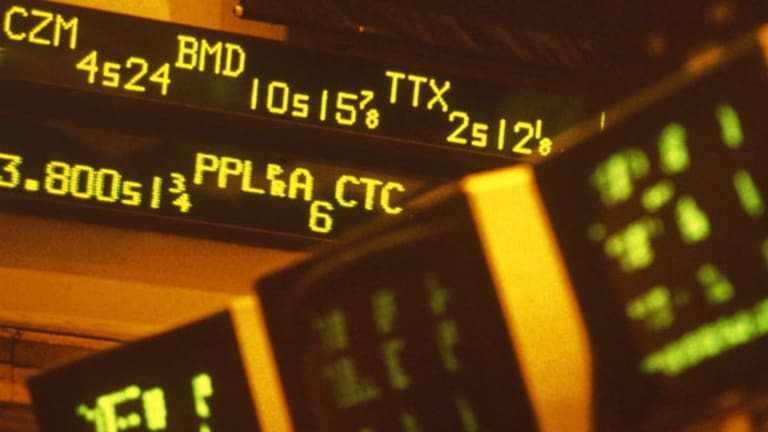 6 Dividend Stocks With Strong Payout Ratios
These stocks have strong dividend payout ratios and low debt-to-market-capitalization ratios.
These stocks have strong dividend payout ratios and low debt-to-market-capitalization ratios.
MILLBURN, N.J. (Stockpickr) -- I like companies with strong cash flow. I like companies that pay above-market dividends. I like companies with strong balance sheets. I like companies that generate cash.
Recognizing this, I decided to try to create a portfolio of stocks that combines these factors.
>>5 Stocks Set to Soar on Earnings
I used two criteria in my analysis:
1. Dividend Payout Ratio
: This represents the amount of earnings that are paid out in the form of dividends to shareholders. We care about this because it shows that the company is focused on returning capital to shareholders. This is important if you subscribe to the
of stock valuation.
2. Debt to Market Capitalization
: This is a measure of leverage as well as a measure of the strength of the balance sheet. I prefer that a company uses its operational cash flow rather than debt to pay dividends to shareholders. Hence, I sought out companies with low debt-to-market-capitalization ratios.
Here are
six stocks that received high marks in these categories
.
Johnson & Johnson
Johnson & Johnson
(JNJ) - Get Report
is the quintessential medicine cabinet stock. The company not only manufactures its well recognized Band-Aid brand of adhesive bandages but also is one of the largest global health care manufacturers of personal health care, medical device, medical diagnostic and pharmaceutical products.
Be careful not to confuse Johnson & Johnson with SC Johnson, a privately held household product manufacturer of brands such as Glade, Pledge and Windex. These two companies are unrelated.
>>5 Health Care Stocks Setting Up to Break Out
Johnson & Johnson has an excellent diversified portfolio of products that the company continues to add to. It has a successful history of making small, incremental and strategically smart acquisitions, which have mostly been financed through debt issuance, leaving operating cash flow to cover dividend payouts.
In addition, the company has historically boosted its dividend at a rate of 8 to 10% annually.
Johnson & Johnson, one of
, shows up on lists of
8 Stocks to Help Keep the Bear Market at Bay
and
22 Biopharma Stocks With Breakout Potential in 2012
.
Diamond Offshore
Diamond Offshore
(DO) - Get Report
is global offshore oil and gas drilling contractor specializing in deep water projects. The company has struggled along with the rest of the oil and gas services complex in the last year as the weakness in Europe has resulted in lower commodity prices and a stronger U.S. dollar. Brent crude oil is trading at
and shows no signs of rebounding anytime soon.
But Diamond Offshore is controlled by a very savvy group of investors, the Tisch family, with James Tisch in place as the company's chairman.
Loews
(L) - Get Report
owns a majority of Diamond Offshore stock.
>>5 Energy Stocks T. Boone Pickens Loves Right Now
What is interesting about Diamond Offshore is the two-tiered dividend structure that the company pays out to shareholders. The regular dividend of 12.5 cents per share per quarter, or 50 cents per share annually, has been paid since 2005, as reported by most market data sources. However, what is typically not reflected by many of these information sources is the additional special cash dividend that Diamond Offshore has paid on an annual basis since 2006. This amounted to another $3 in the past year.
When you combine both dividends, you get a yield of 5.9% and a payout of 82.7%.
Southern Copper
Southern Copper
(SCCO) - Get Report
is an Arizona-based miner of copper, zinc, molybdenum and other precious metals. Copper sales make up nearly 76% of total revenue. The company has been able to increase revenue and earnings per share every year since 2009, having felt the impact of the great recession.
For the most part, copper spot prices have trading in a range of $3 to $4 for pound, with the exception of the decline associated with the Great Recession.
What is also consistent for Southern Copper is cash flow from operations. The company doubled its cash flow in 2010 to $1.92 billion and then increased it by 8% in 2011 and is expected to increase by another 37% in 2012.
>>7 Dividend Stocks That Want to Pay You More Cash
This cash flow has been deployed into capital expenditures and the 79.1% dividend payout. If housing picks up as certain economic data points have indicated, then the demand for and price of copper may be headed back up.
Southern Copper shows up on a list of
9 High-Yield Stocks to Consider in Lieu of Bonds
.
Sysco
Sysco
(SYY) - Get Report
is a food service company that supplies prepared, fresh and frozen food as well as supplies to restaurants, hotels, medical facilities and educational institutions. (The company is often confused with
Cisco
(CSCO) - Get Report
, the technology communications equipment maker, which I addressed in my
.)
Sysco is the largest publicly owned company in the wholesale food service business. Its nearest competitor, U.S. Foods (once known as U.S. Foodservice) is now owned by private equity investors. Sysco has enjoyed a slight yet stable trajectory of earnings and revenue growth for many years.
>>20 Smaller Stocks With Growing Dividends
As a result, the large dividend payout and above-market dividend yield is subject to more certainty.
Honeywell
Honeywell
(HON) - Get Report
is a global diversified industrial company which manufactures a wide array of products for the aerospace, defense, automotive and housing industries as well as specialty chemicals and materials. While the future of defense spending in the U.S. is uncertain, we know that aerospace, automotive and housing is on the uptick. Pure chemical and materials plays like
Eastman Chemical
(EMN) - Get Report
are exhibiting growth.
Honeywell drives strong cash flow, which has resulted in annual dividend increases of about 8% to 10% on a consistent basis, with the exception of 2010, which can be attributed to the recession.
Intersections
Intersections
(INTX)
is my small-cap pick of the group and a company that you likely have not heard of. The company is engaged in the identity theft and credit management and protection solutions businesses and has a small bail bonds technology solutions product. These are certainly growing businesses as the Internet age continues to expand. Customer count now exceeds 34 million.
The company has a small amount of debt, most of which is short term and can be paid off with available cash. The stock has surged this year by over 40%. Thus, you might have a stock that is a good combination of growth and income all wrapped up in one.
To see these stocks in action, visit the
portfolio.
-- Written by Scott Rothbort in Millburn, N.J.
RELATED LINKS:
>>6 Hated Stocks to Stay Away From
>>5 Dividend Stocks Ready to Boost Payouts
>>5 Telecom Stocks Breakout Out Ahead of Earnings
Follow Stockpickr on
and become a fan on
Facebook.
At the time of publication, author had no positions in stocks mentioned.
Scott Rothbort has over 25 years of experience in the financial services industry. He is the Founder and President of LakeView Asset Management, a registered investment advisor specializing in customized separate account management for high net worth individuals. In addition, he is the founder of TheFinanceProfessor.com, an educational social networking site; and, publisher of The LakeView Restaurant & Food Chain Report. Rothbort is also a Term Professor of Finance at Seton Hall University's Stillman School of Business, where he teaches courses in finance and economics. He is the Chief Market Strategist for The Stillman School of Business and the co-supervisor of the Center for Securities Trading and Analysis.
Mr. Rothbort is a regular contributor to
TheStreet.com's RealMoney Silver
website and has frequently appeared as a professional guest on
Bloomberg Radio
,
Bloomberg Television
,
Fox Business Network
,
CNBC Television
,
TheStreet.com TV
and local television. As an expert in the field of derivatives and exchange-traded funds (ETFs), he frequently speaks at industry conferences. He is an ETF advisory board member for the Information Management Network, a global organizer of institutional finance and investment conferences. In addition, he is widely quoted in interviews in the printed press and on the internet.
Mr. Rothbort founded LakeView Asset Management in 2002. Prior to that, since 1991, he worked at Merrill Lynch, where he held a wide variety of senior-level management positions, including Business Director for the Global Equity Derivative Department, Global Director for Equity Swaps Trading and Risk Management, and Director for secured funding and collateral management for the Global Capital Markets Group and Corporate Treasury. Prior to working at Merrill Lynch, within the financial services industry, he worked for County Nat West Securities and Morgan Stanley, where he had international assignments in Tokyo, Hong Kong and London. He began his career working at Price Waterhouse from 1982 to 1984.
Mr. Rothbort received an M.B.A., majoring in Finance and International Business from the Stern School of Business, New York University, in 1992, and a B.Sc. in Economics, majoring in Accounting, from the Wharton School of Business, University of Pennsylvania, in 1982. He is also a graduate of the prestigious Stuyvesant High School in New York City. Mr. Rothbort is married to Layni Horowitz Rothbort, a real estate attorney, and together they have five children.