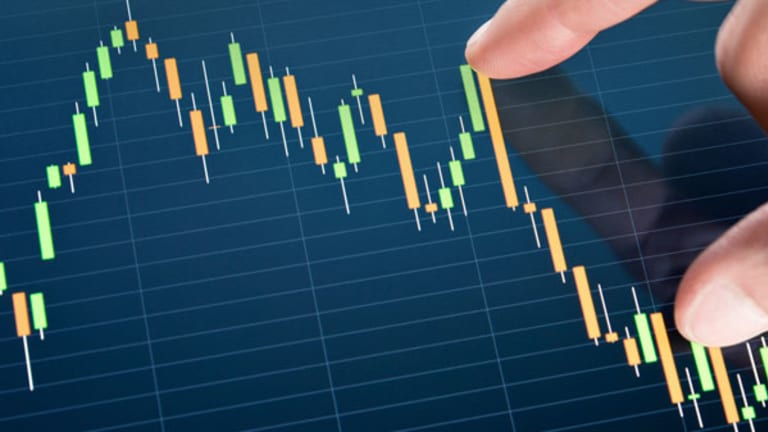 6 Core-Income Bargains
Core income holdings are looking cheap in August and the statistics suggest that the discount won't last for long.
BALTIMORE (Stockpickr) -- August may be drawing to a close, but the latest round of market tumult hasn't yet. As Wall Street ponders the implications of Ben Bernanke's Jackson Hole speech just half an hour after this morning's open, it remains to be seen just how much volatility is going to come into stocks to end the week. But there's a way to skirt that volatility, and the smart money's already piling into it.
I've talked a lot about the
discount we're seeing in stocks
in recent weeks. While fundamentals remain well out of synch with the market's pricing, there is a way to combat that disconnect: it all comes down to owning companies that are willing to share their record earnings with you. That means it all comes back to dividend stocks.
Related:
3 Stocks Increasing High-Yield Dividends
The smart money's been buying up corporate income en masse lately -- from institutional money flowing into corporate bonds instead of treasuries to Warren Buffett's recent $5 billion buy of
Bank of America's
(BAC)
6% preferreds, income has become an under-the-radar angle in this market.
Core income holdings are looking cheap in August, and the statistics suggest that the discount won't last for long.
Historically, dividend-payers have made a whole lot more money for investors than their nonpaying peers. Over the last 36 years, dividend stocks outperformed the rest of the
S&P 500
by 2.5% annually, and they outperformed nonpayers by nearly 8% every year, all while paying out cash to their shareholders, according to a study from NDR. The numbers are even more compelling when looking at companies that consistently increase their payouts.
Today,
let's take a look at six core income holdings
that are looking attractive right now.
Paychex Inc.
Payroll outsourcer
Paychex Inc.
(PAYX)
may seem like a strange choice to get defensive in this market -- after all, the company's performance is tied to the overall level of employment in the economy. But Wall Street is grossly overestimating the impact that jobs numbers have on this stock's earnings. With a 4.8% dividend yield right now, income investors should be taking advantage of this value.
True, Paychex has exposure to the jobs market, but that correlation just doesn't pan out when you look at the numbers. Revenue figures never changed dramatically when unemployment ratcheted higher -- and the company's revenues have already push above pre-recession levels despite its crisis price tag. One of the big reasons for that continued strength has been the firm's increased focus on offering other outsourced HR functions to its small and medium business clients. By generating higher revenues per customer, the company is more than offsetting any employment-related declines.
Financially, Paychex is in phenomenal health. The firm carries no debt, and consistently generates more free cash than income -- a sign that dividends are far from getting squeezed by market conditions. Jobs improvements should ultimately send sentiment higher for Paychex, and income investors should grab onto these yields while they last.
Merck
Big pharmaceutical company
Merck
(MRK)
is one of the industry's best-in-breed stocks, sporting an attractive product pipeline and reasonably limited patent expirations in the near term. While the pharmaceutical business is incredibly challenging -- with regulatory approval and luck having more to do with success than most pharma investors would like to admit -- Merck has been adept at dealing with its own operational shortcomings.
The company's 2009 acquisition of Schering-Plough filled the significant gaps in Merck's pipeline, and left the combined firm with massive cost savings that are finally being realized this year. Free cash flow generation is one of Merck's strong suits, and one of the primary reasons why the company is able to offer investors a 4.77% dividend yield right now.
This revamped pharma name is a good way to get healthcare exposure for your dividend portfolio.
AT&T
Telecom giant
AT&T
(T)
has vastly outperformed the
S&P 500
this year, posting flat performance versus significant declines in the broad market index. Still, when dividends get factored into AT&T, that gap widens substantially. With a 5.9% dividend yield, AT&T weighs in as the highest yielding
Dow
component stock on the market today. Talk about Dogs of the Dow . . . .
AT&T is the local phone company for 44 million landline users (not counting the firm's TV and internet customers), and it's also the largest cellular carrier in the United States. While top rival
Verizon
(VZ)
may have more customers than AT&T's 95.6 million, the latter's Mobility unit is wholly owned by AT&T -- UK-based
Vodafone
(VOD)
still owns almost half of Verizon Wireless. Wireless is where the cash is in telecom right now, and AT&T has been capitalizing in a big way. The firm has deeply expanded revenues per user by driving consumers to higher-margin smartphones that require data plans, and undertaken a planned acquisition of T-Mobile that should be quickly accretive to the combined entity's bottom line.
While wireless currently provides the lion's share of profits, the fixed-line business is still a very important part of AT&T's success. Recognizing this, AT&T has been building out its fixed-line offerings to business customers, a move that could potentially generate wireless-style margins in the firm's legacy business. While a T-Mobile acquisition would seriously increase the company's leverage, management has been deploying much of AT&T's free cash flow to pay down debt enough to stomach merger costs.
There's still plenty of room for AT&T's dividend payout to continue.
Intel
Tech stocks aren't generally known for their dividend payouts. But chipmaking giant
Intel
(INTC)
is bucking that trend with what amounts to a 4.3% yield right now. A big part of the transition to a high-yield payer was maturity. As Intel's corporate coffers became overrun with cash not needed for growth, management was finally able to allocate a chunk of that cash for shareholders. Selling pressure in 2011 hasn't hurt yields either; shares of Intel have slid more than 7.6% so far this year.
Intel is the standard bearer in the $30 billion processor business. While competition has always been fierce among chipmakers, it seems to have slowed somewhat as Intel's edge over main peer
Advanced Micro Devices
(AMD)
widened. Challenges from
ARM Holdings
(ARMH)
have been a bit more concerning - particularly in the high-growth mobile device market that Intel desperately wants to dominate.
For now, Intel controls around 80% of the processor market -- a position that leaves the firm with enough capital wherewithal to fuel R&D and acquisitions as needed to stay a step ahead of its rivals. A net cash balance sheet position and substantially income-generation abilities should keep Intel's payouts flowing for the foreseeable future; a P/E of just 8.9 shows how cheap this stock has become in August.
Petrobras
It's hard to talk about dividends without bringing up the companies that extract commodities. The commodity world has gone through significant volatility of its own lately, but by and large most hard commodities have seen their prices on the upswing long-term. For firms like
Petrobras
(PBR)
those higher prices are a welcome change, even if oil prices have gotten knocked lower in the shorter-term.
Petrobras is a Brazilian integrated energy company that produces oil and gas in offshore fields. Like other offshore energy producers, Petrobras cuts out the middleman in its business -- the company controls every step of the production process, from exploration to refining, and every step in between. That business model has contributed to net margins that rang in at more than 20% in the company's latest quarter.
A 4.58% dividend yield makes this an attractive core holding for income investors seeking commodity and international diversification right now . . . .
Bemis
Packaging manufacturer
Bemis
(BMS)
is another unique name for this week's list. While a packaging firm sounds like a cyclical risk that's beholden to swings in consumer spending, that's really not the case. The mid-cap firm makes packaging materials used primarily to protect food and medical instruments -- two incredibly recession resistant businesses. At the same time, massive international exposure means that Bemis' revenue are at least partly diversified away from domestic economic issues and the dollar.
Because Bemis is one of the leading packaging firms in the world, it's able to wield some pricing power over its customers, a necessary tool to have in a rising input cost environment. Dividends are where this company shines -- while its yield may not be as high as some of the other names on this list, it's been increased annually for nearly three decades. That's something that most other names can't boast.
Income investors looking for basic materials sector exposure should give this 3.28% payer a second look.
To see these dividend plays in action, check out the
Dividend Stocks for the Week portfolio
on Stockpickr.


And if you haven't already done so,
today to create your own dividend portfolio. 


RELATED LINKS:
>>5 Shorted Bank Stocks Set to Climb
>>Will Silver Benefit From Rising Gold Margins?
>>2 Pair Trades for Big Swings in the Market
Follow Stockpickr on
and become a fan on
Facebook.
At the time of publication, author had no positions in stocks mentioned.
-- Written by Jonas Elmerraji in Baltimore.
Jonas Elmerraji, based out of Baltimore, is the editor and portfolio manager of the Rhino Stock Report, a free investment advisory that returned 15% in 2008. He is a contributor to numerous financial outlets, including
Forbes
and
Investopedia
, and has been featured in
Investor's Business Daily
, in
Consumer's Digest
and on
MSNBC.com.
Jonas Elmerraji is the editor and portfolio manager of the
Rhino Stock Report
, a free investment advisory that returned 15% in 2008. He is a contributor to numerous financial outlets, including
Forbes
and
Investopedia
, and has been featured in
Investor's Business Daily
, in
Consumer's Digest
and on
MSNBC.com
.