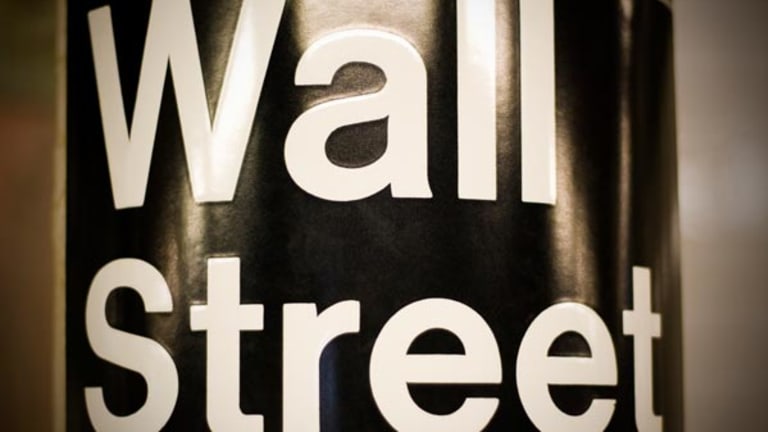 Publish date:
5 Worst-Performing S&P 500 Stocks of 2011
Some of last year's leaders have turned into laggards.
Some of last year's leaders have turned into laggards.
BOSTON (TheStreet) -- The S&P 500 Index is rising for the third year in a row, increasing 7% so far in 2011. The best performers are National Semiconductor (NSM) , Biogen Idec (BIIB) - Get Report and H&R Block (HRB) - Get Report. But not all of the benchmark index's components have fared well. The following five companies have the worst-performing stocks this year. At least two 2010 leaders have turned into laggards. Opportunistic buyers should take a look at these equities as several have fallen to attractive discounts. Here's a closer look at the stocks.
5.
F5 Networks
(FFIV) - Get Report
designs software that optimizes network-based applications.
Part of the cloud-computing movement, F5 has been one of the fastest-growing companies and best-performing stocks during the recovery. It has increased sales and net income 20% and 42%, annually, on average, since 2008 as its stock produced an annualized gain of 70%. It surged 145% in 2010, but has dropped 19% in 2011.
Fiscal second-quarter adjusted earnings advanced 66% to 87 cents, beating analysts' consensus estimate by 1.9%, sending F5 shares up 7.2% in reaction. Sales met expectations. The gross margin widened from 83% to 84% and the operating margin jumped from 24% to 30%, amplifying the bottom line. F5 has $475 million of cash and no debt, for a quick ratio of 1.8. Investors, recognizing solid fundamentals, have bid the stock up to a premium multiple.
F5 trades at a trailing earnings multiple of 44, a forward earnings multiple of 25, a book value multiple of 7.8 and a cash flow multiple of 25, significant mark-ups to peer and market averages. However, its PEG ratio, which discounts growth expectations, at 0.5 indicates that F5 has fallen to bargain territory, selling for a 50% discount to estimated fair value. Of analysts following F5, 56% advise purchasing its stock, which has a median target of $128, suggesting solid upside.
4.
Hudson City Bancorp
(HCBK)
offers retail banking services in New Jersey and New York.
Hudson's stock has stumbled in 2011, falling 25% so far. It dropped 7.2% in 2010. Hudson's adjusted first-quarter earnings decreased 37% to 19 cents, but beat the consensus forecast by 8%. On a GAAP basis, Hudson suffered a loss of $556 million, or $1.13 a share, due to a balance sheet restructuring.
Although the deleveraging is a long-run positive, it dampened the quarterly report. Furthermore, the Board cut the dividend from 15 cents to eight cents. Since these negatives are now behind the company, putting its business
and stock on a more a sustainable upward trajectory, Hudson is attractive. Its current eight cent quarterly distribution still translates to a 3.3% dividend yield. And, the stock is cheap.
It trades at a forward earnings multiple of less than 11, a book value multiple of 1.1 and a sales multiple of 1.7, 62%, 9% and 44% industry discounts. Analysts are notably pessimistic, with just one rating the stock "buy," 16 rating it "hold" and three ranking it "sell." Financial-sector focused
KBW
has a "market perform" rating on the stock, but values it at $11. Researchers forecast a 35% dip in Hudson's second-quarter earnings.
3.
Tellabs
(TLAB)
is a communications-equipment maker, building access products for broadband and offering network consulting services.
Tellabs' trailing 12-month sales have grown 7.6% and its net income has increased 37%. However, it swung to a first-quarter adjusted loss of three cents a share, missing the consensus forecast, albeit marginally. Sales dropped 15%, also missing the consensus, sending Tellabs' shares down 9% in reaction.
Tellabs is pouring money into mobile internet research and development, boosting investment 16% in the first quarter, now equivalent to an eye-catching 25% of sales. While management is taking aggressive action, such action indicates that the current product portfolio is waning in relevance, hurting sentiment for the stock, which has fallen to a 52-week low. Of the 23 analysts covering Tellabs, just one rates its stock "buy."
Tellabs ranks as one of the worst-rated stocks in the S&P 500. It is notably cheap, selling for a book value multiple of 1.1, a sales multiple of 1.2 and a cash flow multiple of 6.9, 67%, 68% and 59% peer discounts. But, value is no guarantee of performance. Analysts forecast a second-quarter adjusted loss of two cents a share and a 19% drop in sales, presenting further risk to the share price.
Goldman Sachs
cut its price target on Tellabs to $5.20 yesterday, sending shares down.
2.
Monster Worldwide
(MWW)
provides online employment solutions, running job-posting Web sites in North America, Europe and Asia.
Hurt by the recession, Monster's net sales have dropped 11%, annualized, since 2008 as its stock delivered an annualized decline of 8.9%. Despite evidence of an improving job market, Monster has continued to struggle. It posted GAAP losses for the first three quarters of 2010, but broke even in the fourth. Monster reported its first-quarter earnings, yesterday, shortly after the market's close.
Analysts have a generally favorable view of Monster, which garners eight "buy" calls, five "hold" recommendations and three "sell" ratings. The stock isn't cheap, despite underperformance, costing a forward earnings multiple of 23, a book value multiple of 1.9, a sales multiple of 2.3 and a cash flow multiple of 23 -- peer-group discounts, but sizable premiums to S&P 500 averages. Monster has a beta value of 2.1, tending to double the market's movements.
1.
AIG
(AIG) - Get Report
, still majority owned by the U.S. government, has suffered a stock-price drop of 44% in 2011 after having rallied 47% in the fourth quarter of 2010. AIG is down 19% in the past 12-months.
The abnormal volatility is a reflection of both operating performance and speculators' interest in the stock. AIG swung to a fourth-quarter loss of $16.20 a share, but actually outperformed the consensus estimate.
Despite the bottom-line beat, AIG's stock tumbled 4.7% after the release, even as sales grew 18%. AIG tried to repurchase high-yielding Maiden Lane II assets, now belonging to the Federal Reserve Bank of New York, for a bit less than $16 billion. Investors were encouraged by the move, deemed a step towards independence. When the offer was rejected by the Fed, AIG's stock sold off. The company is scheduled to report its quarterly results on May 5.
Researchers forecast that AIG will post an adjusted profit of 12 cents, a significant drop from the $1.21 of profit reported for the year-earlier period. AIG is still in the process of whittling down operations, paying off debt and refining its business model. Investors, impatient with the turnaround lag, have apparently lost interest in 2011. Costing a free-cash-flow multiple of just 0.3, AIG's stock is exceptionally cheap.
5 Worst-Performing S&P 500 Stocks Portfolio
-- Written by Jake Lynch in Boston.
RELATED STORIES:
10 Best-Performing S&P 500 Stocks of 2011
Become a fan of TheStreet on Facebook.
Disclosure: TheStreet's editorial policy prohibits staff editors, reporters and analysts from holding positions in any individual stocks.