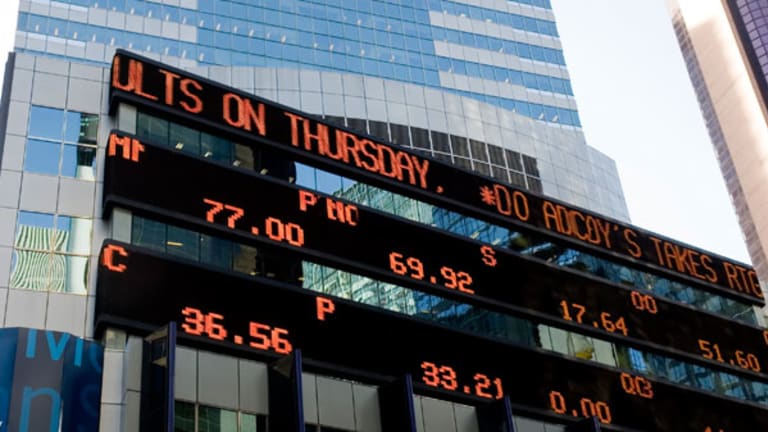 5 Value Stocks in an Expensive Market
Finding bargains in this market can be a challenge, but these stocks are still attractively priced.
MINNEAPOLIS (Stockpickr) -- Market participants like to try to explain directional moves in stocks. Whether up or down, there always seems to be a reason for the move. Often the reason is simply encapsulated in a major headline.
For example, strong economic numbers such as employment data are often given as a reason for stocks moving higher. Or when stocks move lower, some fear-based event, such as higher inflation or a terror event or some other crisis, is usually given to explain the move.
In my opinion, sensational headlines miss the mark in explaining a stock's move. The main reason a stock moves up or down is related to its valuation and often has nothing to do outside events. But for some reason, valuation is usually far down on the list explaining stock moves.
Related:
5 Trades to Beat the Market This Week
In the current market, I am finding it more and more difficult to identify stocks that I deem to be cheap and therefore attractive to buy. That has everything to do with valuation and nothing to do with headlines.
As a trained fundamental stock analyst, I let the numbers tell me the story. For now, many stocks in my universe trade for high multiples of earnings, sales and book value. Compare those values with expected earnings and revenue growth rates and the story is a bit sobering.
Despite the challenges of finding bargains in this market, there are always individual stories that can be exploited by astute value investors. They may be more difficult to find, but they are out there. Here are
five stocks that I think are still attractively priced
.
Apple
What more does
Apple
(AAPL) - Get Apple Inc. (AAPL) Report
need to do to please investors? This company is printing profits, yet its stock moves sideways. Apple's most recent earnings report had little effect on its market value.
Prior to releasing its results on April 20 for the first quarter of 2011, Apple traded for $337 per share. Within a day or two of the news, Apple traded as high as $355 per share. Thereafter, the stock has drifted lower.
Does that make any sense for a stock that trounced earnings by $1.03 per share? In fact, this is the second consecutive quarter in which the stock has beat estimates by more than a dollar per share. Think about the enormity of that beat as you consider the nearly 1 billion shares Apple has outstanding.
The reward for such outstanding performance is a stock that has barely budged since the start of the year. From a valuation standpoint, Apple is cheap by any measure. Analysts expect the company to make $24.60 per share for the 2011 year ending Sept. 30. That number jumps by 16% to $28.45 in the following year.
You can buy that solid double-digit growth for 14 times the 2011 estimates. Given the company's ability to beat estimates by such a wide margin it is likely that the valuation is even more attractive. Don't be fooled by the naysayers that claim Apple's ride is over. It is far from over for this value stock.
Apple, one of TheStreet Ratings'
top-rated computer hardware stocks
, shows up on recent lists of
and
5 Tech Stocks That Are Wall Street Darlings Again
.
Fuel-Tech
Some of the most compelling value and growth opportunities can be found in the
. That makes sense, because smaller, emerging companies are expanding rapidly, with some serving very large markets. The profit growth can be huge in these situations as the market reacts nervously to such large-percentage moves in profits.
One such emerging growth story is
Fuel-Tech
(FTEK) - Get Fuel Tech, Inc. Report
. The air pollution treatment and control company is expanding its business quickly, thanks to growth in China. In addition, concern over other fuel sources including nuclear power allows abundant coal to be king of the market. The ground is fertile for Fuel-Tech, and it is showing in its earnings results.
The company recently reported results for the first quarter than beat estimates by 3 cents per share. That may not sound like much, but it was more than double the 2 cents per share analyst expectation for earnings. Shares of Fuel-Tech moved higher on the news, but the stock is still cheap relative to expected growth.
Analysts expect the company to make 24 cents per share for the 2011 year and 41 cents per share in the following year. That represents year-over-year growth of 70% -- and where is the stock valued? You can buy that impressive growth for just 33 times 2011 estimates and 20 times 2012 estimates.
Given recent operating performance, the likelihood of even more impressive growth is high, making this value stock even more attractive.
First Solar
One alternative source of energy that will shine over the next few years is solar. Stocks in the group are likely to benefit from climbing crude oil prices. The transition to solar will put the wind at the backs of solar stocks as profits soar. With stocks relatively cheap given expected growth, owning a solar stock makes sense for value investors.
One of the names to consider is solar giant
First Solar
(FSLR) - Get First Solar, Inc. Report
. This $11 billion market cap company manufacturers and sells solar panels across the globe. Wild gyrations in currency fluctuations have upset the apple cart a bit with respect to First Solar profits, but such moves cannot diminish the future potential of the opportunity in solar.
Case in point is First Solar's operating results for the first quarter. A big beat on the profit number was offset by tepid guidance for the future. Weak revenue numbers also helped to push investors to the sell side on First Solar. That selling creates a buying opportunity.
Analysts expect First Solar to make $9.41 per share in the current year and $10.62 per share in 2012. You can buy that 13% growth for 13 times 2011 earnings estimates. If oil prices stay above $100 per share, you can rest assured that future First Solar revenue will be higher than expected.
First Solar, which is a new position in the
as of the most recently reported period, shows up on recent lists of
3 Alternative Energy Stocks Set for Rebounds
and
5 Energy Stocks That Goldman Sachs Loves
.
Delta Airlines
In the case of the airline industry, it is the headlines that are indeed the root cause of selling in the group. Over the four or five months of rising oil prices, these stocks lost value across the board. The only thing stopping the selling momentum is strong operating numbers that suggest that headline fears are much overdone.
Delta Airlines
(DAL) - Get Delta Air Lines, Inc. Report
reported its first-quarter results and in the subsequent week or so of trading shares appreciated by more than 20%. Granted, during that time oil prices sold off precipitously, but it was helpful to know that the company still expected to make money despite higher oil prices.
Analysts expect Delta to make $1.28 per share in the current year and $1.96 per share in 2012. More than 50% growth at a time of high oil prices ought to be viewed impressively. From a value perspective, shares of Delta are cheap especially with such a strong expected growth rate.
At the current price of just under $11 per share, Delta trades for only 8 times 2011 estimates and 6 times 2012 estimates. Buying strong growth at Delta for less than 10 times earnings is frankly a steal. In this instance, investors can take advantage of traders being overly influenced by the headlines.
Delta, which received a big bullish bet from
in the most recent quarter with a newly initiated 15.9 million-share position, showed up on a list last month of
3 Airline Stocks That Could Double
, and I highlighted it recently in "
Oil's Impact on 5 Transport Stocks
."
Tesoro Petroleum
The oil refiners are enjoying strong operating conditions that are fueling profit generation and growth. One would assume with all the selling in the airline sector attributable to oil price inflation, the opposite would be true for oil refiners. These stocks should be roaring higher, right?
That is not the case. For example, shares of
Tesoro Petroleum
(TSO)
are down more than 15% since peaking at $28.13 per share last month. Although the stock is still up nicely since the start of the year -- it was highlighted recently on a list of the
10 Best-Performing S&P 500 Stocks of 2011
-- the selling in Tesoro Petroleum appears to have little to do with its ability to make a profit.
Last week the company reported results that beat estimates by 4 cents per share. In the first quarter, Tesoro made a profit of 70 per share. That puts the company well on track to make the current analyst estimate for 2011 of $2.90 per share.
At current prices the stock trades for just 8 times that number. That is pretty cheap, especially if oil prices continue to move higher. I would use the recent selling of the stock as a buying opportunity.
One big bullish bet on Tesoro comes from
David Dreman's Dreman Value Management
, which reported a 1.6 million-share position in the stock as of the most recent period. That said, Tesoro shows up on a recent list of
Commodity Stocks to Be Wary Of
.
To see these stocks in action, check out the
5 Value Stocks in an Expensive Market
portfolio.
-- Written by Jamie Dlugosch in Minneapolis.
RELATED LINKS:
>>Big-Name Stocks to Trade for Gains
>>5 Trades to Beat the Market This Week
>>5 Stocks Setting Up to Break Out
Follow Stockpickr on
and become a fan on
Facebook.
At the time of publication, author had no positions in stocks mentioned. Jamie Dlugosch is a founder and contributor to
MainStreet Investor
and
MainStreet Accredited Investor
. Formerly, he was president and CEO of Al Frank Asset Management. He has contributed editorially to
The Rational Investor
,
The Prudent Speculator
,
Penny Stock Winners
and
InvestorPlace Media
.