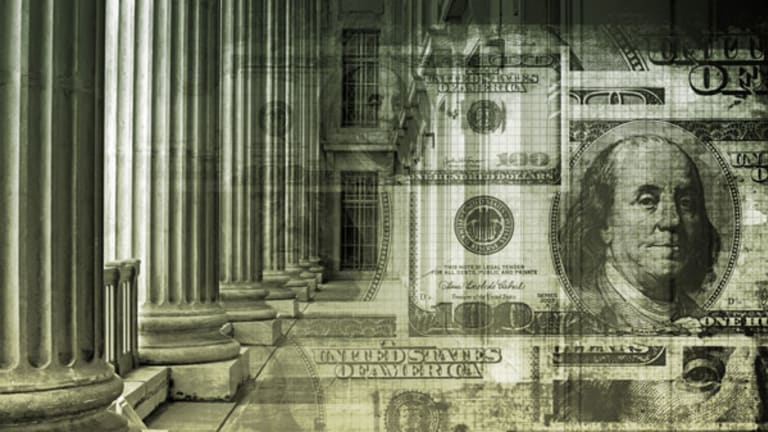 5 Unknown Investments With Dividends of Up to 11%
That's at least four times the Treasury yield with almost as much safety.
NEW YORK (TheStreet) -- If you're hungry for more yield, why settle for only a quarterly dividend payment? Investors would be wise to consider investing in stocks and funds that offer monthly dividends.
Most stocks paying monthly dividends are tied to the oil and gas industry or are part of a closed-end fund that invests in debt securities. They can also be linked to real estate investment trusts, or REITs. These monthly payments are generated from corporate profits or the interest payments on the underlying bonds.
Such an investment can be a good option for income-seeking investors because not only do you receive the payment more often, there is usually less volatility related to these stocks versus quarterly-paying dividend stocks.
The most attractive feature of the monthly dividend stock, though, is the faster compounding of the payment.
Monthly dividend payments have been used to help supplement income during retirement, but also to help offset high-risk investments. Regardless, dividend-paying stocks can really help boost your portfolio. Yields on many of these stocks are at least 8%, more than four times better than what the 10-year U.S. Treasury is currently offering.
There are hundreds of monthly dividend-paying stocks out there, so we had to narrow the field. The
are all U.S.-based, have market values of at least $500 million and aren't involved in the real-estate market.
5.
Fifth Street Finance Corp.
undefined
Company Description:
Fifth Street Finance offers financing and invests in small to medium-sized businesses in connection with investments by private-equity sponsors.
Dividend Yield:
11.2%
Loan demand rebounded recently and credit markets have eased a bit since the fall, indicating that Fifth Street will be more active in financing and investing in businesses. This year is also set to be a solid year for M&A, especially given the amount of cash private-equity companies have on hand. This should also benefit the company.
4.
GAMCO Global Gold, Natural Resources & Income Trust
(GGN) - Get GAMCO Global Gold Natural Resources & Income Trust Report
Company Description:
The fund invests gold and natural resources stocks. It also earns income from a strategy of writing covered call options on the stocks in the portfolio.
Dividend Yield:
10.2%
The fund offers an option to reinvest dividends at below-market prices when the stock trades at a premium to net asset value, or NAV, which allows investors to realize even better returns.
3.
Wells Fargo Advantage Income Opportunities Fund
(EAD) - Get Wells Fargo Income Opportunities Fund Report
Company Description:
The fund invests in utility, financial, telecommunication, industrial, consumer staple and materials companies. The fund also has the option to invest in term loans.
Dividend Yield:
9.5%
Typically, this fund invests at least 80% of the portfolio in high-yield bonds and preferred stock. Over the past few years, the quality of high-yield corporate securities has improved significantly as those companies were forced to improve operating efficiencies and maintain cash on the balance sheet, making them less likely to default on their debt obligations. As a result, some junk-rated debt can be a very attractive investment opportunity.
2.
Enduro Royalty Trust
(NDRO)
Company Description:
The trust receives 80% of the profits from oil and natural gas production on certain properties in the states of Texas, Louisiana and New Mexico.
Dividend Yield:
8.8%
Goldman Sachs rates Enduro a "buy" because it believes there is upside to resource estimates for the company's energy assets. The bank also sees it as an investor-friendly investment option. Overall oil demand is expected to remain strong as the global economy continues to grow, thus making the underlying assets of the trust a solid investment.
1.
Eaton Vance Limited Duration Income Fund
(EVV) - Get Eaton Vance Limited Duration Income Fund Report
Company Description:
The fund invests in non-investment grade bonds, investment-grade bonds, U.S. senior loans, government agency mortgage-backed securities and commercial mortgage-backed securities.
Dividend Yield:
8%
With 32% of the fund invested in high-yield or non-investment grade securities and another 27% in domestic senior loans, there is a good mix of income in the current environment to offset any concerns about the fund's MBS investments. Additionally, this fund has had superior total returns versus the market. Last year the fund's total return was about 3%, compared to a 2% return on the
S&P 500
when including dividends.
>>To see these stocks in action, visit the
5 Unknown Investments With Dividends of Up to 11%
portfolio on Stockpickr.
>To contact the writer of this article, click here:
.
>To follow Lindsey Bell on Twitter, go to
http://twitter.com/lindseycbell
.
>To submit a news tip, send an email to:
.