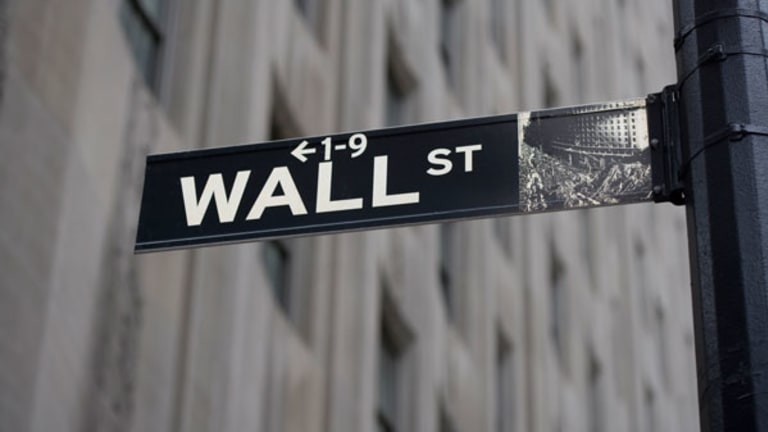 5 Trades Getting Ready to Pop This Week
As stocks signal another push higher, we're taking a technical look at five trades that look ready to pop this week.
BALTIMORE (
) -- Cyprus is leading another morning of headlines today, and it's not for the vacation deals at the Mediterranean island nation. Instead, it's the surprising precedent set in Cyprus that's got Mr. Market's mouth agape.
The country's 10 billion euro bailout deal includes a provision to seize a portion of wealthier savers' deposits at Cypriot banks, a move that's injecting some concern into the eurozone nations that have been teetering on the edge of slipping into crisis mode again. But for now, it's more important that the fire in Cyprus has been put out quickly -- never mind the fact that it was snuffed out with a mattress stuffed with cash.
>>5 Stocks Set to Soar on Bullish Earnings
So this morning, as stocks signal another push higher, we're taking a technical look at five trades that look ready to pop this week.
For the unfamiliar,
is a way for investors to quantify qualitative factors, such as investor psychology, based on a stock's price action and trends. Once the domain of cloistered trading teams on Wall Street, technicals can help top traders make consistently profitable trades and can aid fundamental investors in better planning their stock execution.
So, without further ado, let's take a look at
worth trading now.
Sanofi
Up first is
Sanofi
(SNY) - Get Free Report
, the $132 billion French pharmaceutical firm. You don't need to be an expert technical analyst to figure out what's been going on in Sanofi. A quick glimpse at this stock's chart will do.
SNY is currently forming an uptrending channel, a trading range that's bounded by a trend line resistance and trend line support level. Those support and resistance levels give us a high probability range for Sanofi's stock to trade within. And as you might expect, the ideal time to be a buyer is on a bounce off of support.
>>5 Huge Stocks to Trade for Gains
When you're looking to buy a stock within a trend channel, buying
after
a bounce off of support makes sense for two big reasons: It's the spot where shares have the furthest to move up before they hit resistance, and it's the spot where the risk is the least (because shares have the least room to move lower before you know you're wrong). If you decide to buy here, I'd recommend keeping a
at the
; it's been a good proxy for support.
Comcast
Cable TV stock
Comcast
(CMCSA) - Get Free Report
is another name that's looking bullish in March. Like Sanofi, Comcast has seen its shares rally higher in an uptrending channel for the better part of the last year, but more recently it's an ascending triangle pattern in shares that's signaling a buy for this stock.
The ascending triangle is a pattern that's formed by a horizontal resistance level to the upside and uptrending support below shares. Basically, as CMCSA bounces in between those two technically-significant price levels, it's getting squeezed closer and closer to a breakout above resistance at $41.75. When that happens, we've got a buy signal for shares.
>>Less-Volatile Stocks for a Volatile World
Shares are extremely close to pushing through resistance right now, indicating that traders had better be keeping a close eye on this entertainment stock this week. Look for confirmation before piling into shares.
Visa
A breakout in shares of
Visa
(V) - Get Free Report
is sparking a buy signal for the world's incumbent payment network. Visa broke its uptrend back in mid-February, sending a red flag for traders who've been enjoying the 22% rally shares have made in the last six months. But instead of breaking down, Visa consolidated sideways in a pattern called a rectangle.
>> Must-Own Dividend Stocks for 2013
A rectangle pattern is basically a trend channel (like the one in Sanofi) turned horizontally; it's formed by a horizontal resistance level above shares and a horizontal support level below them. Rectangles are common after large market moves because they give investors a chance to catch their breath before deciding whether to continue building their position or take gains. Yesterday's
means that Visa shareholders have opted to do the latter.
The push above resistance in Visa is a buy signal. If you're looking to put in a position in V, today's a good day to be a buyer. The 50-day moving average has been a stellar proxy for support for the last six months, so unless you're buying Visa here for fundamental reasons, the 50-day is the ideal place to put a protective stop.
MasterCard
It shouldn't come as a huge surprise that we're seeing almost the exact same setup in
MasterCard
(MA) - Get Free Report
right now. Like Visa, MasterCard operates in the payments industry, so correlations between the two stocks tend to be very high. The key difference in MA is that shares haven't yet broken out. That gives traders in MA a chance to be earlier on the move if Visa's top rival follows its lead.
Resistance at $532 is the price level to watch in MA. If shares break out above that $532 level, we've got a buy signal for shares.
Whenever you're looking at any technical price pattern, it's critical to think in terms of buyers and sellers. Triangles, rectangles, and other pattern names are a good quick way to explain what's going on in this stock, but they're not the reason it's tradable. Instead, it all comes down to supply and demand for shares.
That resistance line at $532 is a price where there's an excess of supply of shares; in other words, it's a place where sellers have been more eager to take recent gains and sell their shares than buyers have been to buy. That's what makes the breakout above it so significant -- a breakout indicates that buyers are finally strong enough to absorb all of the excess supply above that price level. That's when you want to own shares.
JPMorgan Chase
The sole negative setup today comes from shares of banking giant
JPMorgan Chase
(JPM) - Get Free Report
. JPMorgan has been rallying alongside the rest of the financial sector for the last year and change, pushing to new 52-week highs as recently as early March. But now, JPM is starting to look "toppy" thanks to the early stages of a head and shoulders pattern forming in shares.
The head and shoulders is a price pattern that indicates exhaustion among buyers. The pattern is formed by two swing highs that top out around the same level (the shoulders), separated by a bigger peak called the head; the sell signal comes on the breakdown below the pattern's "neckline" level, which is right below $47. While the size of the pattern indicates that it's likely to be more of a correction than an outright bloodbath in JPM's shares, it's definitely worth heeding for investors who've been considering buying into this stock's recent rally.
adds some extra confirmation to the downside setup in shares of JPM -- 14-day RSI saw its uptrend get broken back in early February, when the left shoulder started forming. Since momentum is a leading indicator of price, that doesn't bode well for shares. Still, I'd only recommend actively betting against shares if we see the breakdown below $47 happen. Otherwise, a move above $51 cancels out the bearish potential in JPM.
To see this week's trades in action, check out the
Technical Setups for the Week portfolio
on Stockpickr.
-- Written by Jonas Elmerraji in Baltimore.
RELATED LINKS:
>>5 Rocket Stocks to Buy as Stocks Bounce
>>5 Must-Own Dividend Stocsk for 2013
>>5 Stocks Under $10 Triggering Breakouts
Follow Stockpickr on
and become a fan on
Facebook.
At the time of publication, author had no positions in stocks mentioned. Jonas Elmerraji, CMT, is a senior market analyst at Agora Financial in Baltimore and a contributor to
TheStreet
. Before that, he managed a portfolio of stocks for an investment advisory returned 15% in 2008. He has been featured in
Forbes
,
Investor's Business Daily
, and on
CNBC.com.
Jonas holds a degree in financial economics from UMBC and the Chartered Market Technician designation.