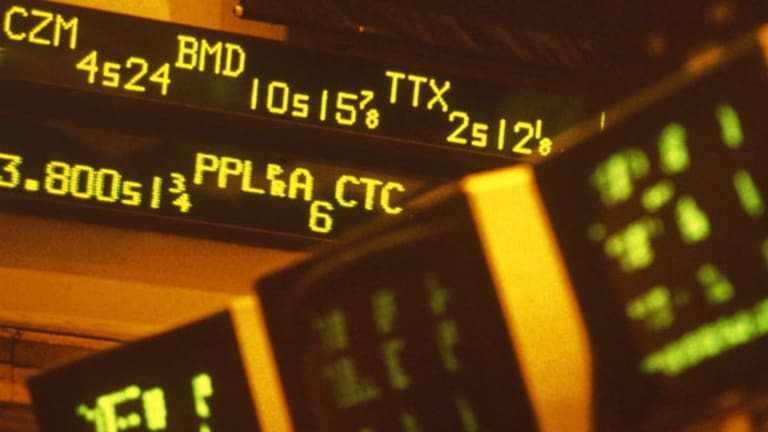 5 Toxic Tech Stocks to Sell or Avoid
From a technical analysis standpoint, these stocks are some of the worst-positioned tech names out there in the near-term.
BALTIMORE (Stockpickr) -- As the broad market continues correcting, so too is the tech sector. But some names are doing a bit more than correcting. In fact, they're looking downright toxic right now.
The tech sector has been a bastion of safety since late 2011. Technology has been one space where fundamentals have handily outperformed Wall Street analysts' expectations, and as a result, some of the most notable examples of big names that have churned out huge gains this year;
Apple
(AAPL) - Get Report
and
Zillow
(Z) - Get Report
are a couple of conspicuous examples.
>>5 Stocks Set to Soar Off Bullish Earnings
But not all tech stocks are showing that kind of momentum right now. That's why we're taking a technical look at
that could be toxic to your portfolio this month.
To be fair, the companies I'm talking about today aren't exactly "junk."
I mean, they're not next up in line at bankruptcy court -- and in fact, I even like a couple of this week's names fundamentally. But that's frankly irrelevant; from a technical analysis standpoint, they're some of the worst-positioned tech names out there in the near-term. For that reason, fundamental investors need to decide how long they're willing to take the pain if they want to hold onto these firms this Fall. And for investors looking to buy one of these positions, it makes sense to wait for more favorable technical conditions (and a lower share price) before piling in.
>>5 Stocks Poised for Breakouts
For the unfamiliar,
is a way for investors to quantify qualitative factors, such as investor psychology, based on a stock's price action and trends. Once the domain of cloistered trading teams on Wall Street, technicals can help top traders make consistently profitable trades and can aid fundamental investors in better planning their stock execution.
So, without further ado, let's take a look at
you should be unloading in October.  
Oracle
First up is
Oracle
(ORCL) - Get Report
, the $150 billion enterprise software firm. In fairness, Oracle has been a high-performing name to-date in 2012, rallying more that 21.5% since the first trading day in January. But this stock has been looking more and more bearish as Mr. Market has corrected in the last month.
Now a technical price setup provides a more complete picture of what to do with ORCL shares.
>>10 Stock Picks of the Highest-Rated Money Mangers
That's because Oracle is forming a head and shoulders top right now. The head and shoulders is probably one of the most followed technical patterns out there. It's formed by three swing highs in a stock: two that top out at approximately the same level (the shoulders), separated by a middle peak that's higher than the others (the head). The neckline acts like a sort of "price floor" for the bottom of the pattern; when it's broken, investors have a sell signal.
Lest you think that the head and shoulders is too well known to be worth trading, the research suggests otherwise: a recent academic study conducted by the
Federal Reserve Board of New York
found that the results of 10,000 computer-simulated head-and-shoulders trades resulted in "profits
that would have been both statistically and economically significant."
Shareholders get a reprieve if ORCL exits this pattern to the upside.
For another take on Oracle, it shows up on lists of
3 Sleeping Giants Ready to Bounce Higher
and
5 Stocks Pointing to the Right Place and the Right Time
. I also featured it in "
."
Qualcomm
The exact same setup is shaping up in shares of
Qualcomm
(QCOM) - Get Report
right now.
This $104 billion mobile device chipmaker hasn't enjoyed the same bullish run that Oracle has, but it is looking "toppy" nonetheless right now. This stock's right shoulder still has some time to form before this pattern is considered complete from a textbook standpoint, but that shouldn't stop sellers and shorts from piling in if the $61 neckline gets broken.
>>4 Tech Stocks to Trade (or Not)
adds some extra confirmation to this setup. Our go-to momentum indicator, 14-day RSI, had been in an uptrend since all the way back in late May, but the uptrend broke late last month. Since then, RSI has made lower highs, indicating the start of a new downtrend. Since momentum is a leading indicator of price, that's an important signal to watch.
For another take on Qualcomm, it shows up on recent lists of
4 Chip Stock Apple Fans Should Love
and
5 Stocks to Store Away for 5 Years
.
Nokia
From one cellular phone stock to another:
Nokia
(NOK) - Get Report
. Nokia has seen better days lately. Shares of the $10 billion firm have dropped like a rock in 2012, sliding 44.4% year-to-date as the firm's share of the phone market got eaten up along with its profitability. And now, a bearish setup in shares indicates that this stock's relief rally may be coming to an end.
>>8 Big Tech Stocks Leading the Market
That's because Nokia is currently forming a descending triangle pattern, a setup that's formed by horizontal support to the downside and downtrending resistance to the upside. Essentially, as NOK bounces in between those two technical levels, it's getting squeezed closer and closer to a breakdown below that support level at $2.40. When it does, traders have their signal to short this stock.
I think it's valuable to think about what this pattern means in real-terms. After all, NOK's drop has nothing to do with triangles or any other geometric shape. Instead, it's all about what's going on with buyers and sellers. Support at $2.40 is a price where Nokia has historically been able to catch a bid it's a price below which there's a glut of demand for shares. But the downtrending resistance level in shares indicates that sellers have control of NOK at higher levels. For that reason, a break below support means that those increasingly eager sellers have absorbed the buyers at $2.40.
When buyers are on the defensive, it's not a good time to be a shareholder.
Hewlett-Packard
Hewlett-Packard
(HPQ) - Get Report
is another name that can't seem to do anything right lately. While value investors may find it tempting to buy when stocks get cheap, buying the dips in HP has been hazardous to investors' health this year. Shares of the computer giant are down a staggering 43% in 2012, and the stock hasn't shown any technical signs of a reversal yet.
>>3 Tech Stocks Hedge Funds Are Buying
HP has been locked in a downtrending channel for the better part of the year, bouncing in between a trendline support level to the downside and trend line resistance to the upside. Those two parallel lines have provided traders with a decent "high-probability range" for HPQ, giving short sellers good opportunities to sell the stock right at resistance.
So even though this stock seems to be catching support right now, investors shouldn't view any sort of bounce as a buying opportunity. If anything, it's a chance to sell off your shares at a better price than you're likely to get later. Until this stock pushes through trend line resistance, I'd recommend staying well away from Hewlett-Packard's long side.
For another take on HP, it shows up on a list of
5 Stocks to Store Away for 5 Years
. I also featured it in "
."
Salesforce.com
Last up on our tour of toxic technology stocks is
Salesforce.com
(CRM) - Get Report
. Salesforce is another name that's provided some pretty impressive gains for investors for most of 2012, but looks a whole lot less attractive in the short-term. While that doesn't mean that you should unload your CRM holdings right away, it may be worth considering for a short trade if the pattern breaks down.
CRM is currently forming a double top, a pattern that's formed by two swing highs that come in at approximately the same level. For Salesforce, that resistance level is right at $160, a price that's been a challenge for the firm for the entire year. Put simply, after a 51% rally in shares this year, sellers are more eager to sell and take gains at $160 than buyers are to keep buying. That sets the stage for a top in the stock.
The sell signal (or the short signal, if you're so inclined) comes on a breakdown below $150 -- that's the support level that separates the two tops in CRM. If you decide to take a short trade here, I'd recommend keeping a tight protective stop; with the broad market finding an important support level of its own, the correlations in the
S&P 500
could help awaken buyers in the next few weeks.
Salesforce also shows up on a list of
8 Big Technology Stocks Leading the Market
.
To see this week's trades in action, check out the
Technical Setups for the Week portfolio
on Stockpickr.
-- Written by Jonas Elmerraji in Baltimore.
RELATED LINKS:
>>5 Stocks Under $10 Set to Soar
>>5 Cash-Rish Companies to Buy This Fall
>>5 Rocket Stocks to Buy in October
Follow Stockpickr on
and become a fan on
Facebook.
At the time of publication, author had no positions in stocks mentioned.
Jonas Elmerraji is the editor and portfolio manager of the
Rhino Stock Report
, a free investment advisory that returned 15% in 2008. He is a contributor to numerous financial outlets, including
Forbes
and
Investopedia
, and has been featured in
Investor's Business Daily
, in
Consumer's Digest
and on
MSNBC.com
.