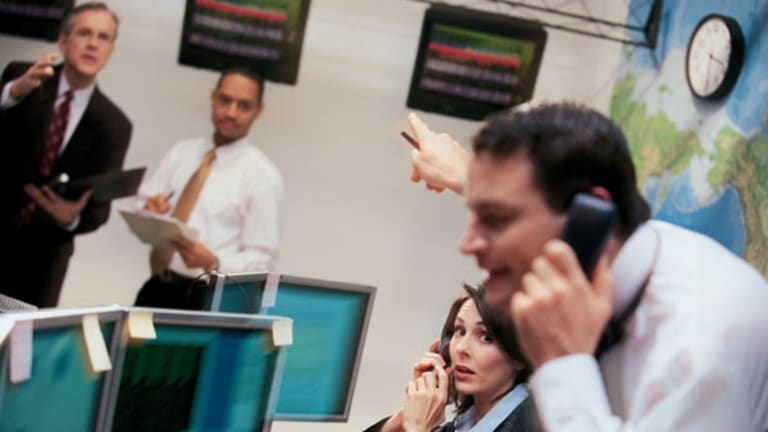 5 Toxic Stocks You Need to Sell
If you own these stocks, you might want to consider unloading them.
BALTIMORE (
) -- Even as the
stages an all-important bounce off of its long-term trend line this week, a bullish sign, a handful of names could be toxic to your portfolio this spring.
Not all names have been participating in the broad-based stock rally that's propelled the S&P 15% since November. And the names that are underperforming -- or showing signs of a major bearish change in trend -- could drag mightily on your investment returns this year. While a rising tide lifts all ships in a bull market, it also hastens the sinking of the few ships with holes in them.
>>5 Stocks Poised for Breakouts
One of the biggest red flags right now is relative weakness -- the stocks that aren't participating in the across-the-board equity rally are the ones that you need to think about unloading. And the ones that are looking outright bearish are the ones that you need to sell now. Today, we'll take a look at five toxic stocks that you need to be aware of.
To be fair, the companies I'm talking about today aren't exactly "junk."
I mean, they're not next up in line at bankruptcy court. But that's frankly irrelevant; from a technical analysis standpoint, they're some of the worst-positioned names out there right now. For that reason, fundamental investors need to decide how long they're willing to take the pain if they want to hold onto these firms this fall. And for investors looking to buy one of these positions, it makes sense to wait for more favorable technical conditions (and a lower share price) before piling in.
>>Fight Your Urge to Fight the Fed
For the unfamiliar,
is a way for investors to quantify qualitative factors, such as investor psychology, based on a stock's price action and trends. Once the domain of cloistered trading teams on Wall Street, technicals can help top traders make consistently profitable trades and can aid fundamental investors in better planning their stock execution.
So, without further ado, let's take a look at
you should be unloading in April.
>>5 Rocket Stocks to Buy as Stocks Bounce
Dover
First up is manufacturing conglomerate
Dover
(DOV)
. The $12 billion firm has been showing strong performance for the last six months and change, but now, a bearish double top setup points to an end to the bullish trend.
>>5 Stocks Poised to Pop on Bullish Earnings
The double top is a pattern that's formed by two swing highs that hit their heads at approximately the same price level. The sell signal comes on a breakdown below the near-term support level for shares, which was at $70. Dover's break below that level last week triggered a sell for this stock. Now it's a question of where this stock will be able to catch a bid again.
Even though Dover's topping pattern isn't as symmetrical as the textbook example, the trading implications remain the same for this stock. The uptrend that's been in place since late October got broken earlier in April, and now there's an abundance of sellers as investors look to take gains while they can. Investors looking to enter a position in DOV should wait until shares can establish support again.
Stryker
We're seeing the exact same setup in shares of
Stryker
(SYK)
right now. Like Dover, Stryker is forming a double top pattern. The big difference with SYK is the fact that this pattern isn't as far along (it still hasn't broken down yet). That gives traders and investors a chance to be earlier on the move.
>>5 Health Care Stocks Under $10 Ready to Rip Higher
Stryker is another name that's seen stellar relative strength for the better part of 2013. Year-to-date, shares of the medical device maker have rallied more than 17%, besting the broad market by a factor of nearly two. But shares are hitting their head on a price ceiling right now -- and a move through the $64 breakdown level signals that it's time to be a seller in SYK.
, measured by 14-day RSI, adds some extra downside confidence to this trade. While RSI was in an uptrend for most of SYK's rally, that uptrend broke earlier this month as the momentum gauge started making lower highs. Since momentum is a leading indicator of price, that's a bearish sign.
Still, I wouldn't recommend changing your position in SYK until $64 gets taken out. Until then, this setup could see a reprieve by breaking out above those two tops.
ABB
Swiss power and automation giant
ABB
(ABB)
is seeing a downside setup of a different sort right now. After climbing close to 20% since November, ABB is currently breaking down after falling through former support at $22. Now here's how to trade it.
>>4 Big Stocks on Traders' Radars
ABB had been forming a descending triangle pattern, a setup formed by a downtrending resistance level above shares and a horizontal support line below them. Essentially, as ABB bounced in between those two technically important levels, it was getting squeezed closer and closer to a breakdown below that support line at $22. When the breakdown happened, it spurred a sell signal in the $48 billion industrial stock. Now shares are trying to catch a bid and establish support. $20.50 looks like the nearest relevant support level on the way down. If shares can't halt their selling there, look out below.
Whenever you're looking at any technical price pattern, it's critical to think in terms of buyers and sellers. Triangles, double tops and other pattern names are a good quick way to explain what's going on in this stock, but they're not the reason it's tradable. Instead, it all comes down to supply and demand for shares.
That support line at $22 was a price where there was an excess of demand of shares; in other words, it's a place where buyers had been more eager to step in and buy shares at a lower price than sellers had been to sell. That's what made the breakdown below $22 so significant - the move indicated that sellers were finally strong enough to absorb all of the excess demand above that price level.
Until buyers step back into this stock, stay away from ABB.
China Mobile
China has been under pressure in recent months -- in fact, ETF-based bets on more downside from stocks based in the People's Republic have hit highs not seen since 2007. And one of the biggest casualties right now is
China Mobile
(CHL)
, the world's largest cell phone carrier with more than 700 million subscribers.
While CHL had been in a well-defined uptrend at the end of 2012, that uptrend broke hard in early 2013 as the firm established a trend reversal. Now, with a downtrending channel in place, you don't need to be an expert technical analyst to figure out what's going on in China Mobile: It's bouncing lower in a tight range.
Trend channels are useful for traders because they identify the high-probability range for shares to keep moving within. The trendline resistance level in CHL has acted as a ceiling for shares the last four times it's been tested, and that pattern doesn't look likely to change now.
Banco de Chile
Banco de Chile
(BCH)
is another foreign name that's flipped the switch from uptrend to downtrend in recent months. Just like with China Mobile, this stock is hitting its head on trendline resistance once again this week. If you own this stock, caveat emptor. CHL looks likely to keep grinding away at its share price from here.
If you're looking for an opportunity to sell, now looks pretty good with shares just coming off of a bounce off of trendline resistance; now they've got the furthest to move down the channel before catching a bid again. If you decide to go short here, I'd recommend keeping a
just above the
.
To see this week's trades in action, check out the
Technical Setups for the Week portfolio
on Stockpickr.
-- Written by Jonas Elmerraji in Baltimore.
RELATED LINKS:
>>5 Stocks Under $10 Set to Soar
>>3 Huge Stocks to Trade (or Not)
>>5 Stocks Rising on Unusual Volume
Follow Stockpickr on
and become a fan on
Facebook.
At the time of publication, author had no positions in stocks mentioned. Jonas Elmerraji, CMT, is a senior market analyst at Agora Financial in Baltimore and a contributor to
TheStreet
. Before that, he managed a portfolio of stocks for an investment advisory returned 15% in 2008. He has been featured in
Forbes
,
Investor's Business Daily
, and on
CNBC.com.
Jonas holds a degree in financial economics from UMBC and the Chartered Market Technician designation. Follow Jonas on Twitter @JonasElmerraji