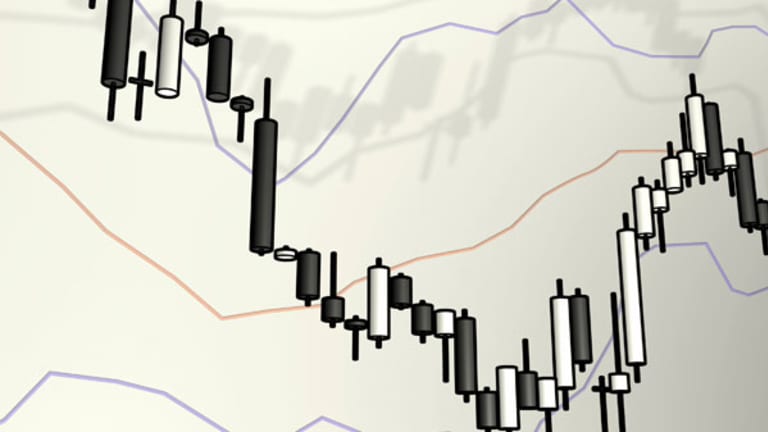 5 Toxic Stocks to Sell Now
These stocks have not participated in the rally so far, sending an ominous message to investors.
These stocks have not participated in the rally so far, sending an ominous message to investors.
BALTIMORE (Stockpickr) -- Over the last few months, I've made it no secret that I like stocks. From both a technical and a fundamental standpoint, the evidence is mounting for a sustained bullish move in the market -- and the rally that we've been in since June is just the first act. But that's exactly why you need to shed the toxic stocks from your portfolio in October.
Toxic stocks are the names that haven't participated in the rally so far, sending an ominous message to investors. After all, you don't want to own the names that can't catch a bid when the market's moving 15% higher. To take full advantage of a bullish move in stocks, knowing which stocks to avoid is more than half the battle.
>>5 Stocks Set to Soar on Bullish Earnings
That's why, today, we're taking a technical look at five names that could be toxic for your portfolio this fall.
To be fair, the companies I'm talking about today aren't exactly "junk."
I mean, they're not next up in line at bankruptcy court -- and, in fact, I even like a couple of this week's names fundamentally. But that's frankly irrelevant; from a technical analysis standpoint, they're some of the worst positioned names out there right now. For that reason, fundamental investors need to decide how long they're willing to take the pain if they want to hold onto these firms this Fall. And for investors looking to buy one of these positions, it makes sense to wait for more favorable technical conditions (and a lower share price) before piling in.
>>5 Stocks Hedge Funds Love -- and So Should You
For the unfamiliar,
is a way for investors to quantify qualitative factors, such as investor psychology, based on a stock's price action and trends. Once the domain of cloistered trading teams on Wall Street, technicals can help top traders make consistently profitable trades and can aid fundamental investors in better planning their stock execution.
So without further ado, let's take a look at
you should be unloading in October.  
Equity Residential
First up is multi-family housing REIT
Equity Residential
(EQR) - Get Report
. While the
S&P 500
has rallied close to 15% year-to-date, EQR hasn't. It's actually down 126 basis points on the year -- or closer to break-even when the firm's dividend payout is factored in. And the latest setup in shares points to even lower ground for EQR.
>>5 Big Trades From the Financial Sector
That's because shares of Equity Residential are currently forming a head and shoulders top. The head and shoulders, which indicates exhaustion among buyers, is formed by two swing highs (the shoulders) that are separated by a higher high (the head). The sell signal comes on a move through the neckline level. For EQR, that happened last month. Even though shares pulled back this week, they're showing an inability to push through the neckline, a fact that indicates that now is a better time for shorts to enter new bets than for longs to buy.
The head and shoulders pattern is probably one of the most popular technical patterns out there among would-be traders, if only because of its name. But that doesn't make it any less valid; a recent academic study conducted by the
Federal Reserve Board of New York
found that the results of 10,000 computer-simulated head-and-shoulders trades resulted in "profits
that would have been both statistically and economically significant."
Don't get caught on the other side of shorts on this trade.
Verisk Analytics
Verisk Analytics
(VRSK) - Get Report
is showing the exact same setup right now, it's just less far along. Like EQR, Verisk is forming a head and shoulders top, in this case with a neckline level at $46 that's being tested today. While the sell signal hasn't triggered yet (VRSK's first close under $46 was yesterday, leaving the pattern unconfirmed), it's close. That makes this stock worth watching very closely for anyone who owns it.
>>5 Rocket Stocks Ready to Rally
A breakdown below VRSK's neckline gives the stock a likely downside target of $41 before it's able to catch some semblance of support. That leaves a lot of risk on the table for Verisk right now, and reason enough to avoid being a buyer here.
gives us some extra evidence for downside in VRSK. This stock's 14-day RSI has been trending lower since all the way back in February -- but it's only just now starting to move into bearish territory. A confirmed breakdown below $46 would swing RSI to oversold pretty quickly, a switch that statistically makes even more downside likely near-term.
BCE
Canadian communications firm
BCE
(BCE) - Get Report
had been looking good for most of 2012. Shares were in an uptrend, and the stock was consolidating sideways as investors weighed their next moves -- that is, until Friday. That's when Canadian regulators blocked the firm's $3 billion CAD takeover of Astral, and shares fell around 3%.
>>5 Rising Dividend Payers for a Bullish but Skittish Stock Market
I realize that a 3% drop doesn't sound like much. But it's where that 3% drop pushed prices that's significant. BCE had been consolidating sideways in a rectangle pattern, a trading range bounded by a horizontal resistance level above shares and a horizontal support level below them. Friday's 3% move sent shares below support, sparking a sell signal for the stock. I wouldn't go looking for a bargain here.
It's useful to think of BCE in real terms. After all, "rectangles" and other geometric shapes don't have some magical powers on a stock chart, they're just easy ways of describing what's going on. Basically, that support level in BCE was a place below which there has historically been a glut of demand for shares -- it's a place where buyers have been more eager to buy shares at a bargain price than sellers were to keep selling. But the breakdown indicates that the demand got sapped after the Astral deal was blocked; with BCE unable to catch a bid, you don't want to be the one who steps in to hold the bag.
Wait for this stock to establish support if you're looking for a buying opportunity. Be warned, it could take a while.
Costco Wholesale
I like
Costco
(COST) - Get Report
. I'm not just talking about the smorgasbord of samples in the aisles and the tanker containers of shampoo they sell -- Costco is attractive from a fundamental investment standpoint too. But even though I like it, it's toxic for shareholders right now. Here's why.
>>5 Big Stocks to Trade for Gains
This month, Costco triggered a double-top pattern, a reversal setup that marks the end of the uptrend that this stock has enjoyed for all of 2012. As the name implies, a double top occurs when a stock hits two swing highs at around the same price level. The sell signal comes when shares fall through the swing low that separates the two tops, and that happened for Costco last week.
Even though Costco has some attractive fundamental attributes, this stock was hardly cheap from a valuation standpoint. Instead, it was a momentum name. That means that it can fall significantly before it falls into "cheap" territory -- all the more reason for fundamentally inclined investors to keep a close eye on the technicals right here.
At this point, with the double-top triggered, COST looks positioned to underperform. I wounldn't recommend being a buyer here.
Regions Financial
Finally, that brings us to
Regions Financial
(
(RF) - Get Report
), a $10 billion regional banking name that's based in Birmingham, Ala. Until now, there's bee a whole lot of reason to like Regions. Shares of the firm are up more than 64% since the first trading day of 2012, and in fact, the regional banking industry as a group has been looking technically strong in the last couple of months.
But Regions is threatening the exact same double top that we're seeing in Costco. That makes this stock a toxic name in October.
That doesn't mean you should sell Regions just yet. Shares haven't actually broken down through the support line that separates the two tops in shares (they're testing that level this week). If RF can manage to catch a bid here and move back above support, then I think that we can categorize the setup as a consolidation, rather than a reversal pattern. Still, a confirmed move below support this week is pretty clear: it's a sell signal.
If you own this stock, I'd recommend keeping a very close eye on what happens next.
To see this week's trades in action, check out the
Technical Setups for the Week portfolio
on Stockpickr.
-- Written by Jonas Elmerraji in Baltimore.
RELATED LINKS:
>>5 Stocks Under $10 Set to Soar
>>5 Takeover Targets to Buy Before Wall Street Finds Out
>>5 Stocks With Big Insider Buying
Follow Stockpickr on
and become a fan on
Facebook.
At the time of publication, author had no positions in stocks mentioned.
Jonas Elmerraji is the editor and portfolio manager of the
Rhino Stock Report
, a free investment advisory that returned 15% in 2008. He is a contributor to numerous financial outlets, including
Forbes
and
Investopedia
, and has been featured in
Investor's Business Daily
, in
Consumer's Digest
and on
MSNBC.com
.