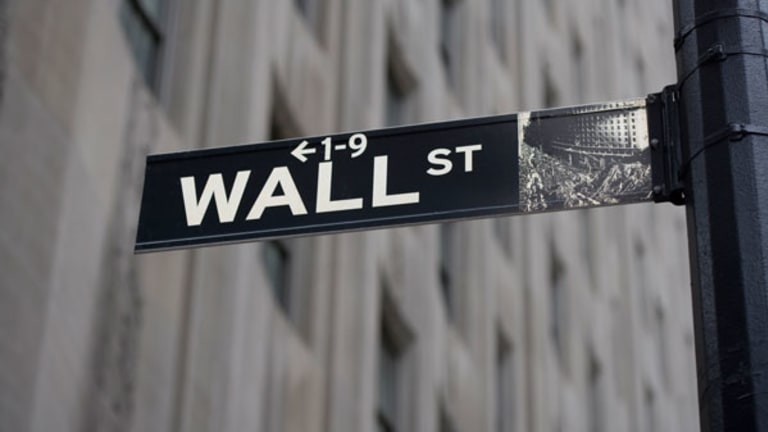 5 'Toxic Stocks' to Sell in 2013
If you've got any resolutions for the New Year, one of them should be to sell the toxic stocks in your portfolio.
If you've got any resolutions for the New Year, one of them should be to sell the toxic stocks in your portfolio.
BALTIMORE (Stockpickr) -- If you've got any resolutions for the New Year, one of them should be to sell the toxic stocks in your portfolio.
>>5 Huge Trades for a Volatile 2013
That's right -- even though the
S&P 500
is showing some key signs of strength right now, not all names are participating. And the ones underperforming the market right now are the same ones likely to stifle your stock performance for the rest of the year. That's why, today, we're taking a technical look at five names that could be toxic for your portfolio this winter.
To be fair, the companies I'm talking about today aren't exactly "junk."
I mean, they're not next up in line at bankruptcy court. But that's frankly irrelevant; from a technical analysis standpoint, they're some of the worst positioned names out there right now. For that reason, fundamental investors need to decide how long they're willing to take the pain if they want to hold onto these firms this Fall. And for investors looking to buy one of these positions, it makes sense to wait for more favorable technical conditions (and a lower share price) before piling in.
For the unfamiliar,
is a way for investors to quantify qualitative factors, such as investor psychology, based on a stock's price action and trends. Once the domain of cloistered trading teams on Wall Street, technicals can help top traders make consistently profitable trades and can aid fundamental investors in better planning their stock execution.
>>5 Big Stock Charts You Need to See
So, without further ado, let's take a look at
you should be unloading in 2013.
Best Buy
It's been a tough year for electronics retailer
Best Buy
(BBY) - Get Report
. Shares of the $4 billion firm have slid 50% in the last year, pulled lower by thinning margins and a tough environment for retailers in general. But the selling may not yet be over -- at least in the short-term -- if the price pattern in shares holds up.
Right now, Best Buy is forming a descending triangle, a setup that's formed by horizontal support below shares and downtrending resistance to the upside. Essentially, as shares of BBY bounce in between those two technical levels, the stock is getting squeezed closer and closer to a breakdown below support. When that breakdown happens, investors have a sell signal for the stock. Best Buy's support level currently sits right at $11.
The descending triangle pattern in BBY is a shorter-term pattern -- it's only been forming for the last month and change. And while that means that the trading implications of the breakdown are shorter too, the combination of a descending triangle
and a fall to new lows for BBY make the stock's downside potential much bigger if a slide below $11 does happen. Keep a close eye on this one.
Franco-Nevada Corp.
We're seeing the same setup in shares of $8 billion gold company
Franco-Nevada Corp.
(FNV) - Get Report
. Like Best Buy, Franco-Nevada is forming a descending triangle with a downtrending resistance level above shares and horizontal support below them. In FNV's case, the support level to watch comes in at just under $56; a fall below that price is the sell signal for this stock.
One big difference in FNV's case is the fact that this pattern is coming in at the top of an uptrend, rather than after a selloff. While that makes the triangle in FNV less textbook than the one in Best Buy, it's critical to remember that geometric patterns are a good way to describe what's going on in a pattern, they're not the reason why trades work. Instead, patterns get their power from what's going on with buyers and sellers (i.e. supply and demand).
In FNV, support at $56 is a price level below which there's been a glut of buying pressure for shares. At the same time, though downtrending resistance indicates that sellers are in control at higher price levels. The breakdown below $56 tells us that any buyers who were hanging out at that level got taken out by increasingly eager sellers -- with buyers on defense, it makes sense to be a seller there.
A downtrend in
adds some extra confidence to this trade. Since momentum is a leading indicator of price, the fact that it's dropping into negative territory now indicates that sellers are in control here.
Activision Blizzard
Activision Blizzard
(ATVI) - Get Report
is having a tough year -- shares of the $12 billion video game maker have fallen around 8% in the last 12 months, underperforming the S&P 500 by 22.42%. But the technical setup in this stock points to even more toxic price action in 2013.
That's because Activision Blizzard has been stuck in a volatile downtrending channel for the better part of the last year, bouncing in between trendline resistance to the upside and trendline support below shares. The strength of that trendline resistance level is significant -- it's the price above which there's a consistent glut of selling pressure for shares, so it provides an ideal selling point for investors trying to squeeze the most out of this stock (or for short sellers trying to do the same).
Until this stock can manage to take out those sellers above resistance, I'd strongly recommend staying away from shares of this stock. If it cant catch a bid above resistance, you don't want to be a buyer.
NRG Energy
Despite what's been a good year for electricity generator
NRG Energy
(NRG) - Get Report
, this stock is starting to look toppy.
Specifically, it's a double top pattern in shares of NRG that looks bearish. A double-top pattern is formed by two swing highs that come in at approximately the same price level. They're separated by a swing low that's the breakdown level for the pattern -- a move below that low triggers the sell signal in shares. For NRG, that sell signal comes on a move below $19.50.
It's important to remember that it doesn't matter why selling pressure is coming into NRG right now -- the two tops on this chart show us that it is. Now, it's just a question of whether that newly introduced selling pressure can overcome the holdout buyers sitting below $19.50. If they do (with a breakdown), then it's time to exit this stock -- or even bet against it. If you decide to take the short-side, I'd recommend keeping a
on the other side of the
.
Merck
Last up on our list of toxic names is
Merck
(MRK) - Get Report
. I first looked at Merk
, when this stock was just starting to look bearish. Now that the trade has triggered, it's worth taking a second look today.
At the time, Merck was forming a head and shoulders top, a price pattern that indicates exhaustion among buyers. The head and shoulders is formed by two swing highs that top out around the same level (the shoulders), separated by a bigger peak called the head. The late December breakdown below the pattern's support level, called the neckline, triggered the sell signal for this stock.
Since then, shares have been pulling back to the neckline in a move that might look positive at first glance. In reality, though, a pullback is just a good second entry point for short sellers more often than not -- it gives shares a chance to test newfound resistance at the neckline. If you're on the fence about owning Merck here, I'd recommend against it. This stock is holding up resistance at the neckline, and it's got extra price barriers at $45 and $48, the right shoulder and the head respectively.
Merck still looks toxic at this point.
To see this week's trades in action, check out the
Technical Setups for the Week portfolio
on Stockpickr.
RELATED LINKS:
>>5 Financials Ready to Cut You a Bigger Check
>>5 Tech Sector Bargains to Buy in 2013
>>5 Trades to Profit From a January Rally
Follow Stockpickr on
and become a fan on
Facebook.
Jonas Elmerraji is the editor and portfolio manager of the
Rhino Stock Report
, a free investment advisory that returned 15% in 2008. He is a contributor to numerous financial outlets, including
Forbes
and
Investopedia
, and has been featured in
Investor's Business Daily
, in
Consumer's Digest
and on
MSNBC.com
.