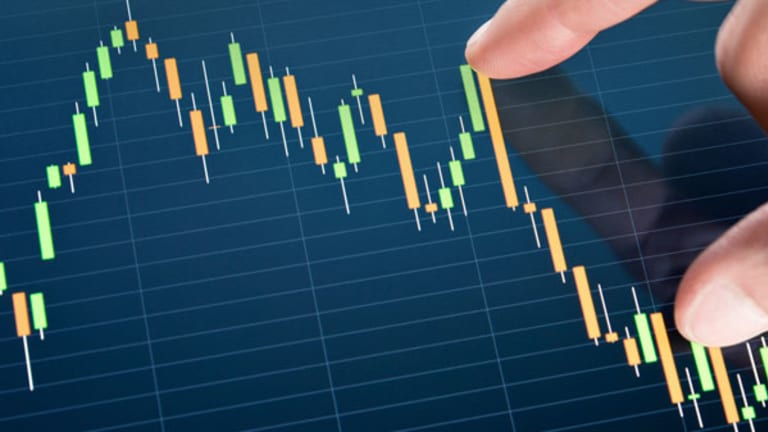 BALTIMORE (Stockpickr) -- Well, he's already got the beard -- if Wall Street analysts are right, we may as well get Ben Bernanke a red suit too. That's because analysts are expecting Bernanke to announce that the Fed is shoving $45 billion a month in Mr. Market's stocking tomorrow.
>>5 "Magic Formula" Stocks for 2013
That much treasury buying would push the Fed's balance sheet to $4 trillion...
For the last four years, the Fed has made a big statement about what they want to happen in the markets. By keeping interest rates low and fuelling inflation by printing cash, the Fed has opted to encourage an equity rally by punishing savers. But dumping cash into treasuries can have unintended effects -- in the past couple of years, that's meant that skittish investors have piled into treasuries too in spite of the toxic effects of negative real rates.
We've been in a return
of
capital rather than a return
on
capital environment, after all.
And while tomorrow's Fed action may well spark buying pressure in stocks, some stocks are going to benefit more than others. A lot more. That's why, today, we're taking a technical look at five names that could be toxic for your portfolio this winter.
To be fair, the companies I'm talking about today aren't exactly "junk."
I mean, they're not next up in line at bankruptcy court. But that's frankly irrelevant; from a technical analysis standpoint, they're some of the worst positioned names out there right now. For that reason, fundamental investors need to decide how long they're willing to take the pain if they want to hold onto these firms this Fall. And for investors looking to buy one of these positions, it makes sense to wait for more favorable technical conditions (and a lower share price) before piling in.
>>5 Stocks Insiders are Stashing
For the unfamiliar,
is a way for investors to quantify qualitative factors, such as investor psychology, based on a stock's price action and trends. Once the domain of cloistered trading teams on Wall Street, technicals can help top traders make consistently profitable trades and can aid fundamental investors in better planning their stock execution.
So, without further ado, let's take a look at
you should be unloading in December.
Agilent Technologies
http://i.thestreet.com/files/tsc/v2008/photos/charts/121112_chart_Agilent.gif
It's been a tough year for
Agilent Technologies
(A) - Get Agilent Technologies, Inc. Report
. Despite an early 2012 rally, shares have been trending lower since February, dropping more than 12% since the start of that month. With the
S&P 500
up more than 7% over that same timeframe, Agilent's underperformance speaks to some significant relative weakness in this stock. And now, Agilent could be pointed even lower thanks to a descending triangle pattern that's been shaping up in shares.
The descending triangle is a technical pattern that's formed by two levels: a downtrending resistance level above shares and a horizontal support level below them. Essentially, as Agilent bounces in between those two price barriers, shares are getting squeezed closer and closer to a breakdown below support -- when that happens, traders have a sell signal on their hands. Agilent's support level is $35.50 right now.
There's some extra significance to this setup in Agilent because it's already at the lowest point that this stock has seen in 2012. As this stock has demonstrated, stocks making new lows have some serious psychological ammo pointed against them -- after all, with everyone who's bought this year sitting on losses, investors are already looking for the most graceful exits they can muster. The sell signal on Agilent doesn't officially trigger until that $35.50 price gets broken.
Calumet Specialty Products Partners
There's a similar setup shaping up right now in shares of
Calumet Specialty Products Partners
(CLMT) - Get Calumet Specialty Products Partners, L.P. Report
. To be clear, the specialty petroleum product firm hasn't had the same year that Agilent has -- this small-cap name is up more than 50% so far in 2012. But despite the rally, there's another descending triangle shaping up from here. A break of support at $28 is the sell (or short) signal for this trade.
Typically, triangles are continuation patterns. That means that descending triangles typically come after a stock has already been moving lower. Even though CLMT's topping triangle isn't textbook, the trading implications are still the same. A downtrend in
adds some extra confidence to the CLMT trade. Since momentum is a leading indicator of price, the fact that it's dropping into negative territory now indicates that sellers are in control here.
Thinking about sellers is important -- after all, price patterns don't work because of geometry's magical pull on the market; they're just good ways of describing what's going on with a chart. Instead, patterns get their power from what's going on with buyers and sellers. In CLMT, support at $28 is a price level below which there's been a glut of buying pressure for shares. At the same time, though downtrending resistance indicates that sellers are in control at higher price levels. The breakdown below $28 tells us that any buyers who were hanging out at that level got taken out by increasingly eager sellers -- with buyers on defense, it makes sense to be a seller there...
Coca-Cola Hellenic Bottling Co.
http://i.thestreet.com/files/tsc/v2008/photos/charts/121112_chart_cch.gif
Who'd have thought that a Greek stock would make our list of toxic stocks this week? Sarcasm aside, it may surprise a lot of investors to learn that Greek Coke bottler
Coca-Cola Hellenic Bottling Co.
(CCH) - Get Collier Creek Holdings Class A Report
has actually had a strong run in 2012, rallying more than 30% this year after a sharp pullback in 2011. Now, though a double-top is threatening to derail the uptrend that this stock's been enjoying.
A double-top pattern is formed by two swing highs that come in at approximately the same price level. They're separated by a swing low that's the breakdown level for the pattern -- a move below that low triggers the sell signal in shares. For CCH, that sell signal comes on a move below $21.
So far, this move has been pretty textbook -- unlike the triangle pattern, double top formations are reversal patterns. That means they're more likely to reverse the existing trend than they are to resolve in the direction price way previously moving in. If you're looking to short CCH here, this setup could have some significant downside given the rally year-to-date and the sentiment against Greek stocks. That said, there's still a lot of headline risk here -- if you decide to take this trade on the downside, I'd recommend keeping a
.
Arch Capital Group
Arch Capital Group
(ACGL) - Get Arch Capital Group Ltd. Report
is showing us an identical pattern right now. Like CCH, Arch spent most of this year in rally-mode, climbing around 20% to effectively double the returns that the S&P 500 has established in 2012. That upside gets threatened on the breakdown below $42.50 -- that's the trough that separates the two tops in this pattern.
ACGL is another name that's got confirmation coming from momentum. 14-day RSI has been sloping lower for the last couple of months, right after signaling an overbought reading back in late October. There's typically a decent correlation between RSI and price since RSI is a derivative of price -- but note that while the two tops in price max out around the same level, the corresponding tops in RSI made lower highs.
That's a big hint that this stock is losing its steam here.
SemGroup Corp.
Last up is
SemGroup Corp.
(SEMG) - Get SemGroup Corporation Class A Report
, a midstream oil servicer that's showing off one of the more well-known setups out there. SemGroup is forming a head and shoulders top, a pattern that indicates exhaustion among buyers -- it's formed by two swing highs that top out at around the same level (the shoulders), that are separated by a higher high (the head). A breakdown below the neckline at $35 is the sell (or short) signal for SEMG.
There's a lot of poor anecdotal evidence surrounding patterns, and this particular setup has a lot of detractors because of its name and popularity. But don't fall into the trap of ignoring it just for that.
The head and shoulders may be a popular pattern, but the research shows that it's still a valid one: a recent academic study conducted by the
Federal Reserve Board of New York
found that the results of 10,000 computer-simulated head-and-shoulders trades resulted in "profits
that would have been both statistically and economically significant." Just remember that the trading signal only comes if SEMG moves below that neckline level.
To see this week's trades in action, check out the
Technical Setups for the Week portfolio
on Stockpickr.
RELATED LINKS:
>>5 Dividend Stocks to Fight Off the Fiscal Cliff
>>5 Stocks Warren Buffett Loves
>>5 Toxic Stocks to Dump Before 2013
Follow Stockpickr on
and become a fan on
Facebook.
At the time of publication, author had no positions in stocks mentioned. Jonas Elmerraji, CMT, is a senior market analyst at Agora Financial in Baltimore and a contributor to
TheStreet
. Before that, he managed a portfolio of stocks for an investment advisory returned 15% in 2008. He has been featured in
Forbes
,
Investor's Business Daily
, and on
CNBC.com.
Jonas holds a degree in financial economics from UMBC and the Chartered Market Technician designation.