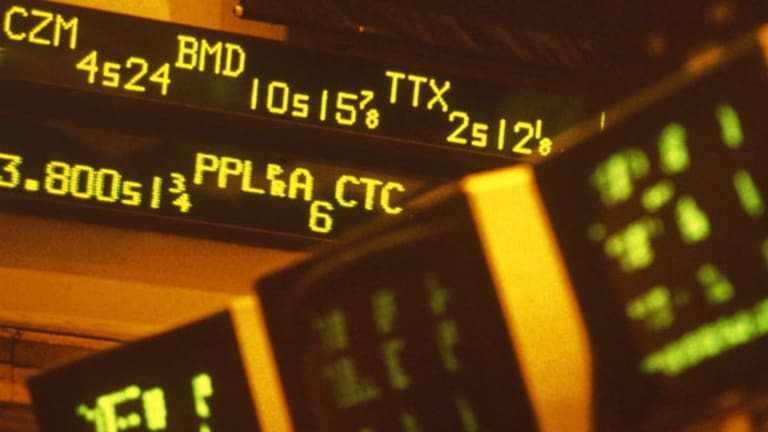 5 Toxic Stocks to Dump Before 2013
For investors looking to buy one of these positions, it makes sense to wait for more favorable technical conditions (and a lower share price) before piling in.
For investors looking to buy one of these positions, it makes sense to wait for more favorable technical conditions (and a lower share price) before piling in.
BALTIMORE (Stockpickr) -- Does Mr. Market have you feeling queasy? It could be the roller coaster ride that stocks have been on this year -- or it could just be that you've got toxic stocks in your portfolio.
>>5 Dividend Stocks Itching to Pay You More
Stocks caught a key bottom last week, rallying hard off of support as buyers finally came out of hiding. That opens the doors for a more bullish scenario to end the year, something that many investors probably couldn't have imagined just a couple of weeks ago. But not all stocks are going to participate in a broad market move higher. The laggards are already sending signals to shareholders. Are you listening?
That's why, today, we're taking a technical look at five names that could be toxic for your portfolio this fall.
To be fair, the companies I'm talking about today aren't exactly "junk."
I mean, they're not next up in line at bankruptcy court. But that's frankly irrelevant; from a technical analysis standpoint, they're some of the worst positioned names out there right now. For that reason, fundamental investors need to decide how long they're willing to take the pain if they want to hold onto these firms this fall. And for investors looking to buy one of these positions, it makes sense to wait for more favorable technical conditions (and a lower share price) before piling in.
For the unfamiliar,
is a way for investors to quantify qualitative factors, such as investor psychology, based on a stock's price action and trends. Once the domain of cloistered trading teams on Wall Street, technicals can help top traders make consistently profitable trades and can aid fundamental investors in better planning their stock execution.
>>5 Stocks Insiders Are Snapping Up
So, without further ado, let's take a look at
you should be unloading in November.
Gold Fields Ltd.
I'll be the first to say that there are a lot of macro reasons to like gold. From the money presses paying for QE3 to the threats of the fiscal cliff, gold has a lot going for it this fall. But that's cold comfort to shareholders in
Gold Fields Ltd.
(GFI) - Get Report
right now.
Shares of the $9 billion South African gold miner have dropped more than 20% this year, dragged lower by production challenges and labor problems at the firm's mines. Now, with a descending triangle forming in shares, there's more potential downside in this stock. The descending triangle is formed by horizontal support under shares (in this case at $11.50) and downtrending resistance to the upside. As shares bounce in between those two key technical levels, they're getting squeezed closer and closer to a breakdown below support -- that's when it makes sense to be a seller.
So far this year, Gold Fields has been a poor proxy for gold -- and the setup in shares means that it's likely to continue to be one into 2013. Short sellers have a downside opportunity here on the breakdown below $11.50, and shareholders would be wise to go after an alternative mining name for Q4. If you bet against GFI, keep a
.
Cobalt International Energy
A similar setup is shaping up in shares of another commodity stock: oil exploration and production firm
Cobalt International Energy
(CIE)
. Just like Gold Fields, Cobalt is forming a descending triangle with downtrending resistance level and horizontal support that comes in at $20 in this case.
When you look at a technical setup like the descending triangle, it's important to think about what this price action means in real terms. After all, triangles and other geometric shapes don't have some magical powers on a stock chart, they're just easy ways of describing what's going on. In this setup, what's going on is $20 is a price below which there's a glut of demand for CIE; it's a place where buyers have historically been more eager to jump in and buy shares than sellers have been to keep selling. That said, downtrending resistance means that sellers are in control at higher levels, so a break below $20 means that those increasingly eager sellers have absorbed all of that extra demand below $20.
That's why a breakdown below support is a sell signal.
adds some extra evidence to this setup -- RSI has been in a downtrend since late June. Since momentum is a leading indicator of price, that doesn't bode well for people who own CIE.
Sempra Energy
Utility holding company
Sempra Energy
(SRE) - Get Report
is another stock that's looking toxic right now -- in spite of the 21% rally that shares have enjoyed for most of this year. That's because Sempra is forming a double top, a price pattern that typically indicates a reversal to the downside.
A double top is formed by two swing highs that come in at approximately the same price level. The two tops are separated by a trough (at $64 in SRE's case) -- that's the breakdown level. A move below that low sends traders the sell signal in shares of this stock. Even though SRE has been moving higher in the last week, it's hitting its head on resistance at the
. That's a weak resistance level to begin with, so the fact that buyers are struggling to maintain control here isn't a good sign.
I don't think that it's time to panic about this stock just yet (it hasn't broken down yet, after all), but I wouldn't be a buyer here.
Albemarle
Albemarle
(ALB) - Get Report
is probably offering up the most straight forward setup of the day. You don't need to be a technical trader to figure out what's going on in shares of ALB -- one glance at this stock should tell you that sellers are definitively in control here.
Albemarle has been in a downtrending channel for the majority of 2012. That channel has provided a good yardstick for ALB's high probability price action as it moved lower over the course of the year. Right now, shares are testing resistance at the top of the channel -- while that may seem like a good thing for shareholders at first glance, it's not necessarily so.
Every time ALB has attempted to break out above the top of the channel in 2012, it's been shoved lower by sellers. And in the process, there have been ample bull traps for buyers who weren't cautious enough before they jumped onboard. If previous price action is any indication, more downside is the likely outcome right now.
Activision Blizzard
Holiday Call of Duty sales haven't spared
Activision Blizzard
(ATVI) - Get Report
from forming the exact same setup right now. Like ALB, Activision Blizzard has spent much of 2012 stuck in a downtrending channel that's bounded by well-defined support and resistance. For that reason, the recent bounce higher isn't quite as auspicious at it may first appear.
ATVI has reversed off of resistance the last five times that the price level got tested. That doesn't bode well for a sixth test of that price in December. It may be tempting to put extra emphasis on the move above the 50-day moving average that ATVI just made, but fight the urge. The 50-day is a pretty meaningless level for ATVI right now -- in fact, the only valuable piece of information it's providing is its slope. And that just tells us that ATVI is in a downtrend right now.
The fact that shares are still moving up to resistance means that sellers can at least shoot for a better price from here. I'd be a seller of ATVI on a bounce off of trendline resistance.
To see this week's trades in action, check out the
Technical Setups for the Week portfolio
on Stockpickr.
RELATED LINKS:
>>5 Dividend Stocks Itching to Pay You More
>>5 Stocks With Large Insider Buying
>>Profit From 5 Stocks Everyone Hates
Follow Stockpickr on
and become a fan on
Facebook.
At the time of publication, author had no positions in stocks mentioned. Jonas Elmerraji, CMT, is a senior market analyst at Agora Financial in Baltimore and a contributor to
TheStreet
. Before that, he managed a portfolio of stocks for an investment advisory returned 15% in 2008. He has been featured in
Forbes
,
Investor's Business Daily
, and on
CNBC.com.
Jonas holds a degree in financial economics from UMBC and the Chartered Market Technician designation.