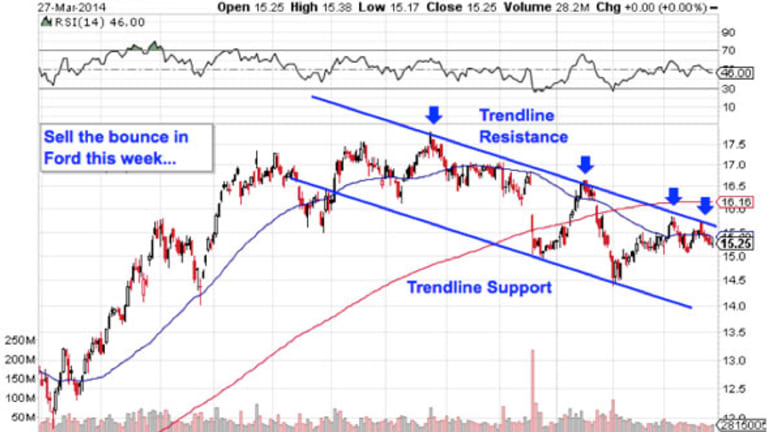 5 Toxic Stocks That Could Sink Your Portfolio
It's time to unload these five toxic stocks from your portfolio.
BALTIMORE (Stockpickr) -- Make no mistake, the broad market is in correction mode right now. The S&P 500 is heading into a fourth week of not making any price progress, and while the downside action hasn't been particularly painful (yet), the sideways action in stocks continues to grind at investors who waited too long to click the "buy" button on their brokerage accounts.
>>Beat the S&P in 2014 With the Stocks Everyone Else Hates
More important, it's the correction happening behind the scenes that's really giving back gains; individual names and specific sectors are faring far worse than the S&P right now. That's especially true in stocks that have been momentum winners up until now.
The tech-heavy Nasdaq Composite, for instance, has shed close to 4% in March, and it's technically positioned to roll over even further next week.
Put simply, owning specific "toxic" stocks could be hazardous to your returns as we head into April. So, which stocks are set to drag your portfolio the lowest in the next few months?
Today, we're taking a technical look today at five toxic stocks you should start selling.
>>5 Stocks Under $10 Set to Soar
Just to be clear, the companies I'm talking about today aren't exactly junk. By that, I mean they're not next up in line at bankruptcy court. But that's frankly irrelevant; from a technical analysis standpoint, sellers are shoving around these toxic stocks right now. For that reason, fundamental investors need to decide how long they're willing to take the pain if they want to hold onto these firms in the weeks and months ahead. And for investors looking to buy one of these positions, it makes sense to wait for more favorable technical conditions (and a lower share price) before piling in.
For the unfamiliar, technical analysis is a way for investors to quantify qualitative factors, such as investor psychology, based on a stock's price action and trends. Once the domain of cloistered trading teams on Wall Street, technicals can help top traders make consistently profitable trades and can aid fundamental investors in better planning their stock execution
>>5 Big Trades to Brace for a Correciton
So, without further ado, let's take a look at five "toxic stocks" you should be unloading.
Ford Motor
Things are looking rough in Ford Motor (F) - Get Ford Motor Company Report. Shares of the $59.7 billion automaker have been selling off in an orderly pattern for the last six months; since September, Ford is down more than 12%. Meanwhile, the S&P has rallied 8.5% over that same period.
>>5 Stocks With Big Insider Buying
Translation: Ford is a toxic stock right now. And it doesn't take an expert analyst to figure out why.
Since September, Ford has been trending lower in a textbook downtrending channel. A pair of parallel price levels forms the channel: a resistance line above shares and a support line below them. Those two lines on the chart provide traders with the high-probability range for Ford's shares to stay within, and they've remained inviolate this entire time. So now, as Ford presses up against to the top of the channel for a fourth time, it makes sense to sell (or even short) its next move lower.
If you decide to go on the short side of this trade, I'd recommend putting a protective stop above Ford's most recent swing high at $16. If shares can manage to catch a bid above that level, it means buyers have wrestled back control.
Target
Ford is just one of the large-cap names that's been trending lower under the radar while the broad market sits just shy of highs; Target (TGT) - Get Target Corporation Report is another. In fact, Target's downtrend has been a lot worse than Ford's. Since last June, shares of the $38 billion retail stock have fallen more than 18%, and that trend looks far from over. .
>>5 Hated Earnings Stocks You Should Love
Target is another textbook downtrending channel. Sellers have swatted shares lower on each successive test of trend line resistance, and so, with TGT on the upper edge of its channel today, it makes a lot of sense to sell the next bounce lower.
Waiting to sell off a resistance bounce makes sense for two big reasons: It's the spot where prices are the highest within the channel, and alternatively it's the spot where you'll get the first indication that the downtrend is ending. Remember, all trend lines do eventually break, but by actually waiting for the bounce to happen first, you're ensuring that sellers are still in control before you unload your stake in TGT.
Gran Tierra Energy
Moving down the size scale brings us to small-cap oil and gas stock Gran Tierra Energy (GTE) - Get Gran Tierra Energy Inc. Report, a name that's actually been showing some decent performance over the last year. In the trailing 12 months, GTE has pushed more than 23% higher, outperforming the S&P 500 by nearly 5%. But now, it looks like that rally is coming to an end.
>>3 Stocks Spiking on Big Volume
GTE is forming a descending triangle pattern, a bearish setup that's formed by a downtrending resistance level above shares, and horizontal support to the downside at $6.75. Basically, as GTE bounces in between those two technical price levels, it's getting squeezed closer and closer to a breakdown below support. That $6.75 price floor is the level to watch right now -- a breakdown below it is our sell signal for this price setup.
Sellers are getting more aggressive in GTE this month as well -- short interest has increased by approximately 25% in the last month. If shorts and gain-takers can overwhelm the buying pressure that's left at $6.75, you won't want to be the only one still holding on; that's why it makes sense to sell GTE when it breaks support.
Telecom Italia
Telecom Italia (TI) has been a perfect example of a big momentum name over the last six months: since September, TI has rallied more than 47%. But anyone who owns this Italian communications company should start thinking about taking gains. TI is starting to show signs of a top this month.
>>5 Big Tech Stocks to Trade for Gains
TI is forming a textbook head and shoulders pattern, a bearish reversal setup that indicates exhaustion among buyers. The head and shoulders is formed by two swing highs that top out at approximately the same level (the shoulders), separated by a higher high (the head). The sell signal comes on a move through Telecom Italia's neckline level at $11.
Momentum, measured by 14-day RSI, adds some extra confirmation to downside in TI. Our momentum gauge has been making lower highs over the course of the setup, an indication that down days are getting the better of up days in this stock. Remember, momentum is a leading indicator of price.
You can ignore the large number of small trading gaps in TI's stock chart. Those gaps, called suspension gaps, occur because of TI's off-hours trading on the Borsa Italiana in Milan. They can be ignored from a technical analysis standpoint.
Costco Wholesale
We're seeing the exact same setup in shares of Costco Wholesale (COST) - Get Costco Wholesale Corporation Report, just on a bigger scale. Like Telecom Italia, Costco is forming a head and shoulders pattern, but Costco's setup has been in the works since last summer. Longer-term setups come with longer-term trading implications, so that's good reason to keep an eye on what's going on in shares of COST.
The neckline for Costco comes in at $110 -- if shares violate that price level, this stock's price objective drops to $94. That's not an enormous decline, but since this pattern is so slow moving, expect it to be a big performance drag whenever the broad market goes back into rally mode.
Relative strength has been horrible in Costco since the end of 2013. which means that COST has been dramatically underperforming the S&P 500 this year, both on the way up and on the way down. From a statistical standpoint, that makes continued underperformance look likely on a rolling 3-to-10 month time horizon. Sell the $110 breakdown in COST.
To see this week's trades in action, check out the Toxic Stocks portfolio on Stockpickr.
-- Written by Jonas Elmerraji in Baltimore.
RELATED LINKS:
>>3 Hot Stocks to Trade (or Not)
>>5 Rocket Stocks to Buy This Week
>>3 Stocks Under $10 Making Big Moves
Follow Stockpickr on Twitter and become a fan on Facebook.
At the time of publication, author had no positions in stocks mentioned. Jonas Elmerraji, CMT, is a senior market analyst at Agora Financial in Baltimore and a contributor to TheStreet. Before that, he managed a portfolio of stocks for an investment advisory returned 15% in 2008. He has been featured in Forbes , Investor's Business Daily, and on CNBC.com. Jonas holds a degree in financial economics from UMBC and the Chartered Market Technician designation. Follow Jonas on Twitter @JonasElmerraji